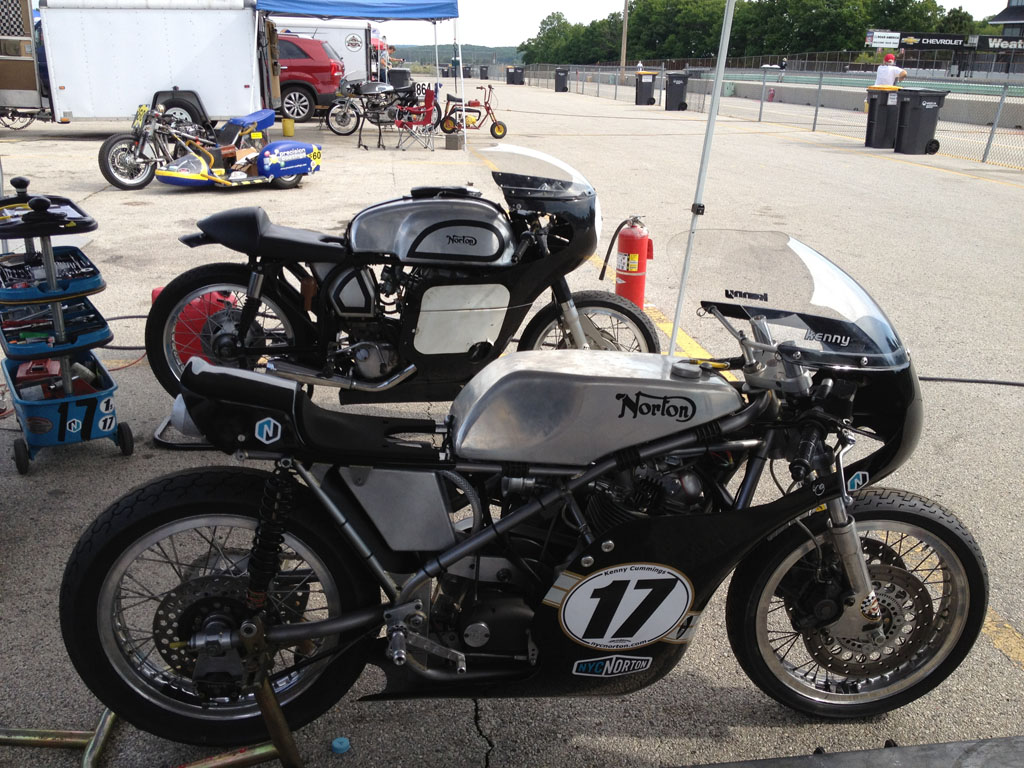 After playing around over in the UK, and now having missed 3 AHRMA National rounds (Roebling, Talladga, and Willow Springs) it was time to get busy here at home.  The Road America/Grattan back-to-back weekends are favorites on the NYC Norton calendar, and a fitting first outing in the US.  Plus, master NYC Norton spannerman Jon Thorndike was making his racing debut at Road America on his properly maintained Norton Atlas.  So we loaded up the Teutonic transporter and set the controls for the center of cheese country.  The weekend was predicted to be Hot and Hazy, Fast and Crazy.  And it was.  As we arrived and set up our pit,  someone had the foresight to snap a nice shot of the bikes before they got all race weary.  #17 Seeley Commando sporting new livery with silver and gold pinstripes.  Thorny's bike with a new fairing, but yet to have its race numbers applied.  It was a good thing a photo was taken, as Saturday's F750 race went pear-shaped quite quickly.   More on that in a moment.  But first, congratulations to Jon for passing his racing school with flying colors and becoming a new AHRMA racer on a 750 Norton.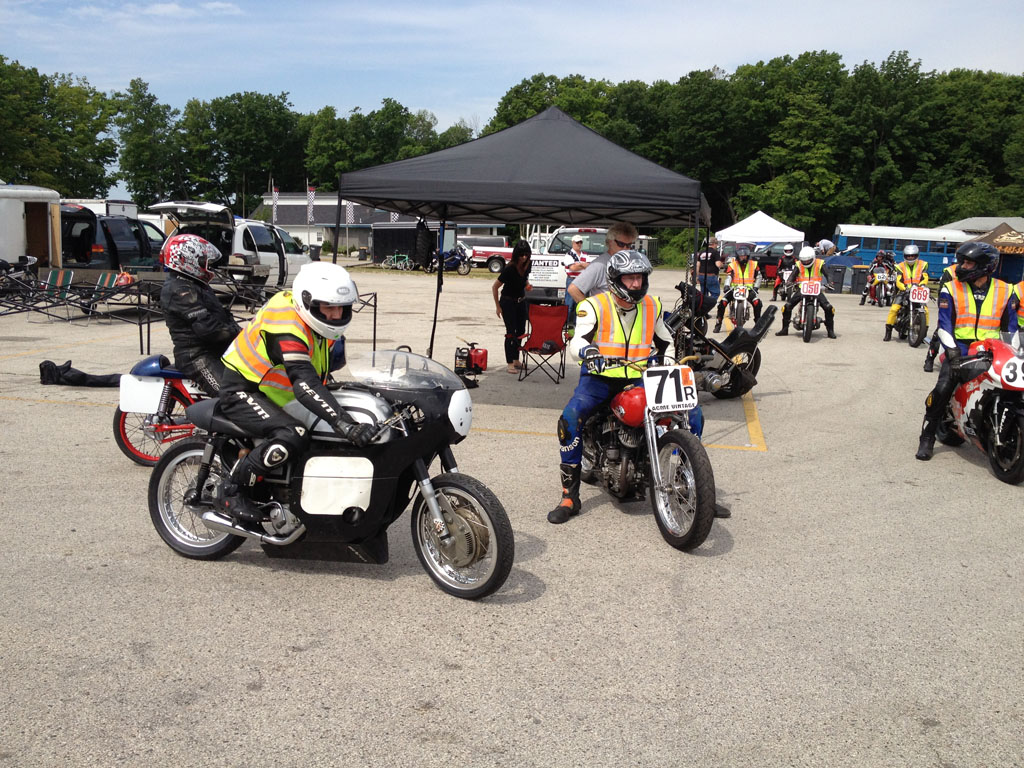 Usually, a new racer will be shaking in their boots as they head out for their first session, but not Jon… cool as can be.  Not many new riders are coming out on Nortons these days, so NYC Norton is happy to represent, and the BEARS and F750 grids are happy to have him.
Saturday's BEARS race saw Jon get a decent start and ultimately pass a few riders on the long track.  However, there were some issues with the LH side of the bike getting oiled, which made for some spooky handling into Road America's Turn 5 (and all others).  That combined with some ground clearance problems in the pegs and exhaust made for some busy off-track time sorting things out.
The F750 race was certain to be a cracker.  This was the first outing after a bit of working up on the Fullauto cylinder head on the Seeley.  I got a great start and holeshot into T1.  But Jon Ellis was nipping at my heels, and wasn't going to let me get away.  Jon had a better drive into and out of the long carousel turn, but seemed to over-run the chicane in the back, which allowed me to get a better drive out.  The back section of Road America is full throttle, top gear (with the tallest gearing we run), with walls on either side and the track being very narrow, with about 3′ of grass between track and walls.  Not really the place to be a hero.  Down into Canada Corner we screamed.  I had to back off a couple of times to prevent running into Ellis.  Missed a shift coming out of Canada Corner, and Ellis gapped me.  I thought the race was over, but no… the Norton had serious power.  Heading up onto the front straight, the bike pulled like NEVER before.  I passed Ellis back heading down into T1.  He went deep, and made up some ground, but I kept him behind for most of the lap until the carousel turn.  Again he came by.  At this point a level-headed person would let him do his thing, stay on him, and pass at the checkered flag for the win.  But I was having none of that.  This time I decided I'd nail him on the brakes into Canada Corner.  Coming in… coming in…. coming  in….   NOPE.  Ain't gonna work.  Ellis had the good line and cut across my front wheel, and down onto the deck I went.  It was a racing incident, and it was my mistake.  I hurt my shoulder a bit, and the right side of the bike was quite a mess.  Oops.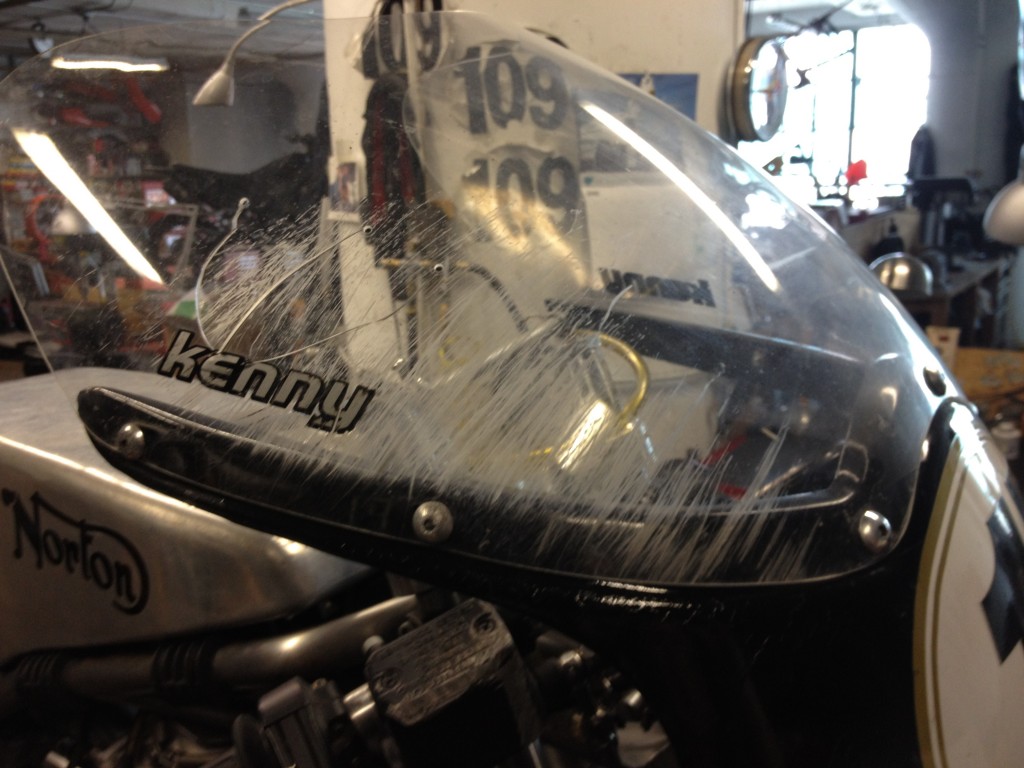 Above: Back home in the NYC Norton shop – a little rash from Canada Corner.
Sunday's BEARS race was a replay of Saturday, with Jon passing a few, and feeling his way around.  We put a lot of padding around the bike to catch any oil, not exactly certain where it was coming from. We had spent a good part of Saturday evening bolting the Seeley back together after its off, and somehow managed to get it back on the track for the F750 race.
And what a race it was.  Without question, one of the best of recent memory.  Somewhat of a repeat of Saturday's race, but without the red mist heroics, John Ellis, Chris Spargo and I had a dogfight.  Ellis was braking SO deep and wobbling that big XS750 into the turns, but I kept my composure and worked on getting a good drive out.  Spargo on his ring-a-ding RD stayed behind, lying and waiting.  On the 5th of 6 laps, I missed a shift going into the chicane, bike died as I coasted in, and that was it.  Ellis and Spargo gapped me.  Not by a lot, but enough to know I'd have to make some bonehead moves to catch them.  Lesson learned.  It looked like Ellis was going to get the win, but he too missed a shift, and Spargo got it.  Ellis second, and me on the final podium spot.  No matter… I couldn't stop smiling.  The bike, having been tossed down the track the day before, was performing flawlessly, and the rider, having tossed himself down the track the day before, did pretty well too, other than the one mistake.  It definitely was a no-room-for-mistakes race.
Video of the race can be seen here from the camera on my Seeley: http://www.youtube.com/watch?v=Xfbl_5QeZ2c
Video of the same race from Chris Spargo's RD: http://www.youtube.com/watch?v=RFZpuV3WBY4
On to Ellis's cabin up in north Michigan for a week of relaxing (and repairing bikes), in preparation for Grattan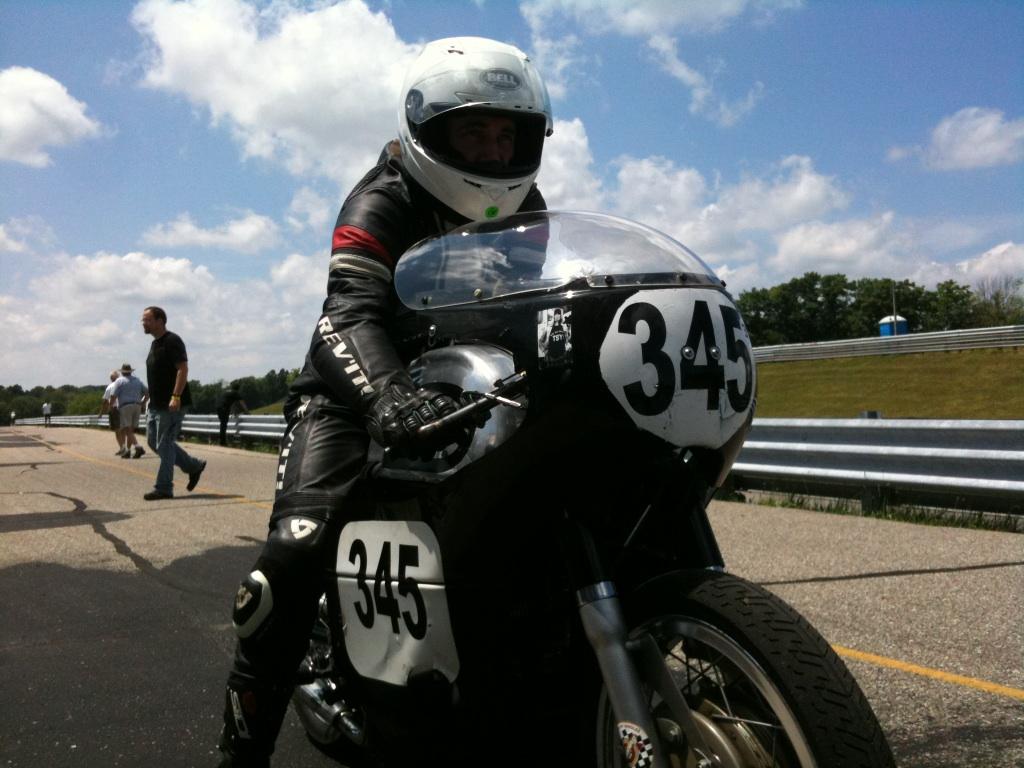 Above: Thorny – #345, ready to take on BEARS at Grattan.
Grattan was a good time.  I'd talked extensively about it with Jon on our long drives across the country.  Up, down, off-camber, blind, jump, scary lack of run-off, etc.  In fact, it's the closest thing to Cadwell Park we have here in the US, albeit Cadwell is much, much more intense, and much better maintained.  Jon did great, kept his head down, and was feeling more confident now that we'd plugged up a hole that was leaking at Road America (ooofah!).  Unfortunately, my Seeley wasn't happy here, at all.  The rear tire, brand new at Road America, suddenly let go in Saturday's race.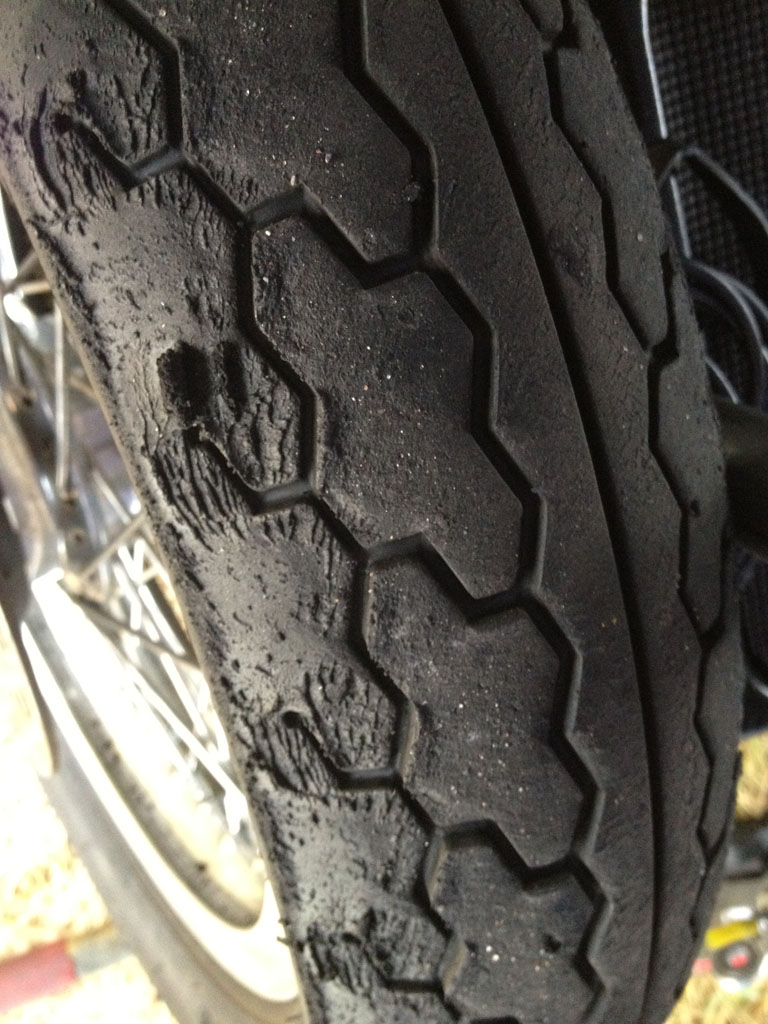 I love my Dunlops and have done all I can to keep them on my bike.  I attribute some of my early successes to having switched to Dunlops from Avons.  But for the last year or so, they simply have not been holding up.  I actually had the ear of Sebastian, head of the Dunlop racing division, at Daytona last year and explained the problems we've been having.  He wasn't sure what the solution was, but did confess that some production techniques had been changed in the last while to meet European ISO standards, so perhaps this was the core of the issue.  The 2012 response came as a completely new tire – a KR145 (no more KR164s were to be produced).  This tire isn't cheap (almost $300.00) so we all wanted it to work, and last.  And it felt great.  I loved it at Road America and it performed the entire weekend.  But, after one practice and halfway through Saturday's Grattan race, it was gone.  It went so bad so quickly I was certain my rear axle was loose.  And the front tire went off too.  The bike tried every way to spit me off, and the more cautious I rode, the worse it was.  I nursed the bike to 3rd place while questioning whether I should be on the track at all.
That evening Ivan Messina offered me up a set of Hideneau tires – same as he's been selling, and running with good success on his BMW – but I chose to mount an old KR164 Dunlop for Sunday's race.  It rained all morning, so no practice for us.  I went out in F750 on Sunday, but unfortunately it was a case of the same dog, different fleas.  The old tire fragged worse than ever, and I was again relegated to 3rd.
Time for a change – a change I didn't want, but one I think all the bigger horsepower racers will ultimately be making.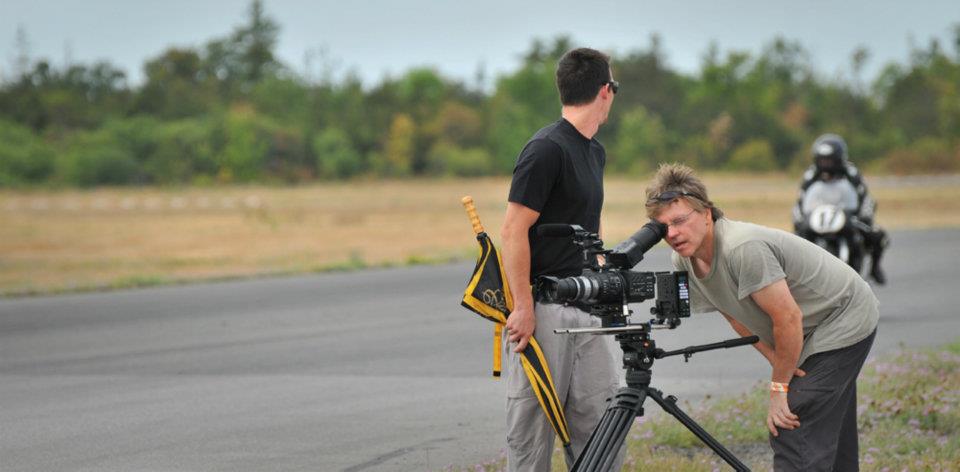 Canadian filmmaker Jamie Fike has been following a group of us around for the last couple of years, sticking his cameras in our faces and looking for the perfect action shots for a very ambitious documentary on Classic Racing in North America.  I've watched him start with a single camera, and fold his operation into a full multiple-camera crew at some very prestigious events.  Over the spring we spoke several times about securing the tracks Calabogie and Shannonville (2 tracks I'd not been to before) for a private shoot, allowing him full access to put his cameras in the most dangerous places!  Let's go! Wow… what a blast this was.  I got to hang out at some great tracks with some of my best friends, with my race bikes present, without all the pressures of a race.  We would go out, do some fancy knee-dragging for the cameras, then come back in and shoot the breeze in the glorious Canadian sunshine.  Jamie Waters, Doug MacRae, Dean de St. Croix, Jeff Peters, and a handful of others got to feel like superstars and were treated well.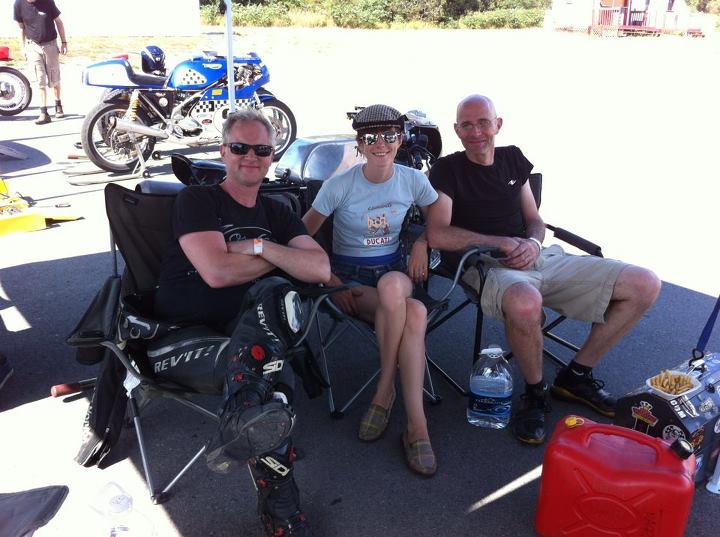 Above: KC, Holly, and Little Disco Deansie enjoy a spot of downtime between shoots
As I have said before, there is nothing in the US that truly compares to UK's Cadwell park.  Well, Canada has the answer, at least in philosophy… Calabogie.  A state of the art facility with one of the most technical layouts of any track I've ever experienced.  Perfect pavement, billiard-table smooth,  immense elevation, off camber corners, positive camber corners, blind, decreasing radii, and just such a beautifully manicured facility.  However, part of what made Calabogie so technical was its lack of runoff in many areas.  Extreme caution was necessary.  This track was designed for car racing, with ARMCO in almost every corner, often running perpendicular to the track.  Ouch – that will hurt if you hit it.  It's too bad, because it could've been one of the best tracks in the world for bike racing had it been designed with better runoff.  We did some shoots focused on particular corners, then at the end of the day the whole lot of us got together and did a mock race start (about 20 times!) for the cameras, staying as close together as we could.  When the production wrapped we all agreed that was probably one of the most dangerous things we'd ever done, but I think we all loved every minute of it.  On to Shannonville.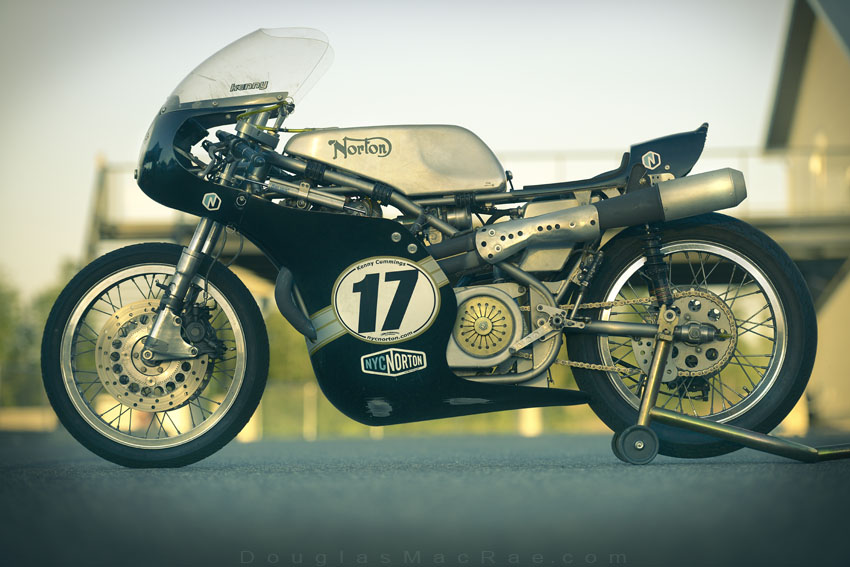 A wonderful shot of the NYC Norton Seeley MK2 Commando, taken in the paddock at Calabogie by fast-and-talented Doug MacRae (www.douglasmacrae.com)
Shannonville was the opposite – flat, soulless, and bumpy as hell (but with lots of runoff).  We got a lot of shots in at Shannonville because it was easier for the crew to direct the riders (you could see without all the trees and hills in the way, as was the case at Calabogie). The Seeley again was acting up.  It didn't like the bumps and the handling was off.  Hmmmmm.   But no need to push because this was for show.  The mantra was to finish up here so to focus on Gingerman in 2 weeks.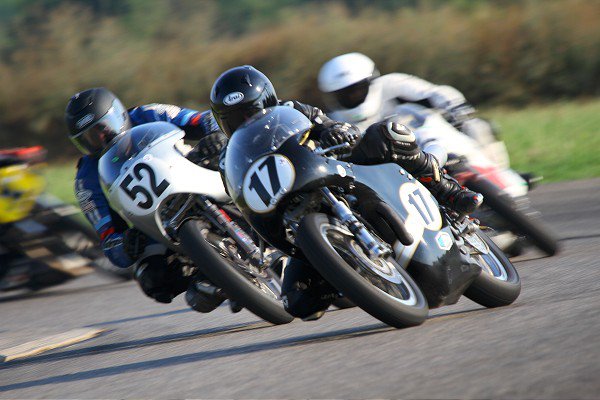 Gingerman was a fair outing – just fair.  The grids were small, and the bike (and rider) was not liking the horrid surface it had.  I had been to Gingerman several years before but don't remember it being as bad as it was this weekend.  The layout was nice, and our midwestern friends are always great to spend time with, but the grooved track surface was giving all kinds of vagueness to the handling,and shaking my confidence.  It should also be noted, this was my first time out with new tires having switched to an Avon AM23 on the rear and AM22 on the front.  The bike was firmly planted in its place, maybe more than I liked, proving we have all been sliding our Dunlops quite a bit.  These Avons don't slide, and when they do, it's not a good slide.  Also, the AM22 front tire is 1.6″ taller than the little Dunlop KR825 I'd been running, and quite a bit wider.  I lowered my forks, hoping to drop them .80″ to account for half of the larger diameter, but that started to give clearance issues with the front tire getting close to hitting the frame on compression, so a happy medium was struck at .50″.  It definitely turned-in a bit slower, but perhaps this wasn't such a bad thing.  The jury is still out.  Again, relegated to 3rd behind fast guys Ryan Ambrose and John Ellis.  Something is wrong, and it's time to get it sorted.
Thorny had a good weekend, having a nice time out in BEARS and duking it out with a SuperMotard from another class.  He has natural riding talent and seems to have taken to this silly sport we embark in.  Too bad, as he's supposed to be in the shop working on customers' bikes whilst I'm at the track.  A monster has been created.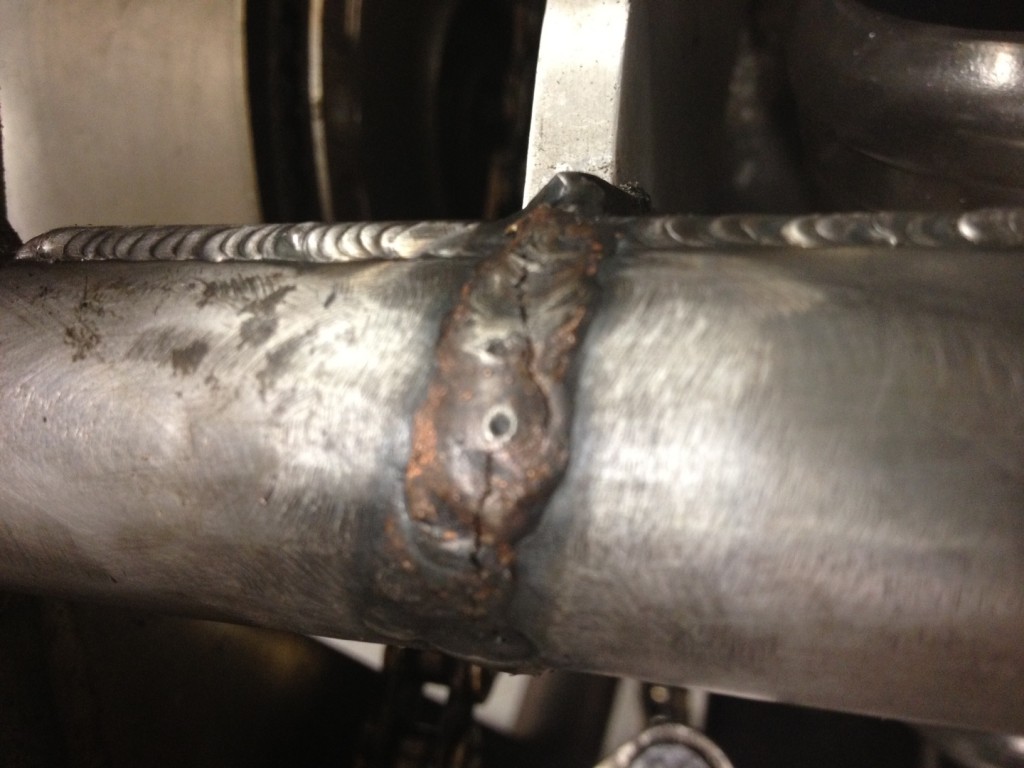 September, 2012: The smoking gun.
What we have here is a crack. In a way, I'm happy about this crack.  Because I was starting to think I was crazy, that I couldn't ride a bike anymore, and perhaps I should retire.   During a teardown post-Gingerman, trusty spannerman Thorndike brought to our attention that the lateral crosstube on the Seeley was cracked.  This tube had cracked about 5 years ago during the first season out with the chassis.  A good repair was fashioned at that time, but over this past winter we found it'd started to crack again.  But instead of doing another good repair, we did a quick-and-dirty bead of braze around the circumference of the tube to patch to get us to Road America.  Certainly the Road A crash put some strain on everything. And now as I look back, I can almost remember to the very lap at Grattan when the bike started feeling odd, and this was probably when the tube let go.  Yes, there definitely have been tire issues.  Those issues combined with some irregular chassis movements would explain the lack of confidence felt in subsequent outings.  So… the solution is to fashion a proper repair; to cut this old sorry tube out and completely replace.  Not an easy task as it's where upper engine mounting tabs reside, so alignment is critical.  Hopefully it will be sewn up in time for a one-day WERA event at Summit in later September.  If not, it'll make it to Barber in October and hopefully be back to its former glorious self.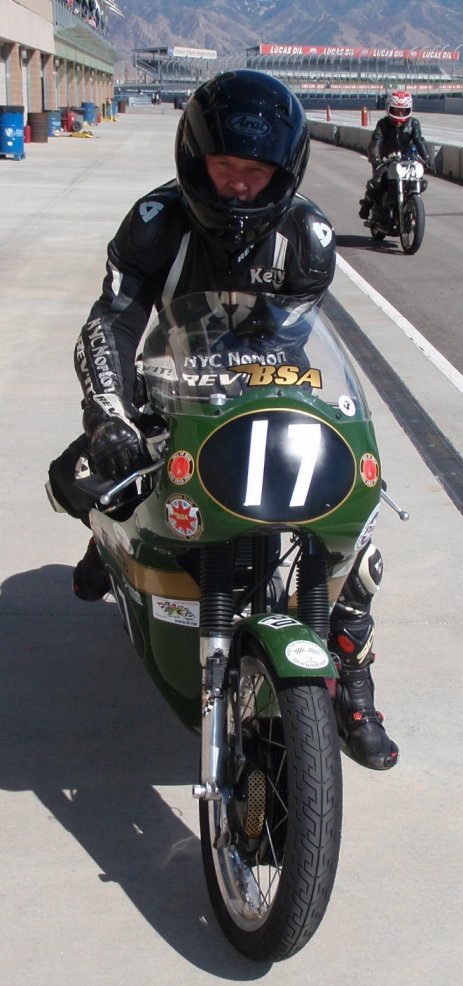 In the meantime, let's flog someone else's bike!  I had pitted with Dave Roper at Miller a couple of years ago while he rode Goldstar Ron's very trick Manx Norton-framed Goldstar.  After that weekend, Ron and I spoke periodically, and he'd always told me the bike was there if I ever wanted to have a go.  I have family in Utah, and Ron is in California, so what better place to meet?  The deal was struck, and the rest came together out like clockwork.  I was able to fly into SLC and meet him and the bike at the track.  I must say, Ron's bike is very well prepared, and after the first practice we made a few very minor adjustments to the clip-ons, possibly a couple of tweaks on suspension, and away I went.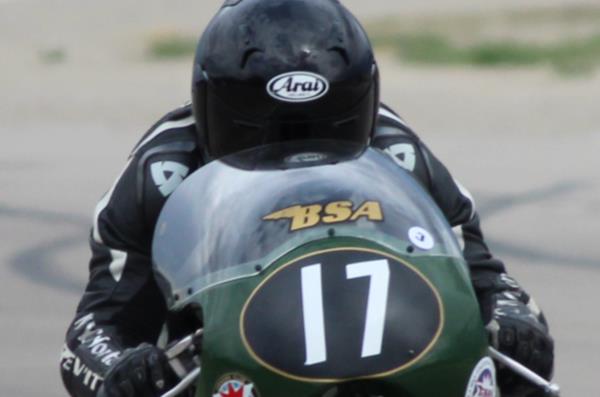 I won the 500 Premier races on both days.  There wasn't any competition, so I chose to put my head down and do the best I could on the bike without chucking it away and try to give Ron some good feedback on how the bike is running/handling.  Thanks for the ride, Ron!
Upon arriving at Miller, I was told by AHRMA Road Race director Cindy Cowell that she'd volunteered me to ride one of the TTXGP Zero Electric bikes in their own demonstration race.  I was to be on the track with Eric Bostrom, among other fast dudes, on one of the spec-class Zero Bikes.  Okay!  I'll do it.  I'm a racing whore.  If it goes around the track, I'm game.
I have many, many incredible feelings about this electric bike racing experience, so will try to be brief:
I have never ridden a modern bike on the track.  I have never ridden a race bike that didn't have engine braking.  I have never ridden a bike on the track (or the street) that wasn't 100+db loud.  I have never ridden a super-motard-style chassis with a severely kicked-in steering head. I have never ridden a bike on the track with a speedometer.  I have never ridden a bike on the track that had modern racing tires.  Wow… this was one of the best experiences I've had.  Never have I been able to go out and have absolutely nothing to distract me, allowing great concentration as I put the bike into and out of the turns.  There were no worries about motors falling apart, no worries about redlines, missed shifts, over-revving, or oil spills.  It was just me and my thoughts.  I could charge the corners like never before, deep as can be, then tip the very predictable bike in, all while laughing out loud having never noticed how much huffing and puffing I do when on a race bike!  There was nothing to worry about other than honing my own skills in the most peaceful environment.  The bikes make no sound. The only noise was the wind as I accelerated.  Our bikes were almost bone-stock Zero street bikes with race tires, and made for some good, competitive drafting racing strategy unlike when one is on a big HP bike.  In this photo I am coming across the finish with good-guy Ant Burrows (Kiwi) in my draft.  We had some serious fun out there.  I do think this is part of the future.  And while our personal aesthetic and spirit is firmly planted in the glory days of the past, I highly recommend this to anyone who might have the opportunity to ride one, and would jump at the chance to race these bikes again in an NYCNorton second.
-Kenny Cummings