ABOUT NYC NORTON:
Whether you're looking for a full Commando restoration, a one-of-a-kind Special, a world-class race-bike blueprinted from the crank up, a Grand Prix chassis, or a top spec motor or gearbox rebuild, NYC Norton corners this specialized market by building classic bikes at the highest level of detail and performance. The championship-winning history behind the NYC Norton trademark can't be found on every street corner or random social medial post. The company is not a typical roll-in service shop with display cases of cheap aftermarket parts, but a high-end dedicated workspace, streamlined for the sole purpose of producing and restoring our beloved bikes and assembling their associated components, which are either built in-house or sourced from the best suppliers in the world.
Shop hours are 10am – 6pm, M-F., visits by appointment only.  Please call or email with enquiries.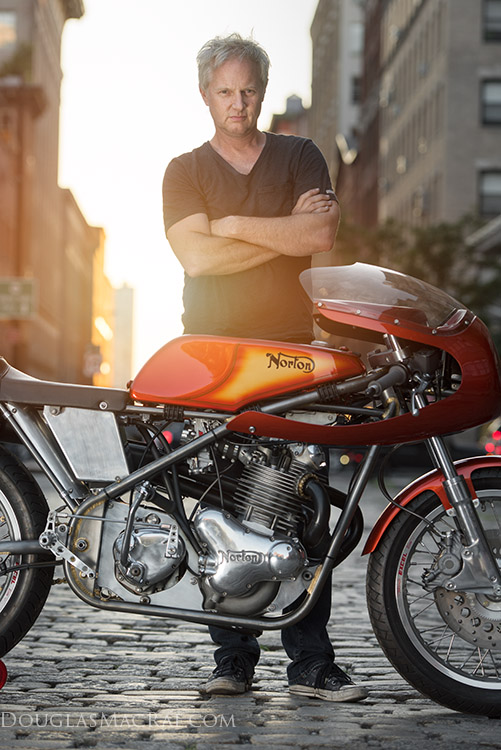 HISTORY OF NYC NORTON:
In the mid-1990s, I registered the domain nycnorton.com on the still-untamed World Wide Web (think back to those days!) to document the restoration of my 1974 Norton Commando. In those pre-blog days, I just told my tale by putting up a photo and text, photo and text, photo and text, documenting what I did over the course of time. Through the site, I met many riders who communicated their own stories, or asked questions about how or why I did things the way I did. In 2000, I purchased a Featherbed frame. I had no particular mission for it, I knew only that I wanted to have something from Bracebridge Street in my garage. What followed sent me down paths I had never imagined taking.  I managed to have some genuine successes in racing, and turned my obsession into an expanding business — rebuilding and restoring these beautiful machines to the highest level of detail for others who share this passion.
Early in the evolution of nycnorton.com one of my first entries was a little piece about my father.  I think it sums up the roots of my love for Norton motorcycles and is worth repeating here: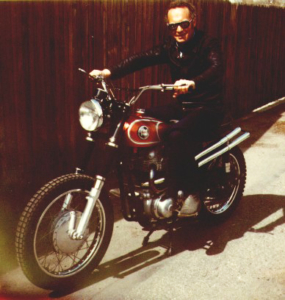 My Father, Bruce Cummings, the self-proclaimed "Cruisin' Stud", on his Norton, circa 1970
"A few years ago while visiting my father I mentioned in passing that I'd bought a Norton.  My dad gave me a perplexed look and asked, "Why a Norton?"  "I dunno", I replied. "I've always had a thing for them…I can't really explain it."  My father chuckled and walked out of the room, only to return a few moments later with a dusty old photo album.  He opened it up and there, in true 1970s Polaroid glory, were pictures of me as a child sitting on my Father's Norton.  I about fell off my chair. Wow! Sure, I remembered he had a bike but had no idea it was a Norton! I never knew how cool my dad was (is).  He then proceeded to hand over his stylin' leather jacket that he wore in those days, a bit tight on him now I'd say, but looking good on me. Thanks Dad."
-Kenny Cummings
NYC NORTON
NYC Norton blossomed as a web presence documenting the evolution of our motorcycle life  — a blog before blogs were blogs.
Our Instagram and Facebook have now taken over the minute-to-minute updates, but the archives of our blog can be found by clicking HERE

OPERATING
MONDAY – FRIDAY
10:00am ~ 6:00pm
SHOP VISITS

By Appointment
TELEPHONE
917.717.4300