NYC Norton got some amazing press from Paul d'Orleans, who summed up so nicely our bike at Michael Lichter's "Naked Truth" show at Sturgis this year, in a piece he wrote for Cycle World Magazine:
http://www.cycleworld.com/2015/10/13/the-naked-truth-motorcycle-show-cycle-world-custom-and-style/
The story:
One morning in July, a call came in from Michael Lichter, asking if we had a bike to put in his show at the Buffalo Chip at this year's 75th-anniversary Sturgis rally. Michael's Sturgis exhibitions are legendary, and I knew we'd want to be a part of this. This year's theme was "Naked Truth," and the criteria were that the bikes could have no paint, extraneous details, or fluff—just the meat of the matter. Michael rattled off a list of builders who were participating, and it was clear that we'd need to be on top of our game. As we talked, I looked around our shop, and, although there were a lot of racing bikes that were bare, unpolished beauties, there were, surprisingly, no street bikes that didn't have some sort of finish or decor on them. We had just returned from the INOA Norton rally with two NYC Norton Seeley Streetfighters, which happened to be sitting prominently in the middle of the shop floor, directly in my line of sight.  One bike in particular, the 1007cc Seeley belonging to our good bud John Magyar, seemed ripe for the challenge. The 1007 is 100% street legal, and behind the fancy paint and bodywork is a raw beauty that we thought might turn out to be just what Lichter was looking for. So, with Magyar's blessing, we decided to have a go.
Pulling the bodywork off the 1007 was easy enough, but the tank and seat would have to be replaced with something unpainted and still remain functional (our own personal criteria – the bike had to be ready to ride).  I happened to have a spare tank for my own 750 Seeley racer that was bare, so Stephany took some goood ol' elbow grease and scotchbrite to it and made it pretty again (maybe prettier than ever?), and it was perfect for the job.  I also had an old cracked Seeley seat pan lying around that had slid down the race track many times in its life.  It seemed a good candidate, but would need lots of love.  Again, Steph did a bang-up job on the seat, filling cracks, patching, and getting it back to that sleek shape as it once was.  A win/win for us as now it can be used on the F750 racer for next season.
The 1007's original exhaust system is coated with a wonderful black ceramic, but that wouldn't fly for this show.  Fortunately we happened to have a spare, bare system in the shop; there for emergencies in case one of the race bike systems gets flattened.  This turned out to be the perfect setup.  After a bit of sanding and a light coat of anti-corrosive on the bare steel, it looked brilliant in its unfinished glory.
But the hardest existential dilemma we had was what to do with the front faring bracket/headlight setup.  Because we wanted to keep the bike as it could be ridden, this meant mounting a working headlight in some fashion without using the front fairing that's normally there to support and obscure the light and create the visual balance to the nose of the bike.  Thorndike fashioned up a tidy bracket that held the light to the fairing mounting point off the chassis, but I confess it took us a while looking at it to convince ourselves this was correct.  In hindsight I think it's perfect and creates the essence of a true streetfighter – stripped down elements hanging out there starkly for the world to see, all with a huge dollop of irreverence, which is exactly what this bike's personality has always been (with or without her dress on)!
After an intense spell of work to get it ready, a big semi-truck picked it up from our loading dock and away it went with little fanfare.  I'd hear bits and pieces from Michael over the next few days, but went on with our business and didn't think much of it.
Then, we started getting calls, and emails, and posts to the NYC Norton FB page www.facebook.com/nycnorton  Folks at the rally were writing in, commenting on its presence.  The bike was very well received – better than we could've ever imagined.  And while I think we all put a lot of thought into it to get it ready, most of the hard work was done some time ago during our collaboration with Magyar at the onset of this build, which established the stunning core from the get-go –  a BADASS, overbored, aggressive Norton twin motor shoehorned into a delicate Seeley MK2 chassis, with some lighting for good measure.  And that's exactly what it was distilled down to for this show – 300lbs of Naked Truth.
Damn!  We are very happy to have been a part a show with the top builders and fabricators around the world, and received like we were.  Thanks to Magyar for letting us strut it around the country.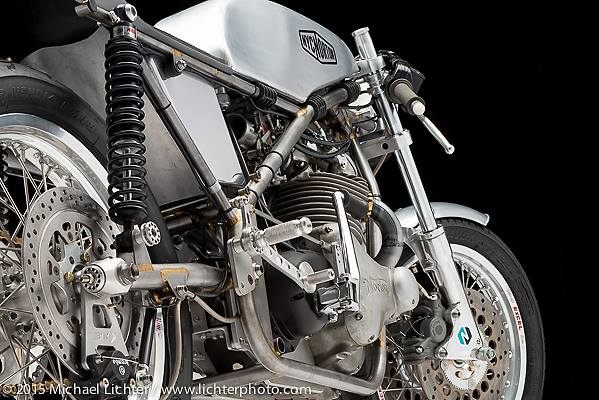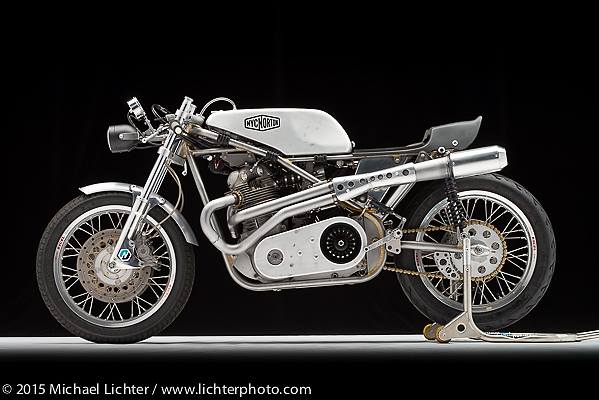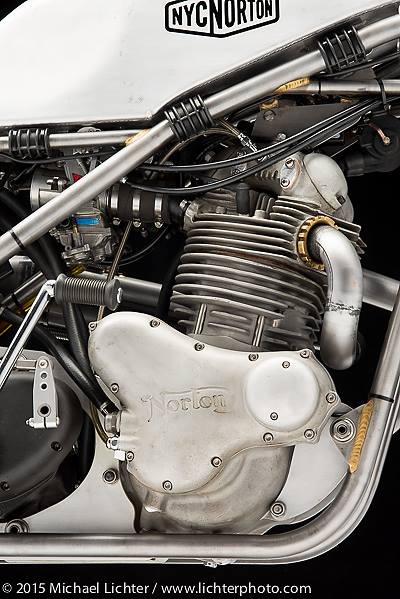 -Kenny Cummings
NYC
August 2015