For many years, we've been carrying our racing bikes to the track in a small but very efficient 1999 T4 Volkswagen Eurovan.  It served us well and was absorbed into the NYC Norton business as a lithe big-city bike hauler.  But the transmissions in these vans are notoriously fragile, and the need to carry more bikes and sometimes tow a trailer was upon us.  After much laboring, bean-counting, talking to car dealers, accountants, and shrinks, the business took the plunge and we bought a new Sprinter to carry bikes  – race bikes and customer bikes – with reliability.  Our maiden voyage would be the beloved Midwest excursion to Road America in Wisconsin, with the week off spent up in Northern Michigan with friends at the wonderful cottage in belonging to John and Jan Ellis, then off to Grattan the following weekend.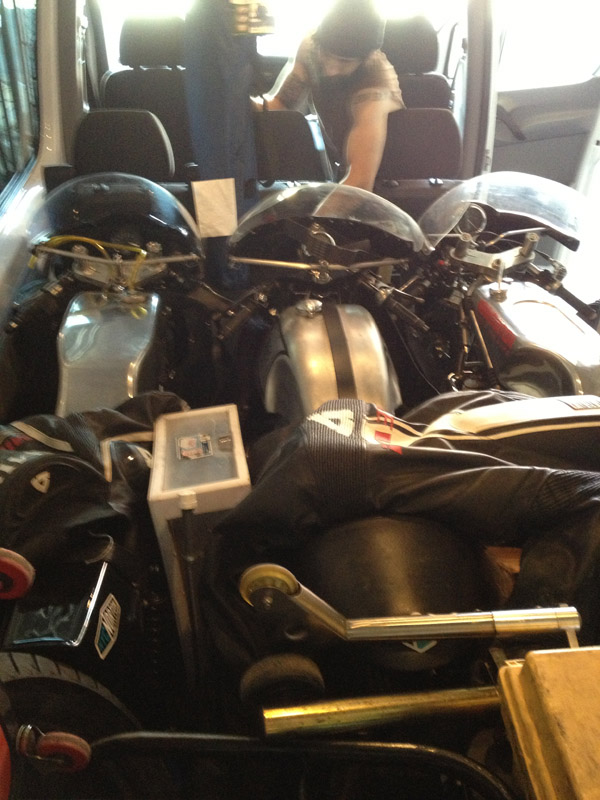 There had been many test fittings of bikes in the new van.  It was tight, but 3 bikes could fit with a little finesse.  The New Yorkers in all of us have learned how to maximize space, but the first trial run is always the most cumbersome.  (L – R: Seeley Commando, Atlas, Seeley G50, and a lot of other stuff).
We set off across I80 and made it to the track with no issues (other than the usual Chicago Expressway mayhem) and we were getting good mpg to-boot.  Elkhart Lake, Wisconsin is not a place I'd ever thought I'd have a hankering for, but arriving at Road America has become of my favorite things on earth.  One enters the infield under a big overpass which always reminds me of the "gates of heaven".   It's our biggest track on the schedule next to Daytona, and is certainly in my top 3 racetracks I've ever been on.
Once setup in the paddock it was time for the ceremonial new fairing scuff.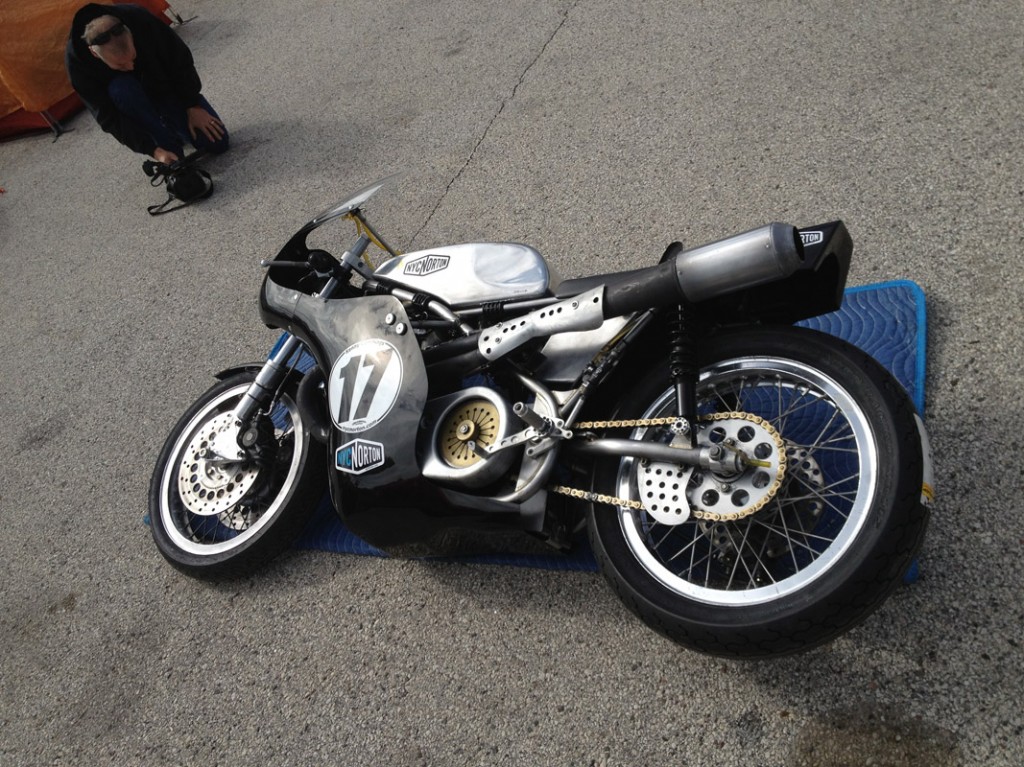 The theory here is, if you have new bodywork it's certain to hit the ground within the weekend (proven with a brand new fairing last year in a little scrap with the Junkyard Dawg that put me into the rocks in Canada Corner), so best do it in a gentle, controlled manner.  After this little ritual I managed to keep my fairing scuff-free the whole weekend, and I thank the Gods of fairing-do for their leniency.
Off to practice.  Both Jon and I got some good laps in, and things were going great.
Photo by Mark Coughlin
Mr. Thorndike has acquired quite a bit of speed and style in a short amount of time.  Here he is getting down to business on his beautiful '67 Atlas. But, as things go, Jon's one-of-a kind-CDI-in-magneto-housing ignition packed up during Saturday's morning practice.  Not a lot of time to fashion any repair, and quickly we realized the obvious move was to let him have his way in the BEARS race on my Seeley 750.  Jon has a level head, and as he'd come by on the straight we could see he was relaxed.  Careful of those brakes, son.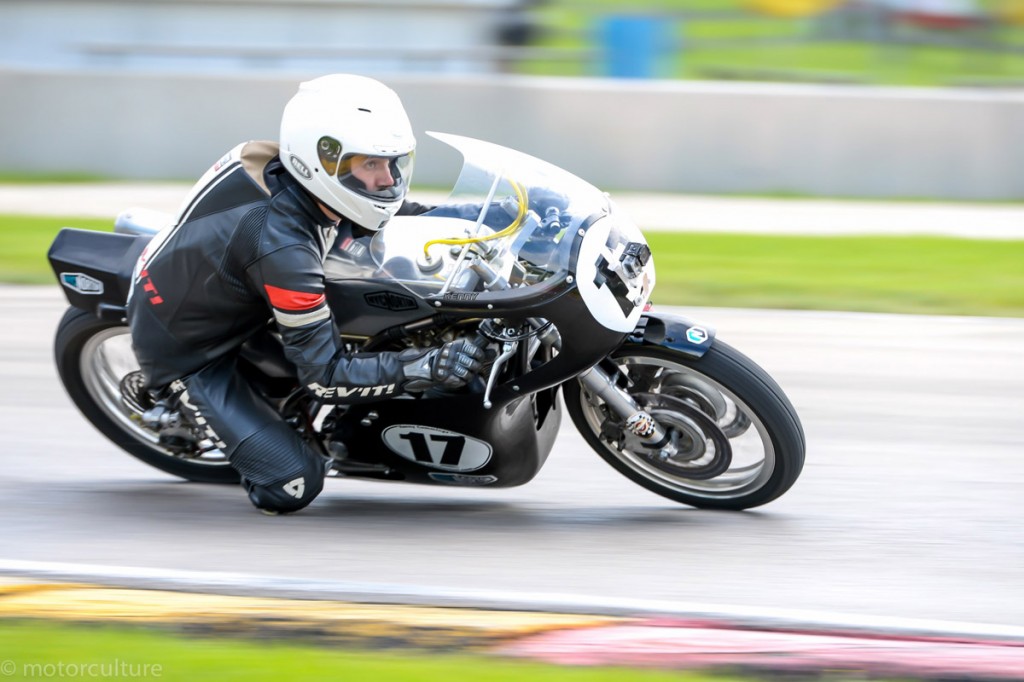 Photo by Mark Coughlin
Well done, lad!  Jon finished in the wood, and I could tell he was happy to come home on the podium, and in one piece.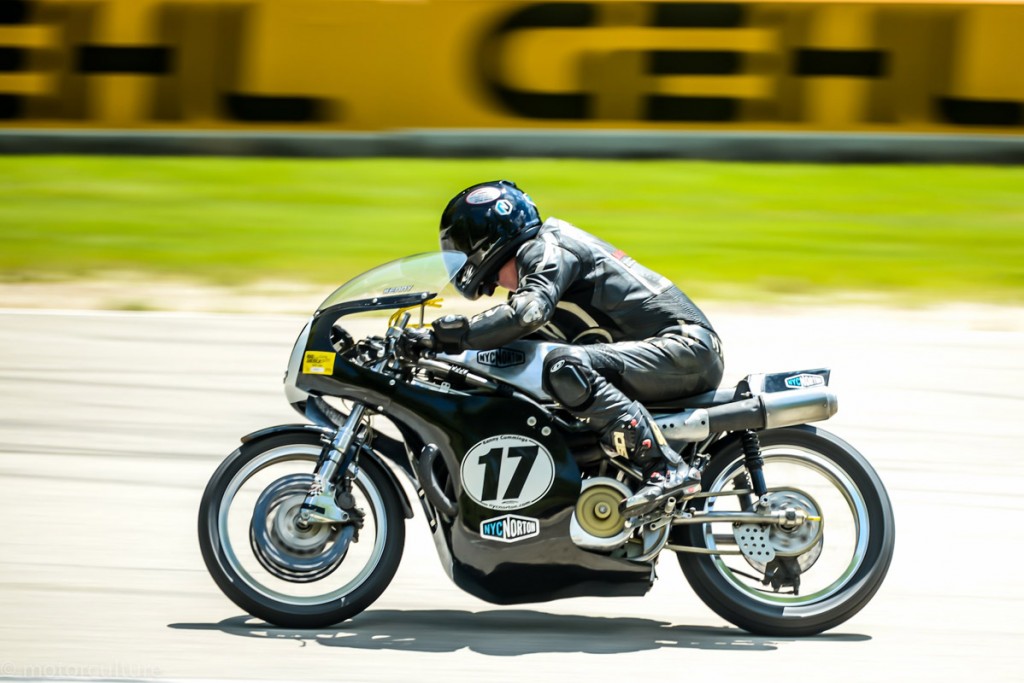 Photo by Mark Coughlin
Once the bike was back in my hands, I had a great dust up with the ol' Junkyard Dawg, #5x, in F750 but was relegated to 2nd place.  Seems to be a common recurrence these days.
I then jumped on the G50 for 500 Premier.  I'd been having some great practice runs with this bike all weekend, having lowered the front end a bit which gave the bike some quicker steering.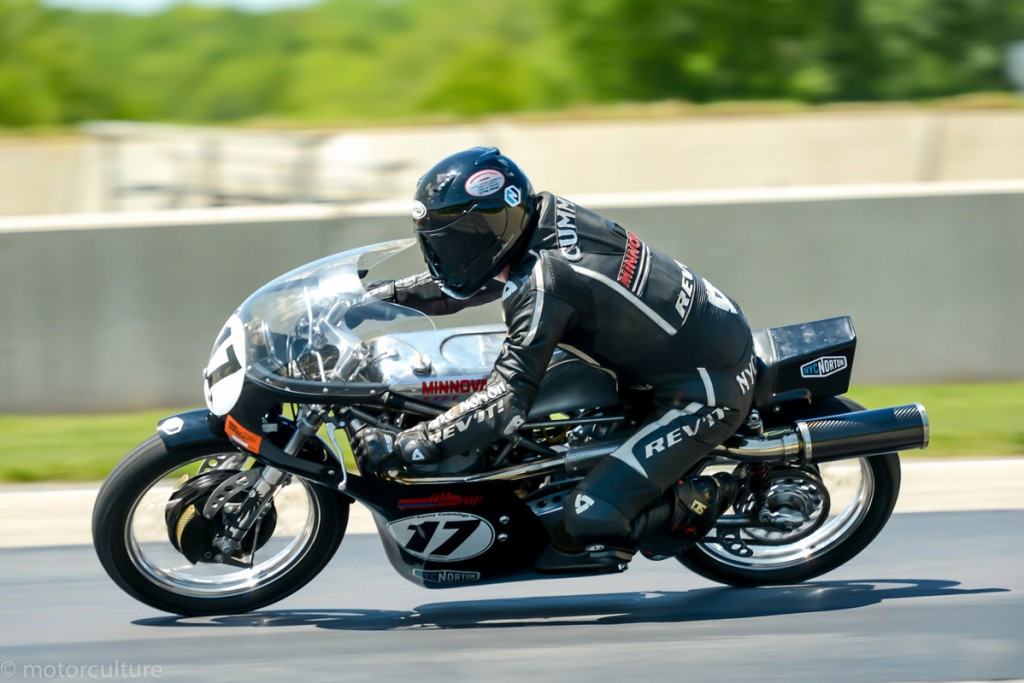 Photo by Mark Coughlin
I decided to change a sprocket at the last moment and rushed to put the rear wheel back together and on the bike before the race.  I heard a small clicking sound in the rear as I pushed the bike to the starter rollers, but it was 3rd call… no time to investigate.  Probably just a rock between the fender and tire, right?  I got a fantastic launch and holeshot, but Timmy Joyce got me in T1.  Clean pass.  I tucked in behind him and headed down the hill.  I love this part of the track, blasting as fast as we go – as fast on any track anywhere in the world – then down 4 gears into T5.  I could hear Wes Orloff right on my tail on his badass CB450 and knew I had to keep my head.  Up the hill into T6 chasing Tim, around the carousel and just started to wick it up towards the chicane when the whole back end locked up.  Ack!!!!  Pulling in the clutch did nothing.  I was out of control.  I slid and weaved, and knew I was going down. And I knew Wes would collect me if I did.  This was going to hurt.  Somehow, in some way, I managed to come to a stop upright.  I was stopped dead on the tarmac, just before the turn-in point on the chicane, and absolutely needed to get out of the impact zone.  I hopped off the bike and tried to push it but it wouldn't budge.  The corner worker ran out and helped me, but I had to lift the rear wheel to get the bike to roll.  Wow.
After an eventful lift up onto the crash truck (I see this guy way too often at this track) and back to our pit, the teardown ensued.  The prevailing theory is, when changing the sprocket, we somehow managed to pop a spring off the brake shoe, which circulated around the wheel, ultimately de-laminating the brake pads until the whole thing just seized.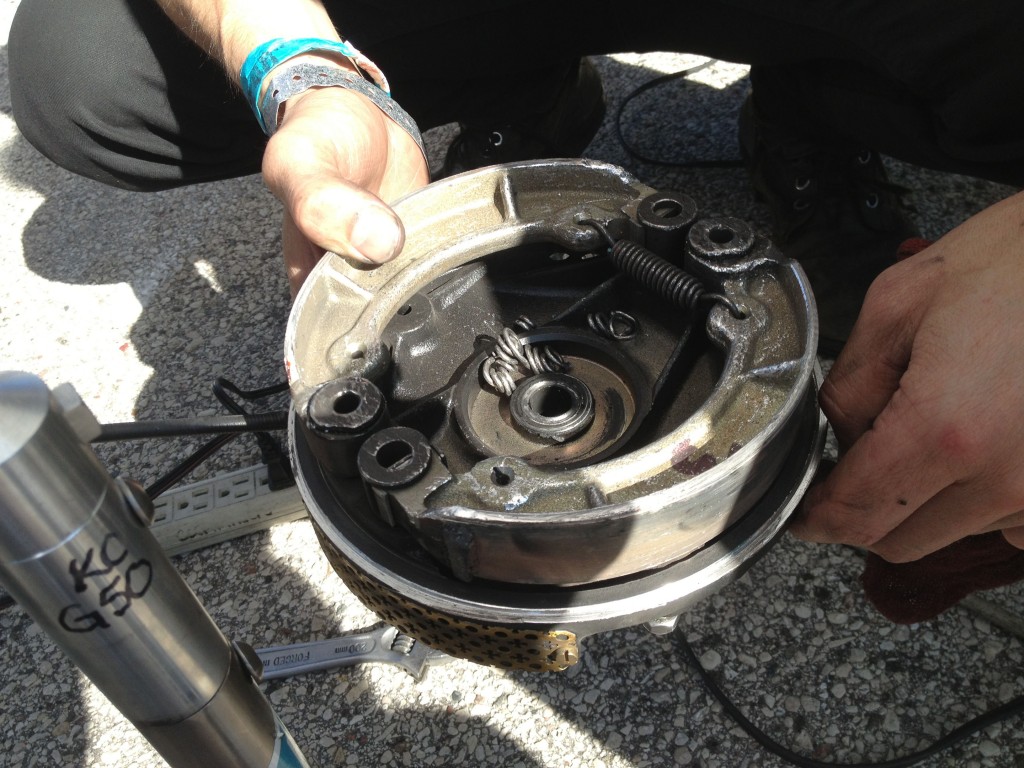 Pretty lucky here.  It didn't destroy the hub (too much, anyway), the bike didn't go down, and nobody got hurt.  But that was it for the G50 for the weekend.  I put it back together, sans brake shoes, and let it bask in the sun for spectators to climb on.  I knew I'd have some work to do during the off week.  Maurice Candy was keen on having something to do up at the cottage, so we put him as the task-master to re-bond the linings back to the shoes.  More to come.
-Kenny Cummings