The 2013 racing season got off to a later start than usual, due mainly to work commitments that took precedence over the first two AHRMA rounds happening at New Orleans and Talladega in early Spring.  So, when the opportunity arose to ride my old friend Ron Halem's Goldstar out in Sonoma in May, I jumped at the chance.  I'd never been to Sonoma and it seemed like a long way to go for a single race weekend, but the chance to race at such a place up in beautiful Northern Cali was too much to pass up.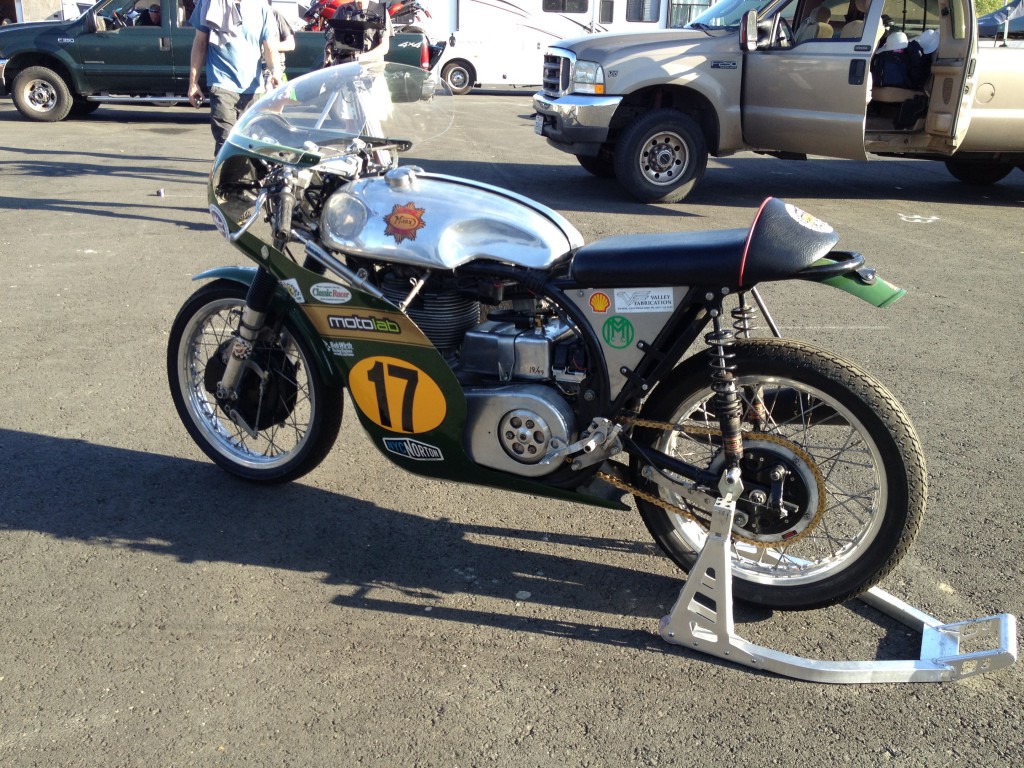 Ron's bike was immaculately prepared, as per usual.  The last time the bike had been out was with me on board at Miller in September 2012l, and I'd really shagged the Dunlops that weekend, so we put on some new tires and had at it.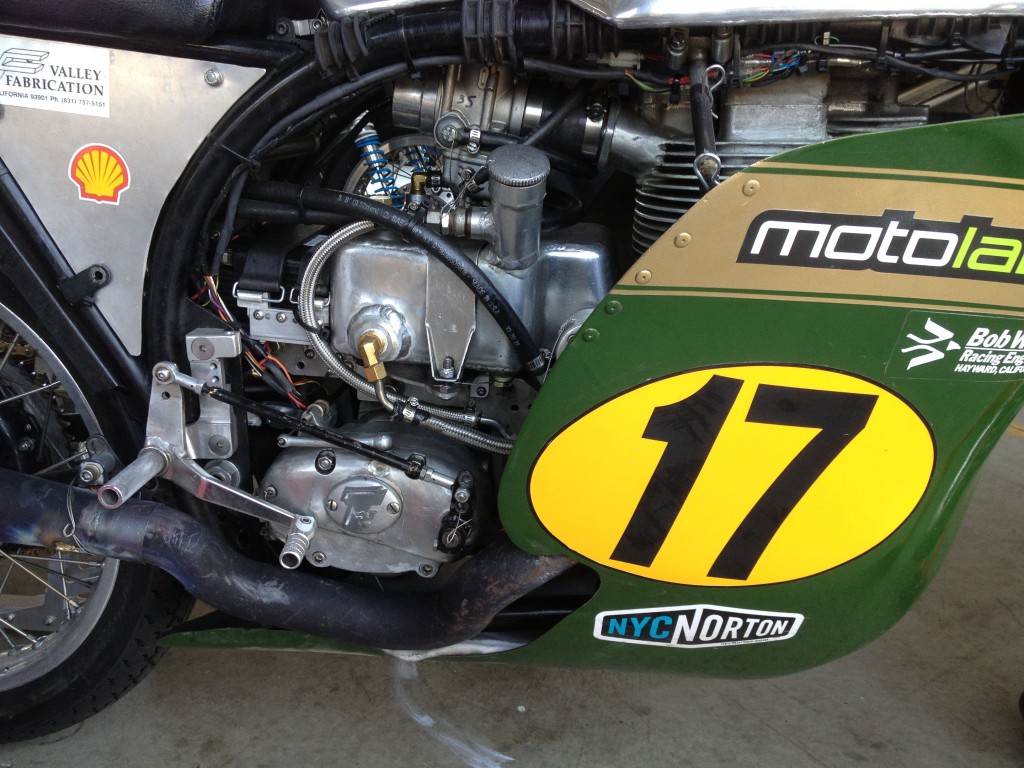 This bike has seen a lot of development over the years.  Ron is a fanatic about the Manx GP, and the bike has weathered many laps around the Isle of Man, so it's nice to hop on and know it will be fast AND reliable.  And it is.  If you ask Ron, "Pushrods are where it's at!"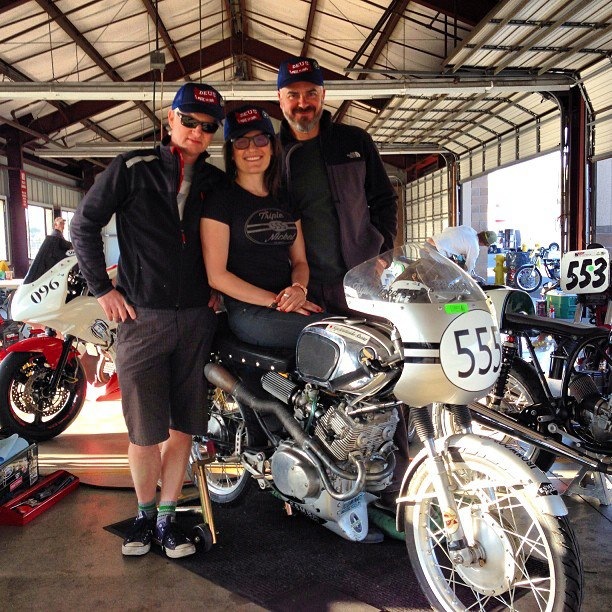 An added perk to West Coast racing is seeing friends that we don't always get to spend time with back east.  Here we are mugging with our Deus hats in the Sonoma garages (KC, Stacy B London, and Ivan Messina).
Sonoma is quite a place.  I'd seen lots of onboard video, but once again was caught off-guard at how much elevation change is here, and how incredibly technical the circuit really is.  I worked my way up to it and finally by the last day felt like I could be a contender.  Fortunately my ol' buddy Dave Roper had traveled out with me, and since he'd been here before, he was able to give me a few pointers and a boost of confidence to get me the fast line through some of these tight turns.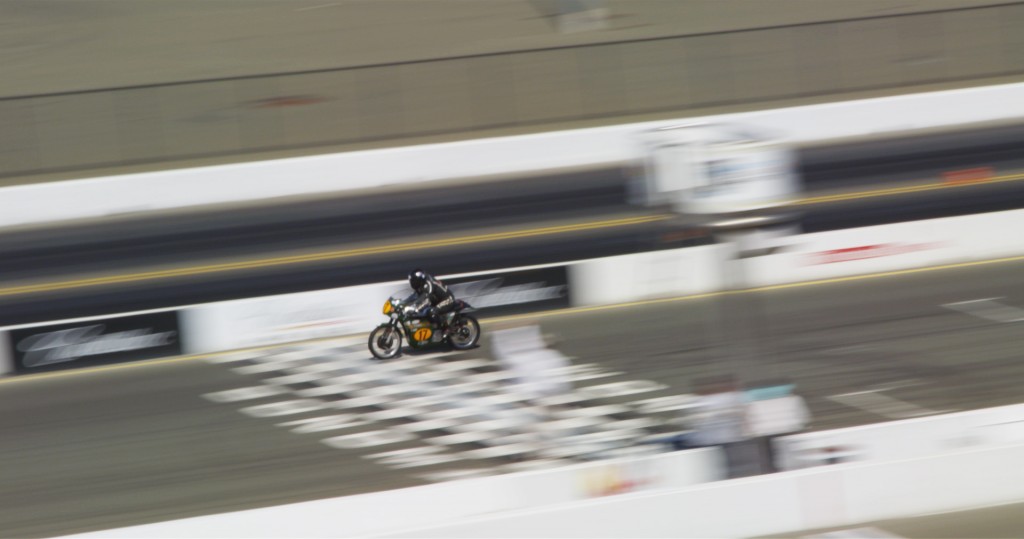 I love this track – different than anything I'd experienced in the states.  It took a while to get up to speed, but now I can't wait to come back.  Ron was happy and agreed to bring the race bike down to Carmel for the exquisite Quail Lodge Concours show we'd been invited to, taking place the following day…
… but not before stopping off at Taqueria Can-Cun on Mission Street in San Francisco along the way!
Roper and I arrived at The Quail Lodge Saturday morning, and were immediately ushered in and treated like kings.  I found the Goldstar surrounded by several folks with Ron holding court telling any and all about the work he'd done on it.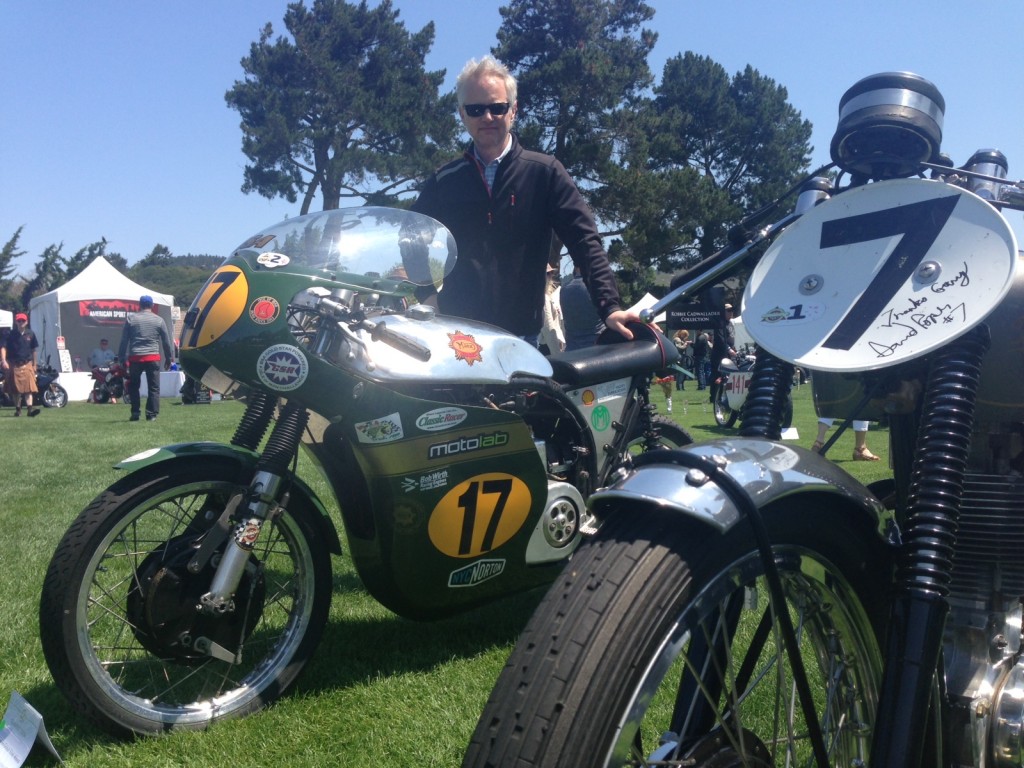 Here I am mugging again for the camera behind the Goldstar, with Gary Roper's badass Velocette MAC in the foreground.  This Velo is in a class of its own, and Dave Roper (no relation to Gary) rides the 20-year-old tires right off it!  The Quail Lodge concours was one of those things where some folks were dressed up in suits while others were in shorts and t-shirts.  I put on a collared shirt just to show my respect to the country club.
Once again it was great to see folks we don't always get to spend time with either because of hectic schedules, or simply due to location.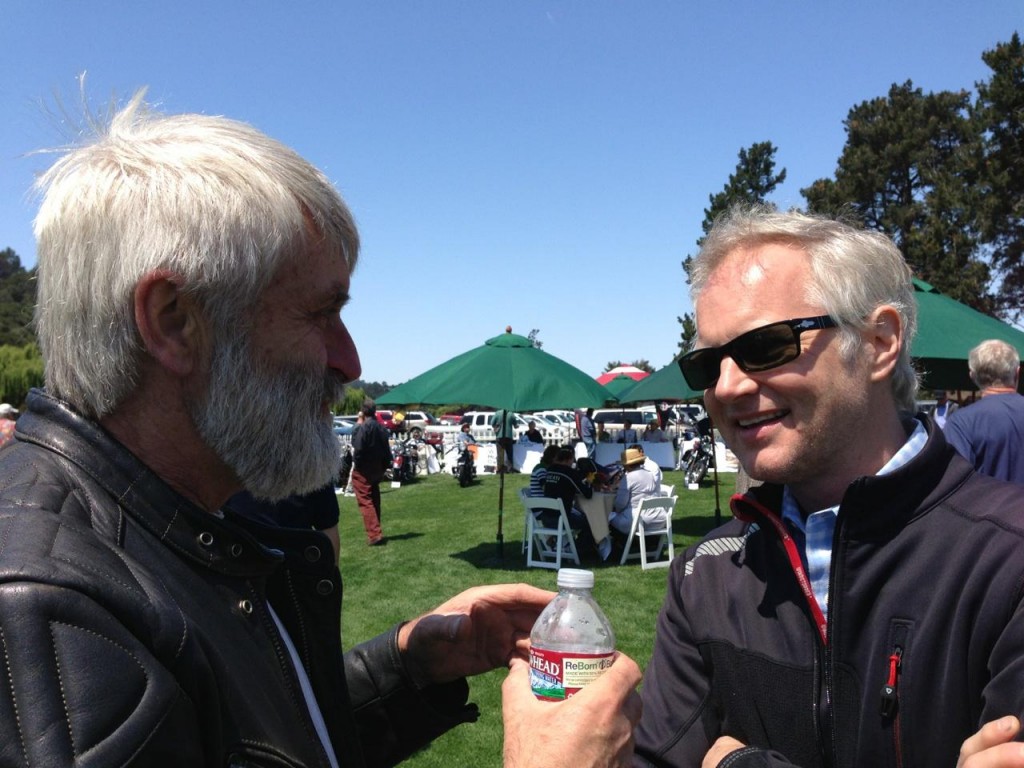 Here I am having a good chatter with one of the most important Norton people I know – Phil Radford of Fair Spares America.  Phil and I don't talk as much as we used to, but he has been there for me since the beginning.  Massive respect for this man.  If you aren't already sending your bike to us at NYC Norton, then you'd better be sending it to Phil.
I met a lot of really talented folks – bike builders doing some spectacular stuff; not just your garden-variety cafe-racers.  There were bikes in all conditions – from show room fresh to trailer queens to rat bikes, in a spectacular setting on the green.  A great way to soak up the springtime California sunshine.  I got to rub elbows with Wayne Rainey, Kenny Roberts, and Cook Nelson to drop a few names.  The event was hosted by my bud Paul d'Orleans of Vintagent fame, and he certainly knows his way around motorbikes.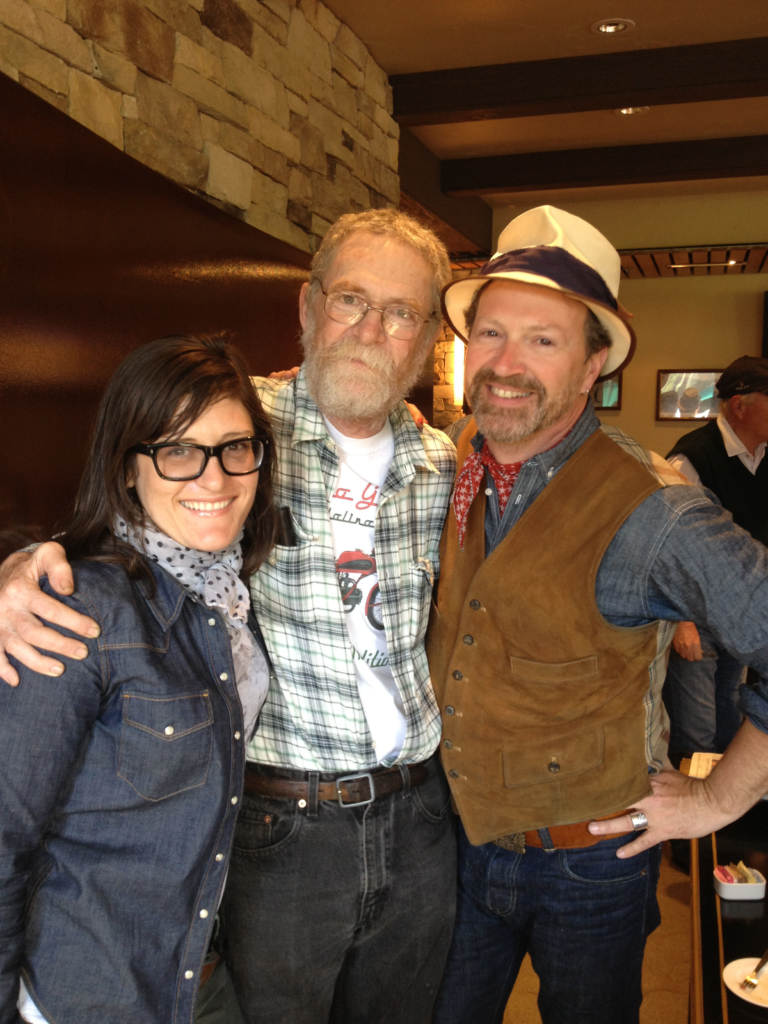 Lady and Gents – Stacy B London, Dave Roper, and Paul d'Orleans.  They are all dandies!
As Roper and I headed back up, preparing for our inevitable departure from SFO, he suggested we stop off at Laguna Seca along the way.  I'd never been, and assumed we'd peer over some chain-link fence at a deserted track.  Not quite – Laguna is situated on a public park, and it's open all the time.  We drove right in and probably could've taken our rental car out on the track if we'd had a little more bravado!
Rope snapped off a couple of shots of me for proof we'd made it in, which turned out to be the perfect capper to a wonderful whirlwind West Coast trip.  Back on the plane and on the way home.  Time to prep the NYC Norton bikes for Road America/Grattan coming up next.
-Kenny Cummings