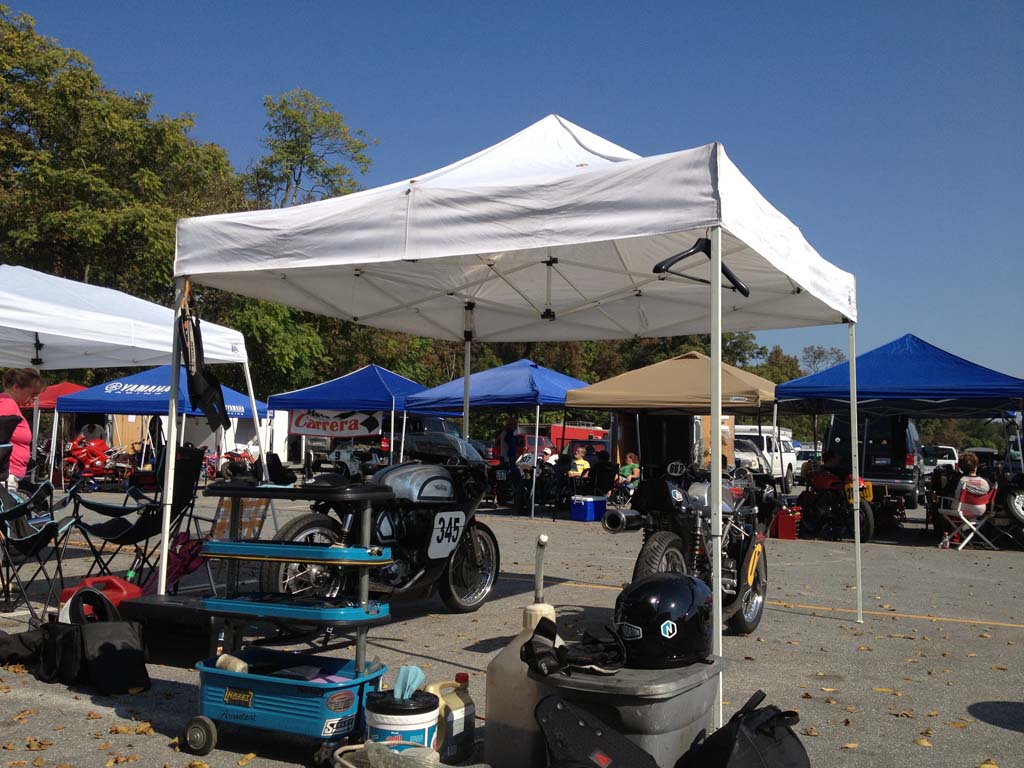 The 2012 season was winding down, but we had a sudden burst of greatness enter our lives with the new Seeley G50 arrival (click here for G50 details) so it was important to get some seat time on the bike before heading into Barber.  We packed up the G50 and Atlas and headed south to West Virginia – Summit Point, to be exact – where we would race with WERA for a day.  At 4.5 hours of driving, Summit Point is our closest track to NYC that offers vintage racing (2 miles further than New Hampshire Motor Speedway, according to Google, but much quicker to get to), so this was a walk in the park for our one-day adventure.  We got to the track Friday night, set up the canopy, and awoke Saturday morning to a perfect fall day.  We filled the bikes with oil and gas and away we went.  The G50 was absolutely a treat to ride.  It needed nothing.  Not a thing.  Gearing was correct, ergonomics were correct.  All that was needed was for me to get comfortable with the big single's power characteristics.  I registered for 500GP, and also bumped up to V3.  I won the 500GP and took 2nd in V3.  Not bad for a maiden voyage.  The only odd thing was the bike slipped out of gear under acceleration a couple of times.  Hmmm (more on this later on).  I chalked that up to not getting total engagement by me, and didn't think much about it again.  Thorny learned the track quickly and had some fantastic dices with others who are more local to the place.  We were home by Saturday night.  The perfect surgical strike – in and out within 24 hours.  Onto Barber… the really big show.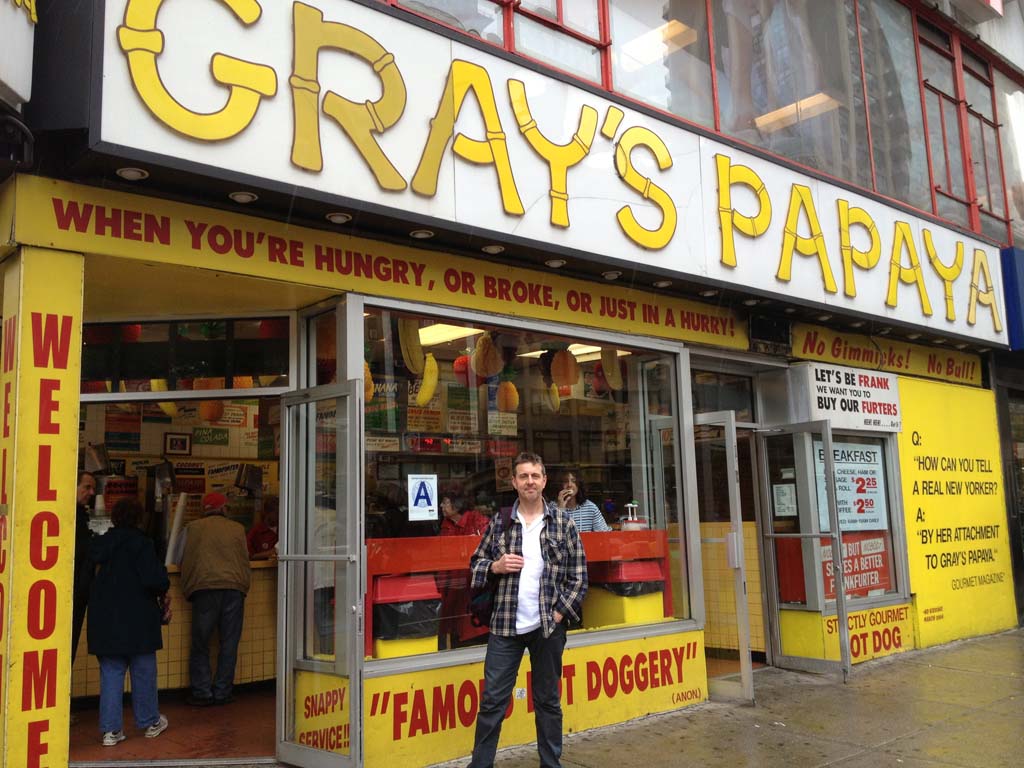 Martin Page, Minnovation Racing's main bloke, busks for a Papaya Dog
Leading up to Barber, NYC Norton's biggest supporter and dearest friend Martin Page from Minnovation Racing packed up his bags full of chocolates and made his way over from the sleepy English town of Leeds to the vibrant American metropolis of New York City.  The program was for Martin to come for a few days early to sight-see and do things completely unrelated to motorbike racing, then pile in to the RV with us and drive from New York to Alabama; an opportunity to see America like few could ever achieve.  During his stay he saw the new World Trade Center, went to the top of the Empire State Building, drank bottles of champagne (champers) at a haughty New Yorker Magazine party, hobnobbing with the literati set, went to the Dakota where John Lennon lived, and even stood in front of Gray's Papaya for a photo (although he didn't dare eat there).  But, it was time to get our act in gear.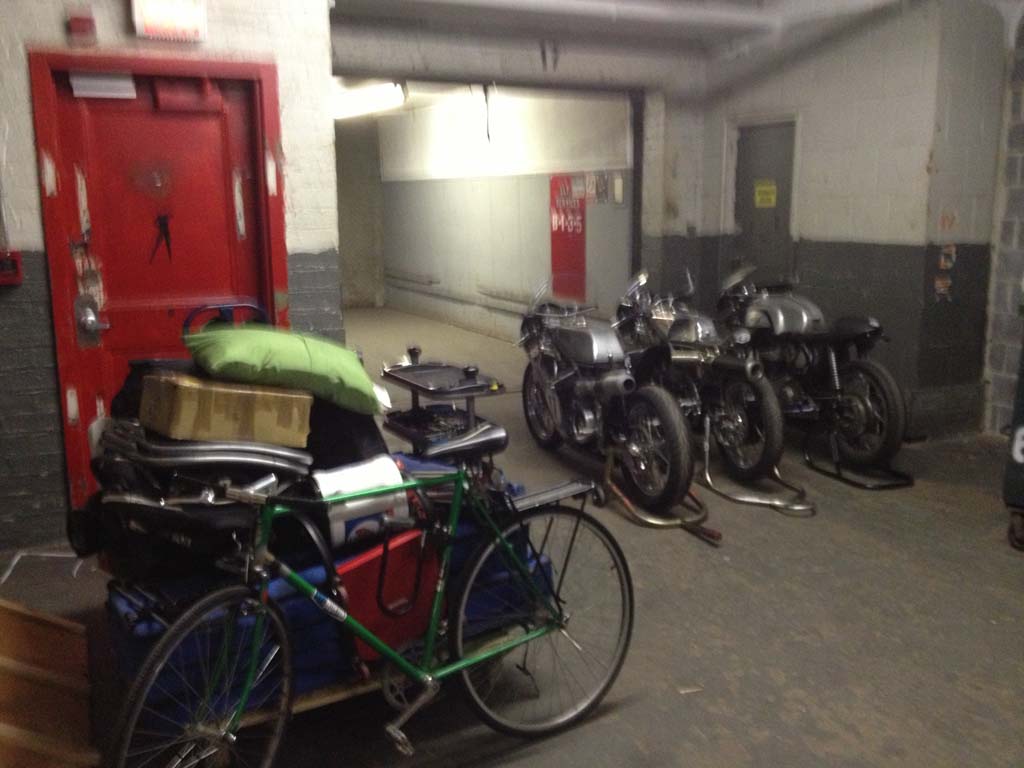 Monday, October 8, 2012: Blurry, because that's about how we felt.
After getting everything prepped and ready to go we packed the trailer to head south.  Included here is Thorny's 750cc Atlas, our Seeley 750 twin, and our new baby, the Seeley G50.  We took our time and had a great trip down with lots of laughs, eating at the most horrendous restaurants so Martin could sample grits and sausage gravy, and we even stopped off at a tiny little cowboy store in Tennessee so our English friend could get a cowboy hat, so to fit in with the rest of America.  We arrived to Barber mid-day Wednesday and were able to load in without a lot of stress.  We set up in the paddock down in front, next to our buddies Timmy Joyce and Maurice Candy.  George Parrot, the principal of Minnovation in the UK, had driven in from a business trip in DC and joined us, so we were well equipped with top guns.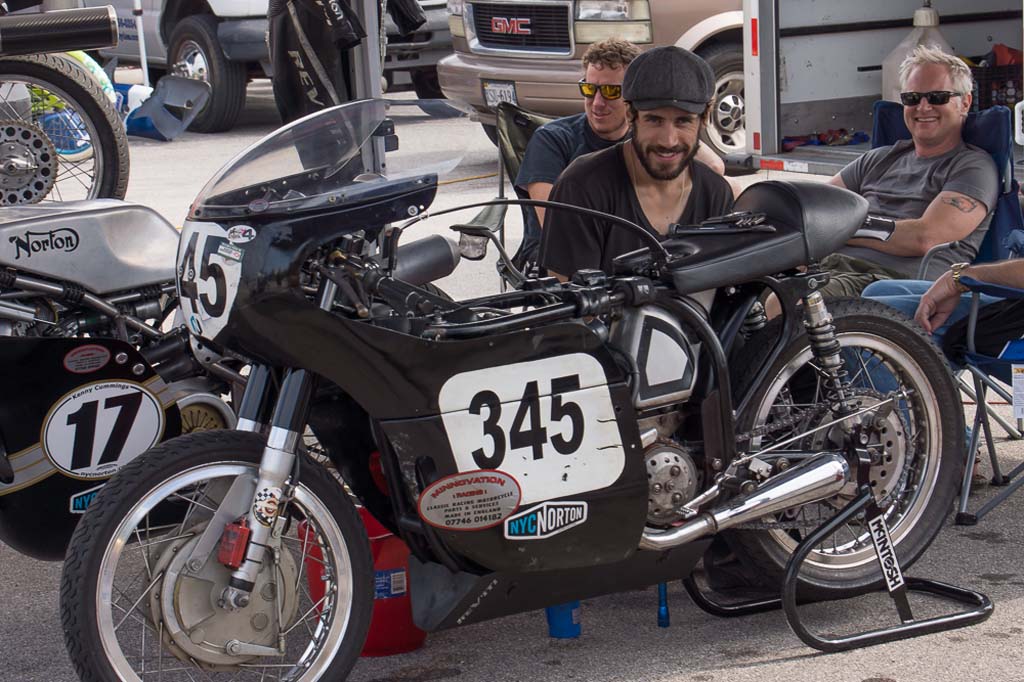 Pictured above is 2012 F750 champion and fast dude Ryan Ambrose from Big D cycle, Jon working on his Atlas, and Kenny looking on, not doing a damn thing.
This year AHRMA secured both Thursday and Friday to hold practice due to the number of entries.  We elected to run Thursday practice and keep Friday in reserve in case the need arose to get more time (how foretelling).  Thursday morning rolled around and we made our way out.  Jon took his time learning the track as Barber can be a little intimidating at first with its fast sections that abruptly slow to very technical bits.  I took out the G50 first and had a blast.  Once again the gearing was spot on and I felt really comfortable on it.  Onto the 750 twin – I'd removed one of the front disks as I felt Barber wasn't a big braking track and I wanted to go back to how the bike was a couple of seasons ago when the front end was much lighter.  In my first session on the 750 I could immediately tell this was the best change (or was it a regression?) I'd made  to the bike in a long time.  Having recently done a big fix to the frame by cutting out the old, cracked cross-member and brazing in a new tube, and now with this lighter front end, the bike handled like never before.  I did't miss that second disk a bit and felt more confident on the bike than I had in quite a long time.  I didn't have my transponder on the bike during Thursday's practice, but I felt I was getting down to some of the best lap times I'd ever had.  Defacto NYC Norton Team Manager Martin was extremely helpful in getting all the bikes setup and ready to go.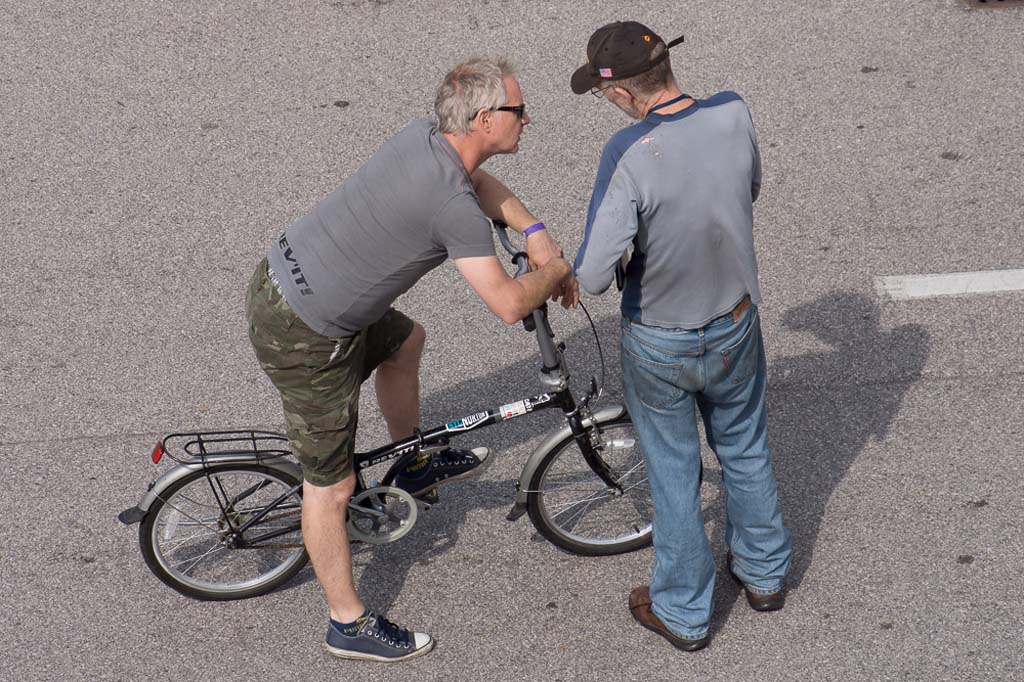 Chatting in the paddock with Dave Roper; most likely about which of the two local Mexican restaurants is the better choice.
After lunch I went out again in practice group 2 on the G50, then right into group 3 on the 750.  After about 2 laps into the group 3 practice I passed a slower rider going in to T5 and remember thinking to myself, "this is practice, don't risk taking out his front wheel… give him some space".  So I grabbed a handful of throttle to zip past him on the exit of the turn.  The next thing I know I'm looking sideways down the the track, then over the high side I flew.  I slapped it down hard on the exit of T5 and watched my bike come down on top of me, then spin off into the distance.  Ouch.  I remember seeing out of the corner of my visor the slower rider running off into the grass, narrowly missing my head.  I laid there for a minute, then tried to stand, but fell right back down again, and immediately the red flags came out.  Something definitely wasn't right.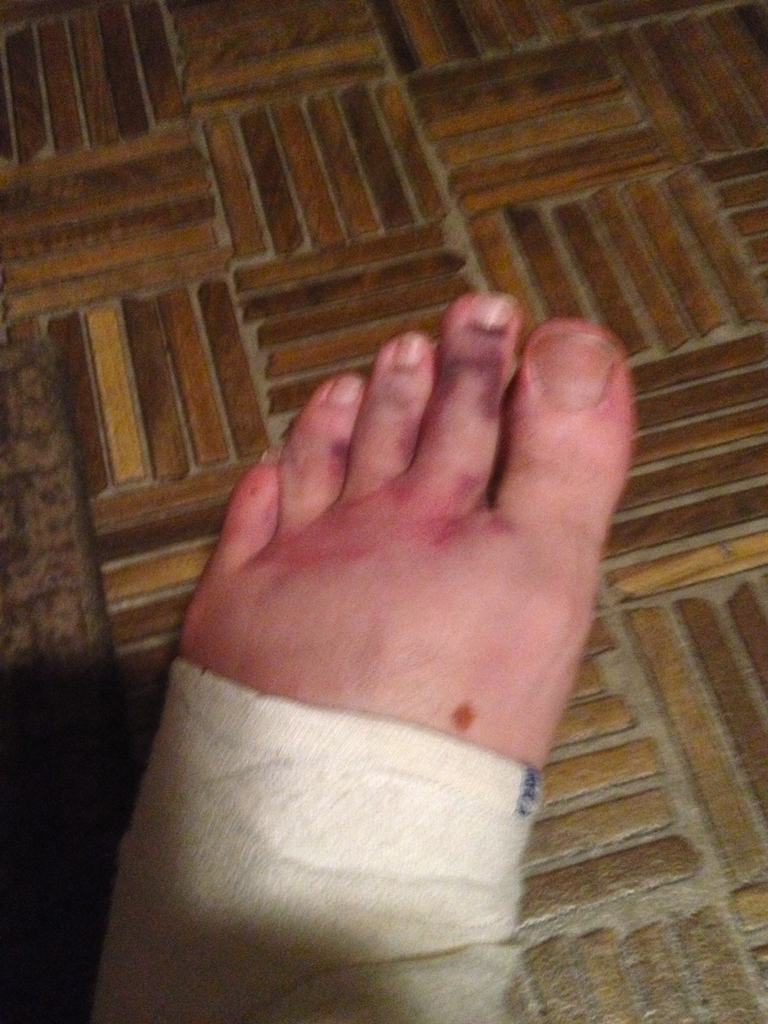 The ambulance came out for me but I turned it away and chose to ride back to the paddock in the crash truck.  My buddy Mike Dixon helped me get my boot off and I knew I had broken bones.  I asked Mike if he'd find out where the best hospital was and we'd drive over in our van (ambulance rides get expensive).  Mike summoned an official looking gent in a Barber shirt who happened to be walking by.  The exchange went something like this:"Excuse me, are you familiar with the area?"  The official looking gent said, "Well, yes.  I guess you could say that".   Mike said, "My friend is hurt and we're wondering where the best hospital is so we can take him in", and pointed in my direction.
No sooner did Mike say this then the gentleman walked right up to me under our paddock canopy, extended his hand and said, "Hello… I'm George Barber.  I understand you're injured and I'd like to help."
Oh no! I laughed so hard I didn't feel any pain.  I told him I wasn't worthy of his time, and I would be just fine!  He was having none of it.  Mr. Barber (that's George, to me)  radioed one of his guys to bring directions to the hospital and stayed with me until I could get myself loaded up in the van to go.  He even offered to get me a car service to take me down!  What a true ambassador of our sport and a passionate man about vintage motorcycles and their riders!  It was a very surreal exchange and I was quite humbled.  George (Minnovation George) drove me into UBA in downtown Birmingham where it was confirmed; 2 broken metatarsals and a dislocated pinkie toe on my left foot.  Not much they could do but give me a "hard shoe" and snap my pinkie toe back into place, which actually reduced the pain by about 90% once that was done.  So after a few long hours in the ER, back to the track we went.  Thanks for the ride Minnovation George.
Friday practice on the 750 – We don't need no steekin' fairing screen!
Friday morning rolled around.  The 750 was banged up pretty badly with bent clip on, broken rearsets, dented tank and a smashed up fairing screen.  With Martin's help we were able to get it back into usable shape in an hour or two.  Jury was out on whether I could ride (it was a brake foot, not a shifter).  I managed to squeeze my swollen bones into my boot and loosen the straps and get out.  I did about 3 laps on the 750.  The bike was perfectly fine with our repairs, although I was in a bit of pain going through some of the turns.  I then did some laps on the G50.  I worried about the G50 because its riding position is tighter and more cramped than the 750, but oddly it was more comfortable than the other.  I felt fair, so perhaps we could race the next day.  As I sat in the paddock contemplating, my old friend George Barber walked in again and took a seat next to me, chatting and making sure all was well.  I told him, regardless of whether I was hurt, that there was no place on earth I'd' rather be than right where I was, and that was the truth.  He thanked me, sincerely, and headed off to his business.  And we headed off for Mexican food in celebration.
Saturday's racing saw Jon have a great race with another guy in the BEARS class, coming home in 4th.  Martin and Jon had really put some time in to getting the Atlas sorted with suspension and gearing.  As I watched him go I could tell Jon was more confident than ever.  Good to see.  My call came for 500 Premier.  I gridded up, got the flag and away I went.  I made it a lap or two with Timmy Joyce and Pat Mooney in sight in front of me, but I cramped badly in my shin, most likely from over-compensating for my foot, and pulled in.  I didn't bother with the 750.  The day was done.  It was Martin's birthday and we all went out and had a great time enjoying Rusty's BBQ and catching a bit of the local flavor.  Yee Haw!
Sunday was yet another beautiful Alabama Day. It was to be our last day of racing in 2012 and I really wanted to be out there with a good showing.  Again Jon had made some suspension and geometry changes, borrowing some spare Works Performance shocks from Timmy Joyce to raise the rear of his Atlas.  As we all watched him turning laps in the BEARS race we saw a new rider rapidly clicking off faster and faster lap times.  Light bulbs were going off.  I think Jon was feeling pretty good in this one, making good, aggressive (but clean) passes around some of the more seasoned racers and showing us all a bit of style.  Well done on your first season, Jon.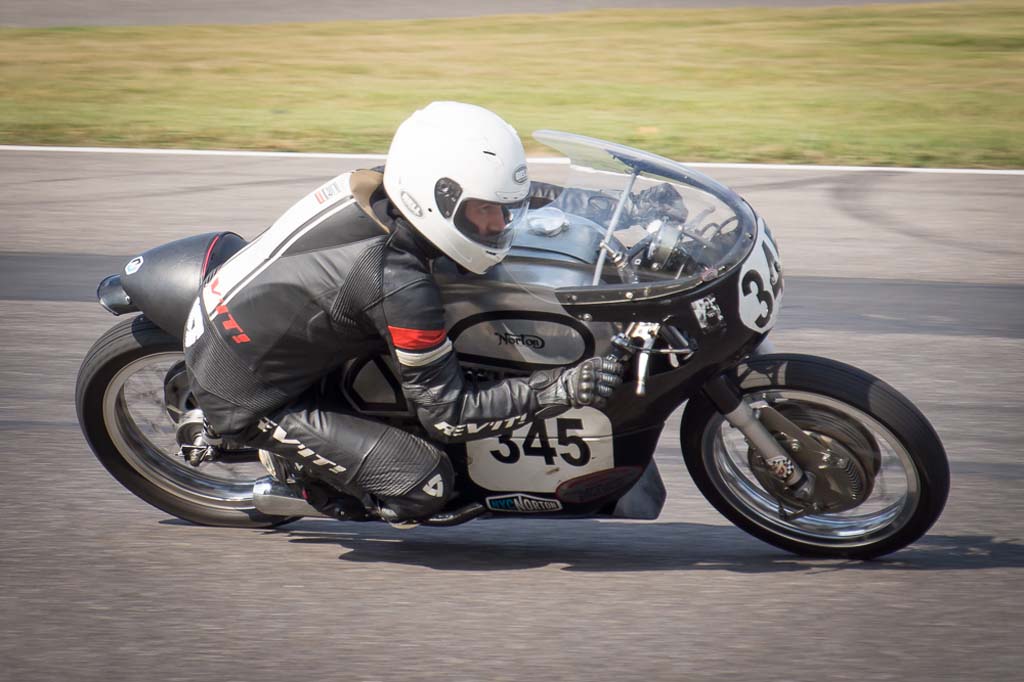 Thorny gets bizzy on his '67 Atlas
Then came the call for 500 Premier.  I squeezed into my boot and out I went.  The sighting lap felt pretty good and I knew if I kept my focus I could finish well.  There was no Timmy this time as he'd had an unfortunate crash riding Mark Mitchell's BMW in the BEARS race, so it was mine to lose.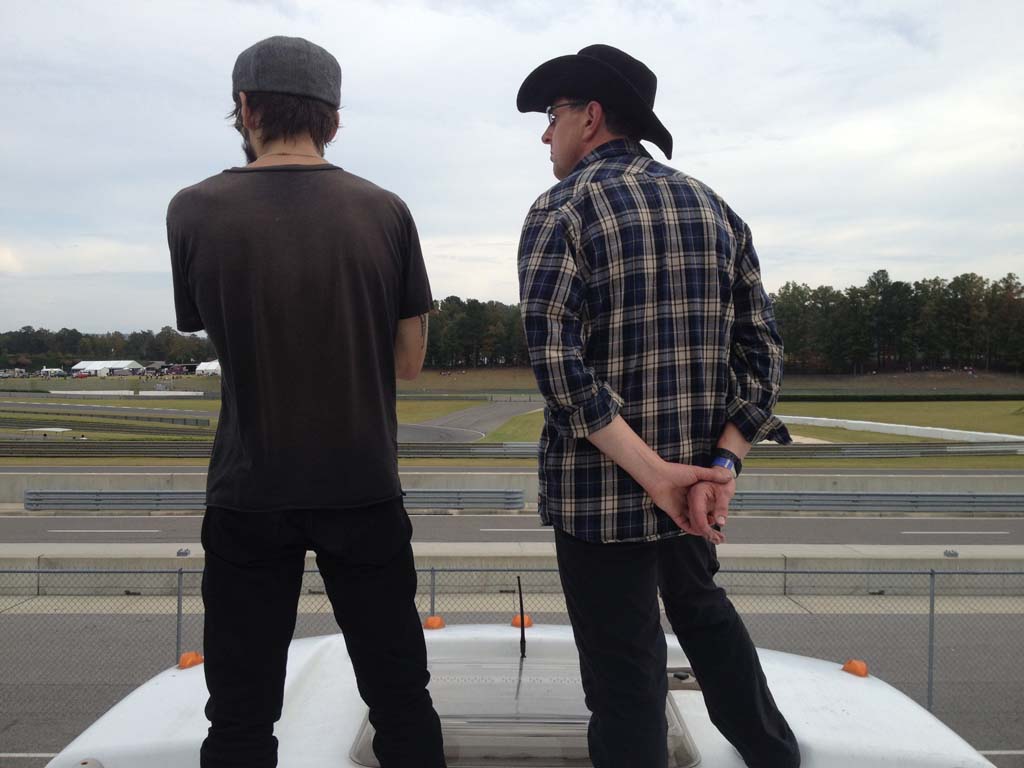 Thorny and Martin (rocking his new Personal Jesus cowboy hat) stand atop the RV for the 500 Premier race
Green flag and I took off.  I got a great start and headed into turn one in the lead.  My foot only hurt in a couple of spots where I really had to get up on the pegs.  My heart was racing, and I was back in it.   I looked behind me on about the 3rd lap and saw very fast Dutch rider Nieck Leeiwis on another G50 a few bike lengths behind.  I put my head down and told myself to be cool.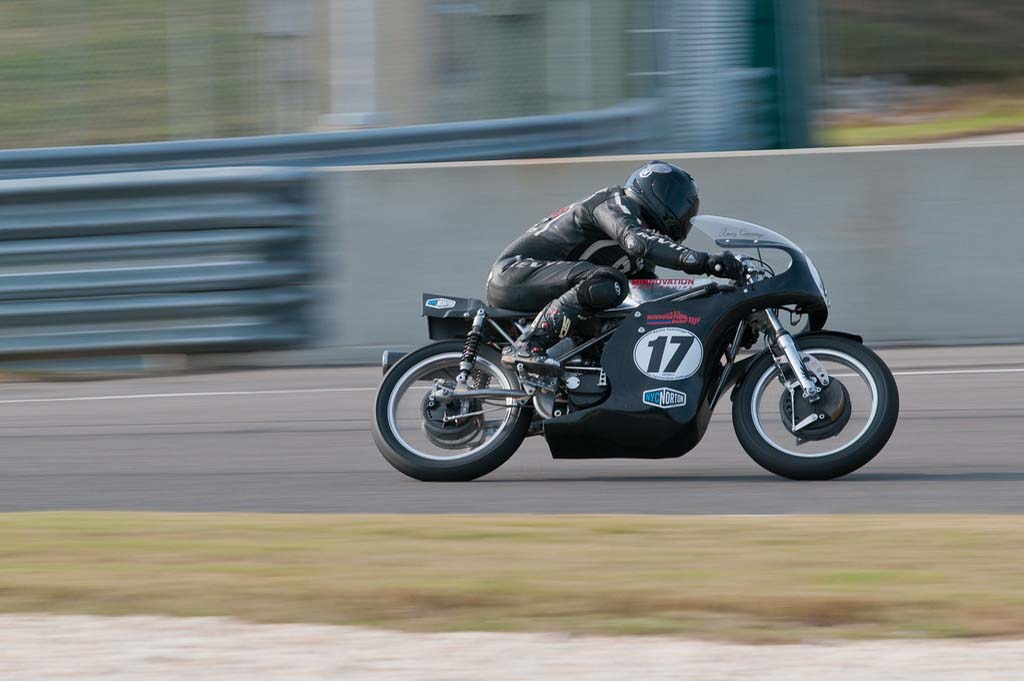 NYC Norton Seeley G50 leads the 500 Premier race, Barber Motorsports Park, October 14, 2012.  Photo courtesy of Fred Sahms
After a few laps the Avons started to go off a bit, and with an exuberant use of the throttle I almost high-sided coming out of the very turn I had done so 2 days before.  I regained my composure, looked back again, and Nieck was right there on my tail.  No room for mistakes.  After leading for 6 laps, I came out of T5 and couldn't get the bike into gear.  I stomped, but nothing.  I tried and tried, and after what was probably only 3 seconds but seemed like an eternity, I was finally able to get it to engage.  Too late, Nieck came by, followed by Andrew Mauk.  After a few turns I started to close on both of them, but it happened again; popped out of gear under acceleration.  I give it my best for the remaining 2 laps but took the flag in a close 3rd.  My first thought after the race: The gearbox is coming out of the bike and going right back to the manufacturer for inspection.  Great racing though, and I had a huge sense of accomplishment and relief.  I came in and was greeted by a lot of happy faces, and mine was the happiest.  But…  the foot was hurting and I decided to sit out the F750 race.  And with that, our 2012 season ended on a high note for all involved.  We slowly packed up and laughed and joked.  We had a long drive back to NYC, full of grits and bad coffee.
Life is good.
-Kenny Cummings