Over the last few years NYC Norton has grown quite a bit as a thriving business rebuilding classics and a successful racing team.  In 2013 we completed a Seeley G50 build for our client Helmut Niederer and delivered it to him at Barber.  Knowing little about Helmut's racing skills (other than rumors he'd taken Kevin Schwantz's racing school at least 30 times), our mission for the weekend was simply to help him get started with his new possession.  By the end of the Barber event Helmut's lap times put him within the top 5 riders of the 500 Premier class.  We were pleasantly surprised and knew we had a good one here.  After Kenny returned from his sojourn to Australia in January, a meeting was held and the 2014 season became perfectly clear – Jon Thorndike, Helmut, and Kenny would do all 10 rounds of AHRMA in the US.
Roebling Road Raceway – Savannah, GA, February 28, 2014
We were all ready to leave freezing Northeast weather and were cautiously optimistic some Savannah sunshine was in our immediate future.  In years past, the season opener at Roebling had some extreme weather.  Being in February, it could easily be 30 degrees or 80 degrees, or anywhere in between.  Fortunately this year we landed in the 70s and we were relieved to be able to keep heat in our racing tires.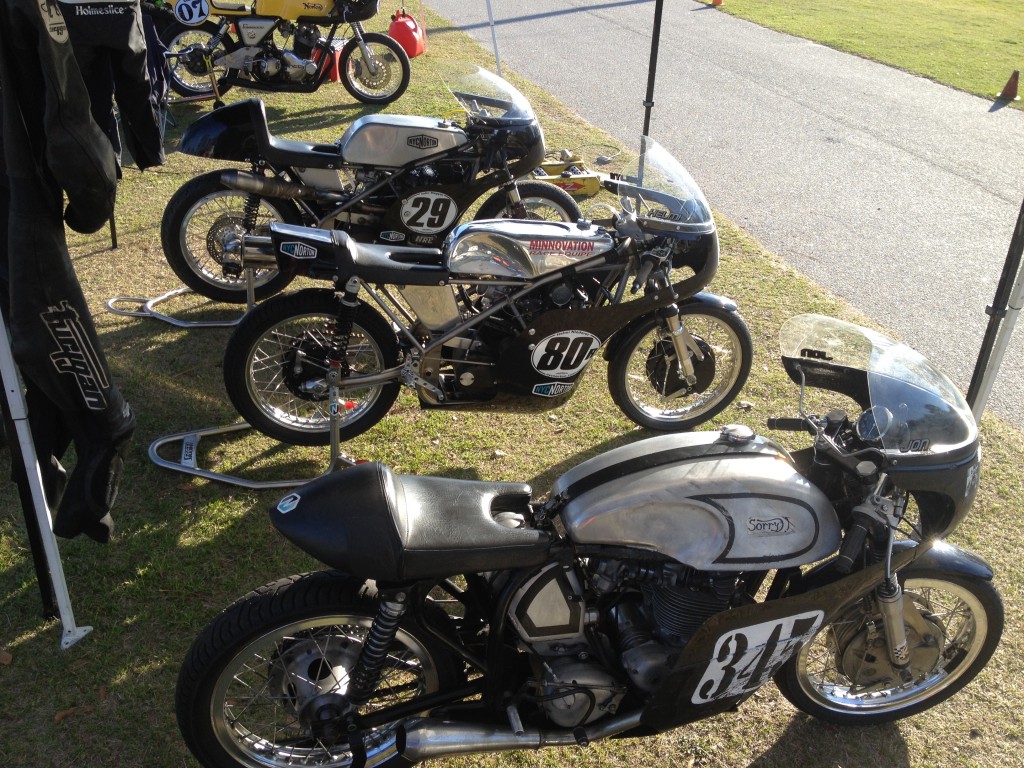 Our tackle this weekend consisted of John Magyar's Seeley 750 8-Valve Nourish on loan to Kenny (his Norton having a bit of motor work done and not completed, and the G50 still on the water back from Australia), Helmut's sparking new Seeley G50, and Jon's trusty Atlas.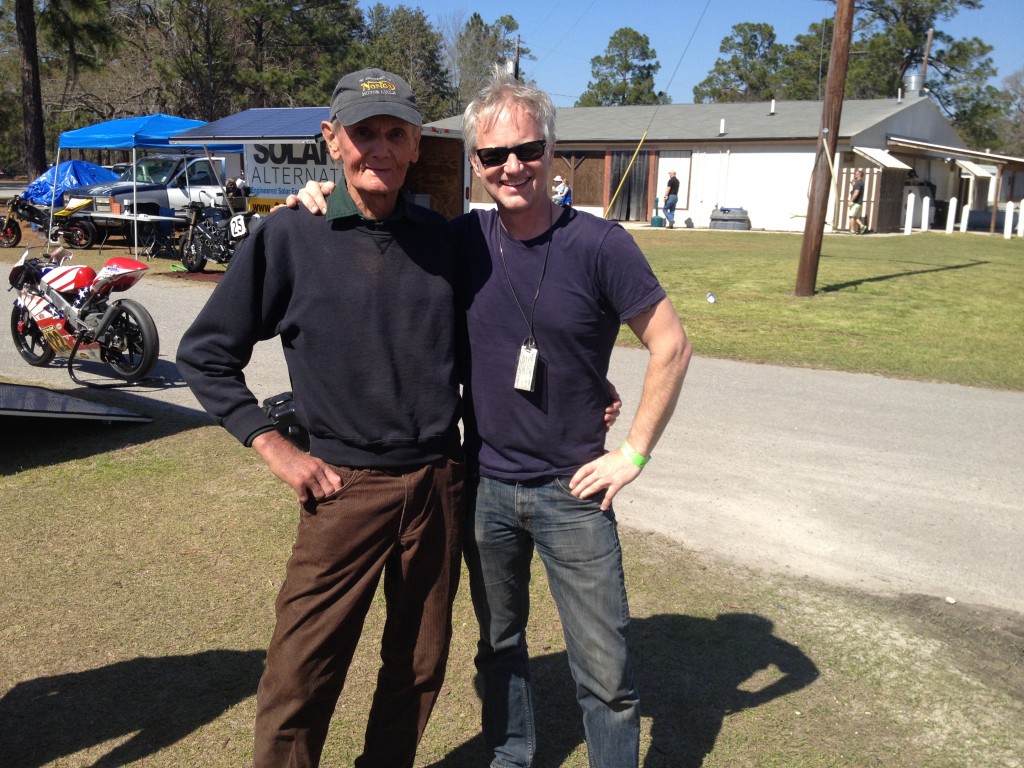 Always great to spend time with friends.  Here Kenny mugs with AMA Hall-of-Famer Nobby Clark, who has tuned a bike or two in his day.  Even though Nobby is a legend in the racing world, he is incredibly humble and approachable, and a true gentleman.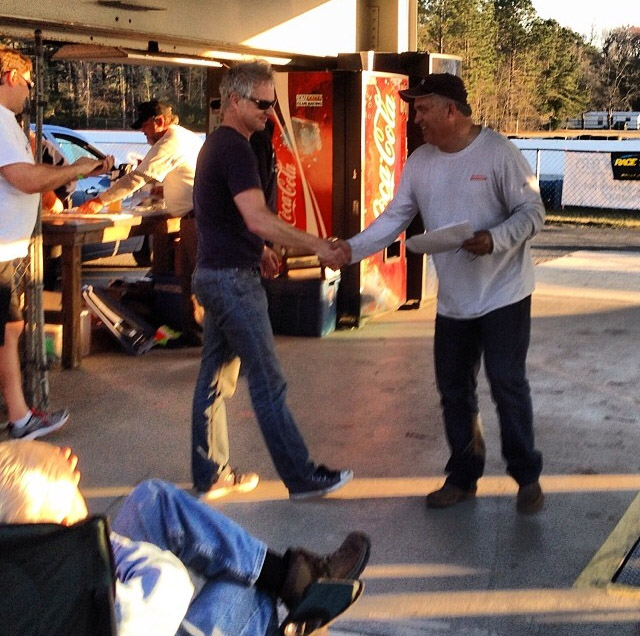 Kenny won F750 both days on the spectacular NRE 750, and Jon took 2nd in BEARS both days.  Unfortunately, due to work commitments, Helmut didn't make the event after all.  Oh well, the bike was beautiful in the sun, and it was a great showing of restraint by the team to not sneak in a late registration to the premier class and "borrow" the lonely G50.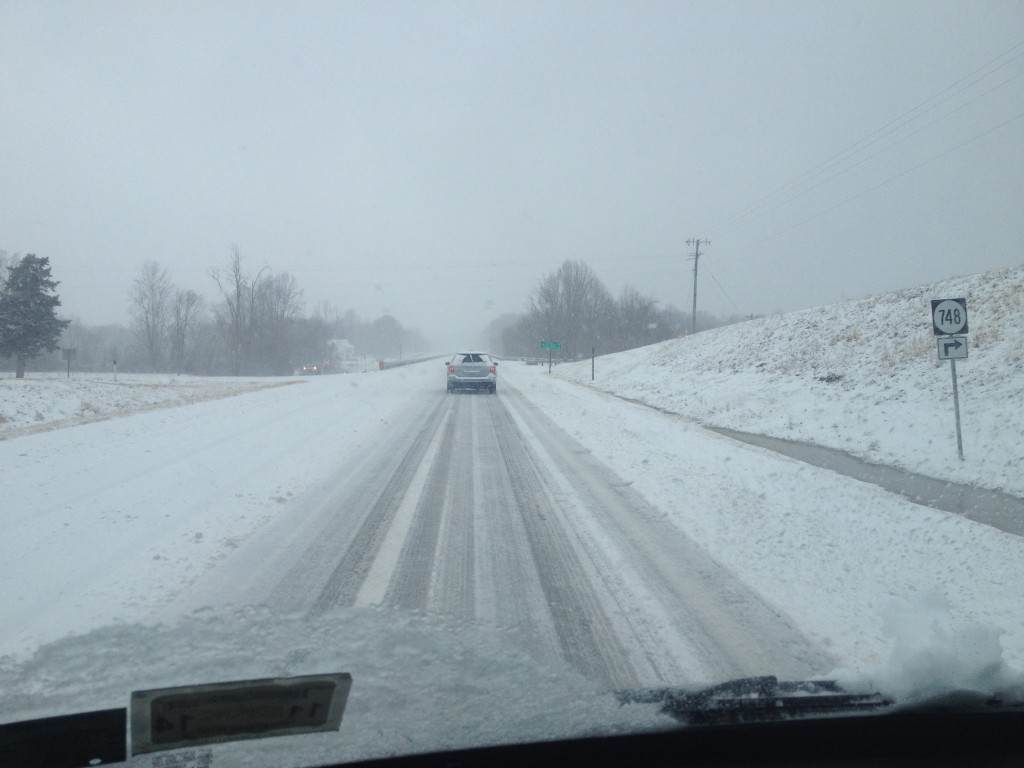 Reality sets in.  After packing up and headed north from our little warm-weather respite of Georgia, there was talk of a storm moving in.  We made it to South Carolina Sunday night and awoke to a blizzard Monday morning.  The rest of the 750-mile drive was in disastrous conditions.  What happened??  But everything made it back safe and sound, and we started prep for the next mission – New Orleans!
NOLA Motorsports Park – New Orleans, LA, March 28, 2014
AHRMA's 2nd year at NOLA was our first.  We heard great things about the track, and who wouldn't pass up the opportunity to hit The Big Easy for some good racing and good times.  Having never been, we spent many hours on YouTube watching onboard videos so we could learn which way the track goes.  It is a large 2.75 mile course with 16 turns, so no easy feat.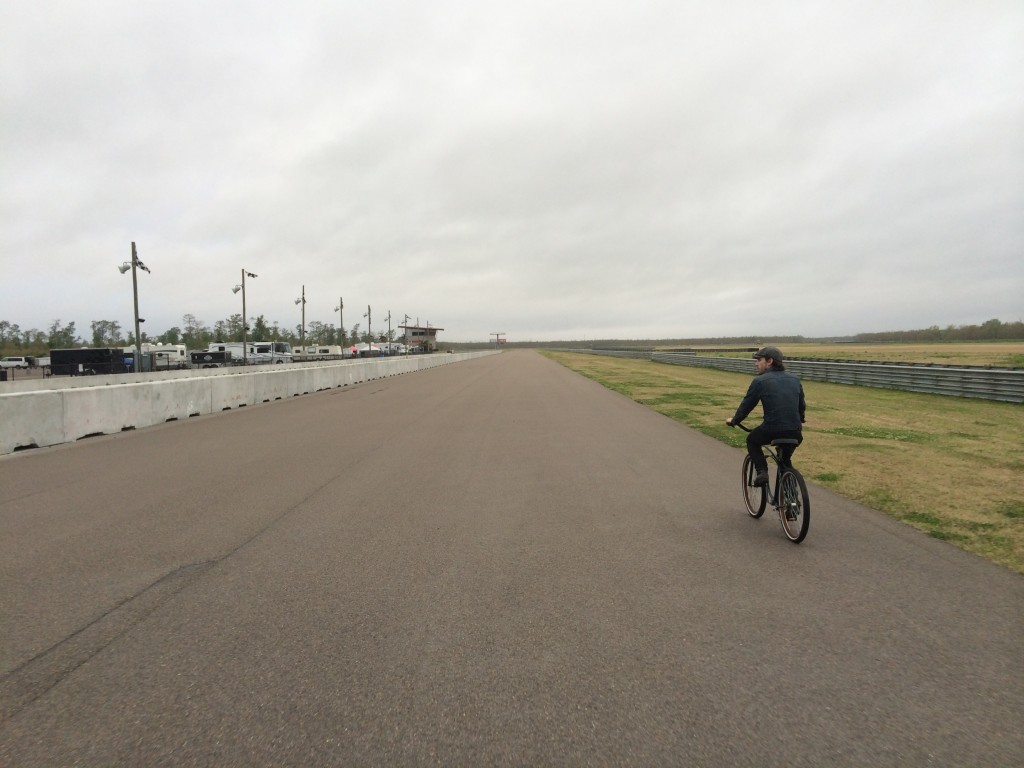 We arrived Thursday afternoon.  The paddock was massive with lots of space for all, but there was quite a bit of standing water and evidence of rain during days past (this was Louisiana after all, and water doesn't have a lot of places to go, as we all learned after Katrina).  In any case we found a dry spot of tarmac, set up for the weekend, and borrowed some bicycles to see if a track ride would possibly make sense of this very twisty course.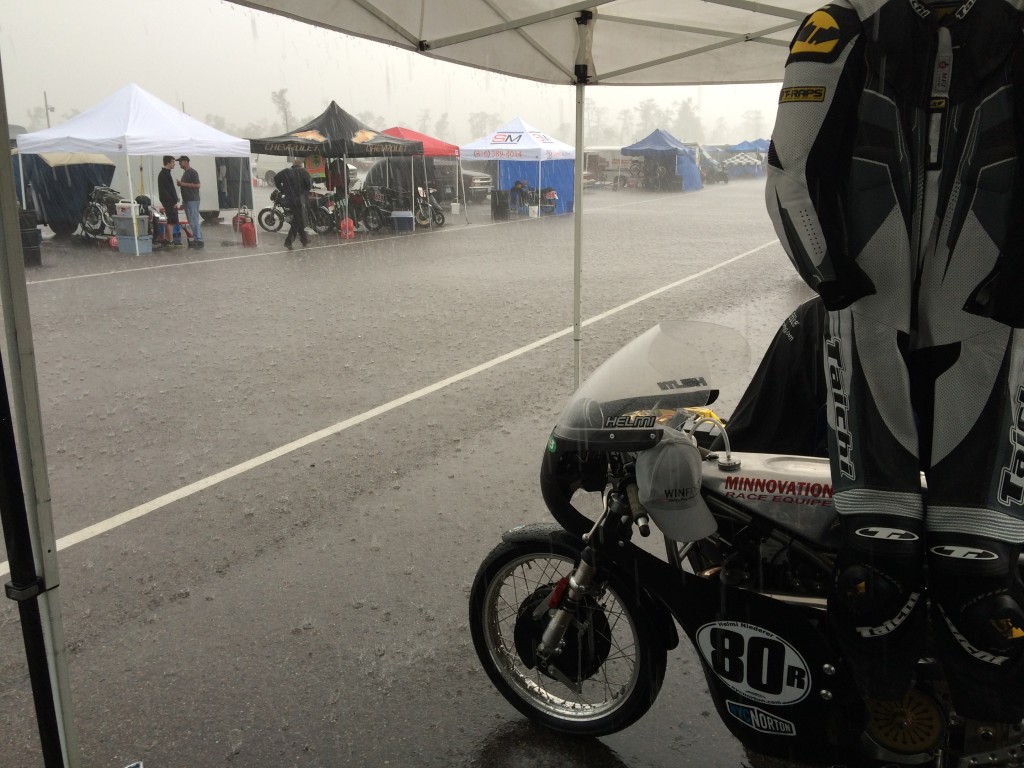 Then the rains came.  What started as a gray overcast morning tuned into a downpour of epic proportions.  We all crowded under the canopies or hid in our vehicles, but that was it – Friday practice was a complete washout.  We'd have to work hard on Saturday morning practice to learn the track and go right into racing.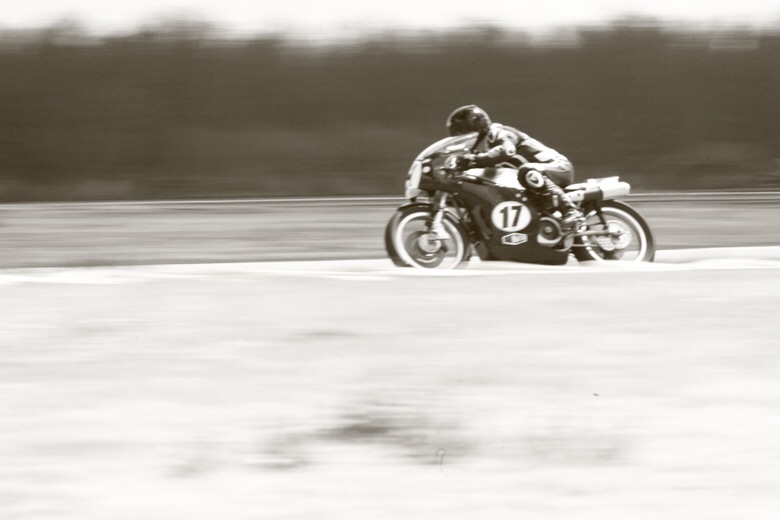 Great shot of KC on the Seeley 750 by photographer Phillip Graybull.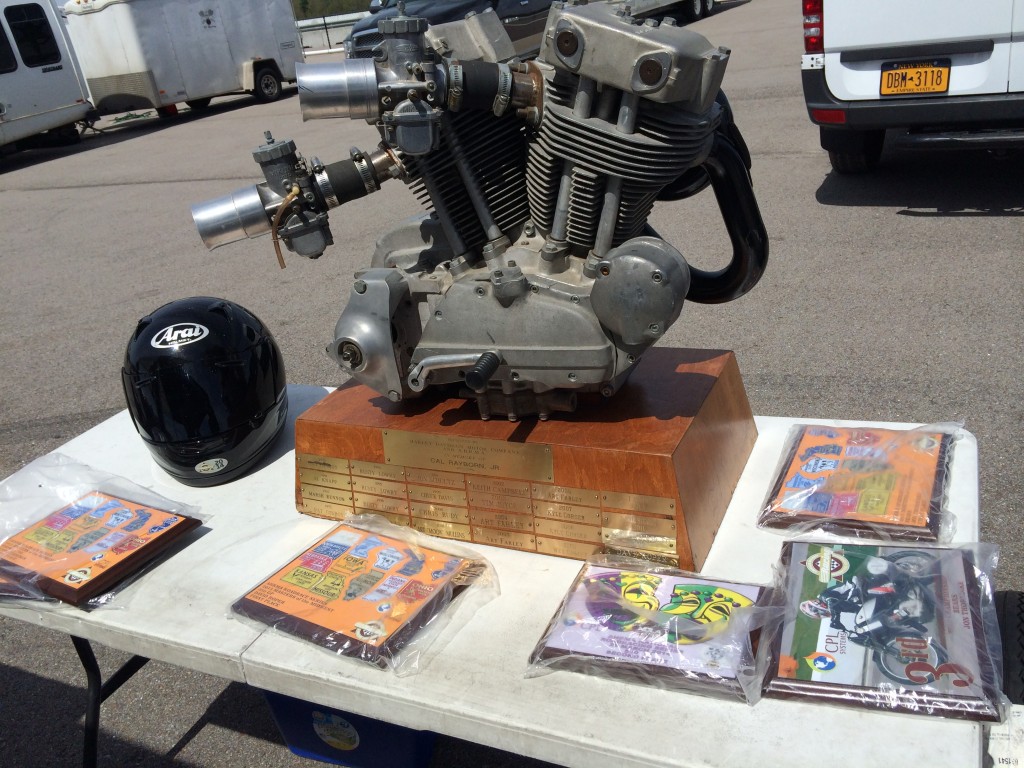 We had a great weekend, nonetheless.  The track was fast and flowing and we were able to pick it up pretty quickly.  The results were the same for both days – Helmut took 3rd in 500 Premier, which was no easy task.  This was his first outing on the bike in 2014 and only his second weekend on the G50, so he make a very impressive showing.  Thorndike took 2nd in BEARS, and Kenny took 2nd in F750 behind his arch-nemesis John Ellis.  But the biggest trophy award goes to Dave Roper (not attending this weekend, leaving us bestowed with the task of transporting the trophy back to New York for him) having received the 2013 season Cal Rayborn memorial award for best Harley racer.  His trophy took up the back seat of the Sprinter for the drive home.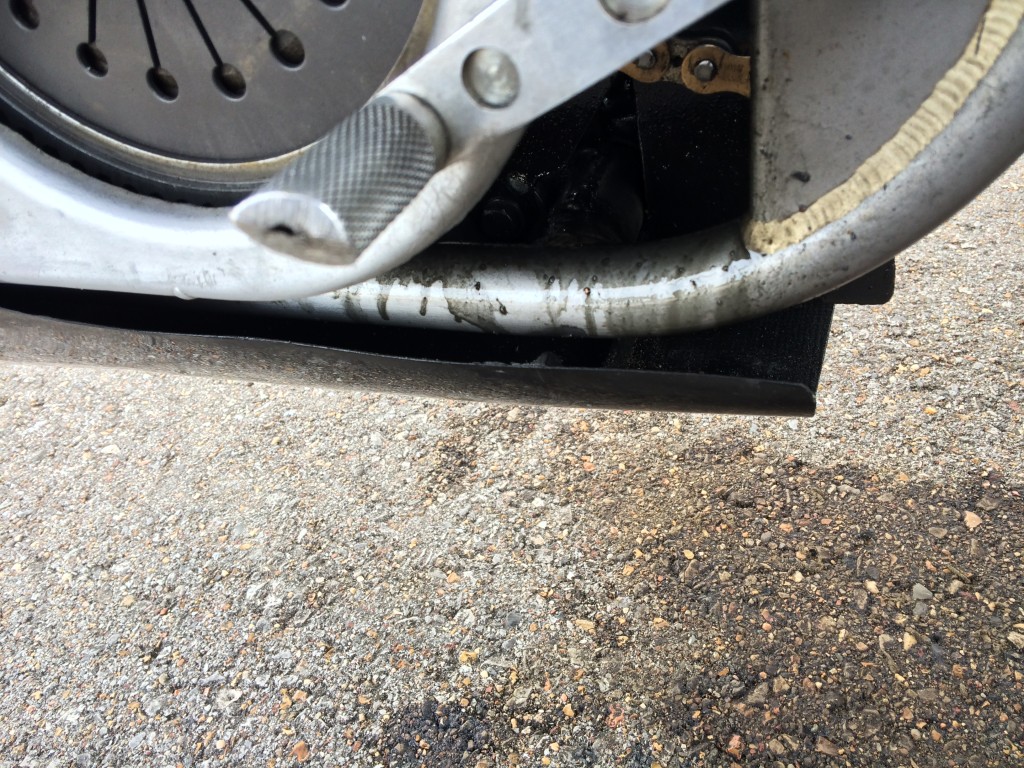 At the end of 2013 it was noticed the Seeley Norton was leaking from the crank seal and cylinder base.  There was obvious crankcase pressure within and this was highly unusual as this bike never leaked a drop before.  During the winter we'd taken the cylinders off only to find the bores had been scooped out up top after use of short pistons, which rocked in their bores.  As a stop-gap some newer, longer-skirted pistons were put in place.  But unfortunately the piston-to-wall was now too great and excessive blowby was causing a mess., as seen here after one of the F750 races.  It would be time to go up a size in pistons, so the motor would have to come down again.   Much to do before the California races in a month's time.
| | |
| --- | --- |
| Friday, February 28, 2014 | Roebling Road Raceway |
| Friday, March 28, 2014 | NOLA |
| Friday, April 25, 2014 | Willow Springs |
| Thursday, May 01, 2014 | Sonoma |
| Friday, June 06, 2014 | Road America |
| Friday, June 13, 2014 | Grattan |
| Friday, July 11, 2014 | NJMP – Thunderbolt Circuit |
| Friday, August 29, 2014 | Miller Motorsports Park |
| Thursday, October 09, 2014 | Barber Motorsports Park |
| Friday, October 17, 2014 | Daytona |