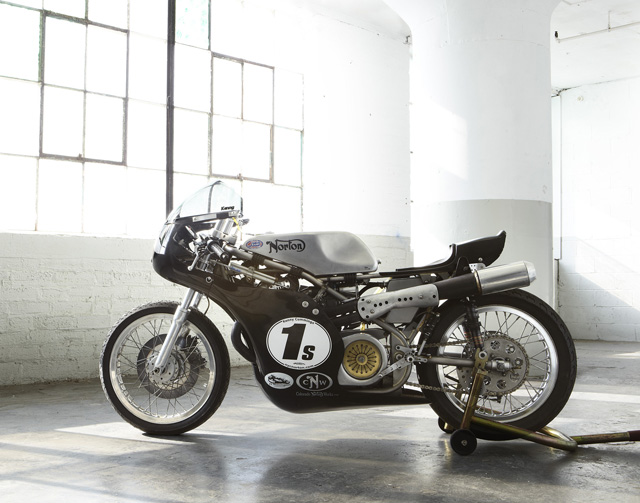 2011: Moving on up
January, 2011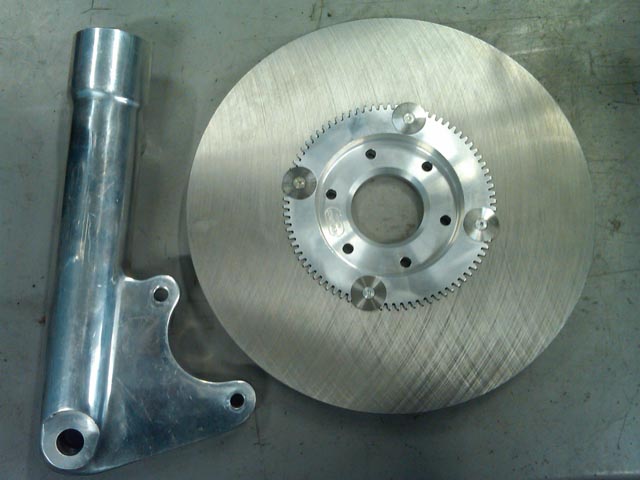 Having decided to focus primarily on the F750 class it was high-time to add some braking to the bike. I loved the single disk setup because it was so light and quite powerful, but on a few hard-braking tracks such as Road America and VIR I found I was really getting walloped by those other dudes with their fancy twin-disk setups. In fact, I was going through a set of Ferodo Platinum pads about every 1.5 race weekends Time to suit up and spend the extra cash. I went with a good ol' Mick Hemmings Norvil 11.5″ disk, carrier, new LH slider, and up from a 13mm to a 16mm Brembo. The cast iron rotor is heavy, but after drilling I was able to shave off more than 1lb!
March 3, 2011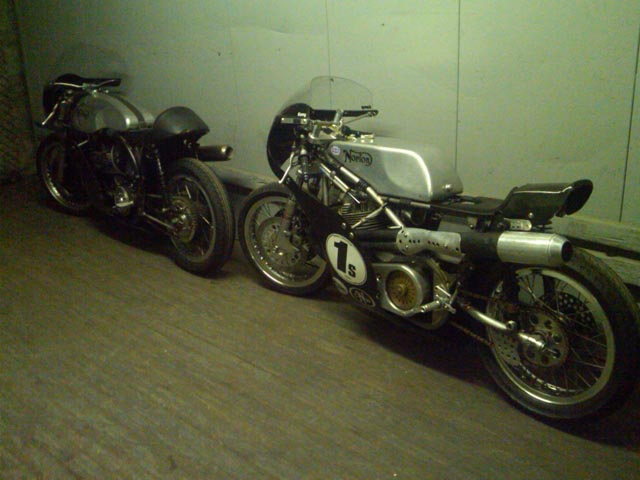 The 2011 season is about to commence. In all honesty, I have been working full-time on others' bikes that my racing program may have taken a little back seat (or perhaps I've procrastinated). I have found it is hard to work on other bikes all day, then find that old enthusiasm for your own stuff. And out of discipline, I keep my own bikes far away from the customer stuff so the temptation doesn't rear its head.
I didn't do much to my 750 over the winter other than adding the aforementioned second disk brake setup and worked on the suspension a bit. And the Manx; it was mine to run this season, so along it came down to Georgia – Roebling Road to be exact – for the AHRMA 2011 Season Opener.
A shot from the Spannerland freight elevator as I load them up in the not-so-trusty Eurovan for the trip down south. I'm ready for some warmer weather. It's been a long, snowy NYC winter.
March 7, 2011 – Roebling Road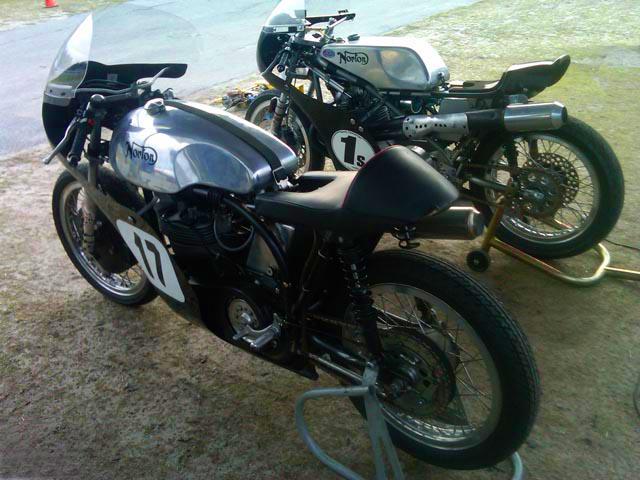 I'm a lucky guy. Here are two bikes that I have dreamed about for years and years. This weekend I was able to sit back and appreciate that they are here, in one place, for me to have my way.
I've said this before but it bears repeating – I started building up my Featherbed Commando in 2000 as a reasonable facsimile to the Manx I could never afford. That first race bike was a way for me to chip away at it, one piece at a time (or sometimes a few pieces), and work my way into something "resembling" a Manx, at least superficially. (Call it an homage.) And through this all, my successes with Norton twins have developed over the past years. Now I've been bestowed with a very competitive Summerfield Manx to run as well. I can't complain.
March 7, 2011 – Manx Tuning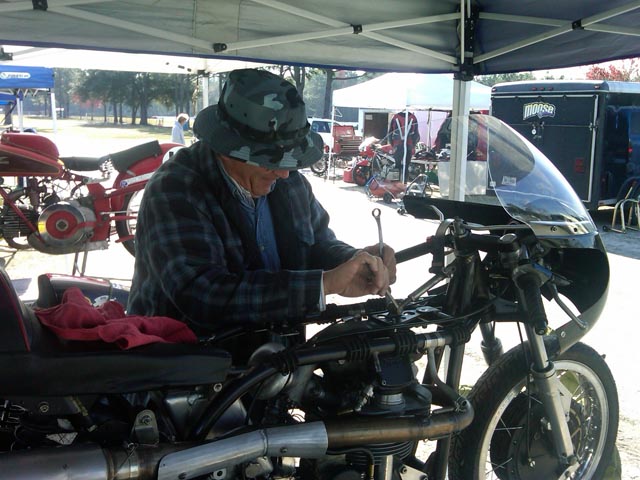 A funny thing happened at Barber last October. A guy showed up in our pits, offered to help out with the Manx, and wouldn't take no for an answer. Bob Reynolds has been a big help with getting the Manx race ready and offered to come up from Florida on his own dime to lend a hand. Here we are working on timing as a bevel gear was replaced over the winter which necessitated re-timing the top end. We had a couple of great runs in practice. Riding the Manx is SO much different than the Commando – it lolls along and the motor seems so comfortable and low-pitched. Then you look down at the tach and you're doing 8k rpm! The 4ls brake is great, but it's a drum brake, which means it fades and has it's own personality. This translates to carrying corner speed as opposed to point-and-shoot. A great lesson in riding for me. And the skinny tires; I can't say enough about how nimble they are.
Unfortunately, just as the bike and rider seemed to be ready for action, the bevel timing was accidentally set incorrectly between practices, the exhaust valve hit the piston on starting, and that was it. Bob and Peter Politiek Sr. (visiting from Holland) worked for several hours trying to straighten the valve, but no joy. Alas. Back to the shop it goes and we'll get it sorted for Road America.
Riding the Seeley I took two 3rd places at Roebling behind the usual suspects of Tim Joyce and John Ellis in F750. I don't mind taking third to them, but I didn't have much of a race on either day. I had a lot of odd suspension chatter (more than the usual Roebling stuff), and ended up with both tires worn and fragged in an odd pattern. Time to regroup and do it all again in 2 weeks in Texas.
(Notice Dave Roper's badass Class C Dondolino MotoGuzzi in the background)
March 24, 2011 – Motorsports Ranch, Cresson, TX
I arranged for my Seeley to travel to Texas with AHRMA communication directors Tim & Cathy Lile who were traveling directly from Roebling to TX (and ultimately back to Delaware – easy for me to come fetch my bike), which meant I could fly in to Dallas and avoid the 25-hour drive each way. But it also meant no time to work on the bike in between events. I prepared my spares list and carried-on the flight as much as I could. I knew I needed to change tires, but I'd also noticed both rims running a little out of round, especially the rear seemed to have a pointed high spot, which may have explained some of the chatter and inconsistent wear I was seeing at Roebling. So some time with the truing wheel was needed. Here I am, Thursday night at the track doing my thing. You can see the paddock is quite empty. I was concerned this new event on the calendar would be a quiet one. I was certainly wrong.
March 25, 2011 – The First Cut Is The Deepest
Texas. Texas. Texas. After Roebling's disappointment I was hoping for a little more from this weekend. While Roebling uses the tallest gearing I run (Daytona and Road America gearing), Texas uses the shortest… shorter than Barber. Even shorter than Loudon. What a tight-little-decreasing-radius-off-camber-grooved-rutted place this is. I went out in my first session and almost ran off the track getting caught out in these funky turns. Waiting for my second session I could almost do the track in my mind, so felt comfortable wicking it up a bit, which I did. The next thing I knew I was sliding on my bum about 90mph and watching my beloved sliding next to me and tumbled into the dirt. I remember thinking, "Noooooo! Be good to my bike!!!". Yep, I threw it down the track. I had no idea why either. I just lost the front in a fast RH uphill turn and away it went. I later learned there is a big dip entering, and a rut in a pavement seam that caught me out. I definitely remember it being bumpy. Several other seasoned racers fell in the same spot, with the same perplexing question… why? (I changed my line for the rest of the weekend.) The bike didn't fare too badly, all things considered. Most of the damage was on the RH side and required a new clip-on, rear-set, some new linkage, and some repair of the rearset hanger. The bike was good to go by 2nd practice on Saturday. Unfortunately by now by every crevice on the track (and there are many) looked like the Grand Canyon. In F750 fast guy Ryan Ambrose on the Big D Cycles Triumph was going so good, as was Tim Joyce, but I had nothing. Not even in the same league. Saturday night was the Awards Banquet for the 2010 Championships and I picked up my BEARS award and jacket, but my head was all over the place. On Sunday I made some adjustments to my suspension (actually adding back damping that I had taken off to soften up this bumpy beast) and the bike felt really good. Yes! I thought I might be back in the game. Then the rains came, and once again I psyched myself out. So it goes. At least I was able to put my stuff in the trailer intact, and send it back north. A big thanks to Keith Martin from Big D for putting on a great show, and putting me up Sunday night in his beautiful home.
April, 2011

I've been a little remiss about keeping my site up to date. I have a couple of excuses, and will list them here:
1. I'm now fully 100% engaged in building beautiful bikes for a living. NYC Norton is a commercial entity now. And I couldn't be happier.
2. What's the old saying? A painter's house is never painted?
A bike that has been dominating my time this spring is a fully built Minnovation Racing Seeley MK2 Chassis with the highest spec 750 Commando motor, commissioned by Dan Rose and Rev'It Leathers. Around the time this project was being kicked about with Dan I received a call from the Discovery Channel folks asking if I would be interested in being the backdrop for an episode of Cafe Racer TV show's second season. I explained to the person on the other end of the phone that I was a racer, my next project was a bespoke race bike, and I haven't raced to a cafe in a long, long time. They thought that was just dandy. So they came. The Seeley was a great build for them to document, better than we all hoped. The directive was to follow me with the build by coming to the shop a couple of times over a couple of months, then get me on the track with it, maybe even race it! Easy peasy, right? Well, the pressure was on. Building a race bike has its own complexities, for sure. But building a racebike in a very short time in front of the cameras, then taking it to the track and running the hell out of it would be very difficult to pull off. Nonetheless, we worked hard to get this bike ready on schedule, but focused on making it be the best race bike it could be first and foremost. That was the client's directive, and I was happy we were on the same page.
May 2011 – TV Dudes invade my space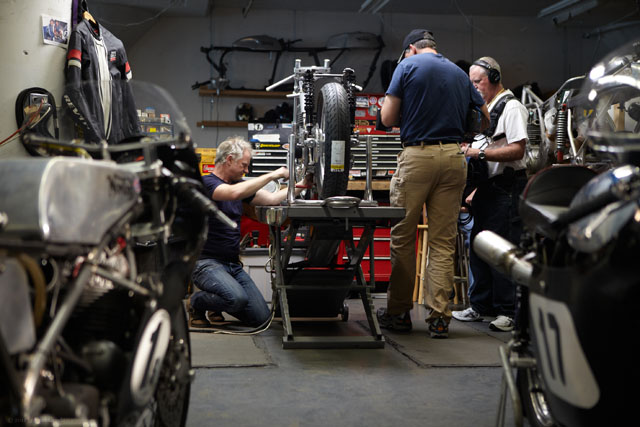 I wanted to be cynical about the whole TV thing. I mean, I'm from NYC. I'm jaded. This ain' t my first barbecue.
But I have to say, the whole experience was amazing. The show is produced by Chet Burkes Productions. This isn't their first barbecue either. These were the most easiest going dudes, making jokes, giving me some direction, all while hearing me out that I wasn't going to take angle grinders and hammers to my bits just to make for good TV. We built up the bike over a few days as far as I could take it, and the left me alone for a couple of weeks, to reconverge at Road America where I would take it out on the track and see what it would do.
Now the hard part…
Photo courtesy of Gregor Halenda
The finished product. The Rev'It Leathers Seeley 750 Norton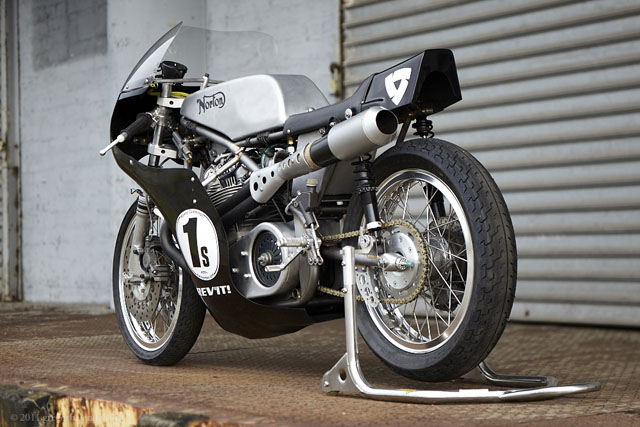 We all felt it would be prudent to photograph the bike as much as possible before I had my way with it on the racetrack. Although it looks a lot like my own Seeley (even has my racing number on it!), this is truly version 2.0 of my own bike, to be handed over after the final shoot. There really was no stone unturned on the build. It has all the good stuff within, including Carrillo rods, JE pistons, aggressive cam and lightened lifters, CNW bits, the FullAuto head, and Jim Comstock did some real magic on the porting to get the port velocity up equal or better than some of the other Stage 3 heads out there. It is a knockout, and it is built for speed – to the highest Formula 750 spec.
As this bike came to life, I started to look at my old battle-axe across the room getting no attention. Road America was rapidly approaching and I had a lot on my plate. Besides having to get this bike out and around that monster of a track, I needed to get my Seeley running and do some wrenching to get the Manx race-ready. This is where the painter's house analogy comes in.
At this point, I need to thank Rev'It leathers for putting me to the task of building a dream bike for me and them, as well as providing me we a beautiful new set of leathers to top it all off. I fly the flag proudly.
Photo by Gregor Halenda
Road America, Friday Practice, June 10, 2011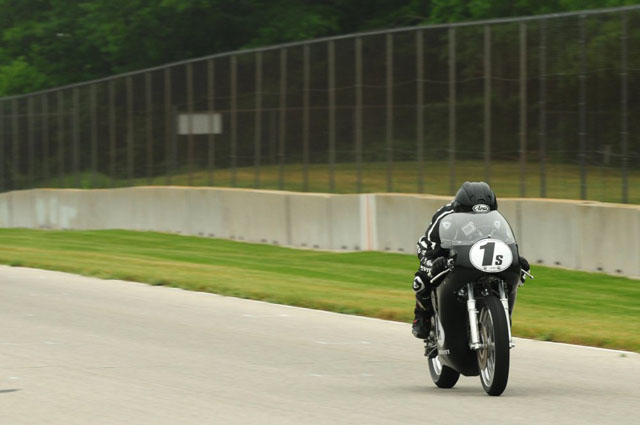 We all packed up and headed out for the big back-to-back June weekends – Road America and Grattan. My plan was to practice on the Rev'It Seeley all day Friday, getting it dialed and ready for Saturday's TV shoot of the race. (The crew was only there for Friday practice and Saturday racing, as they had other obligations for Sunday, so the pressure was on to get it right.)
My first lap on the bike was very cautious. I listened to every sound, felt every shift, and covered the clutch. I did two laps and lost the peg from the rearset. Damn. Had to pull off and be carried in on the crash truck. Silly that! So practice two comes around, and I decided no more pussyfooting. I did one half of a gentle lap, then I FLOGGED it in Road America's famous back section. The bike ate it up. It felt amazing. I laughed as I crested the hill on the front straight, with the bike's owner Dan and the camera crew watching at the side of the track as I flew down the front straight. There were onboard cameras pointed every which way, and I expect they got some exciting footage. After each session I'd come in and we'd go through the bike, tightening this, tweaking that. By the end of the day I'd say, realistically, I was up to about 80% on it as compared to my own bike. I'm sure a lot of that missing 20% was simply because it was still new with a tight motor that needed to be worked in, but mostly the fact it just wasn't my own bike. Now if we can just get through the taping and get on with things!
Saturday morning rolls around and it was damp, so I went out and did one short practice just to make sure the bike was still good. It was. In the next round of practice I took out the Manx. It was giving me carburetion issues but I chose to leave things as they were. I went out in the 500 Premier race on the Manx and took 3rd place behind Timmy Joyce and Wes Orloff. Fair enough.
Then I got the calls for the Formula 750 race. I donned my helmet and gloves as the cameras were pointed into my face. Groups of spectators stood and gawked. I hear 3rd call for the race, put the bike on the rollers and fired it up. As I sat there warming up the bike, I *thought* it was acting a little funny down low, like a carburetion issue. I continued to blip the throttle, but then sure enough, it started to break up. As I revved the bike to keep it going it died a miserable death. Ohhhhhh noooooooo! "Keep your cool. Keep your cool" I kept saying to myself. The camera crew was more animated than I'd ever seen them. They were loving this! Drama! I rushed and put the bike back on the rollers and we spun that thing up for a good 2 minutes, trying everything, and it would not start. Nothing! Dead. Done! The F750 race took off down the track and there I was, sitting on the wrong side of the fence, watching my brothers out dicing away. The cameras still rolling. Ooooofah.
This photo taken by my friend Fred Sahms
June 11, 2011 – My tale of woe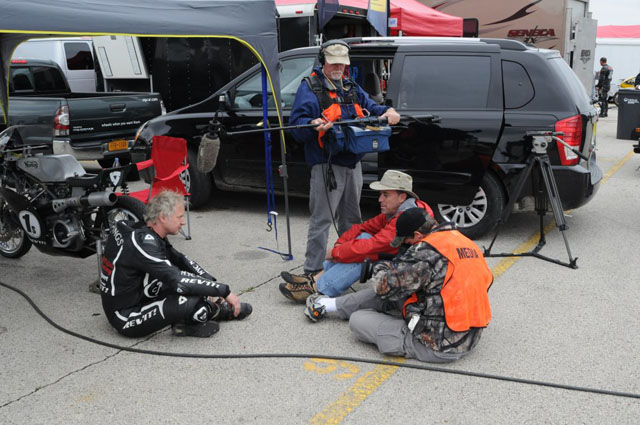 Well, the beautiful Rev'It Seeley 750 broke my heart at the worst possible time. The TV crew wanted my thoughts. "Was it a success or failure?", they asked. I answered as candidly as possible – it was a success because I went VERY fast on that bike, time and time again. I know what it can do, and I know it can win. It was a failure because here is something that a lot of time, energy, and money was spent to get it to the level it is, and it let me down like a junkyard dog. I tried to be upbeat, but I was spent. The camera crew packed up, the bike was put on the truck, and it was time to get out of my leathers. As the film crew was pulling away in their van, the producer rolled down the window and asked if I'd be at Mid Ohio, and possibly we could do a follow-up there. Yes! A second chance! Of course I jumped at the offer, and off they went. I was relieved, and felt like I could get back to my own racing program for Sunday.
At this point it should be noted, in no defensive manner, that any new racebike will take time to get sorted. I am still working out little bugs on my own bikes after many, many weekends at the track. In hindsight, I am proud of how well this bike performed out of the gate. And only later did I find out that the reason the bike died was a ground wire whose connector had been crimped on the sheath instead of the wire itself, causing intermittent ignition firing. Yep… a simple little wire.
Road America, Turn 5, Sunday Practice, June 12, 2011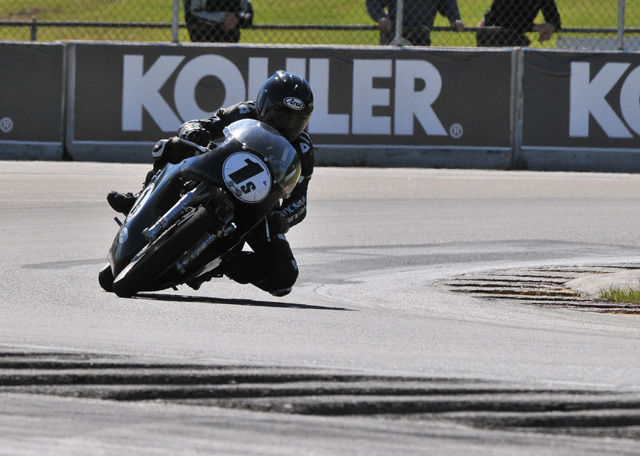 A new day, and a new lease. I did some great practices out on my own Seeley. Felt like my old friend. Maybe slightly more ragged around the edges than its pristine counterpart, but a useable tool, ready to be ridden hard. I also did some good laps on the Manx, and was feeling back in the groove. How quickly things can change for the better…
…and how quickly things can go pear-shaped once again.
In the Premier race I threw a chain on the Manx in the back straight, this after getting a meatball flag for jumping the start, necessitating a stop-and-go through the hot pit lane. A junk race.
Then my own, trusty Seeley 750 crapped out on me at the starting line due to a dead battery. Yep, that's right. Unable to finish a race.
Kids, do yourselves a favor. Don't buy into the glory and power of racing motorcycles. It's smoke and mirrors. If you take all your money and throw it down a manhole, then bonk yourself on the head with the cover, you'll get the same thrill and still be be ahead of the game.
This beautiful picture, illustrating the lustre of the aforementioned smoke and mirrors, was taken by Eric Cleveland.
Road America, June 11, 2011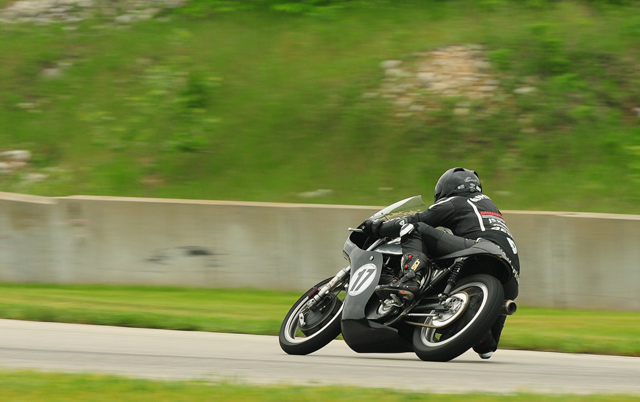 More pretty.
Although I didn't have the best weekend, I can look back and say there are very few things in life that can equal the sound and feeling of getting over on a Manx Norton at speed in the back alleyway of Road America.
Thank you Fred Sahms for the great snap.
Michigan, June 13 – 19th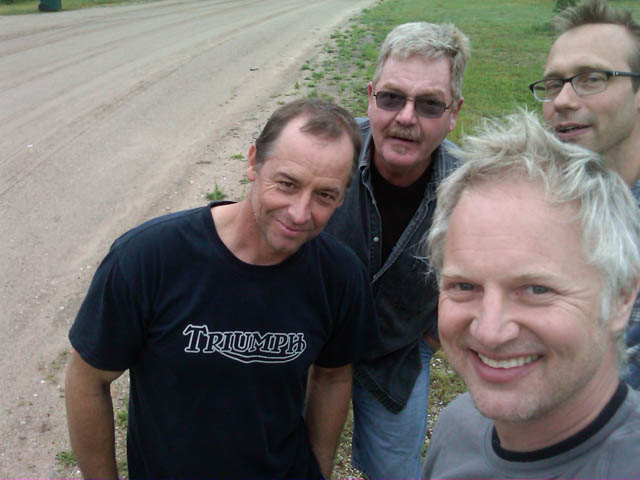 As I scan my files I find, for once I actually don't have a photo from a race event. I suppose I could really go out there on the 'net and dig for a good shot from Grattan, but until I do, please enjoy this snap of a group of vintage racers having a week off at a cabin in the woods of Michigan (courtesy of John and Jan Ellis, Thank you!). As we've done for several years now, a group of us get together between the two races, work on our bikes, ride dirt bikes, and talk so much trash that we convince ourselves we are faster than Rossi, Hailwood, and Agostini, only to get to Grattan and be immediately humbled. This photo taken at the dirt pile out on the dirt road – the only place we can get a tiny bit of cell service if we are lucky.
From left to right: Tim Joyce – 750 Triumph, Mike Dixon – 750 Yamaha, Holmeslice – 750 Norton, Todd Puckett – 500 Seeley G50
My weekend at Grattan was similar in timbre as my previous weekend at Road America. Again I threw the chain on the Manx in Friday practice. Two times throwing a chain and I'm lucky to walk away, and smart enough to put the bike up until I can look at it back in the shop. I went out in Saturday's F750 race on my Seeley and had the same issues as Road America (it should be noted that only then at Grattan did I determine it was a battery problem all along – the same problem I had at Road America – and until then was convinced it was my ignition). I swapped batteries and got out in Sunday's race, taking 3rd behind Timmy and Ellis, as per usual. Ho hum.
Mid Ohio is coming up and I have some work to do to make this a success.
AMA Vintage Motorcycle Days, Mid Ohio, July 24, 2011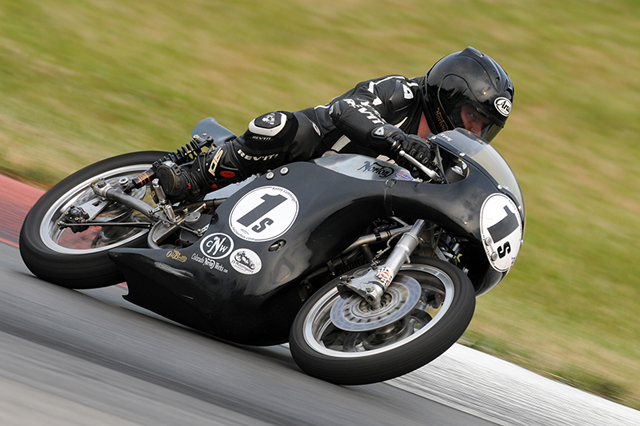 I will spare everyone my diatribe about what the once great VMD at Mid Ohio has become. It seemed that the racing grids were actually up for the first time in 3 years, but the event overall felt quieter than the last couple. Perhaps this was due to the horrendous weather forecast, with 100-degree heat and high percentages of rain for all three days. In fact it always rains at least one day at Mud Ohio, without fail, and this year was no exception. I love this track. It's one of my favorites, but I have never experienced anything like it in the wet. It is absolutely treacherous. I pitted in Garage 18 with a bunch of Canadians, my friends Scott, Mick, Jeff Peters and Doug MacRae. We got some good practice in Friday, and I went out on both Seeleys – my own, and the Rev'It bike. Both felt great and ready for action. Then, on Saturday, the rains came, which postponed my GP750 race until Sunday morning (and Sunday's race ran at its usual time Sunday afternoon). Once again, I had the TV crews hanging around. My feeling was "just finish the damn race!". So I took off, but the track was still damp and I didn't want to chuck it away. I put in a fair showing, coming across the finish line in 3rd place behind my old fast friend Jeff Peters on his Rickman CR750, and Ivan Messina on his BMW, who pipped me on the last lap. Although it wasn't the most spectacular showing, I finished a race, the camera crew was there, and I could save face on national TV. I was really happy.
Saturday, July 23, 2011, Mid Ohio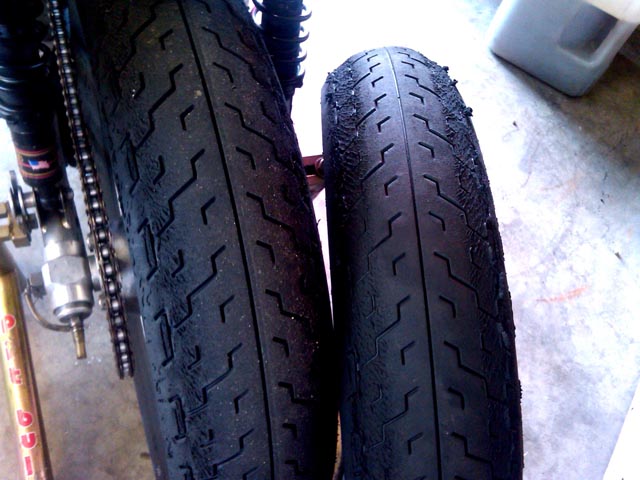 I keep a good notes on my bikes; gearing, jetting, when I change tires, what suspension settings, etc, etc. Coming into Mid Ohio I had less than two race days on my rear Dunlop tire (I can usually get 4 or 5 complete weekends). After a couple of Friday practice sessions the rear really started to slip and felt greasy as can be. Upon closer inspection I had torn up my rear tire like I've never seen. I did some practices on the Rev'It bike and didn't have problems. It's rear tire was imported directly from the UK and has a different compound, so wasn't giving trouble.
Fortunately my pit neighbor Dave Crussell had a new KR164 (same compound and date code as my tire) and I put it on Saturday morning. Right away it too started to shred! Damn!
I made it through Sunday, but I was not a happy dude. I love these tires – they stick like glue – but I can't be going through a tire a day. I spoke to Bob Barker, our US Dunlop distributor, who in turn went to Dunlop. I was happy that Dunlop took our concerns seriously and they will be doing a harder compound for 2012.
Seen here is the "old" tire on the right, and the "new" tire on the left, mounted on my Seeley.
Sunday, July 24, 2011, Mid Ohio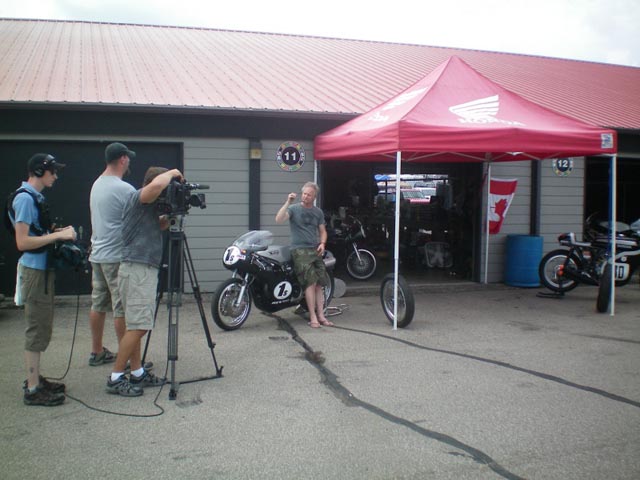 Later in the day the TV crew came back and wanted commentary. It was then they said they wanted more racing footage and were going to film the second race. Well all right, I'm back on again. And once again I came in 3rd. I finally sold my fancy-schmancy onboard camera that could never hold up to the vibrations my bike has, and invested in a tried-and-true GoPro Hero, and it works a charm. So some video footage of Sunday's GP750 race can be seen by clicking HERE. Unfortunately I forgot to turn on the camera until the front straight! I had to reach up and turn it on while heeled over coming out of the keyhole. In the beginning you can see Ryan Ambrose on the Big D Triumph and Jeff Peters on his Honda in the distance as they check out. Later in the race, I reeled Jeff in a bit, but due to the tightened schedule, they decreased the number of laps for our race and I didn't have time to do anything more. Now Ryan… he was gone. He's a fast kid, and I wish he'd race with us more often. Once again I was just happy to come in unscathed.
The TV folks are happy and done with me for a while, and I can get back to my own program.
Sunday, July 24, 2011 – On the Podium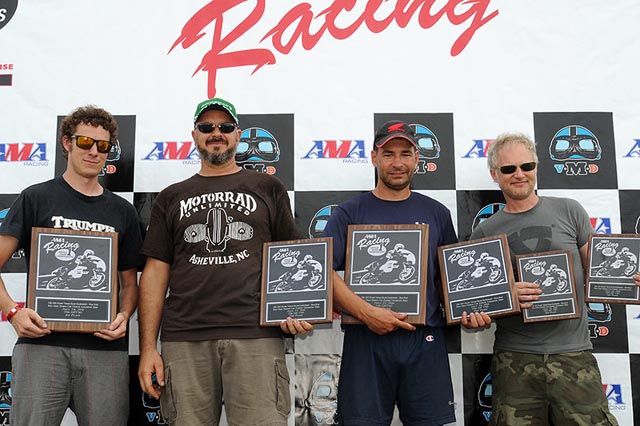 Left to Right: Ryan Ambrose – Big D Triumph; Ivan Messina – BMW; Jeff Peters – Rickman Honda; Holmeslice – Seeley Norton
I gotta say, the AMA does a nice podium ceremony. Makes us all feel a little more important.  I rushed back to the shop to get some work done. I have a few bikes for customers that are close to completion that will grace these pages soon. Next up on the racing schedule is VIR. I love Virginia!
Photo courtesy of AMA Racing
-Kenny Cummings
NYC