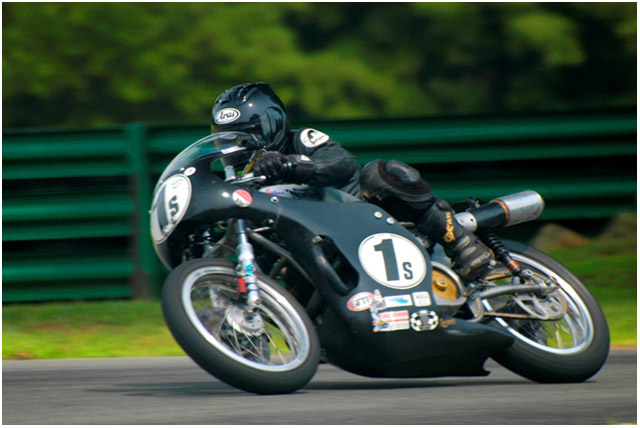 2010: The Kindness Of Strangers
Winter 2009: Spot the race bike?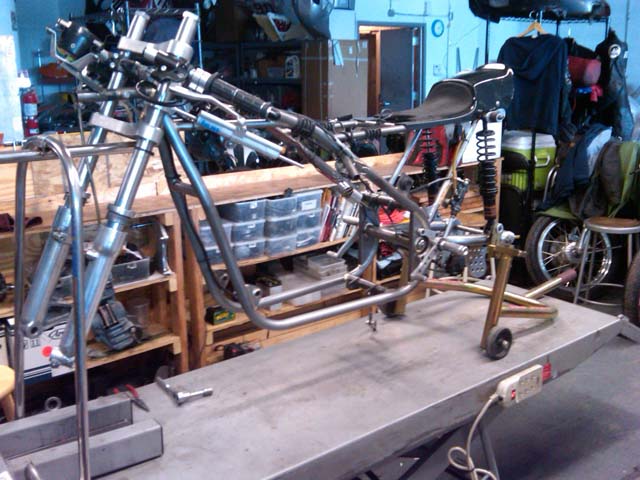 This has become a repetitive story – bike gets built, bike gets raced, bike gets torn down , bike gets built back up again…
I suppose the difference this year is wanting to step it up a little more than before. I have contemplated building up a new motor for some time, and the time is now.
After working through the details I have been fortunate enough to land a few sponsors who are willing to stick their necks out for me.
Enter Colorado Norton Works, Fullauto Technologies, Left Coast Racing, and Comstock Engineering.
On to the build: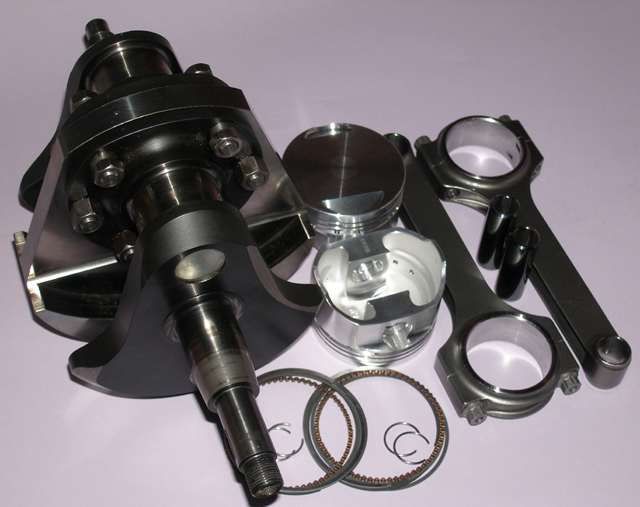 My crankshaft, balanced to 78%, with Carrillo Rods and JE Pistons.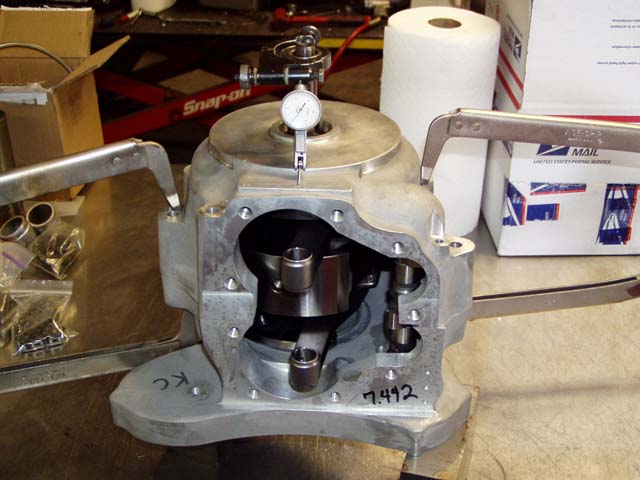 Here the end float is being set. These crankcases supplied by Ken Canaga of Left Coast Racing. Ken has always been a boost to my program, and when I'm standing on the ledge his knowledge and level-headedness will always talk me back down again.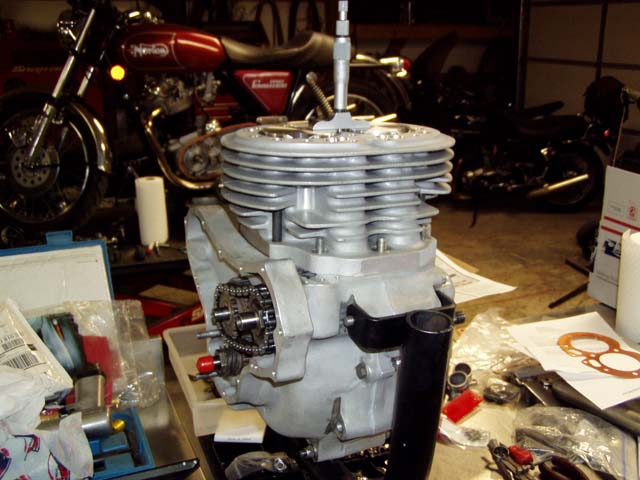 Jim Comstock machined O-Ring grooves into the alloy barrels to eliminate oil seepage past the bolt/stud holes and pushrod tunnels.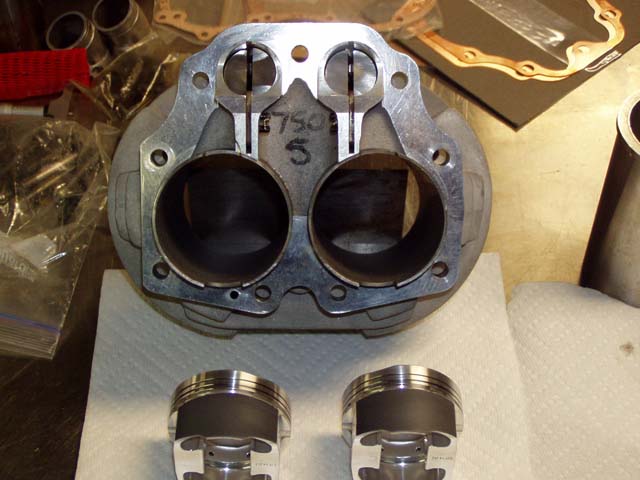 Moly-coated pistons, and the underside of the alloy barrels. Good stuff.
And the Pièce de résistance – the Fullauto head.
These heads are cast in Australia, but their initial flow and porting designs were developed by Comstock Engineering. So my new head returns back from whence it came. Even Jim was surprised at how little additional porting was necessary to get the flow up to where he wanted it for my race motor.
Kids – run out and get yourselves a Fullauto Head, bolt it up to your badass Commando and become an instant star!
Meanwhile, there's racing to do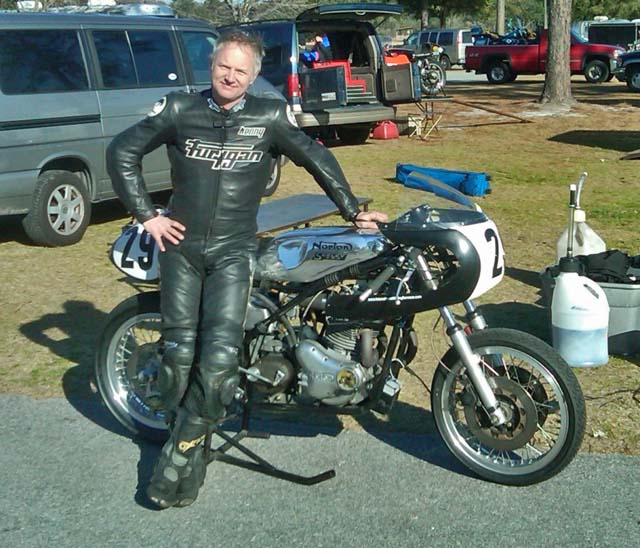 During the winter I consulted with several friends about whether to go with a shorter stroke or stick with a conventional stroke motor. My friend, John Magyar, offered up his Seeley Norton short-stroke for me to ride at Daytona to "test the waters". How quickly could I say YES?!!!!
So, he arranged for the bike to be transported down to Savannah for the season opener at Roebling Road. I got all of about 5 laps practice total on the bike before the racing started, but managed to claw out a win in BEARS. Unfortunately the battery crapped out in F750 shortly after making a good pass on my friend John Ellis for second place behind Timmy Joyce. That's racing, KC! On to the big show.
Monday, March 1, 2010 = Daytona International Speedway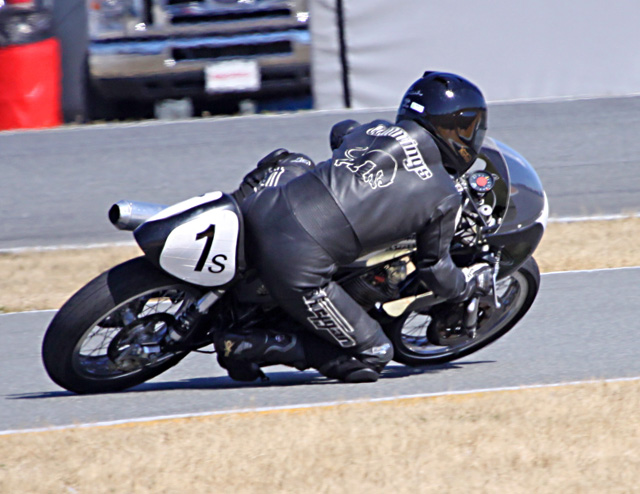 Daytona is such a massive place and hard to crawl out of your own garage and take in all that's going on. This year was no different. I found myself tucked away for the week. On Monday morning I had a great couple of practices and was feeling right at home on Magyar's Seeley. The brakes were wonderful, the chassis just like my own bike, and only here did I finally wind it up to 8200k (John said I could do 8500, but I just didn't want to be the one that blew the thing up!). My goodness was it a blast. It was like riding my bike, with an additional 1500 RPM of power available to me. I'll take it, thank you!
I won the BEARS race after having a great dice with Tim Joyce as he rode Mark Mitchell's short-stroke BMW.
On to F750, and again I had just put a move on John Ellis for Third place behind Jay Springsteen and Tim Joyce, when the primary belt snapped while full throttle on the banking. That was it – another DNF in F750. Didn't matter, I was having a blast.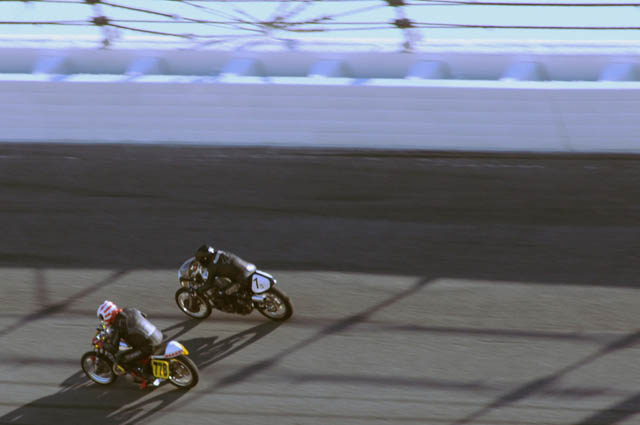 It looks so peaceful up there.  It's not.
This beautiful photo courtesy of Fred Sahms
…and later that day, accepting my lumps.
That trophy is actually quite cool, albeit a bit wee.
Tuesday, March 2, 2010 – Daytona International Speedway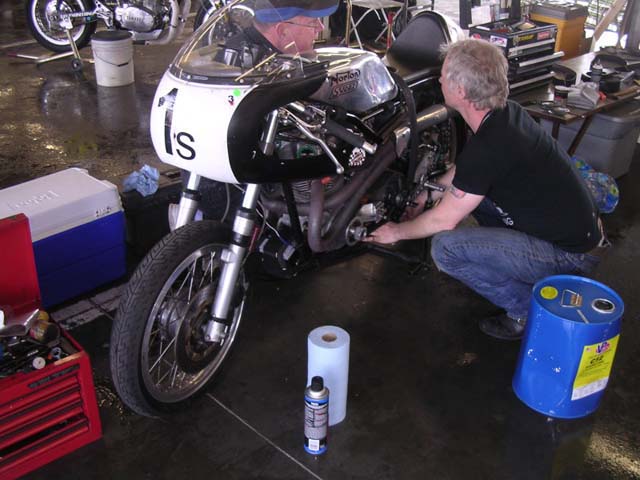 My buddy RJ Reynolds and I work on setting belt tension. It rained all morning on Tuesday, so no practice. Fortunately the skies cleared and the track dried just before race time. I spent the morning working on the bike with RJ, who was at Daytona with his own Commando race bike that I hope to be riding later this season in some races. Since RJ's bike wasn't quite ready to go he became the best crew chief a guy could have. Together we spent the morning sorting all the little stuff on the Seeley. I decided to take a scrub lap before race 6 just to make sure all was good for the upcoming BEARS race (race 7). As I'd just come down off the west banking the bike made a huge bang, then went completely silent, all at 130mph. Yikes! I have never grabbed a clutch so quick. I coasted into the grass and came to a stop. They track crew actually had me on the truck and back to the paddock in about 5 minutes. After going through the bike we realized the Boyer ignition rotor had disintegrated. Ack! My race was next, and although we frantically managed to put a new rotor in, the debris from the old rotor had destroyed the stator. That was it, my day was done. Or was it??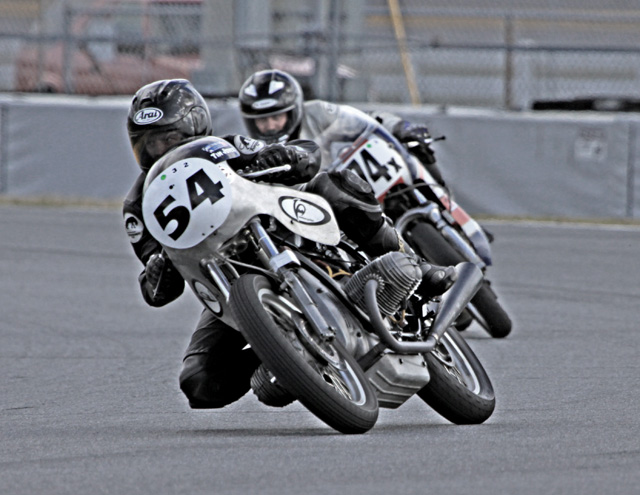 Enter my hero of the week, Mark Mitchell. Mark is an AHRMA official, a great racer. with a great BMW, and a damn good guy. Here it is 3rd call for the BEARS race, and Mark offers his bike for me to ride. This is the very bike Timmy rides, and is one mean beast. I was nervous – it shifts on the left, down for down, completely opposite of my bike, I'd never ridden a BMW before, and it was DAYTONA! Not the place to cut your teeth on a new bike. But I was desperate and the time was now. I swapped my transponder onto Mark's bike, and away I went. I had to grid in the back of the BEARS class, and told myself just to do what I could and not push it. The green flag dropped and the first 2 laps were pretty sketchy. It took a while to get used to the shift pattern, brakes, flywheel effect of the boxer motor, and those pesky cylinder heads hitting the deck! Little by little I started to creep up towards the front. Finally, I was able to pass Jason Besey on his beautiful Triumph for the lead as his clutch started giving him troubles. I got the win, and I was the happiest I'd been in recent. memory. Thank you, Mark!
April 5, 2010 – Spannerland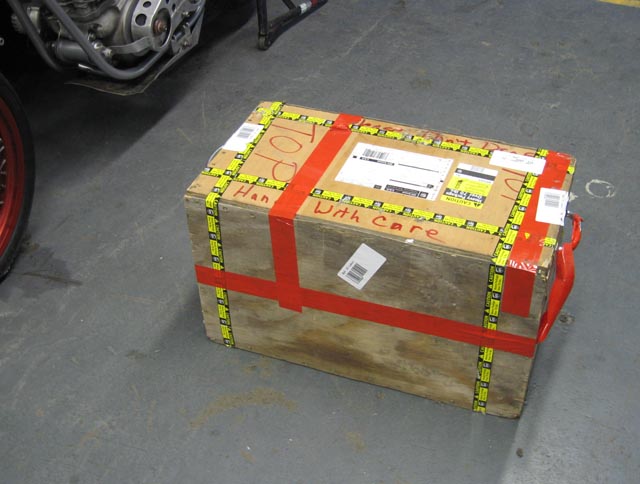 Oh, I like it when stuff like this shows up to my shop door. Mr. Comstock even makes great crates! I know what's inside here, and it's nothing but goodness!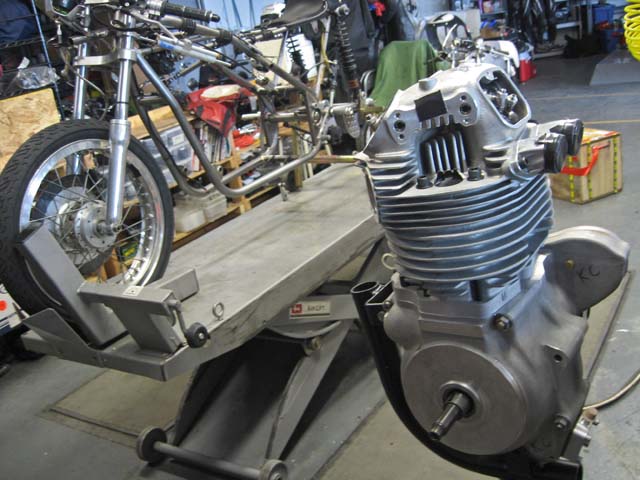 So, it is for real. The new 2010 motor is here. It's time to get it in the bike, on the dyno, and out to the track.
The new cases are ever-so-slightly different than my last motor, and therefore my fixed gearbox holes in the engine plates need to be bushed for proper belt tension.
I can't begin to say how happy I am to have su ch a good team behind me now. This will be a long-term development and I'm in it for the haul.
Next up, a reunion of sorts. I'll be heading out to Portland, OR, for AHRMA's first visit to this track. Since I'm from Seattle, just 2.5 hours up the road from PIR, I will have some good friends and family down for the races. And… I get to ride one of the most beautiful Seeley G50s in 500 Premier, owned by Bruce Yoxsimer. Once again I am completely overwhelmed by the generosity of folks handing over their haughty race bikes to me. Thanks Bruce.
May 1, 2010 – Portland International Raceway, Portland, Oregon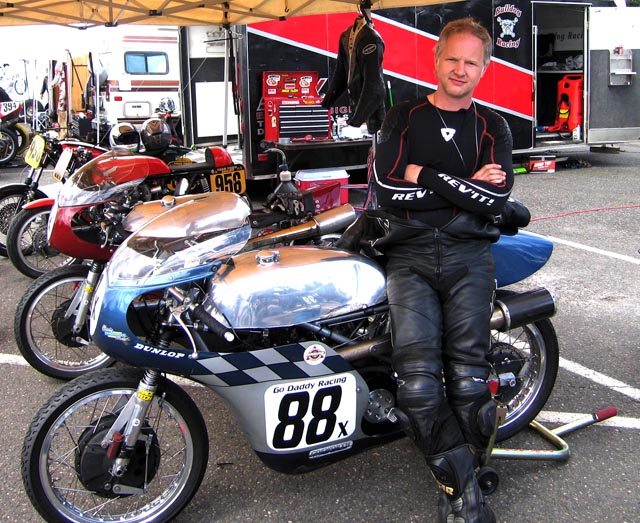 Feeling pretty cool standing against certainly one of the haughtiest bikes in all the US vintage racing paddock – Bruce Yoxsimer's Seeley G50.
Bruce has several beautiful bikes, most notably his blue Seeley Matchless G50 and maroon Seeley AJS 7R (pictured behind G50). This year he's chosen to focus on the 350 championship riding the 7R, so offered me up a ride on his G50, which was lying around collecting dust. For a moment I thought he was joking. But he wasn't, and I couldn't have said yes any quicker!
I am originally from Seattle, so was able to coordinate business with pleasure and fly home to spend a little time with my family in Seattle, then drive down to Portland and meet up with Bruce. I arrived, and there it was sitting out waiting for me, gleaming in the northwest sunshine. I have ridden big singles before, but have never had the chance to run in 500 Premier with AHRMA. At this point I should confess to my legions of 750 twin fans that racing a GP bike in 500 Premier has always been my goal, but I've never seemed to have enough money in one place at one time to buy myself the 500 I've always wanted. My 750, built one step at a time, has always been a reasonable facsimile (Ahem… certainly the amount I've put into it I could've had a pretty fast Manx by now). Nonetheless, Bruce's offer to let me ride this bike was fulfilling a dream I've had since I started riding motorbikes.
I had to do good…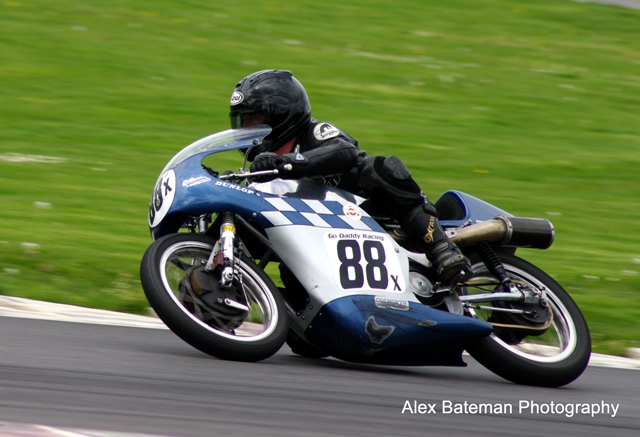 …and I did.
I got the win on both days. The bike is a fast one, and the track is too. It was a prefect match.
The G50 felt so easy to ride and I got up to speed rather quickly. The chassis is a Seeley MK2 like mine and I didn't make a single change to the ergonomics Bruce normally runs. The motor was full of torque and it was wonderfully smooth all through the range – very rideable. During our initial discussions he was very easy-going about the redline, and said he would run it up to 9k rpm at times. I chose to (try to) stay with 8k and not strain it too much. Portland has a 5000′ straight, and as I started to get more comfortable I noticed I was pulling 8500 at the end of the straight. This was really moving, as we had geared it as tall as Daytona. That's the elusive thing about these big singles – they pull and pull, and you never feel like you're on the ragged edge like you might with a buzzing Commando motor. By the end of the weekend I was doing good lap times – faster than many big 750 twins – and walked away feeling like I might need to work harder at finding a regular ride for the AHRMA Premier class. More on this to come.
So another great weekend; almost storybook for me. I got to fly in, ride the perfect bike, get the wins, and hang out and pit in with super-cool Yox and his band of merry men Craig Breckon and Daryl Foster.
Thank you, Bruce!
photo courtesy of Alex Bateman
May 2010 – Back to Spannerland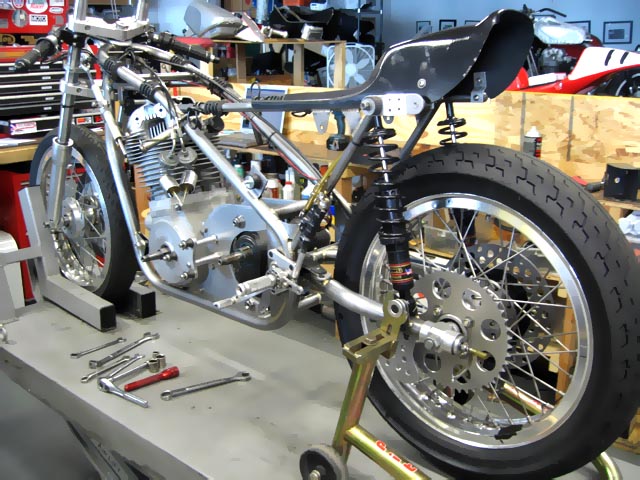 As with anything new, things fit a little differently than before. The cases were a slightly different fit than my last motor, so some fettling was necessary to get everything bolted up without strain to the engine plates and frame. Sitting in front of me was a beautiful new motor and I wanted to do it right and not rush the job. I worked for several days to insure all was happy.
One item on my to-do list for 2010 was to work with my primary belt tension. When I went with the TT Industries box in 2009 the belt ran tighter than with the Quaife. Too tight. And I had some reliability issues. So this was the time to correct as the fit with the new motor made the belt tighter than ever.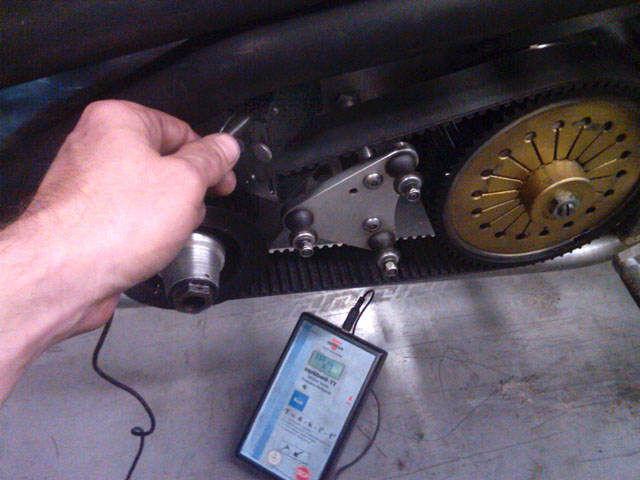 I run fixed center distances from my crankshaft to my mainshaft, which means I have a hole for the top gearbox mounting bolt, not a slot. When I first built the Seeley my belt was too loose; the simple solution was to file a bit on the backside of the top mounting bolt hole, as the final drive chain will ALWAYS pull the gearbox backwards, no matter how much you tighten it down. With the new motor the tension was too tight. Ack. Hard to go back once you've make the hole oval. I worked with Cosentino Engineering and we consulted Gates about proper tension with my setup, giving them all the appropriate measurements, rpm range, hub material, etc. Gates returned to us a frequency (hz) number in which the tension should be within. Using Cosentino's harmonic tensioner I could pluck my belt like a guitar string and little by little would ream the hole forward until the tension was within spec. Once the hole was properly reamed I inserted stainless bushings that fit within the enlarged holes. Simple, right? It took me several days to get it correct. Once the tension was set, I ran the bike for a couple of heat cycles on the dyno, retorquing each time, then buttoned it all up to head north for a reunion of sorts, racing with the USCRA at New Hampshire Motor Speedway (Loudon) so to break in the motor, where points and championships are not part of the program.
May 22, 2010 – New Hampshire Motor Speedway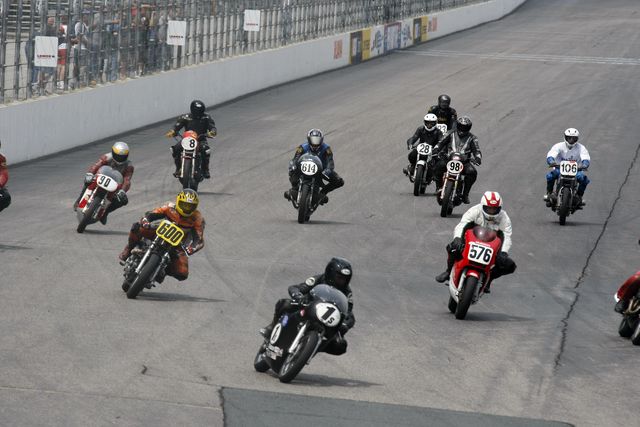 I came to Loudon with high hopes but low expectations. I was quite enthusiastic about my new motor and was anxious to get on my bike again. It'd been 7 months since riding it last, and it felt like an old friend. After a couple of practices, things were coming together and I was really feeling good about the bike and motor. I gridded up for Eurocup Race — a sort-of catchall class for all types of European bikes up to 1000cc. Also gridded with us on the track was another class, American Twins, which consisted of 3 Harley Sportsters.
I took off, dove into Turn 1 first, and led for the first half of the race. Suddenly, going into Turn 9 on the fifth lap, a flash of red leather brushed up next to me. Sure enough it was Steve Flach on one of those pesky Sportsters. I must have swapped places with Steve 25 times in the next 4 laps. He'd always get me in T9, and I'd get him back on the straight, then he'd get me in T1, then I in T3, and on and on and on. He rode the WHEELS off that Harley. Pieces of bike would fly as he'd grind bits off it in the corners. At the last turn of the last lap we caught some lappers and Steve made a great move underneath them, but I got jammed. My last chance was a draft pass down to the finish. I twisted the throttle so hard I thought I was going to break the cables, but he got me by about one foot at the line!
I won the Eurocup class first time out with the new motor, and I was pretty damn happy. Just wish the overall win could've been mine. Didn't matter though, that was probably the closest racing I'd ever done. Woo Hoo!
As I write, I'm preparing for the really big show that is Road American and Grattan with AHRMA- back-to-back weekends in the June sunshine. More to come.
June 9, 2010 – Next stop, Elkhart Lake.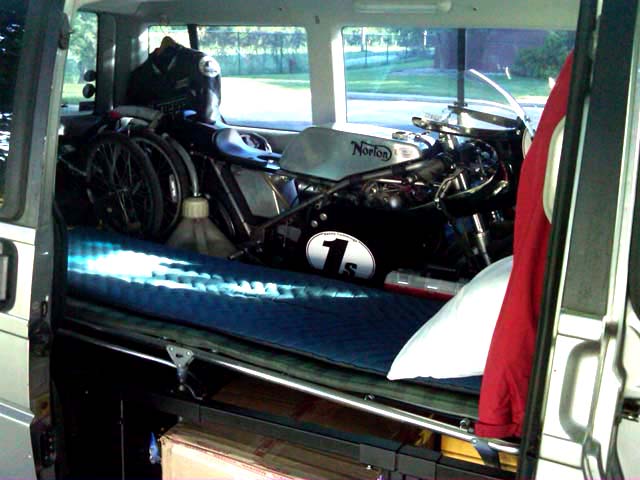 There's nothing more liberating than piling in my van with my bike and gear in the back with space for my cot so I can pull over whenever I feel the need to sleep. It's the traveling racing gypsy in me I never knew existed.
Thursday, June 10, 2010 – Hogs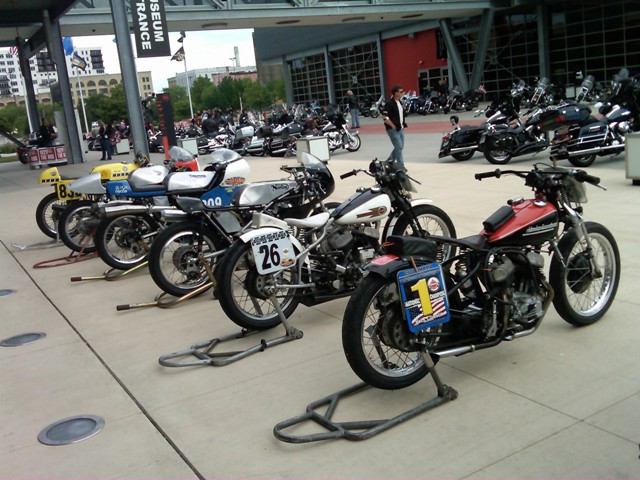 For the last couple of years the AHRMA racers on their way to Road America have been invited to display their race bikes at the Harley Museum in downtown Milwaukee for the monthly bike night. At first I thought this wouldn't be such a good idea – kinda chalk and cheese – but in fact both years it's been a hit. Many of the old Harley riders know their history and love to chat about the old race bikes. Those who don't know often come up and scratch their chins and furrow their brows. Good fun. The Harley Museum is quite a place, and always worth the stopover.
Pictured L – R: Mike Dixon's Yamaha XS750, Wes Orloff's Honda CB450, Tim Joyce's Seeley Triumph 750, my Seeley Norton 750, Kyle Corser's Tankshift Harley, and Art Farley's Tankshift Harley.
Road America, Formula 750, June 12, 2010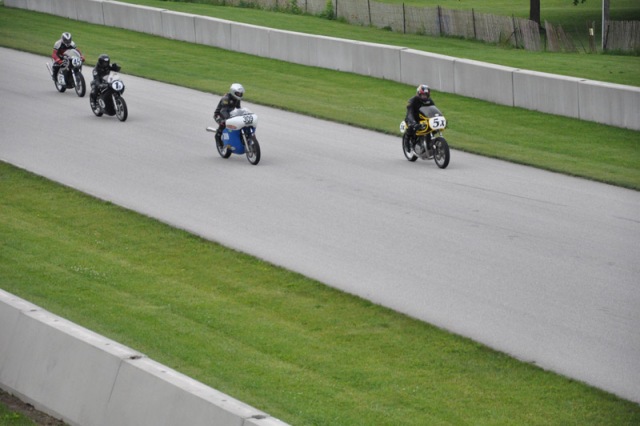 Going into Road America a bet surfaced for the F750 race – last one into Turn One had to buy the others dinner. What a mess this was. Here you had 4 guys who are already quite pumped up, about to implode at the start. When the flag finally waved green there were wheelies, jumped starts, diving, bucking weaving, and downright ugly riding. Let's just say this – I didn't have to buy dinner.
This shot was taken on the cool-down lap after the finish of the race. I am gesticulating with the imaginary spoon to my mouth, pointing out who would be the one buying dinner. Good fun.
Pictured L – R: Jeff Peters, Myself, Tim Joyce, and John Ellis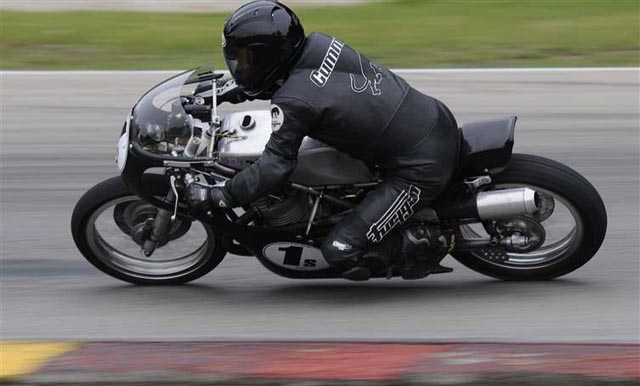 I took wins in the BEARS class both days at Road America and had some great scraps with my fellow F750 racers, managing to keep them within a few seconds. This is a testament to my new motor, as Road America is over 4 miles long, with 2 straights longer than any other tracks we go to. The bike handled perfectly and I had absolutely zero issues the entire weekend. I was able to socialize with some heavy hitters hanging out in our pits, namely Pieter Zylstra – the designer of the Harley XR750, and esteemed motorcycle journalist Peter Egan, who is a Commando owner himself.
Thanks to Comstock Engineering, Colorado Norton Works, FullAuto Technologies and Left Coast Racing for all their efforts to make this a winning motor. It is.
June 18, 2010 – Grattan Raceway, Grattan, MI.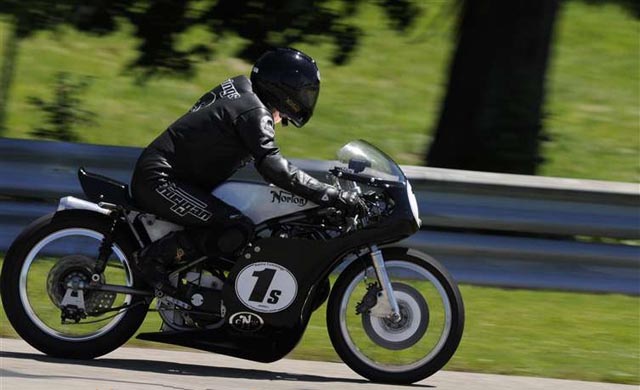 Oh, old Grattan. What can I say about this place? It is one of a kind, for sure. I can say with complete confidence that this track has the most technical layout of any I've ever been. It has a great, long straight where big bikes can stretch their legs, and some blind, off-camber turns that will separate many a racer. The back section is a series of right / left turns, the first of which must be nailed in order to get the subsequent turns correct. It is a rider's layout, for sure. The track is in the process of being repaved in three stages over three years (a good thing), but chose to pave the front straight through turn 2 in the first stage; not the back section that needs repaving the most. This year it seemed the usual sealer that's been layered on the corners year after year was slipperier than ever in the 90-degree heat, and some interesting lines were taken to avoid the tar snakes at all costs.
Here's a cool shot coming down the hill towards the Jump (yes, and actual jump), one of Grattan's many quirky, technical challenges.
I managed to get the win in BEARS both days. A video of Sunday's race can be seen by clicking HERE.
Sunday, June 19, 2010 – Grattan Raceway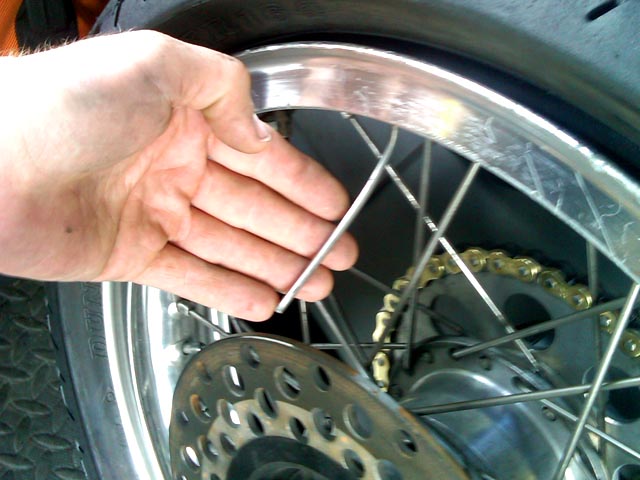 I've been having some good dices in the Formula 750 class with Tim Joyce and John Ellis of late; a boost to my confidence. Saturday at Grattan was no exception, and I managed to trade places several times with Ellis, vying for 2nd place, while keeping Tim honest. John is a great rider with a smooth style, and his cool head prevailed and relegated met to a close 3rd.
Sunday started off similar to Saturday, with John and me dicing for second behind Tim, but that was short-lived. John made a good pass underneath in the back hairpin and I immediately felt like I lost all confidence in myself and the bike. In the end I went 2 seconds slower than my Saturday's times, while John and Timmy had a cutthroat duel, putting them 2 seconds FASTER than they were Saturday… not the direction I wanted to go.
On the last lap I could swear my rear tire had oil on it. I just couldn't get it through a corner cleanly. I crossed the finish line with the bike weaving badly. As I slowed for turn one on the cool-down lap I almost high-sided. By turn two I could no longer ride the bike. I somehow pulled off the race line to get off the bike and push it into the pits. I had a completely deflated rear tire. A broken spoke had punctured the tube. Scary stuff. After a long drive home and a day in the shop, I learned the cast bearing shoulder in one side of my hub had broken, allowing the bearings to move laterally within the hub as I rode(!!) and obviously putting undue stresses on the wheel, thus breaking the spoke and deflating my tire. A chain of events that could've been ugly. I replaced the hub, relaced with new spokes, and trued it all back up preparing for Mid Ohio.
July 10, 2010 – Mid Ohio Vintage Motorcycle Days – Top of the podium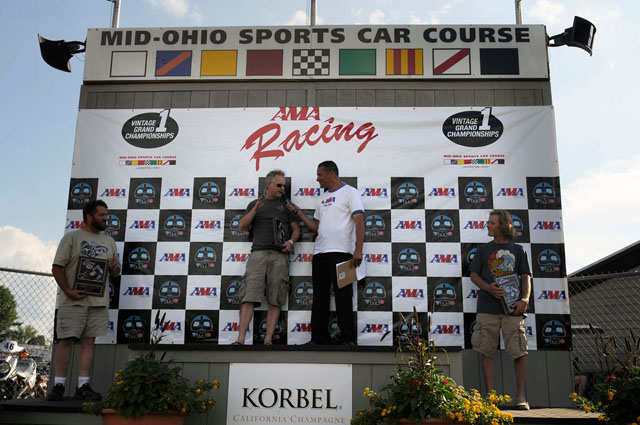 If you ride or race a vintage bike, then Vintage Motorcycle Days at Mid Ohio in July is Mecca.
I won't go into it entirely here, but there are a lot of politics that have gone on over the last years in vintage racing, and amidst the turmoil we saw AHRMA and the AMA go separate ways. The result of this is a new operation for the race program for VMD at Mid Ohio. Unfortunately, there are several racers who still have some unfounded, hypothetical allegiance to a time that has long passed, and believe by boycotting this event they will somehow convince someone out there to bring AHRMA back into Mid Ohio. It simply ain't gonna happen anytime soon folks. Let it go and come racing.
This event is like NO OTHER on the American vintage racing calendar; perhaps the world. 40,000(+) people ride in to one of the finest race tracks in the country, set up their tents, and party for 4 days. As a racer, it is a dream to be able to compete on such a world-class course. It feels wonderful to have thousands of folks waving to you during your cool down lap. It is a nod of respect and professionalism to get to the podium and be interviewed for the entire circuit to hear. It is great to have folks come into the garages and talk shop while we work.
Before I started racing I rode my trusty Commando from NYC to Mid Ohio for several years in a row. It was here the hook was set for me. I was so overwhelmed by what I saw, heard, and smelled. I picked everyone's brains and made a general nuisance of myself. And now… here I am.
I will always come back to Mid Ohio.
July 24, 2010 – BeaveRun Motorsports Park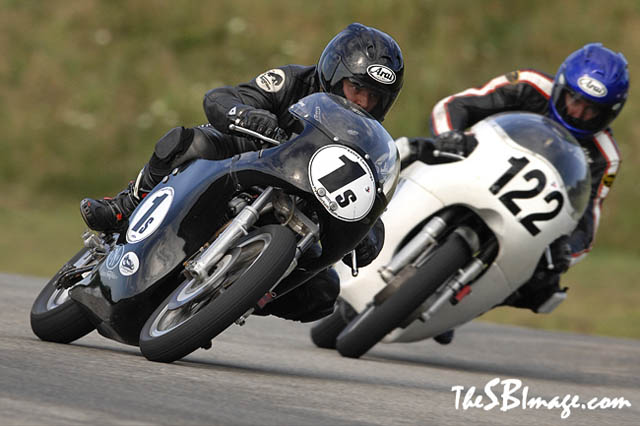 It has been a long time since I last came to the Beav. Such a great little track. Faster than one would think, with some good technical bits in the back. This event was a late add-on to AHRMA's schedule due to another event falling through, so attendance was down. But this created a very casual atmosphere and I made a point to relax and enjoy myself. And indeed I did.
I got the win in BEARS on Saturday, but once again the Junkyard Dawg John Ellis got me in F750. I got the holeshot, but he got me on the brakes in the back. He's going good this year and I've not had what it takes to get past him at the checkered.
This is a cool shot of me passing Maurice Candy's Manx Norton – the bike Timmy Joyce usually rides. (500 Premier was gridded with BEARS, thus the two bikes on the track at the same time.) This weekend the Manx was ridden by Alex McClean as Tim couldn't make the event. Alex kept his head on straight and brought it home intact.
All in all, it was a wonderful weekend. Hot as hell, but surrounded by good friends, which made it all worthwhile.
Photo courtesy of TheSBImage.com
Sunday, July 25, 2010 – BEARS Race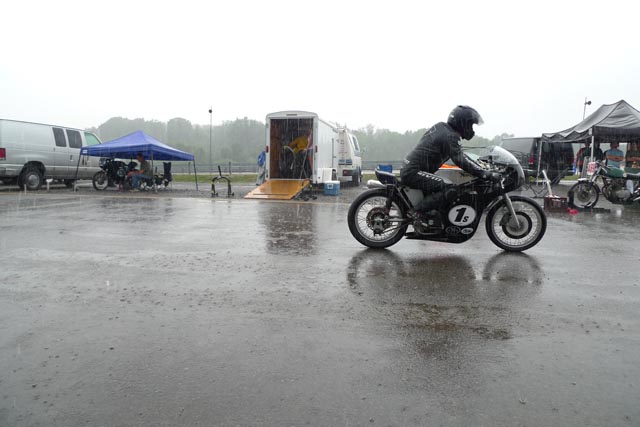 … and then the rains came. It rained, and it rained, and it rained. AHRMA pushed the schedule up, ostensibly to get all the races in before the skies opened. Silly that. What ended up happening was racing in the rain and packing up in the sunshine. Next time I'm bringing my Blackberry to the riders' meeting to refute their weather reports.
This is one of very few shots I've seen that actually captures the sheer volume of water coming down onto the track surface during a heavy storm. (Notice everyone cowering in trailers and under awnings). Nope… no fun at all, but part of racing for sure. I quit my bellyaching, donned my rain-suit for the first time this year, and out I went. The warm-up lap felt okay with fair grip on the surface. As I waited on the starting line there was a botched green flag by the starter, and somehow in the confusion I killed the bike! NO!!! Unbelievable! I tried to bump start it, but no joy. I pushed off in the grass and watched 2 waves of racers get their start, then finally got some assistance to bump the bike. It fired, but it was way too late. I was a minute behind the first wave. I rode around not feeling particularly competitive, and somehow managed to get 2nd place, but the leader had his head down and there was no chance of catching him. This was my first loss in the BEARS class this year. I was bummed by this, but it was a foregone conclusion; out of my hands. So I took it as best I could, packed up, and never thought about it again for the rest of the ride home. C'est la vie!
This beautiful photo by Sydney Beaumont
Saturday, August 7, 2010 – Virginia International Raceway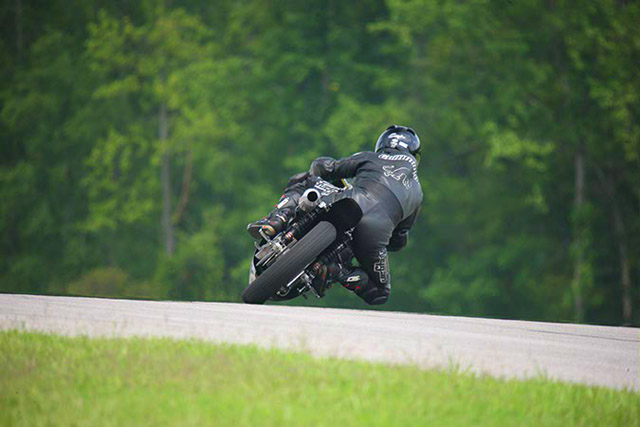 Virginia was good to me this year. I won 3 of my 4 races this weekend (2 BEARS and 1 F750), and was able to clinch the AHRMA 2010 BEARS National Championship, 4th year in a row. I've won 10 out of 11 races (so far) in the BEARS class this year, and sealing up the championship at VIR was a wonderful way to fly, all while spending a little time in the southern sunshine and green grass.
I love this track, and do well here.
Sunday, August 8, 2010 – VIR – Formula 750
Wow, this was some of the best racing of recent memory here with Tim Joyce and John Ellis.
Timmy pulled away on Saturday but broke his throttle and handed the win to me. On Sunday, Ellis promised to ramp it up, and that he did. The three of us took off with a fantastic drag race up to Turn One. Tim got in first, but I was close behind, and I could hear Ellis right behind me. After 2 laps we were red-flagged and had to restart. This time I got to T1 first, but Timmy cut underneath and held the lead. I knew Ellis was right there and wasn't going to let go. After switching places with John a few times over the course of the next couple of laps I had to push a little harder to shake him. Coming up the front straight I went deeper than ever into T1, squeezed the brakes so hard the lever was coming to the bar but it was too much, too late, too deep. I stood it up and ran off the track! Ohhhhfah. I watched John snake his way through as I turned myself around and got back out there,but was too late to get him back. But I didn't care, this was great racing with some of the most talented there is. I owe a lot to these guys for pushing me like they do. If you're going to learn, learn from the best.
Sunday, August 8, 2010 – VIR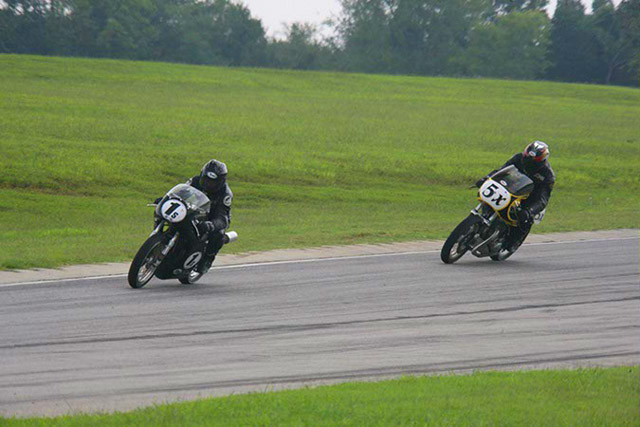 A cool shot of John Ellis on his Yamaha XS750 "Junkyard Dawg" dogging me good through the misty morning haze on the very fast dogleg in the back straight of VIR's south course.
More good racing to come, as Mosport is next weekend. Nothing like racing in the beautiful green South, then heading up to the equally beautiful North.
Sunday, August 15, 2010 – VRRA at Mosport, Ontario, Canada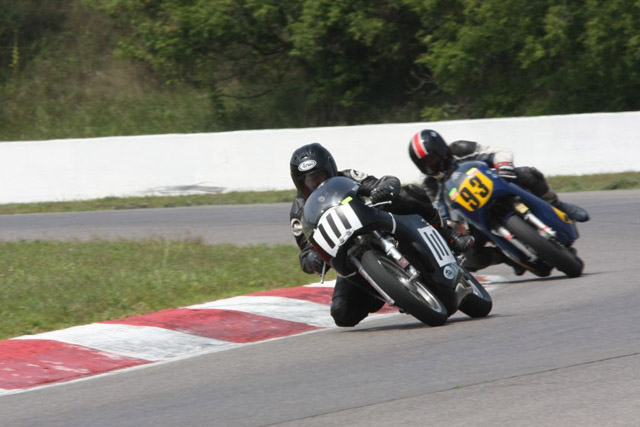 No glamour for me racing here this weekend. I should state right here that Mosport is a big, big, fast track that must be respected, and it beat me this time.
On Saturday in my P3 Heavy qualifying race I felt like I didn't know how to ride my bike. I was wobbling through corners so bad I pulled in after 2 laps. At first I couldn't find anything wrong, and started to consider hanging up my helmet for good. Soon after I found that the tiny rubber seal in my valve stem cap had worked its way down into the Schraeder valve and let all the air out of my rear tire! Yikes. At least I knew I wasn't crazy. I did manage to qualify 4th for P2 Heavy later in the day.
On Sunday I took off from the back row in the P3 Heavy Final race, did about 6 laps riding around working my way up through the pack, when coming out of T10 onto the front straight I suddenly heard a bzzzzzzzzzclackkkkkkkkk! I pulled in the clutch within milliseconds, but I knew it was bad. The rear wheel locked, but I managed to save it and coast off into the grass along the front straight.
Kids, nothing stops a race weekend quicker than a broken crankshaft. That was it – I packed it up and came home.
Photo thanks to Jean De Rosiers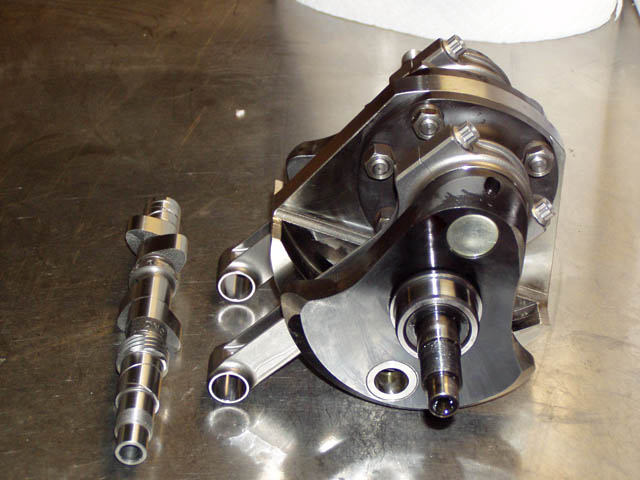 Once back in my shop I tore the bike down in short time, and sure enough…
In actuality I got off easy. The break didn't take out my cases more than a little bit of gouging, and although there was evidence of pistons hitting the head, everything came out intact. I got lucky.
Even the finest of parts has a wear life, especially when racing, and especially running a highly stressed component that had 6 hard racing years on it already. It is a testament to its design that it ran well as it did for so many hard years. Lesson learned. No more cutting corners – time for a brand new crank.
At this point I must thank Ken Canaga from Left Coast Racing, who offered up a new crank off his own shelf without hesitation, all to keep the program going. I liken Ken as my racing shrink (or is he a pusher?). When I'm standing on the ledge he always talks me back down. Thanks Ken.
Here are some of the bits, ready to go back in. Absolutely beautiful, they are.
Assuming no unseen issues, the motor will be back… better, faster, stronger. Ready to go for Barber in October.
Miller Motorsports, SLC Utah, September 3, 4 & 5th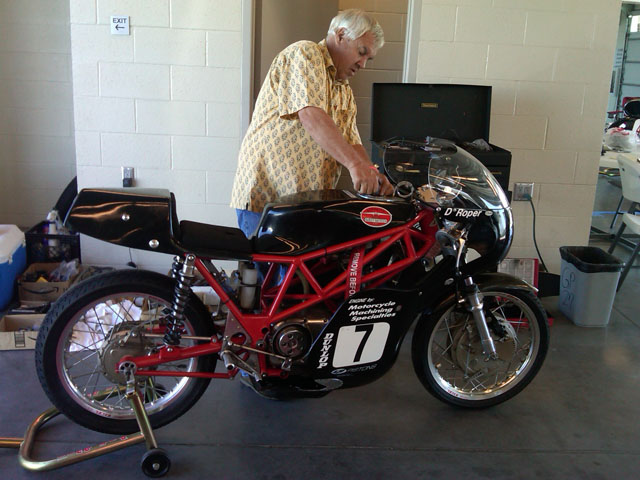 Mike Bungay and his trick Aermacchi 350 Special
Where do I begin? Even though my motor was in pieces, I had already made travel arrangements to get to Miller for the fantastic Bonneville Vintage Grand Prix weekend and planned to beg/borrow/steal a ride while there. The night before I was to leave I got a call from Dave Roper saying he had been offered a Goldstar to run in 500 Premier, and therefore I could run the very trick 350 Aermacchi he was given to ride by the ultra-cool Mike Bungay. The plan was for Roper to ride the Aermacchi in 350 GP, then hand it to me for 500 Premier as he would ride the Goldstar. I was over the moon. Bungay's bike is stunning, and certainly one of the best sorted 350s in the paddock. Roper takes it out for the first run in Friday's practice, comes in and hands it to me. I wobble around on it a bit, being conservative. Next round of practice Roper decides to skip the 350 and focus on the 500, so I take it out again. About 3 laps into it I start to put my head down and it happens…. BZZZZZZZZZZ CRAAAAAAAAAACK. Not a good sound. Nope. I get carried in on the truck, and Mike and I proceed to tear the top end off. As he's rotating the motor we can see the custom tapered crankpin has broken. Oooofah. So, Roper is out of a ride, I'm out of a ride, and Bungay made a long trip from Sacramento for nothing! So sorry Mike. We all went out and drowned our sorrows in Mexican food, and over dinner Mike allowed there was nothing that would've caused this other than wear and tear, and in fact Roper had done the same thing 2 years previous. So I was in good company in havoc. Nonetheless, I felt terrible. Mike was very reassuring, and out of all this, we're now working on a plan for a very similar bike he is building for me to campaign for the 2011 season. Way cool.
Miller Motorsports Park, September 5, 2010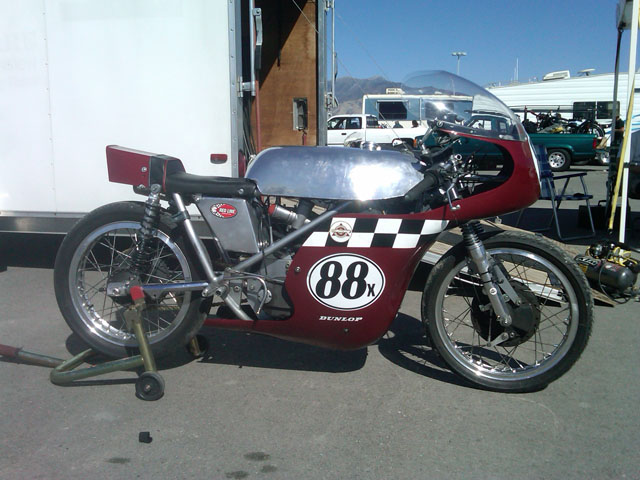 Remember Bruce Yoxsimer, the coolest dude in the world who loaned me his absolutely mint G50 to run at Portland this past May as noted a few cells up on this page? Well, he pokes his head in again at Miller, sees I'm without a ride, and proceeds to offer up his equally mint Seeley AJS 7R for me to run in Sunday's 500 Premier race. (I should note, 500 Premier is the "Bump" class for the 350GP bikes – so the plan was for Yox to ride it in 350 GP, then I get it for the bump class where it'd be moderately less competitive.)
I have to admit I was a little nervous, having broken the crank on my own bike last month, then breaking the crank on Bungay's bike yesterday, and now being handed the keys to this stunner. But seriously, what could possibly go wrong, right? Well, about 4 laps into Sunday morning's practice I hear a "tinkle tinkle tinkle". Was that the exhaust vibrating? Or was that a valve kissing a piston? By the time I'd metabolized that thought, the tinkle turned into a grrrrrrrrrzzzzzzzzzzzz. The clutch was grabbed in haste and the bike immediately died. Oh Good God no! Back on the truck I came, and it was not good. That's 2 cranks in one weekend. In fact the big-end needle bearing let go and caused all kinds of trouble. I was sick. Bruce was so mellow and easy-going about it, but he too scratched his head. Ugh. Post mortem revealed the failed big-end was 6 years old and had given Bruce's engine builder concern right before this weekend, so it seems it was luck of the draw and I got the bad hand. The only way to redeem myself was offer up my bike, once back together, for Bruce to flog, which he promised to take me up on. The offer still stands, Bruce.
Get me out of this Hell Hole, Utah!
September, 2010 – The Paul Dunstall Lowboy chassis.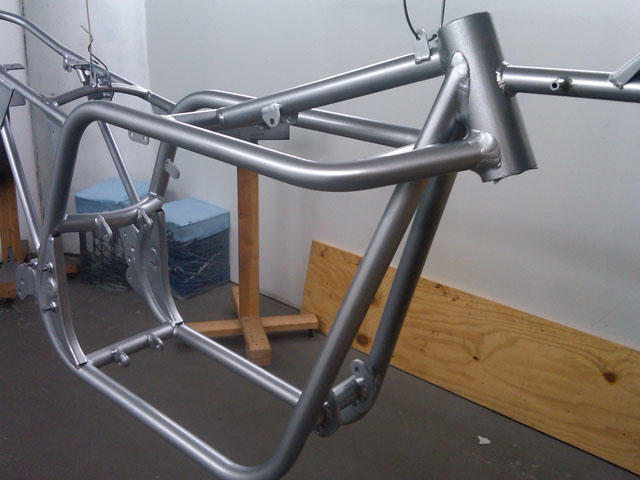 I've been chipping away in my shop for the last 6 months working to build this bike for my friend and fellow Spannerland shop mate, Jamie Waters. Jamie has two Dunstall Lowboy chassis and the plan is to put a 500 Domi motor in one, and a 750 in another. (Check out some of Jamie's collection here: www.jamiewaters.com)
The first task was the getting the 500 going. As the build progressed, we discussed what a good debut would be for the bike. The Barber Vintage Festival in October seemed like the obvious event, and a quiet plan fell into place that included a guest rider for its unveiling.
Late September, 2010 – Come Together.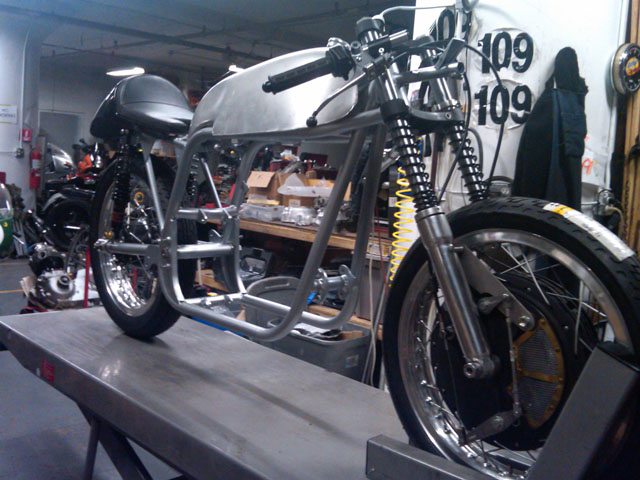 After several trial assemblies aligning the usual wheels and sprockets, belts, motor mounts, etc., It was time for final assembly. Always exciting.
Late Late September, 2010 – 90% there, 90% to go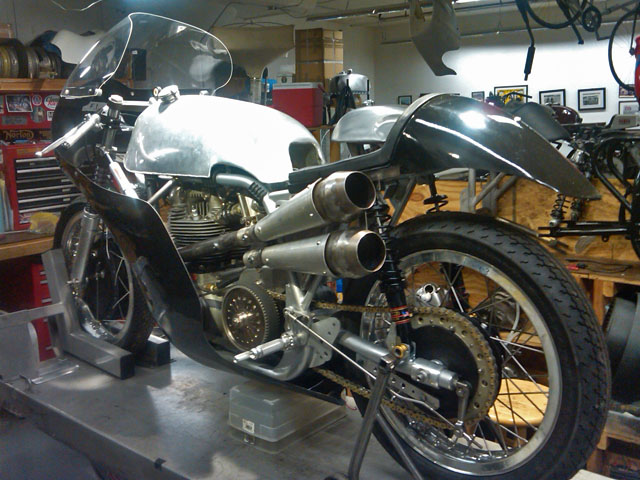 As Barber loomed there were many moves forward and several back, as it goes. On the dyno the big meggas made a hell of a wonderful noise, but also created a huge flat spot up to 4000 rpm. Different jetting, inlet tract length, etc, was tested, but and no amount of fettling would completely remove it. Hopefully not a problem for racing, but getting a good launch could be tricky.
Sunday, October 3, 2010 – All dolled up and ready to go.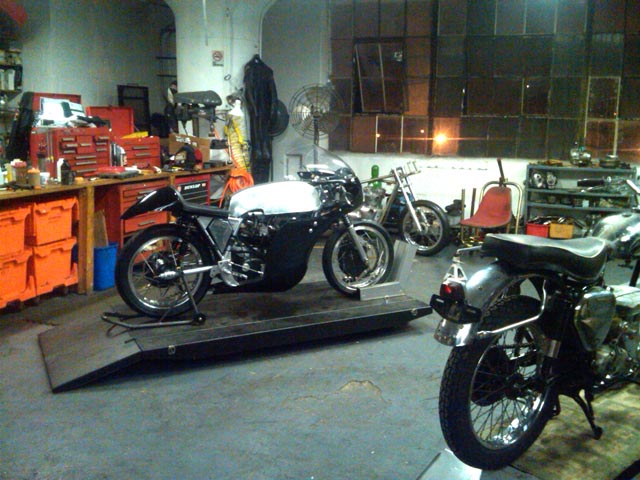 As I walked out of Spannerland at 2am after several long weeks of preparation I fired off one last shot of the Domi in its completed state. It is one of those bikes where you can never just walk out of your shop and shut off the lights without pause. It looked brilliant and I wanted to remember it like this – sitting, awaiting its trip to Barber.
All the pieces had fallen into place, including the prefect rider. Jamie and I invited Maria Costello over from the UK to ride the bike at Barber. I had seen some snaps of Maria riding a Dominator at Goodwood in 2009 so reached out to her earlier this season about coming over to ride, and a long friendship was secured. Maria has culled some incredible achievements; she held the women's lap record on the Isle Of Man for 5 years, from 2004 to 2009, and just this year set the women's lap record at the Ulster Grand Prix. Oh, and she's an MBE (Member of the British Empire) ordained by the Queen for her excellence the advancement of women in motorsports. No fooling around here. Check her out at www.costelloracing.com
But… if the Domi had issues (an untested racebike is bound to have them), the original backup plan of Maria riding my Seeley had its own set of wrinkles, what with no motor. Fortunately all the sponsors had risen to the occasion and in fact my new/rebuilt motor had just arrived a few days before and quietly sat in its crate awaiting installation. Hopefully it would be the reliable platform it's always been in the past.
Monday, October 4, 2010 – Under the gun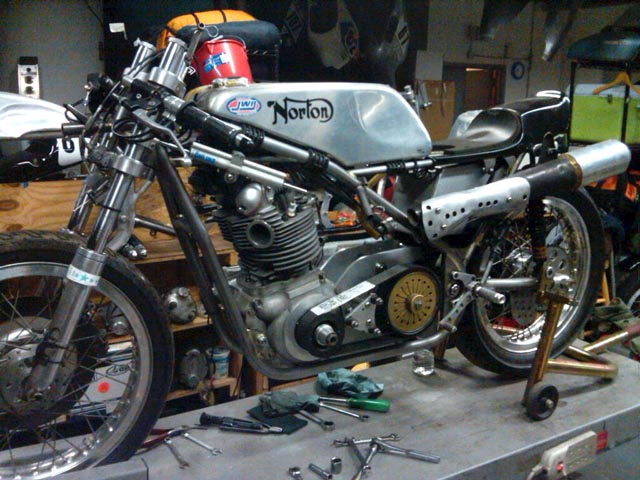 As I spent the last several weeks working to get the Domi sorted I was a little cavalier about getting my own bike going and didn't allocate much time to my program. Normally it takes about 2.5 hours to put the motor in, get the lines reattached, statically timed, etc, etc. I am happy to say this day was no exception. I had to get a heat cycle in on the bike so it could cool down and I could re-torque and readjust the valves before packing up and heading to Barber. So, a (relatively) brand new motor came back in and fired up on the rolling road without any issue. The motor has a new rod and pair of pistons (the old rod was a mere .0005″ out of round on the small end due to the piston just touching the head after the crank break), and a new crank, thank you, Ken Canaga (now balanced to 70%, down from 78%). Matt from CNW was one of the first to reach out,. and was there to make sure the job was done right. And once again Jim Comstock wove his magic in short time to insure it would be ready for Barber. It was. Thanks fellas.
Beyond the 500 Domi and Seeley 750, I also had a stock-framed Commando racer to get dialed. This bike was given to me by my friend R.J. Reynolds, at Daytona, and between my little earthquakes and his ever-changing schedule we postponed its debut (in its current form) until Barber. When he passed it off to me the bike was complete but needed some fettling to get it ready for BEARS and other classes legal for fully-faired 750 Twins.
And… if that wasn't enough on the plate, I can't go on without mentioning the Summerfield Manx Jamie has kept secreted away in a corner of our shop for the last 5 years. He's watched me ogle that bike every time I've walked past it. Finally, my sad, sad eyes were too much for him, and we struck a deal. I was under team orders to get it back out on the track with me as pilot. I can't complain a single bit, excuse the pun.
Thursday, October 7, 2010, Barber Motorsports Park
10PM – The bike arrives.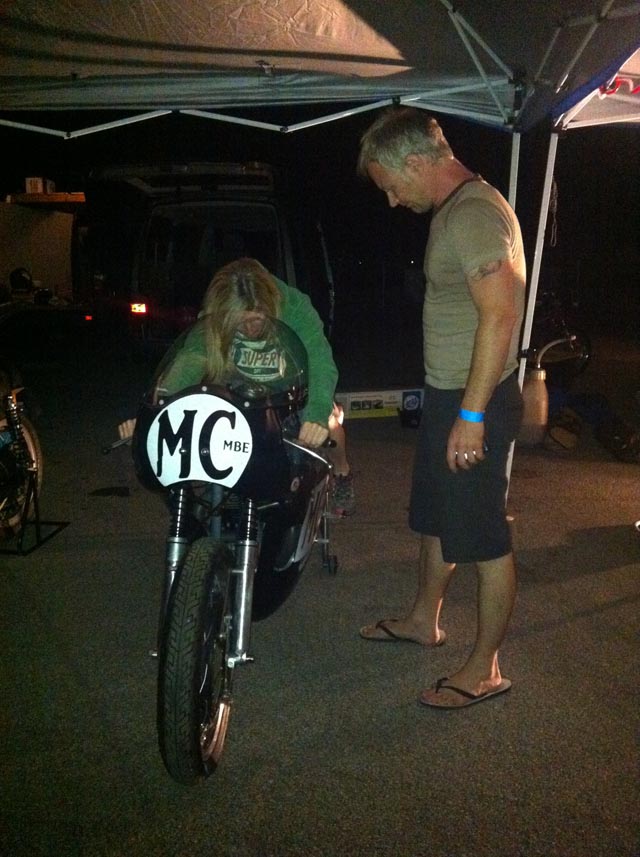 It was a blur. Two days previous I was rushing to finish packing the bikes so not to be late picking up Maria at JFK. The plan was to head head directly out of town (with a stop off in Times Square for some quick tourist photos, of course), and split the 16-hour drive into two days, which would give Maria a chance to see America like few do. Honestly, I was worried about having such a haughty princess sitting shotgun in my humble Eurovan for so long, but I am pleased to report this was the best racing road-trip I've ever driven, without question (and I think we'll do it again). But finally, after hours of interstates, Cracker Barrel, Twizzlers, and Dolly Parton (her ipod, not mine), we arrived. This is a shot in the paddock as she got her first look at the bike.
Maria is a pro; she never said a word about clip-on position, silencers up on her leg, etc. Her only fear was the right-hand shift (c'mon Maria — that's how the Queen intended it!), and shifting with a GP pattern. So, to lessen the possibility of missed shifts we crossed the linkage over to a street pattern of one down, four up. She was enamored with the bike and had such a pleasant demeanor about it all. If only it were this easy.
Friday, October 8, 2010 – Photo Op.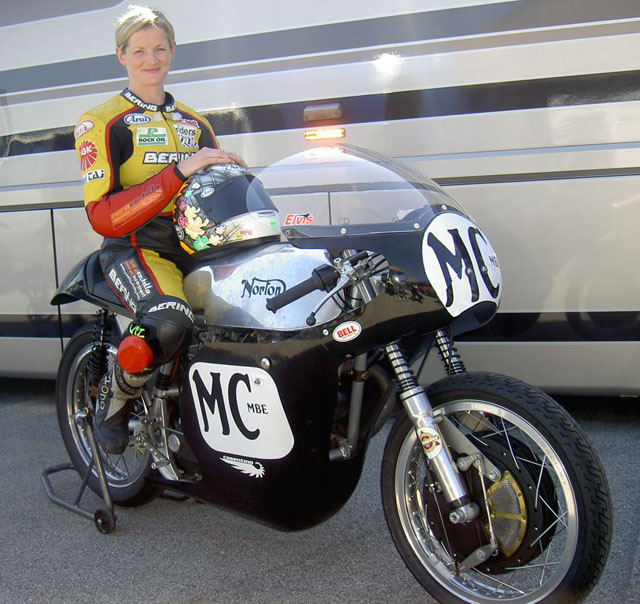 Everywhere Maria went the lambs were sure to go. I must go on record as saying having Maria in our paddock was a dream. She is a delight to be around, she looks and smells so much better than the usual blokes, and she brought me sandwiches every day when I had my head in the bikes and couldn't seem to find the time for a proper lunch. Awww. But when she puts on the leathers she's all business.
Noted author and writer Mick Duckworth was on hand for the festivities so we'll certainly be seeing some of his pieces on the occasion in future issues of your favorite classic mags.
This was Maria lining up for Mick to photograph for a future piece.
Friday practice brought lots of mixed feelings about our bikes. The Dominator handled like a dream but it was running rough, and we kept chasing carburetion. The Manx had a deadly stumble as I'd roll on the throttle. It almost bucked me off a few times. I began to ride around it but wasn't sure this is how riding a Featherbed Manx was supposed to be. And, after a few quiet break-in laps, just as I started wicking it up, my own trusty Seeley went down to one cylinder during practice. Hmmm. I came in, looked it over but couldn't find anything obvious, tightened a few things and went back out for a scrub lap. Back onto one cylinder again. I came right in and pulled the tank to look underneath. As I removed the tank I noticed it was awfully light…. like it had no gas in it. Yep.
So, a little gas and we're back in the game.
At the end of the day I took a look around and realized a contingency plan was needed. I offered up my bike for Maria to ride in BEARS if we couldn't get the Domi sorted enough to keep her in the game. Nobody wanted her to go out and wobble around in 500 Premier on a bike that couldn't get her up front.
Saturday, October 9, 2010 – Formula 750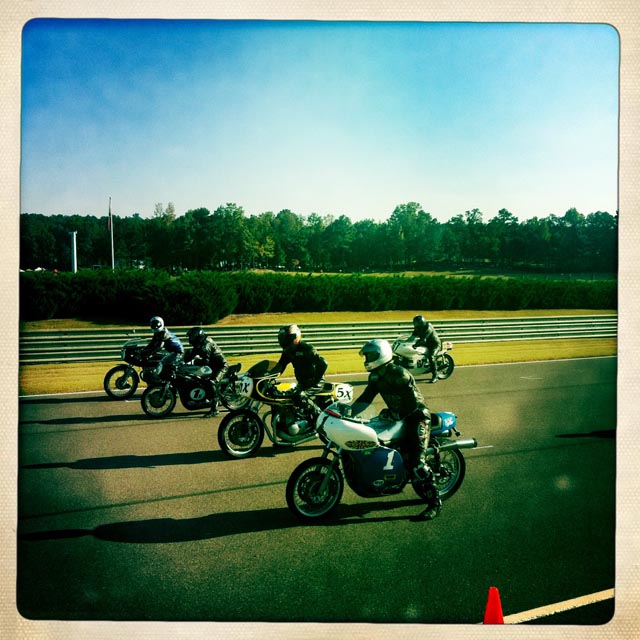 Meanwhile, there's racing to do. The championship battle for Formula 750 was down to this final weekend between Tim Joyce and John Ellis. I was merely there to throw a little interference now and then. After all the teething issues this weekend with the bikes I was a little out of sorts. I relegated myself to go out in F750 and phone it in; ride around and do what I could, but be sure to come home in one piece.
Meh…
(pictured on the front row of F750, foreground, back: Tim Joyce – Triumph, John Ellis – Yamaha XS, yours truly, and Glenn Campbell – BMW. 2nd row Jamie Waters – Monocoque Norton)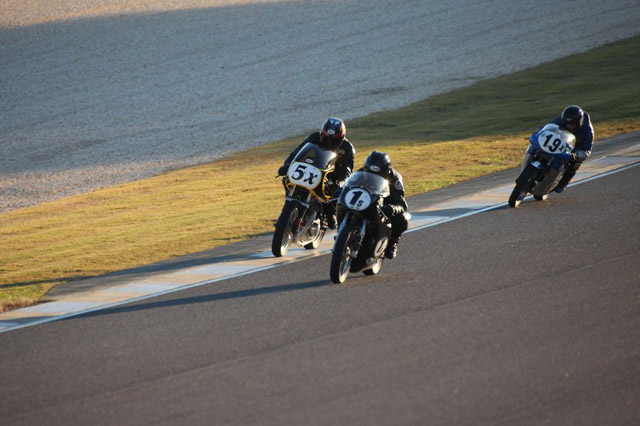 …Nope. No phoning it in this time. I had one of the best races of the year – maybe of my time – as John Ellis and I had a dogfight for 2nd (Timmy was 3 seconds in front). I got a great start and tried to keep on Tim's back wheel. Yep, not only could I could hear Ellis right behind me, but a funny thing happened here in the late afternoon October sunshine… I could SEE Ellis behind me! His shadows cast in front of me in certain turns. I was being stalked – Where The Wild Things Are!
John and I went back and forth several times. I was happy the Norton could keep up with, and pass that very trick overhead Cam XS750 Yamaha. I knew I had to keep my cool. When Ellis gets a taste he won't let go. As we got the white flag all I had to do was hold it together for one more lap. I went deep into Turn One and oops… I missed a downshift and got all out of sorts, and around he came. I went hard to try to get him back, but pegs were scraping, fairings hitting, bikes were bucking and weaving, and my last chance for a pass at the last turn found me just a split second too far behind. He got me by a nose and I came home in 3rd. But WOW…that was a good one. I was happy. And I'm still happy. I'm happy that, as I think back to my first race ever a scant 6 years ago, I was gridded up behind these big bad dudes. They lapped me then, maybe even twice, and now I'm up front giving them hell.
Saturday, October 9, 2010 – post Formula 750 decompression.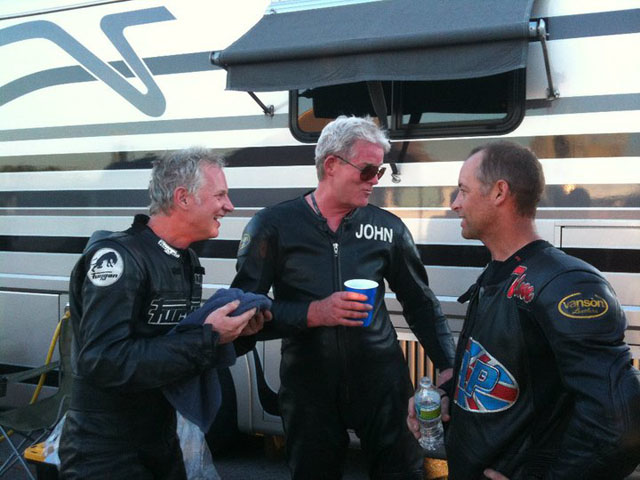 Kenny, John Ellis and Tim Joyce.
It's intriguing how a group of folks can go out and ride so hard and so close as to put one another near certain peril, then come in and be best of friends. John and Timmy are good dudes.
Saturday, October 9, 2010 – Early morning paddock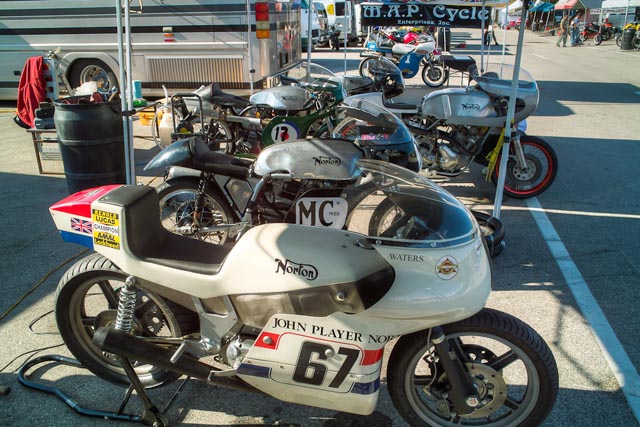 Quite a lineup here. In the foreground (#67) is Jamie Waters' 1973 Monocoque replica. Jamie owns the last surviving of the 4 original '73 John Player Norton Monocoques, but it lives in its unmolested, as-ridden-and-put-away-wet state and isn't something ready to take out on the track. Not satisfied with sitting still, Jamie commissioned original JPN team fabricators Norman White and John McLaren to do up another near-identical bike that he could flog. It's a museum piece in and of itself. Entirely hand-made stainless monocoque chassis, and all the trick bits from the factory. This mere mention of the bike doesn't do it justice. Please visit www.jamiewaters.com for more info.
Behind the Monocoque is the aforementioned 500cc Dunstall Dominator Lowboy. Notice the race number "MC mbe" AHRMA allowed Maria to run for this occasion. Cool.
The Commando racer with red rims belongs to RJ Reynolds. This bike has a beautiful motor and a lot of trick bits on the chassis. It needs perhaps one more day on the track to shake out some bugs and it will be a winner. RJ is a good dude and a big supporter. I appreciate all he's put in for me.
The green-faired #17 is the Summerfield Manx, nestled snugly next to my beloved Seeley, just barely visible behind the Manx.
In the background with the blue fairing and white #1 is Tim Joyce's Triumph.
And not in the picture but very worthy of mention, parked just behind the photographer, is Jamie's stunning AJS 7R, which he had a wonderful time with all weekend in 350gp, and Jon Blonk's equally beautiful Triumph Daytona 500cc racer he ran in Sportsman 500.
Photo by Corey Levenson
Saturday, October 9, 2010 – Summerfield Manx Norton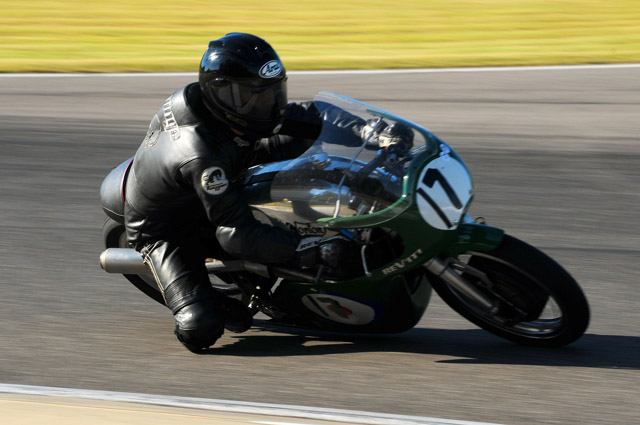 My first race on the Manx was a quick study on the need for fettling. During the sighting lap the clutch started slipping, and at the green flag I couldn't get the bike to move! I slugged around for a lap or two, then pulled in with the bike bucking badly as I accelerated, and a clutch slipping too much to keep the revs up above the troublesome midrange. I was disappointed to say the least. Sadly, I didn't have time to work on this bike this weekend. Too many other priorities. Enter a mythical character – Bob Reynolds. I'd never met him before, and to be honest, I thought at first he was just another one of those codgers hovering around the paddock telling us all, "I used to own a Manx". I told Bob, in perhaps not the most delicate manner, that I didn't have time to work on this bike and didn't even want to know about it right now. He shrugged his shoulders and walked away, but came back later and persisted that I let him have a look. So I did, and he did. As he pulled the slide out of the GP carb he discovered the needle had worn away its notches and the circlip had about 1/8″ play. That certainly can make acceleration interesting. Maurice Candy loaned us a new needle and we were good to go there. Also, "someone" had put the clutch together improperly. So Bob pulled it apart, cleaned it all up, adjusted the springs, and set me up for Sunday – back in the game.
This beautiful photo taken by Fred Sahms
Sunday, October 10, 2010 – 500 Premier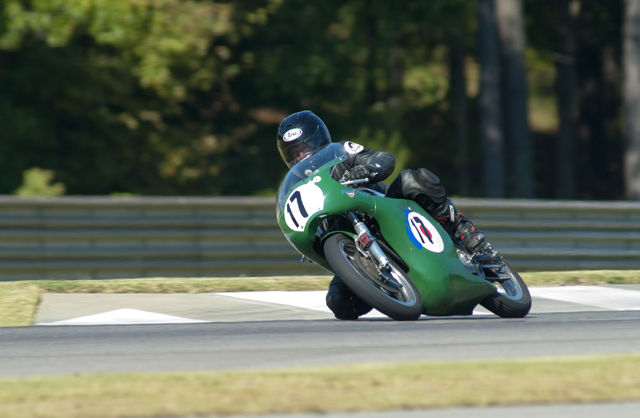 Sunday's 500 Premier race comes up, and I line up with little expectation. Off I go, not getting the best start, but I make up for it a bit and manage to pass all but one (Timmy riding Maurice's Manx, naturally).. I kept him in sight throughout the race, and by the end I finally felt like I'd had a couple of good laps on the thing. Second place behind Timmy in 500 Premier is pretty damn good. My times weren't as fast as my 750 by a couple of seconds, but the hook was set. I know I can go fast on this bike. Hopefully 2011 is the year. Thanks Jamie. It's a dream come true.
Photo courtesy of Albert Hicks
Sunday, October 10, 2010 – BEARS race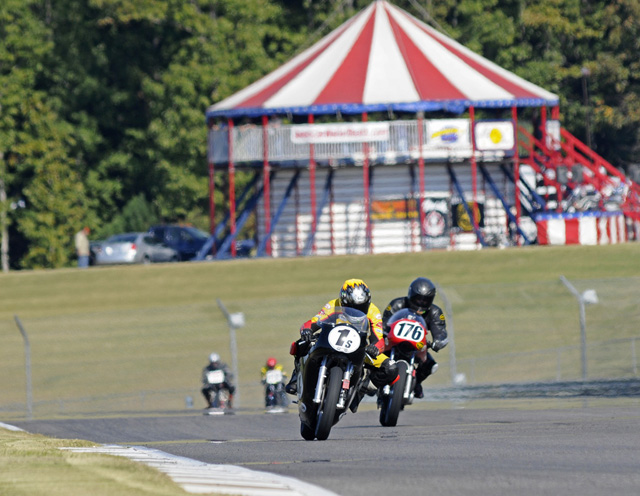 Maria was becoming quite comfortable on my bike. Having dealt with the still-temperamental Domi in practice, jumping on the Seeley was like commuting to work in a Jaguar. On Saturday she went out in BEARS and was cautious, coming home in 6th. She didn't want to chuck my beautiful baby down the track, even though I gave her full permission to fight. Sunday, after a few more laps of practice under her, she was feeling more confident. I was out in Premier in race 8, and Maria was to be out in BEARS in race 9, so fellow NYC teammate Jon Blonk agreed to help get her on her way, as I would still be pitting-in when she needed to get going. As I pulled into the paddock after Premier I was in my own little world, excited at my achievement on the Manx, and had all but forgotten Maria was out racing. When someone gently reminded me, I ran to the pit wall still in my leathers, only to see Maria having a bloody good race in BEARS, firmly planted in 3rd place and looking all business. As I watched her blast down the front straight the overwhelming feeling that came over me was something I've not felt before. I got to see and hear my bike at song with someone else riding it with confidence. I was excited Maria was having such a good time on it, while being a nervous wreck simultaneously. (At the time I think I likened it to "watching your girlfriend sleeping with your wife". Sorry for the blatant chauvinistic imagery, but I couldn't explain it any other way).
Maria held her position and took the checkered in 3rd after a good dice with Tony Read on his Triumph (#176). I was one happy team owner.
Video of part of this race taken from the Tony's bike, right behind Maria, can be seen here:
www.youtube.com/watch?v=0UTsPIBA3i4
Another beautiful photo courtesy of Albert Hicks
Sunday, October 10, 2010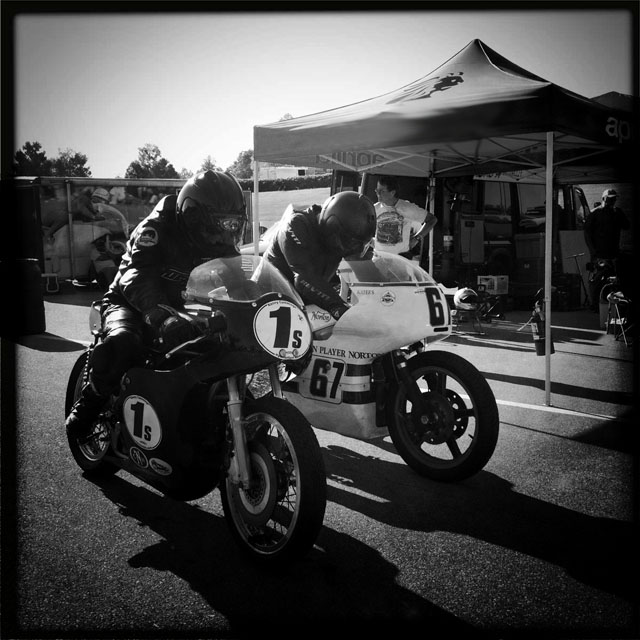 Nothing but a cool shot of Jamie and me firing up the Nortons to go out in Formula 750.
Photo courtesy of John Blonk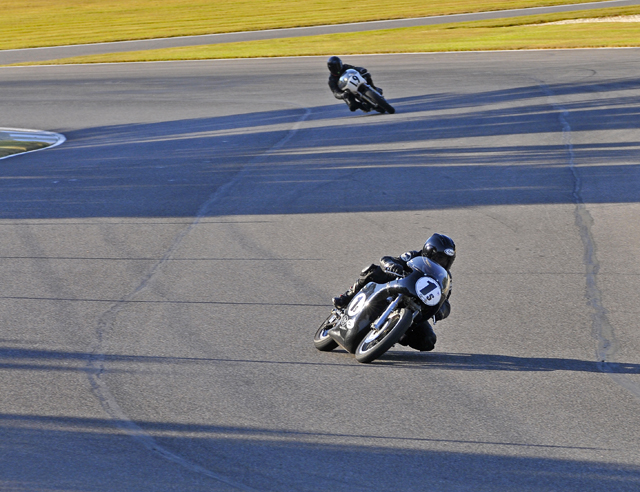 The 2010 Barber Vintage Festival was one of the most successful AHRMA events ever; only slightly behind in race entries as the biggest-ever Mid Ohio of several years ago. This October weekend has certainly become the marquee event on the vintage bike racer's calendar. There were lots of racers, lots of close racing, lots of friends, and lots of stories. But it's always bittersweet as Sunday's F750 race comes to a close. It's the end of the season and another chapter.
Packing up went quickly as Maria had to get to Atlanta so she could jump the red-eye back to Heathrow. As we sped across I20 we did our best to compare notes. A lot of stuff happened over this massive weekend, and the buzz would linger for quite a while. As I type it's now been 3 weeks since this snap was taken of Sunday's F750 race, yet I still am receiving photos, emails, and little bits from various folks who were there.
I will have much more to post over the next while as I'm working on Nortons full time now, and some very interesting projects are sitting in my shop awaiting my undivided. Time to go to work.
And again, this wonderful photo courtesy of Albert Hicks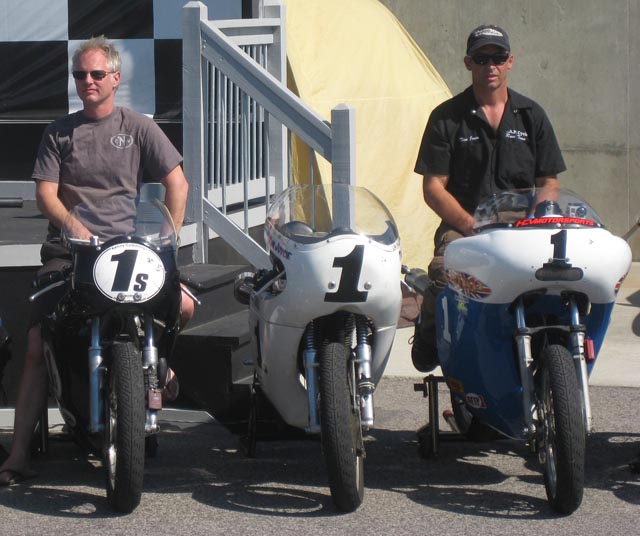 First Place
2010 AHRMA BEARS National Champion
(4th consecutive year)
Third Place
2010 AHRMA Formula 750 National championship
I must thank the following whose support has been immeasurable and kept me on the track this year:
Ken Canaga – Left Coast Racing
Jim Comstock – Comstock Engineering
Matt Rambow – Colorado Norton Works Chris Cosentino – Cosentino Engineering
Kenny Cummings & Tim Joyce line up for year-end championship photo