2009: Time to fire up the lawnmower again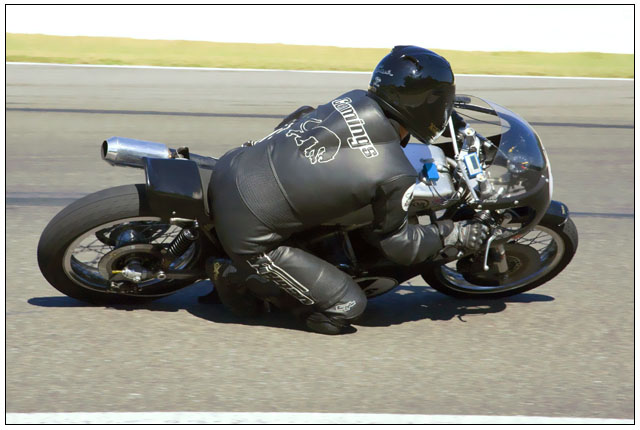 Winter 2008/2009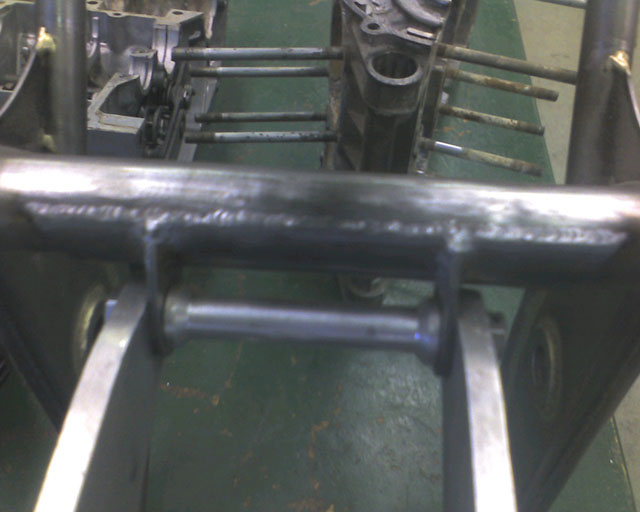 Long Before any season starts a racer must sit down and come to terms with their abuse and destruction they have inflicted on their beloved machines the previous year. I had somehow managed to crack my Seeley frame at the upper left rear engine mount tab. The forces of the drive had created a crack that ran entirely around the crosstube. No problem I say… tear the bike completely down, chuck the frame in my car and drive to Chicago in the dead of winter through snowstorms and minus 10 degree temps to see our friend Randy Illg from Framecrafters.
After talking with original frame builder John Woods in the UK, we decided the best repair would be to actually remove the tabs from the crosstube entirely, weld them onto a new 1/2 round tube, and weld this tube to the cross piece at the top and bottom longitudinally, but not on the sides, as seen in this dodgy cell-phone snap. This will spread the loads across the tube and allow a bit of stretching (instead of cracking). Actually, Randy did both top and bottom mounts just to be safe. And he did it special for me on a snowy weekend. Thanks Randy. Framecrafters is aces in my book.
February 15, 2009 – Spannerland (my shop).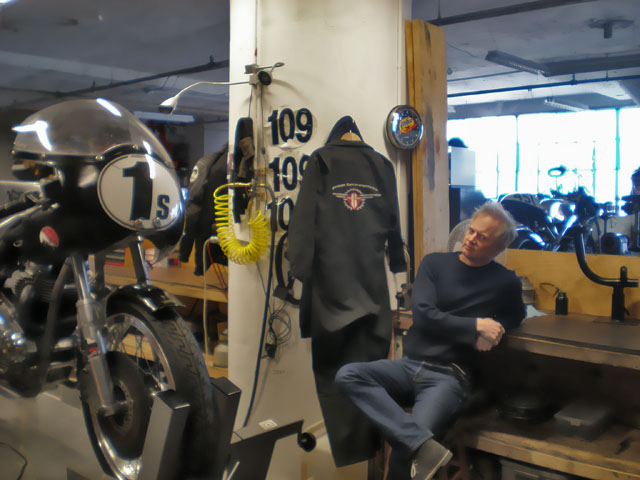 Sometimes the more you put it together, the more it wants to come apart. On this day I put the bike up on the dyno just to run it in a bit to make sure all was well before the big trip to Daytona. A massive leak was discovered emanating from one of the overhead oil lines. I was able to tighten the line to the banjo and stop the leak, but this twisted the braided stainless line and made for tough fitting under stress. This is where one sits down and asks, "Do I drop the cash on a new line or run with it as is?". The answer is, spend more money.
Ironically, I believe this leak has been happening (in a smaller fashion) for a few seasons. While on the dyno it pooled on top of my timing cover immediately, which is something I've noticed every time I've come in from a race, and for the life of me have never been able to figure out where it was coming from. When the rocker feed lines leak, they run down through the center of the head and out the 3rd fin from the top on the front, sides and rear, which is very misleading.
February 16, 2009 – President's day. Spannerland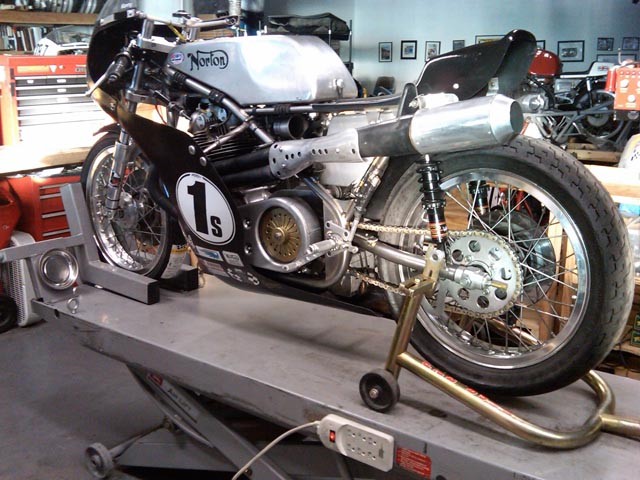 Buttoned up and ready to go. Daytona looms. I feel cautiously ready. We are running the big track configuration this year which includes both bankings. I'm geared to the moon and upped a jet size just to make sure I don't blow the thing up.
I also picked up a new camera setup that should prove much more reliable than the old rig, so hopefully there'll be some good video footage soon.
February 22, 2009 – Loading out.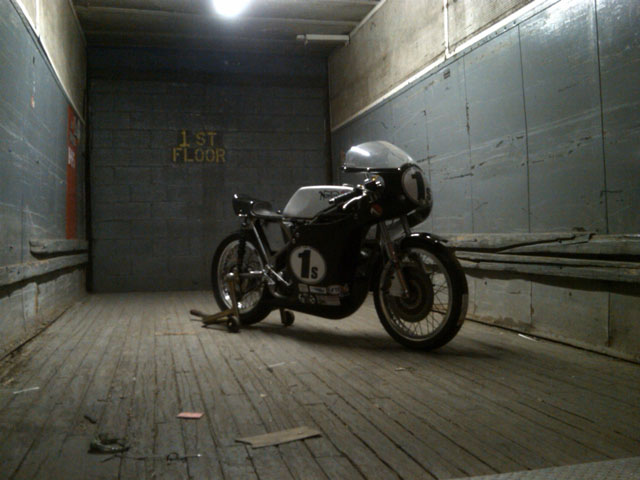 Content is a little thin right now, but race season begins next week so action footage is imminent.
Nonetheless, I couldn't resist putting up a cool shot of the bike taken in our shop's freight elevator as it was being loaded out to head south. A fear I'm sure every racer has at this point and time is, "I hope it comes back looking this good".
March 2, 2009 – Daytona International Speedway, Daytona Florida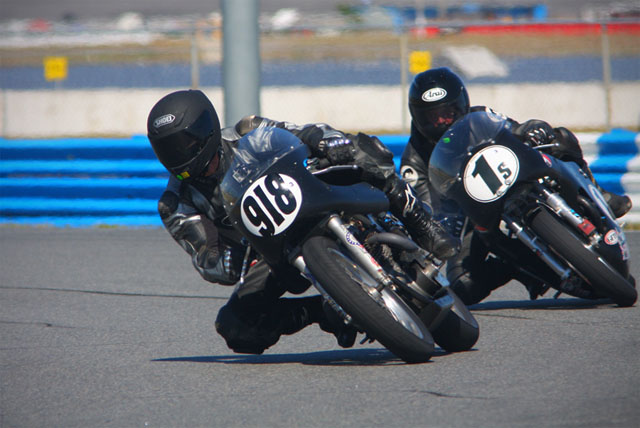 I rolled into Daytona and bunked with my buddy Doug MacRae and Norton Tuner extraordinaire Herb Becker. Doug is a very fast Norton racer from Toronto, and with Herb behind him I knew I'd have some racing to do. On Monday practice we worked our way around the new configuration of the track that incorporated both bankings. Things were feeling FAST. In the BEARS race Doug got the holeshot but I stayed on his tail, ultimately passing him on the banking but he drafted right back going into T1. I knew it was time for some strategy. I stayed tight behind Doug until the last lap when I passed him in the Horseshoe and pulled a decent gap. Then, in the ultimate bonehead move I went in too deep into the last corner before the banking and got all out of shape and Doug got me back for the win. Ugh – relegated to 2nd.
Click HERE to see the video
We then gridded up for the F750 race and I got a great start falling in 2nd behind Tim Joyce, who was faster than fast. I looked behind me and saw I had a decent gap on Doug, went up on the banking, and the next thing I knew the red flags came out. Doug had blown up his motor on the banking at full speed (135mph+) and crashed. Oh no, this was not good. He was transported directly to the Halifax medical center. I restarted and finished F750 in 3rd behind Tim and a very fast CR750 Honda, quickly changed into my clothes, and Herb and I rushed over to the hospital. Moments later, like The Phoenix, Doug sat up in his bed and started bitching at the nurses. Oh Wow. Click HERE to see the amazing footage.
Welcome back, Dougie!
Tuesday came and we were happy to see Doug show up at the track, sore and dazed, but walking and talking.  So I went out and won the BEARS race.
Another perspective from Daytona. Monday's Formula 750 Race.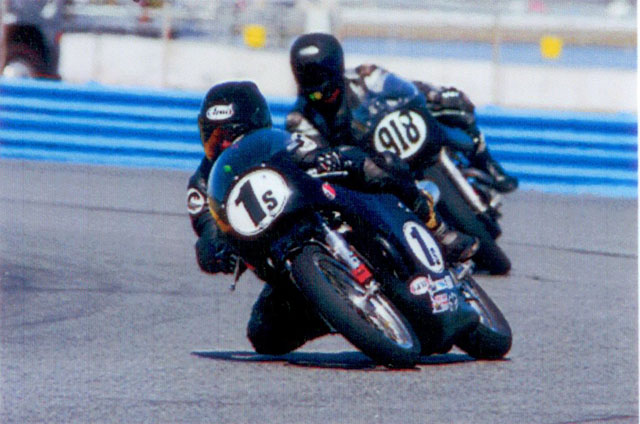 May 23, 2009 – Barber Motorsports Park
I loaded up my VW Eurovan with the bike and tools and headed to Virginia where I met up with fellow racers Eric Mercer and Rusty Beltz. From there we piled everything into Eric's Fun Mover and headed further south to Alabama for the WERA "Barber Challenge" – a WERA Sportsman round with a special open invitation to all AHRMA racers to come show their stuff.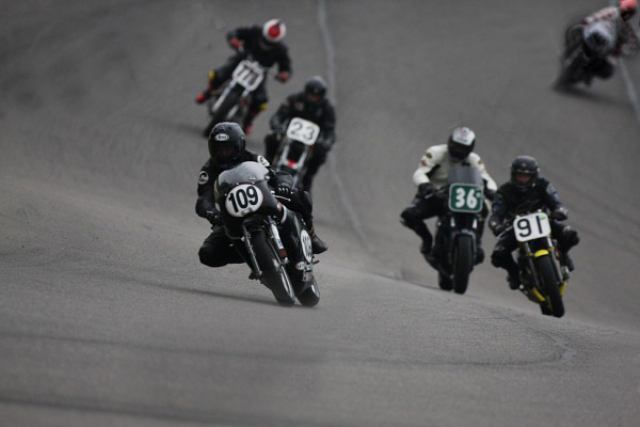 The start of the V4 race. I fell in 2nd behind fellow AHRMA/WERA racer and all around fast guy Tim Joyce. I held on to 2nd throughout the entire race.
Barber, Turn 5.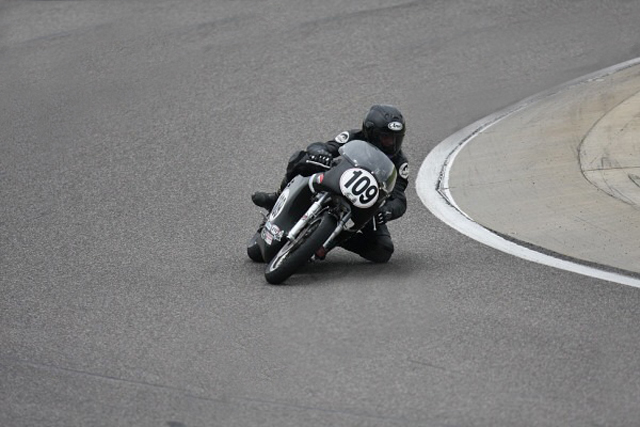 As the race progressed I noticed my clutch lever getting looser and looser. Actually, this has happened to me several times since I got the new TT Industries gearbox. The ends of the clutch pushrod are mushrooming and shortening. There's something I'm not doing right – possibly not adjusting in enough free-play between the pushrod and clutch spring, which is resulting in the rod loading up as it expands, and ends overheating and distorting (Yes, I've tempered the ends). A dismantling of the box is in order once the bike is back on the bench to figure out what's going on. Pics of the dissection to follow.
A nice shot of Rusty Beltz and me working through Turn 5.  Damned 2-strokes!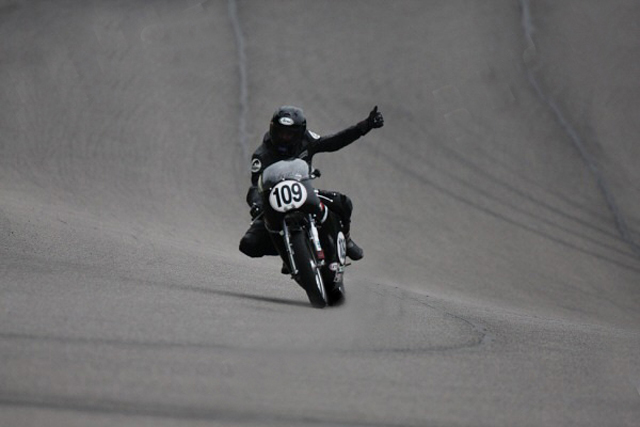 I had a great race, taking second place in V4 against some formidable machines.  But Tim and his Triumph are still unbeatable…
Road American and Grattan are coming up. Back-to-back weekends with AHRMA. These were my favorite events last year and I hope to repeat the good fun again. More to come.
Pushrod woes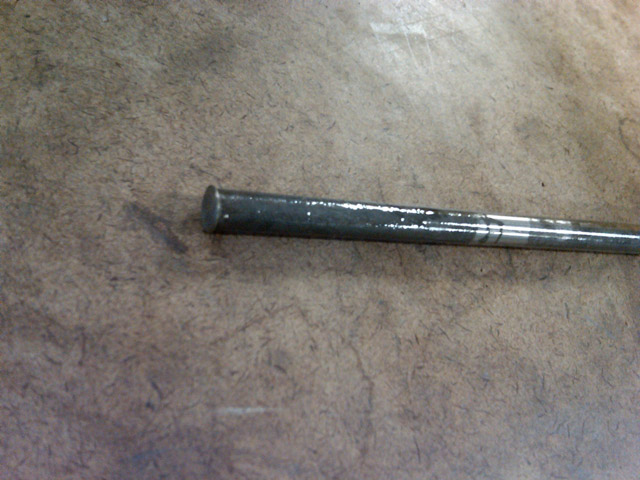 Since the new TT Gearbox is wider than a standard AMC, the stock Norton Clutch pushrod was too short. Easy fix, right? Cut 2 stock pushrods to length and insert a ball bearing. No, I didn't want to do that. I decided to make my own pushrod as a single piece. Unfortunately, no matter what I material I used, or any hardening or tempering the ends I did, the gearbox end would mushroom after any running. This became quite frustrating on many levels – as the pushrod mushroomed, it shortened, making clutch actuation disappear during racing. Also, it made it impossible to remove the pushrod without removing the outer cover of the gearbox and pulling it through the mainshaft from that end. Not the thing you want to be doing between every practice and race, and this has been happening since Daytona.
Then, it dawned on me… I took out my calipers and measured. Sure enough, the stock Norton pushrod is 6mm in diameter. I'd been using 1/4″ stock. Therefore the clearance between the pushrod and ID of the mainshaft was much tighter and the pushrod ended up spinning with the rotation of the mainshaft, heating it up and causing all the problems. I just assumed 1/4″ would be better than 6mm because bigger is always better, right? Switch to 6mm stock, cut to length, harden then ends, and problem solved.
Road America, June 12, 2009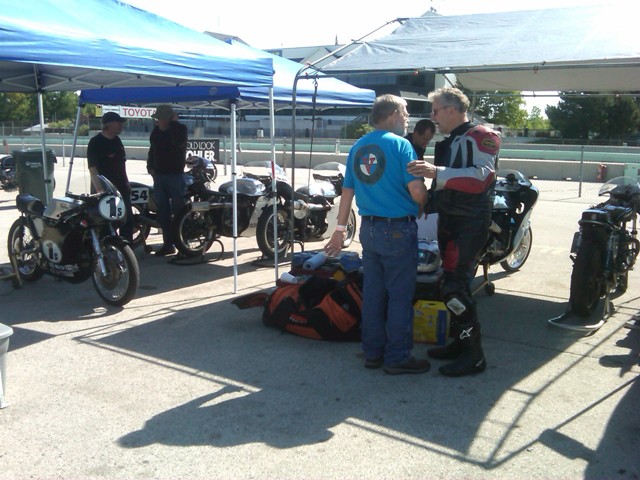 I met up with Tim Joyce at the Milwaukee Harley museum where we were invited to show our bikes as a promotional display for the upcoming race weekend. Too funny. I was surprised how many "Hog" riders took an interest in our bikes. Afterwards we caravaned up to Road America and set up shop. What a little stable we had. Dave Roper was there with his two Aermacchis. Maurice Candy was there with 2 of his faster-than-fast Manx Nortons, Mark Mitchell with his hyper short-stroke BMW BEARS bike, and Tim with his new, badass Seeley Triumph. We had a great time all weekend. Good folks to hang with. I'm privileged to be in their company.
Okay, not Nortons I know, but I couldn't pass up a ride on a couple of Italian Harleys.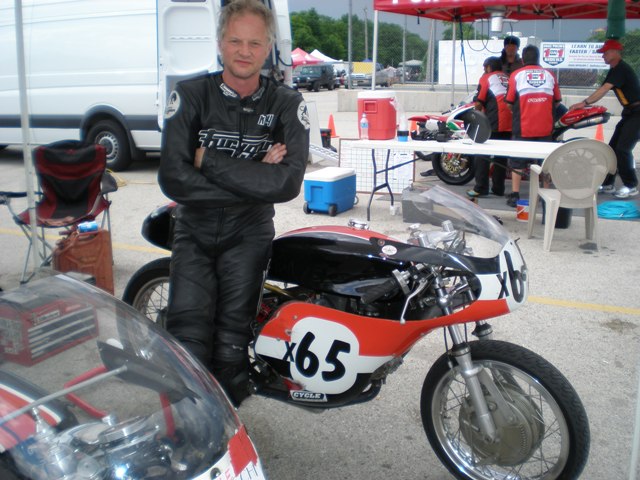 Fellow 750 racer Mike Dixon kept telling me there was a guy at the track looking for a rider for his bikes so I walked up and offered my services to Ron Lancaster, famous builder of these beautiful Aermacchis. There was a very trick Drixton-framed 250 and a moderately tuned 350 Sprint. Unfortunately the 250 had problems we couldn't locate, so all racing was done on the 350 seen here.
Notice 5-time World Champion Doug Polen in the red cap loading his Ducati in the background. Hob-nobbing with the stars, I tell ya!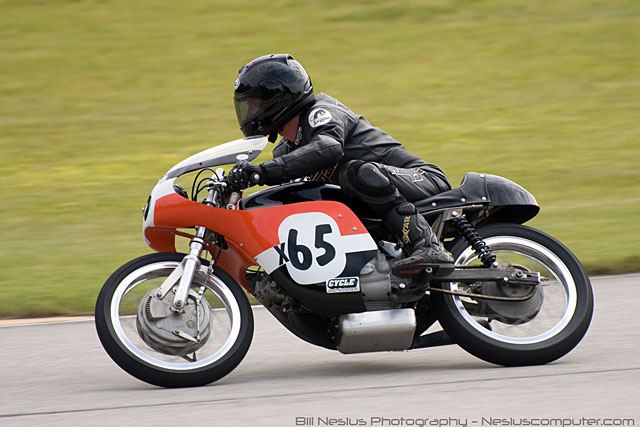 I had one of the best races I've ever had in Sunday's 350gp, trading places with Dave Crussell on his Kawasaki A1R. Dave drafted me to the finish and won by 0.0016″ (sixteen thousandths of a second)! Had the transponder been mounted on the fork leg of this bike instead of the inside of the fairing, the outcome would've been different.  Things definitely move more slowly on the 350 than my Norton, but I was going deeper into corners than I'd ever gone before, and keeping up corner speed was key here. A learning experience, for sure. The bike felt like a non-entity (a good thing). It was so easy to ride and wonderful to listen to at 8k RPM!
This beautiful photo courtesy of Bill Neslus Photography
Back on the Norton and feeling right at home.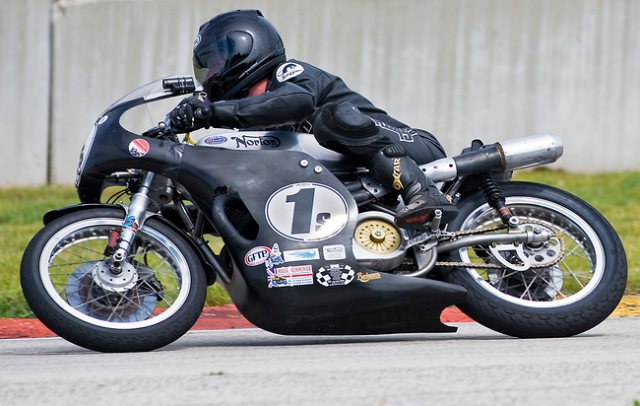 I DNF'd Saturday's BEARS race while leading by a considerable margin due to a fragged primary belt. I've been going through them faster than usual lately, and could be a combination of lack of cush drive in the rear, as well as the clutch drum and engine pulley splines wearing and the belt not seating properly. New belt, and problem solved, at least temporarily. I got the BEARS win on Sunday.  I took 2nd in F750 behind fast guys Jeff Peters on Saturday, and Tim Joyce on Sunday.
A video of a lap of Saturday's practice can be seen by clicking HERE
On to Grattan the next weekend. More to come.
Stuck In The Middle – Grattan Raceway, June 20, 2009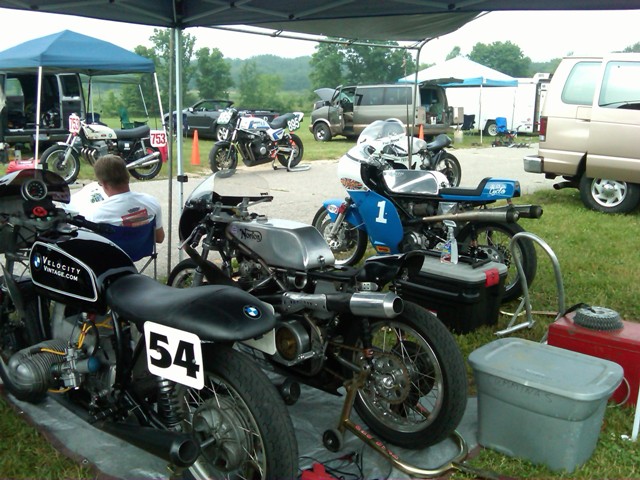 We all spent the week between races bench-racing and talking smack up at John and Jan Ellis' cabin in Northern Michigan. They are such gracious hosts. Unfortunately John blew up his Yamaha at Daytona and wasn't ready for these events, but he was good with advice and support. During the week I worked a bit on my suspension and changed gearing in preparation for Grattan. Again pitted with Mark Mitchell and his BMW, myself, and Tim Joyce and his new Seeley Triumph. Just behind Tim's bike you can see Maurice Candy's unbeatable Manx Norton. One day… One day.
Grattan is one of my favorite tracks. The layout has it all; a long fast straight, several off-camber and blind turns, and some very tight technical stuff in the back. Unfortunately the condition of the track gets worse every year. Not complaining – everyone is on the same track as me, but what a place this would be with a re-pave.
I won the BEARS races both days, and took a 2nd and 1st in F750.
Tim had a flying weekend, bumping up from F750 into Battle of the Twins Formula 3 (modern bikes) and winning! Leaving me to have a fantastic dice in my F750 race with Chris Spargo. I was 5 seconds a lap faster than last year. Dropping times like that shows me there's still more to go.
It's time for a mid-season teardown just to make sure all is well. Photos to come.
July 2009 – Dimpled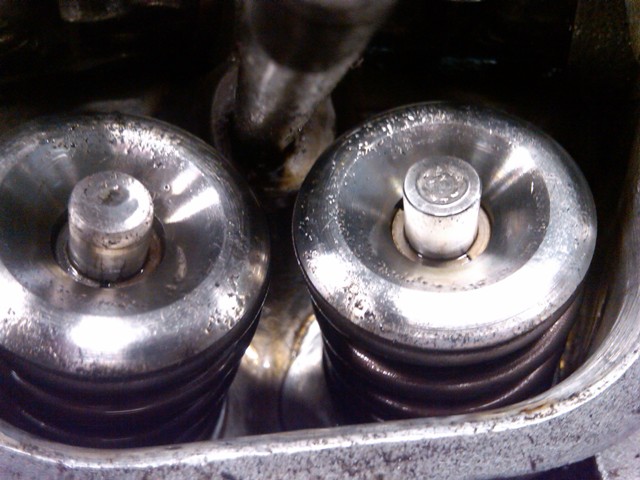 I pulled the motor from the bike and began taking it down. Immediately I noticed the crater in the RH inlet valve. I knew it was time for another valve. So out it must come, right? Well no… it wouldn't budge. The collets were embedded into the valve stem so no amount of spring compression would free them. I had to remove all the other valves so I could cut the head off and tap it out. Unfortunately I found a loose guide on the exhaust side, which meant an oversized guide and recutting the valve seats. All this the week before Mid Ohio. Why is it always at the last minute? Enter Ken Canaga of Left Coast Racing to the rescue. Ken not only sent me 2 new inlet valves, but a complete set of R/D Springs and 4 new valve guides. He made 3 separate trips to the post office for me in one day, as every time he'd send a parcel off I'd discover I needed something else. Ken has been more supportive of my racing effort than anyone. Please buy any of your go-fast top-end stuff from him (JE Pistons, R/D springs, etc)- he's the real deal. Contact me for his information.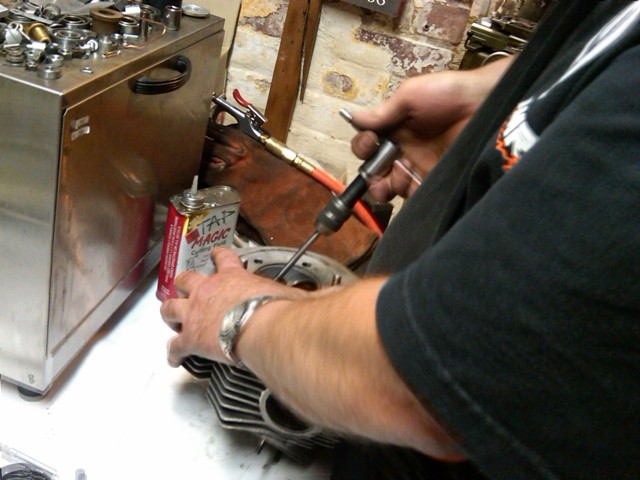 Since I didn't have the tools to recut valve s eats I made a cold call to Frank Gianinni on a Saturday afternoon to see if he could help me. Frank took me in without hesitation and proceeded to restore my head to its former glory, reseating all the valves, recutting a new seat for the valve with the changed guide. and cleaning up all the mess that had gone on in there over the years of dissassembly/reassembly. Another great help to my effort, Thank you Frank!
I took the motor down to the crank, put in new big end bearing shells and gave the bike a thorough going-over in preparation for the rest of the season. Got it buttoned back up just in time to load for Mid Ohio.
Mid Ohio, July 25-26, 2009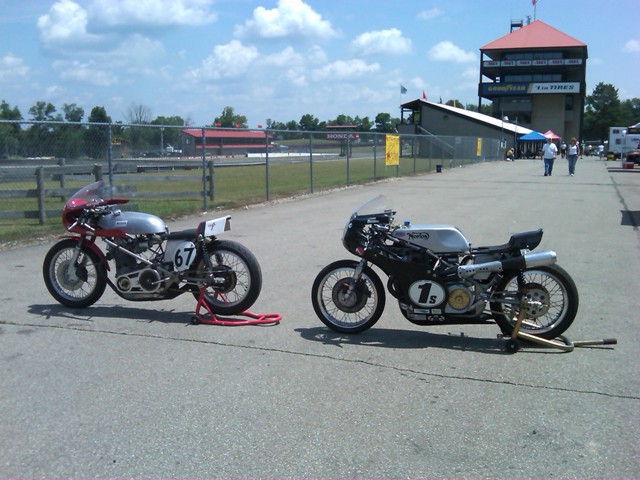 Mid Ohio has always been the big event on every vintage racer's calendar. Unfortunately this year the event was marred by politics and fighting within the racing organizations, and AHRMA was no longer the racing effort for this event. The AMA in conjunction with WERA put on the first annual Vintage Grand National Championship race and overall it was a well run weekend. But unfortunately the grids were miniscule compared to the glory days of AHRMA past. The attendance was a fraction of what it had been in years previous, and the fans were all too aware of this. Plus, it rained like never before on Saturday, and Mid Ohio is no fun in the rain. I went out for a sighting lap, the bike was stuttering, so I decided to pick my battles and pulled in. My buddy Jamie forged on in the rain and actually had a great dice with another in the wet, and brought his #67 Seeley Mk4 back safely in second place.
Sunday was clear and dry. For the European American Twins race I took off from the last row and managed to pass all the bikes, including the Middleweight Superbikes that went off in a wave in front of us, and take the overall win.
A video of this race can be seen HERE.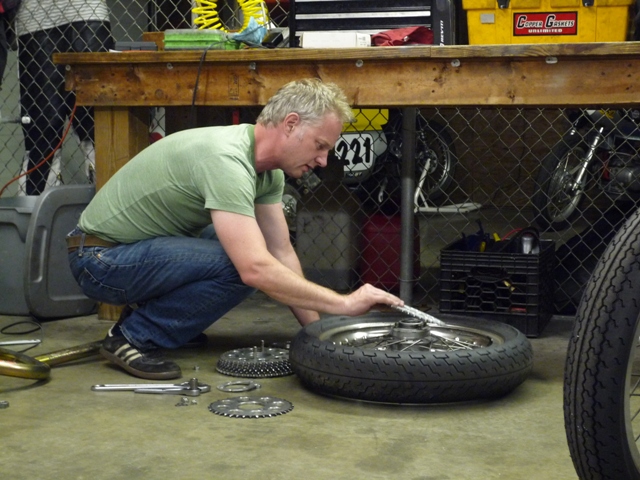 I have a pre-printed track worksheet that I fill out during/after every event. These sheets are so very handy when I come back to a track and refer to my notes about the best gearing, etc. However, sometimes it is necessary to change based on conditions, new surface, etc. I'm always pleased when I need to gear taller than in the past, as it means I'm going faster than before.
Mid Ohio, Sunday, July 26, 2009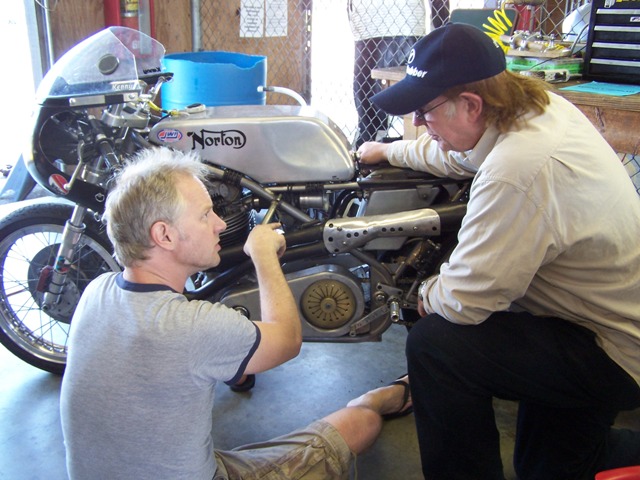 Frank Giannini telling me true in Garage #18 shortly before the Euro/American Twins Race. Frank took ownership of his work and helped me throughout the weekend getting the bike dialed.
Next up is VIR with AHRMA, August 8, 9 and 10th. Then the following weekend up at Mosport in Canada – one of my favorite events of the year.
Virginia Intl. Speedway, Saturday, August 8, 2009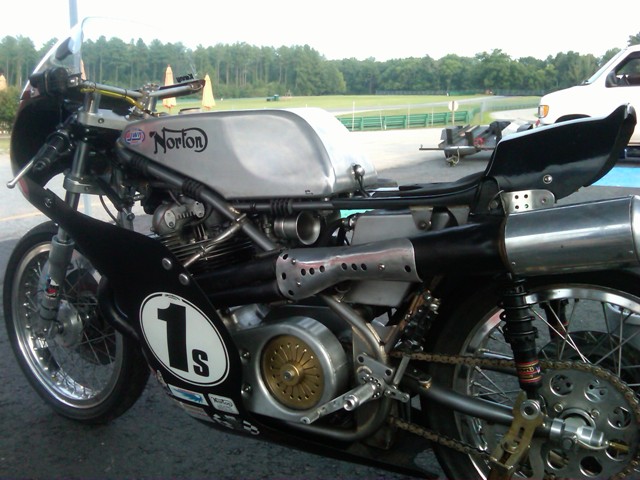 Hot Hot Hot Virginia in August. As I headed down to VIR I wasn't sure what to expect as it is widely felt that the North Course is one of the best tracks in the country but little was known about the South Course we were racing. When I pulled in I was so happy to see the ubiquitous rolling hills, green grass, and of course the famous oak tree at the last turn. After a couple of practice runs I began to really enjoy the technical layout, and while I hope to race on the North Course again, if the South course is on the schedule you can bet I'll be there.
I won on Saturday but DNF'd on Sunday while leading due to my crankshaft nut loosening and the belt drive pulley slipping off the key and spinning on the crank. Oops! This has happened before, and I have to insure it won't happen again. Double points are great when you win and not so when you don't.
I pitted with Mark Mitchell (who sadly blew up his beautiful BMW during Saturday's practice), Tim Joyce, Maurice Candy and his winning Manxes, Andrew Findling, Dave Roper, and my buddy Tom Sharp nearby with all the Ton Up dudes who did up a smashing BBQ on Saturday. There were more British bikes at this event than I've seen in a long time. Good deal. Good company. Great event.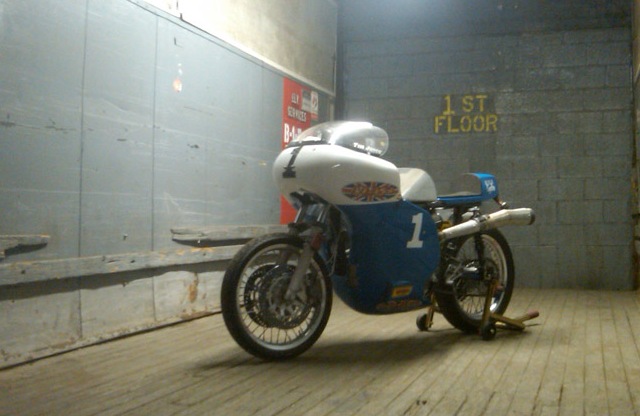 Tim Joyce and I loaded up and both headed to NYC for some shop time before Mosport next weekend.  It's not a Norton but it's certainly worthy of mention. Here is his new, badass Seeley Triumph in the Spannerland eleavator.
Having southern boy Timmy in NYC was quite a hoot. He ate Indian food, went to Times Square, hung out in the offices of the New Yorker magazine, chilled with the hipsters in Brooklyn, and even saw a real transvestite.  Fortunately we also got some quality shop time in, and were poised for a good showing up in Canada.
Mosport, Canada, August 22, 2009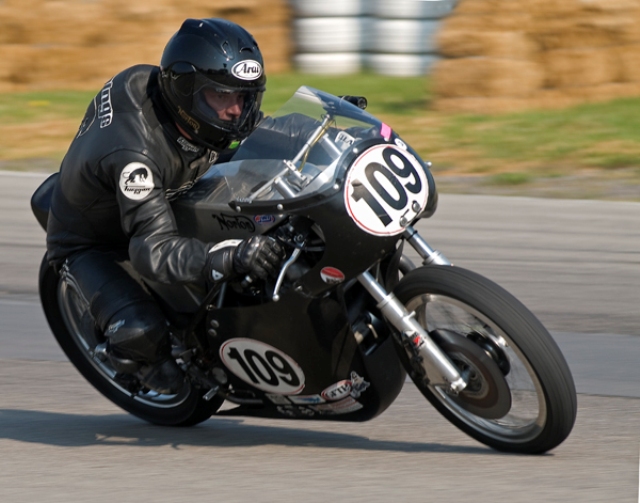 I traveled up with Tim and we had delusions of grandeur how we were going to take on this big place and walk away victorious. Not so. For me I went 3 seconds faster than last year so I had that little personal victory, but I was still over 4 seconds off the winning pace and placed 4th. I was taken for a ride by fast guys Dave Crussell and Jeff Peters.
For Tim, he had electrical issues that plagued his Triumph and ended up running his Period 2 race on Maurice's Manx (and actually did very well on it). It was Tim's first time at the track and I know he had a good time, but wants to come back with big guns next year.  This beautiful picture taken by Mark Mitchell, who was kind enough to accompany Maurice Candy up to the track and be an all around good guy supporting the cause for the weekend.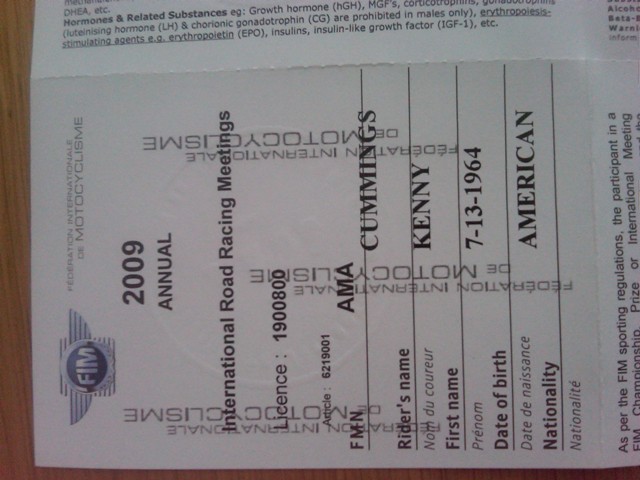 On the way up to Mosport I received a text from fast dude Peter Politiek in Amsterdam. It was official. The plane ticket was purchased and everything was in place. On September 8th I headed to Europe, invited to race Peter's stunning Seeley G50 at Hockenheim and Assen. These are genuine, historical Grand Prix/Formula 1 race tracks, riding a real GP race bike. Wow.  I had to jump through some serious hoops to acquire an FIM international racing license, but cut through the red tape at the AMA and managed to become a credentialed rider. To say I was chuffed would be a massive understatement. This is an opportunity of a lifetime and I can only thank Team PolyTech for their immense generosity and confidence in me.
Wednesday, September 9, 2009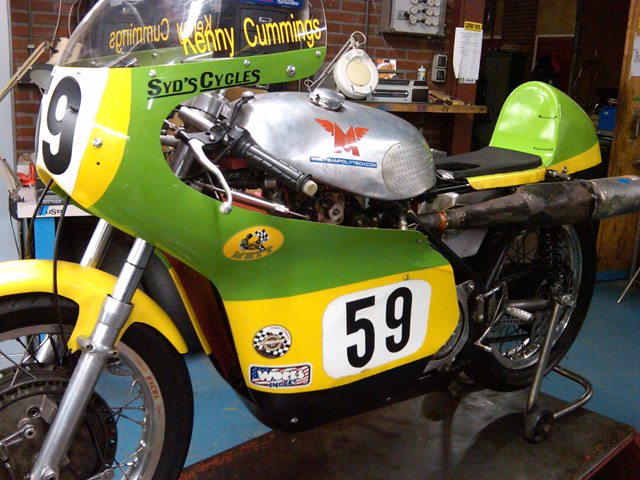 After flying into Schiphol in Amsterdam I had a long rest at Peter Jr's flat in The Hague, then off to Borne to the Team Polytech shop/headquarters later that evening. I was so happy to walk into the shop and find this vibrant Green and Yellow monster awaiting my arrival! We moved a few things around to get it comfortable for me, and that was it. Ready to go.
The Team Polytech shop was amazing with race bikes all over the place. Everything from this G50, Guzzis, Ducatis, etc, etc, to Peter's very stunning 2008 GSXR1000 that he campaigns quite successfully in the IDM German and Dutch Superbike series.
Thursday, September 10, 2009 – Arrival to HockenheimRing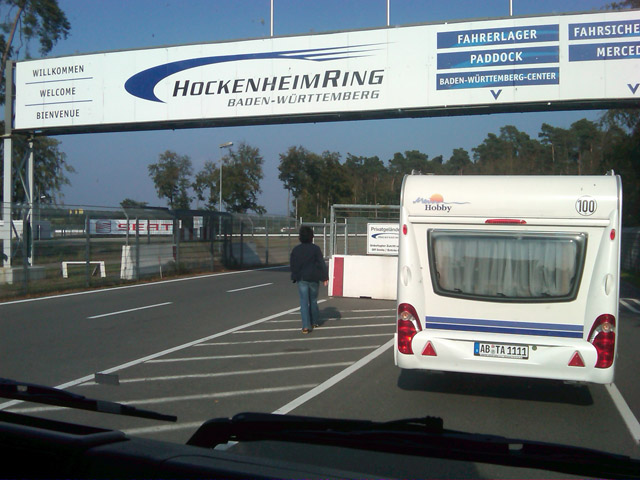 Lining up for entry. I had no idea what a big show this was. The IDM series is huge, with factory teams (KTM, BMW, Suzuki, Yamaha, etc) and big-time sponsorship. The line to get in was immense, and this was after 3/4 of the paddock was already filled. The "Classics" was just one race of the day – a well respected but small portion of the whole event. It was impressive to see former GP rider Jorg Teuchert and Superbike rider Jeremy McWilliams out there doing their thing (quite rapidly, I might add).
Setting up.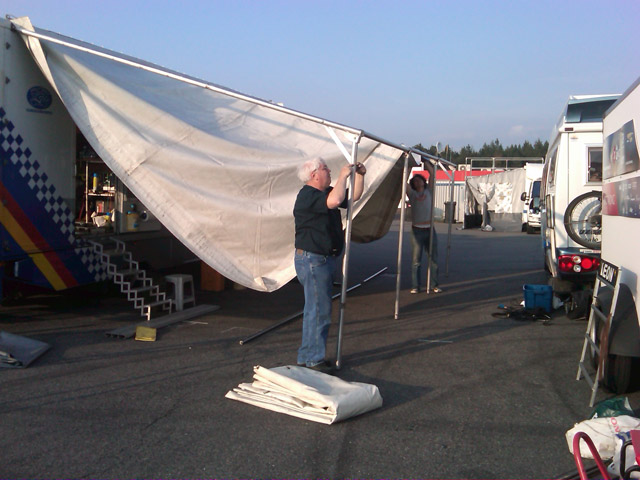 No Walmart EZ-Ups here folks. Big time canvas tents to deal with the ever-changing weather.
Friday, September 11, 2009: Father and Son at work.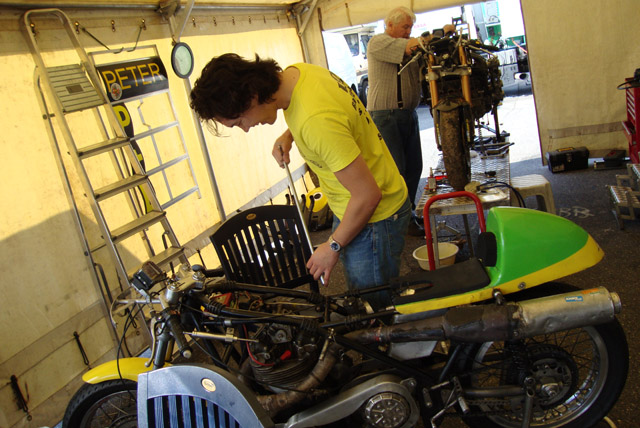 I went out for practice and felt really slow. I had to get used to the bike and the track, as well as shifting on the left. Towards the end of the first practice the bike starting making an odd clatter and was losing power. There was no compression. We pulled the rocker covers and sure enough the inlet valve had no clearance and was held open. Odd, for sure. But, we didn't find any smoking gun, so adjusted the valves and buttoned it back up preparing for the upcoming qualifying session.
Saturday, September 12: Qualifying Round
I had a good night's sleep and felt much better on the bike. I was poised to get some better times. The bike felt good but was still making a clatter so something was still amiss. Oh well, forge on. On the third lap of qualifying, just as I was starting to wick it up, it seized on me at the exit of the Sachs Curve (seen here). It skidded and fishtailed and I just about lost it, but grabbed the clutch and managed to roll off safely. The motor was locked solid. I knew this was a bad one. I got carted back to my pit and post-mortem ensued.
An onboard video of this qualifying session, including the seizure, can be seen by clicking HERE.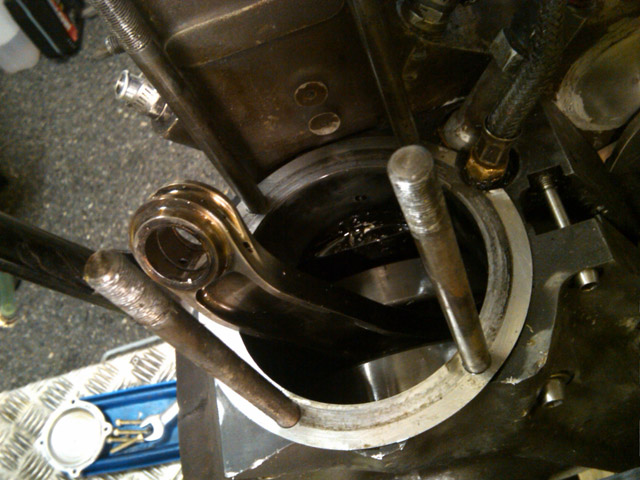 When is a rod no longer a rod? This is the aftermath of a seizure. A Titanium rod bent like a toy.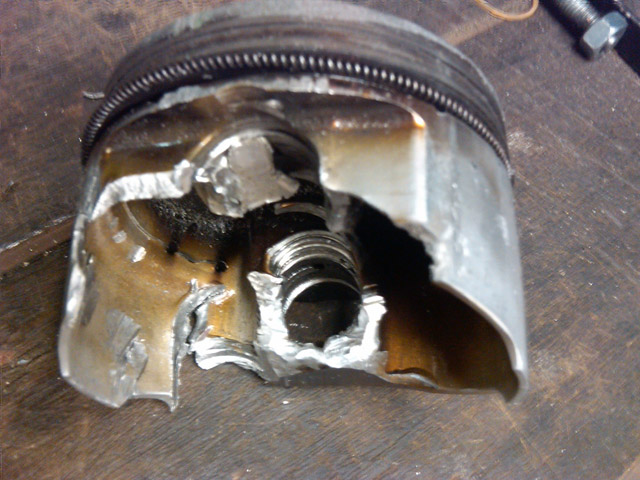 More carnage. It was felt that the circlip probably popped out of the piston allowing the pin to dig into the Nikasil wall of the cylinder and that was it. That would explain the clatter sound. Needless to say, it looked like my European racing career took an early retirement. Damn.  Peter Sr. was good about it all and believed it would've happened regardless, but I felt terrible about this.
Sunday Morning, September 13, 2009: Race Day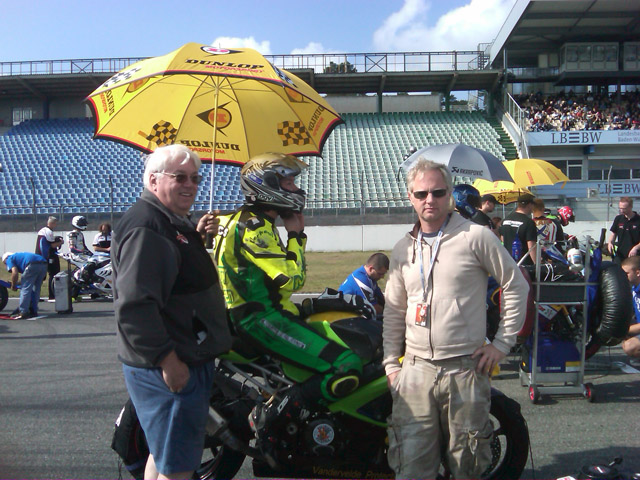 Time to shift focus. Peter Jr. is a fast, fast dude. But he had issues with his bike too and needed to get out in the first race and shake the cobwebs out. Here we are on the grid before the IDM German Superbike race. Unfortunately we were the only Brolly Dollies Peter had for the day. He blasted off and was having a good showing when his bike started making a clatter too! He pulled off and that was the end of that. After a later teardown we learned it was a good thing he pulled off when he did as his #2 cylinder big-end bearing had given up was so close to throwing a rod and certain to destroy the motor. As it stands, he only needs a new set of bearing shells. He'll be ready for Assen next weekend.
William de Ridder: Racer and Gentleman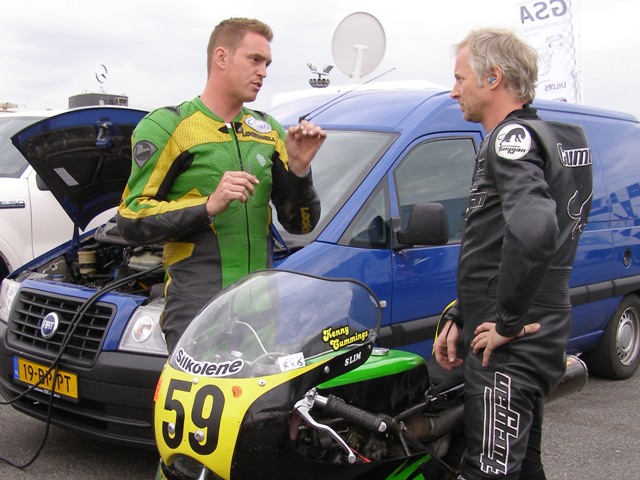 At this time it should be mentioned that pitted next to us were William and Adrie de Ridder – father and son racers from Holland that I'd read about for years in the classic magazines. These guys are fast. Faster than fast. They are the real deal. They came with 3 bikes of their own, all of them beautiful Seeleys, and an Isle of Man winning Tickle T5 Manx on loan. William had done some promising sessions on the Manx and chose to ride it in the race. He generously offered me up his G50 to ride. I was completely humbled and honored. What a good guy.
It should also be noted that this a Team Polytech bike that William has been riding for many years, so it was a good thing all around for the team.
Here William gives me some pointers on how the bike handles. I was heading out in a race of 35 riders having never been on the bike before and needed the input. We made some adjustments to the levers and shift linkage and I was back in the game.
Sunday, September 13, 2009 – The Classics Race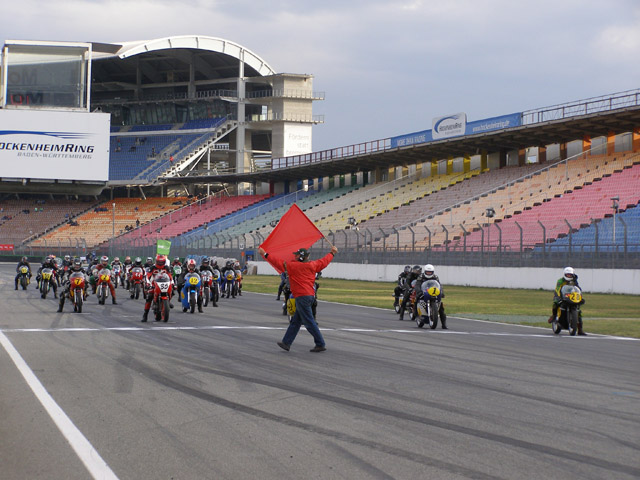 If you squint you can see me in there, #59, gridded 16th out of 35. I had no decent qualifying runs so was stuck in the middle. Didn't matter. I was about to dump the clutch and gain my own personal victory – racing in Europe on a bona fide GP/F1 track on a genyoowine GP bike.  Note up front William de Ridder in pole (#28) and father Adrie (#1) right next to him. They had a cutthroat duel to the very end. They are very competitive with each other. It's good to see and great for the sport.
This blurry pic is proof – I crossed the finish line 14 laps later. Yes!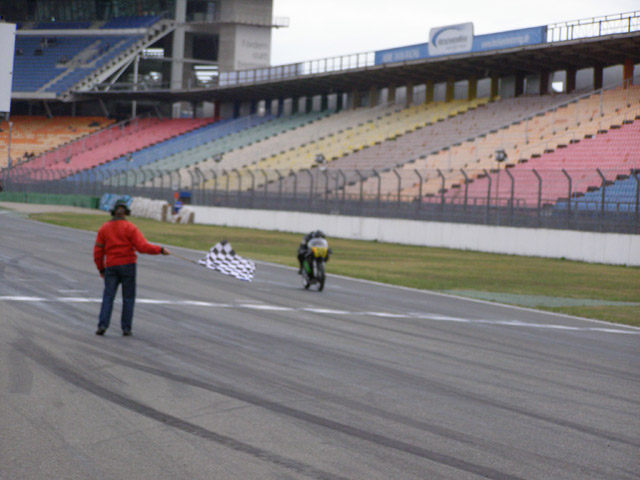 I had a good race. I got a great start and actually moved up several positions and seemed to be keeping the leaders in sight. Then I made a big mistake coming in way too hot in a slow corner and lost several seconds, which put me out by myself for a few laps. I kept at it and passed a few more and managed a respectable 8th place. My lap times got better and better as the 14 laps went on, naturally. Saturday's 40 minute qualifier would've been a big help.
All done! Papa is happy, I am happy!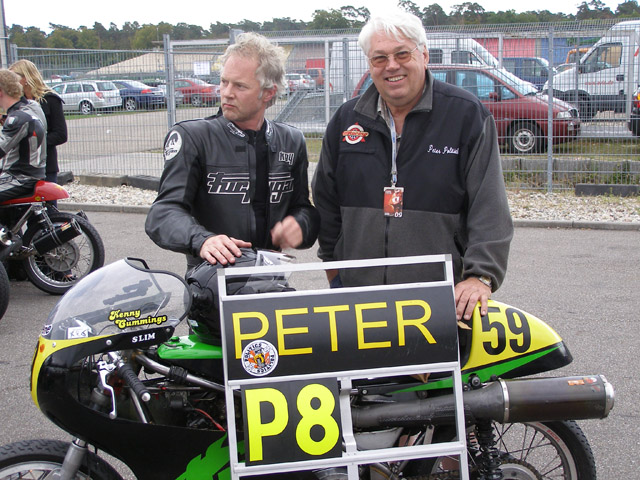 I have to thank as loudly as possible Team Polytech for bringing me over and supplying me with this bike, my entries, and all that goes with it. I'm honored to be a part of their operation and they will always have a place in the States with me. As a matter of fact, they will be at Barber in a few weeks, with Peter Jr. riding their 900 Ducati in Vintage Superbike Heavy. Watch out!
I must also say thank you to William de Ridder. He is such a good guy to let me ride his bike. He won the race with his father, Adrie, taking 2nd.  My oh my, they are fast.  My best time was a 1:50 and they were doing consistent 1:45s.  In fact I think William actually did a 1:44 on the last lap.
So, I'm back in The Hague at Peter Jr's flat. We have another race weekend coming up at Assen, leaving in a few days.  Peter will be riding his GSXR and I'll be sitting on the side, helping when I can, enjoying the Dutch sunshine. 
Saturday, September 19, 2009 – Assen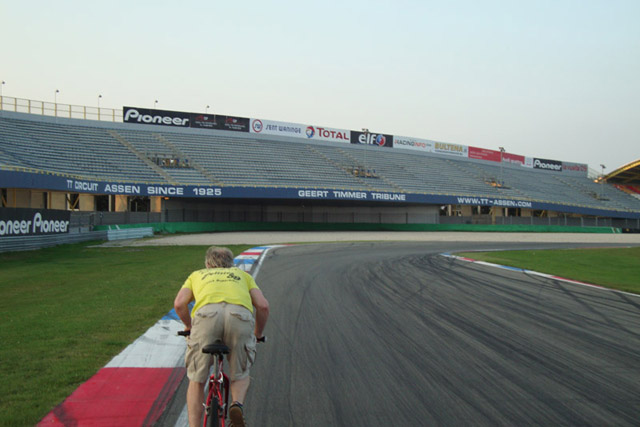 No racing for me this weekend. This is the only bike I had to ride. But damn, I have a nice line!
Peter got pole position on Saturday and won on Sunday. I was in fast company. What a wonderful trip. I'll be back.
Now time to focus on Barber, the last race of the year for me.
Saturday, October 10, 2009 – Barber Motorsports Park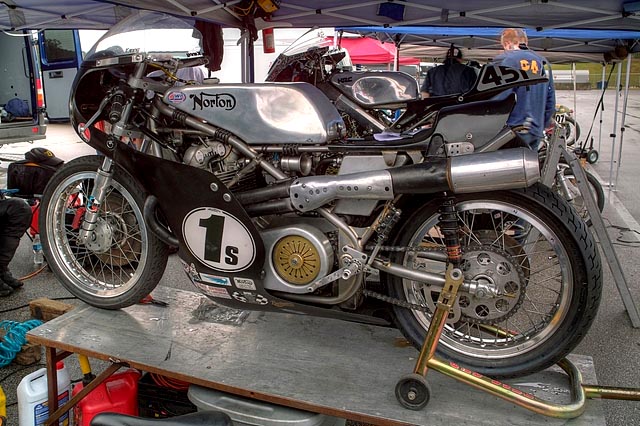 I loaded up the Eurovan and headed south, with my wonderful photographer friend Esther Montoro riding shotgun, for the last race of 2009. Since AHRMA has lost Mid Ohio from its schedule the Barber Vintage Festival is quickly filling the void. This year was bigger than ever, and although we had a bit of rain in the forecast it was poised to be a great weekend. I had already clinched the 2009 BEARS championship earlier in the season so this was strictly holiday racing. I pitted next to Timmy Joyce, Marino Perna (MAP Cycles), and Tom Sharp, as I've done most this season. Good friends and great support. Tom offered up his absolutely stunning T140 for me to ride, so I happily obliged and took it out for one round of practice on Saturday, then promply entered the BEARS race with it. I took off in the rain and won by quite a distance. I was happy, Tom was happy. But not to forget my beloved Norton. I took my bike out in F750 and got a great start leading the pack. I knew John Ellis was nipping at my heels and I could hear him right behind me on his self-proclaimed "Junkyard Dawg" Yamaha XS. As I climbed the hill out of T3 on the second lap the bike briefly sputtered. Oh no… then it sputtered some more, and more and more. I threw up my hand and that was it. Ellis passed me as I nursed the bike back into the paddock where it finally quit 10 feet from my pit. After calming down a bit I diagnosed it back to a bad battery. It was fully charged before the race but a cell had gone bad and that was all it took. I was due – the battery was 2 seasons old and I ran it longer than I'd run any other in the past. I put in a replacment and all was good for Sunday.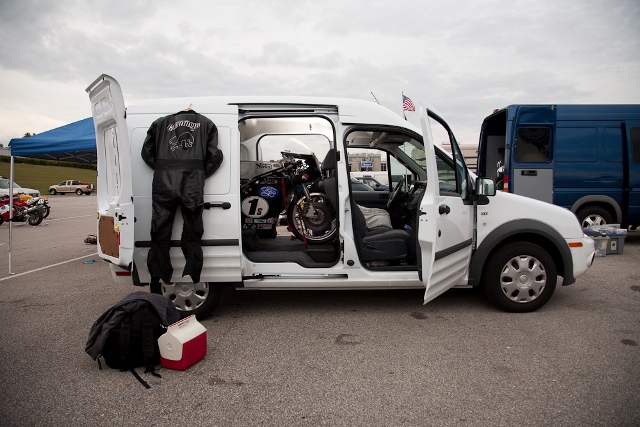 My old buddy Andy Wendler, who does some writing for the big glossy auto magazines, came down to do a story for Car And Driver on the new Ford Transit Connect euro-style van using my bike and kit as the payload with Barber as the setting. Arrangements were made to get my van back to NYC so I could ride back with Andy in this little beast. Esther took hundreds of photos and hopefully we'll see a feature in C&D in the near future. I will post something as soon as I hear.
Update: click here to read the Car & Driver story
Photo courtesy of Esther Montoro
Sunday, October 11, 2009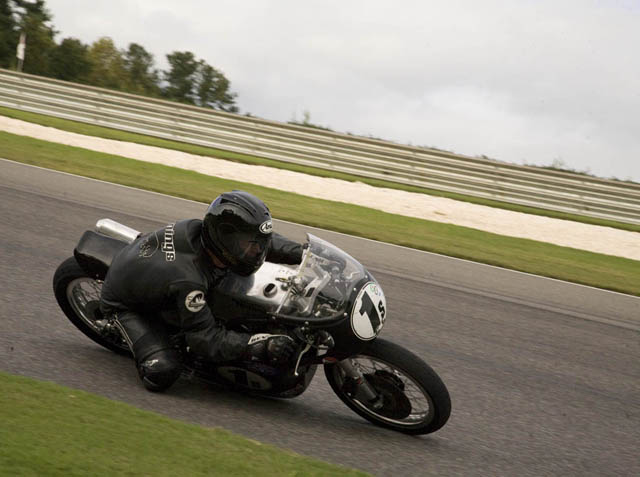 The wet weather rolled over us all day and night Saturday but we woke up to dry conditions for Sunday.
Today Tim Joyce decided to enter Formula 750 so things were going to be a little different than yesterday's rain race. There were quite a few fast bikes gridded up in this race – John Ellis included, who was gunning for us all – but I was focused and feeling confident, and the bike was running good. Green flag drops, I get a great start, but Timmy beats me into T1. I did my best to hold on to him and rode harder than I have before. In times past he's always disappeared off into the sunset but this time I fought hard and was able to keep him in in sight. I took an honorable 2nd place just 3 seconds behind Tim across the finish line. I was the happiest I'd been in a long time. My lap times were good. I walked away feeling like I'd had my own personal victory. I'll proudly take my 2nd place for this one.
That was it – the season was over. No spills, few chills, and probably the best season I've had so far, at least in regard to good development, camaradarie, and enjoyment.
I'm sad the racing is over but as usual I'll be doing lots to the bike in the off-season to make it go faster next year, so this is certainly not the end of 2009 for me. More to follow.
Photo courtesy of Esther Montoro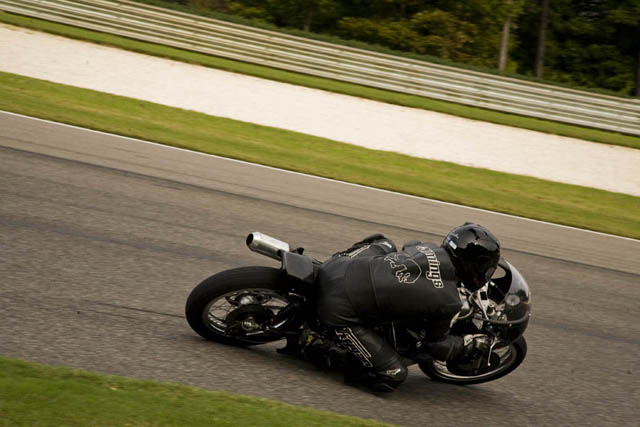 First place
2009 AHRMA BEARS National Champion
(3rd consecutive year)
Second place
2009 AHRMA Formula 750 National championship
I must thank the following whose support has been immeasurable and kept me on the track this year:
Ken Canaga – Left Coast Racing
Peter Politiek, Sr. and Jr. – Team Polytech
Tom Sharp – Sharp Mechanical
Frank Giannini – Giannini Racing
Chris Cosentino – Cosentino Engineering
Yukio Hamasaki – Tuned By Yukio Racing
Photo courtesy of Esther Montoro