January 2007:
I've been racing long enough now to see a recurring theme emerge. Rebuilding after each season is a gross understatement.
This is my 1962 Slimline frame sitting on Great Jones street in Manhattan sometime in January 2007 after a healthy dose of media blasting; this so I can find the cracks and flaws hidden under the paint. I present the 2007 rebuild. Chasing that chatter that plagued me in '06.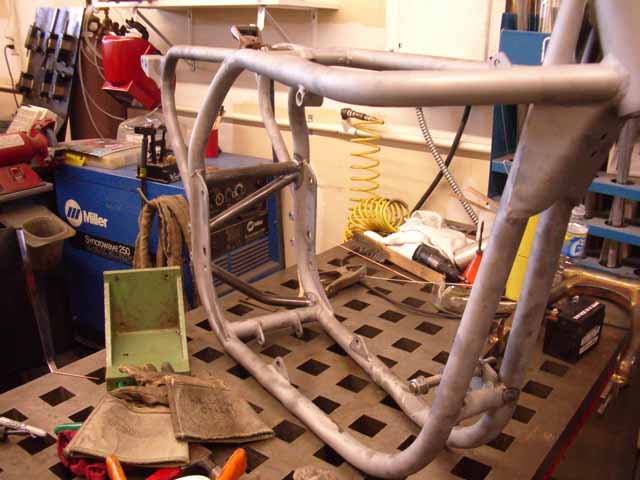 After some crack repairs (see the front mount for spot welds) it was determined that this old bike needed some gusseting to stop the frame flex. Thus the triangulated gussets seen here between the swingarm mount. Thanks to Chris at Cosentino Engineering for the advice and fabrication.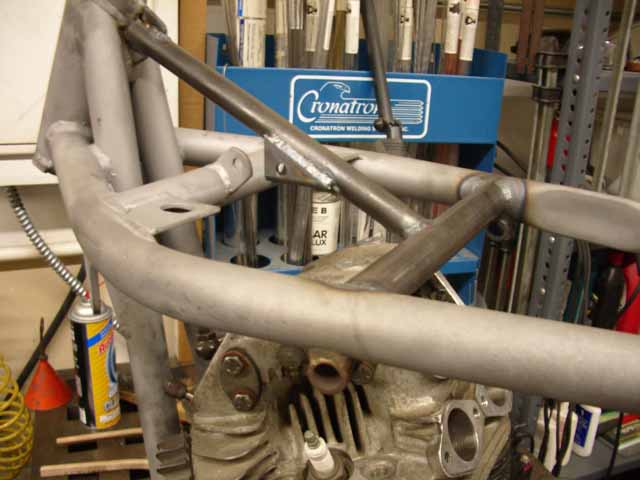 More reinforcement at the head to stop it from flexing under heavy braking. Unfortunately as with any modification comes a new methodology. With this head bracing I now must add or remove the motor as a whole unit, as removing the cylinder head in situ is prevented by the horizontal cross bar. It only gets harder, never easier.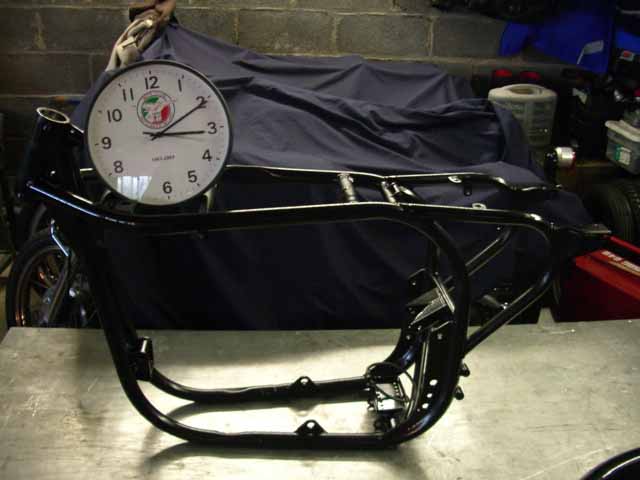 It's 3 in the afternoon, Sunday, February 11, 2007. We're leaving for Daytona in less than 3 weeks, and this is where my bike sits. I've reinforced and painted the frame, all the bearings have been replaced, the forks are awaiting their new internals (more on that to come, for sure), I've brazed and reinforced my swingarm as it was cracked vertically on the drive side and was so close to letting go (that would not have been pretty). I've gone completely through the gearbox. My motor is out with Mike Rich at Mike Rich Motorsports. It should be ready in a few days with a completely new valve job, custom guides, shortened pushrods, etc, etc. I was having serious top-end problems by the end of last season. Turns out I had a crack behind my RH inlet valve guide and the whole head needed welding.
So, the question remains – will it be back together in time for Daytona?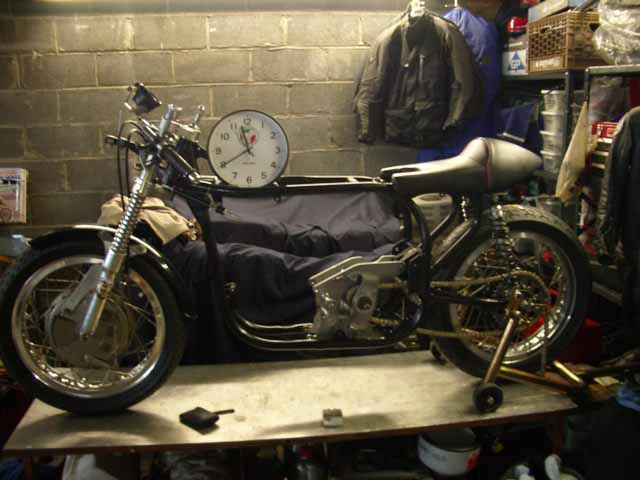 11:40pm. There is hope. I can sleep a little easier tonight.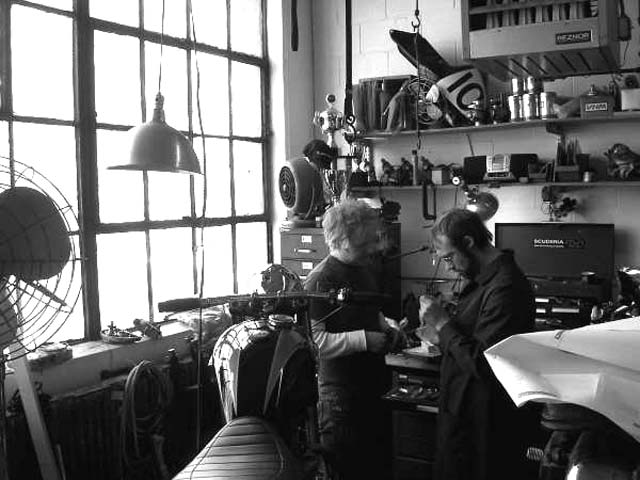 In the Team Incomplete shop doing a little Daytona preparation.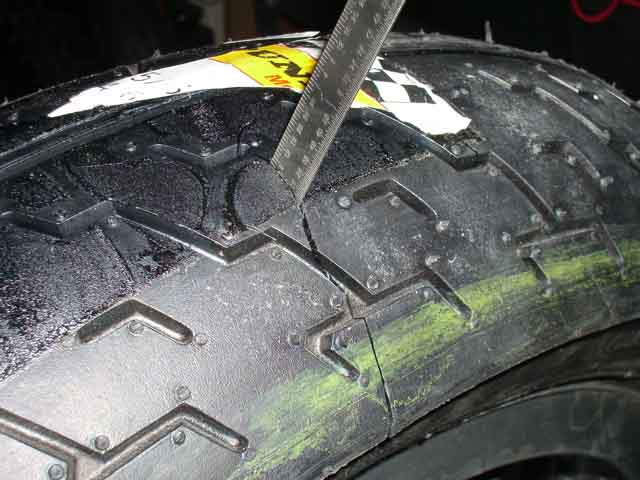 Dunlops. What can I say?
I've run Avons for 3 seasons. A few guys I've spoken to swear by Dunlops, so I thought I'd give them a try this season (KR164 on the rear, and KR124a for the front).
Here you see a crack (actually there are 2) that emanated from the center of my KR164 all the way down the sidewall. It was DEEP – certainly not something to run at Daytona, or anywhere for that matter. Bob Barker, the supplier of the tire, felt that the tire had frozen during shipping and cracked when not properly handled by UPS. He immediately supplied me with a new tire, this time packed very carefully in a box. A week later, I took off the bad tire and put on the new, "good" tire. Ack! It was discovered that this 2nd tire had cracks in it too which were only visible after mounting! Third time's a charm – Bob sent me yet another tire, and after careful pre-heating, all was well.
I'll post my tire comparisons after racing with them for a while.
Friday afternoon, February 23, 2007. The motor has made it back to the bench. I had a crack behind the RH inlet valve guide, which necessitated delicate welding and a custom guide. New valve seats on the inlets. The valves had dimples in the tops, so Mike Rich did stellite tips to get them up to a useable Rockwell hardness. My rods had the small end ovaled, so an emergency re-bush was necessary by Carrillo. New wrist pins, rings, etc. New bearing shells. New cam bush (the old one fell out when the cam was removed). The face of the head needed more skimming due to warping. Good Lord, where does it end?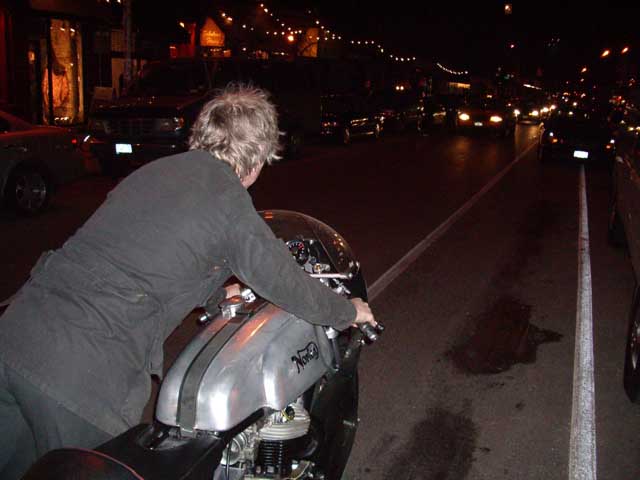 Saturday, February 24, 2007. 9pm. East Village, NYC.
The first 2007 startup. The van leaves for Daytona in 4 days. The bike started up like it always does. The noise was wonderful!
The patches you see on the ground are ice. There was a little incident with one of those patches, but I'll leave it at that.  So… it looks like we'll make it to the track after all, but not without drama.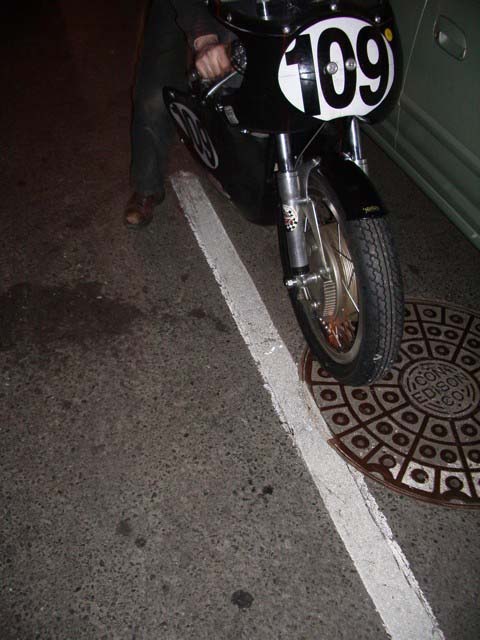 It appears I've located the portal into which all my money seems to flow.
My personal favorite shot from the batch – a bit of artiness.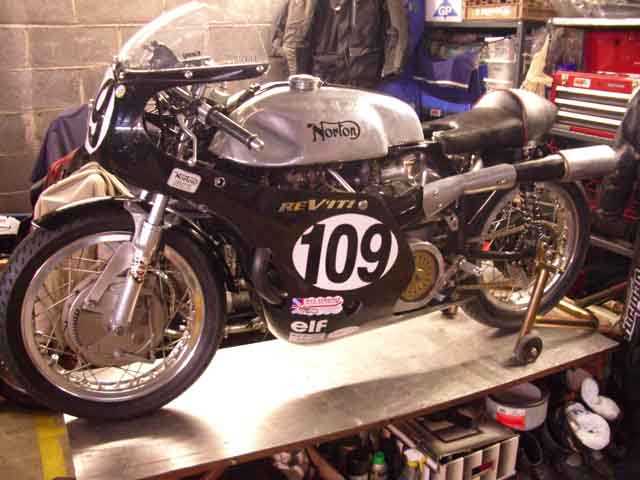 Back up on the bench awaiting safety-wire.
The inventory:
– Cracked swingarm, now brazed.
– Various frame cracks, now welded up
– New bracing to the frame
– New head steady
– Cracked cylinder head valve guide bore
– Ovaled small ends of Carrillo rods
– Forks completely rebuilt with cartridge internals (more on this later when testing is complete).  Plus, the various other small changes that will hopefully enhance the handling and performance (how's that for vague).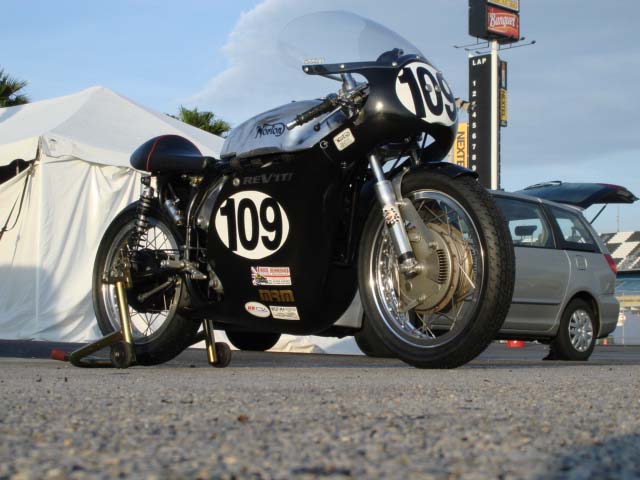 Well, we made it. Daytona International Speedway. March 4, 2007. The really big show. The bike was tight for the first practices (and so was the rider). Approaching that banking for the first time was like riding headlong into a tidal wave of asphalt. I didn't know whether to speed up or get the hell off the thing! Of course, I sped up. By the end of the first day, I had a 4th place in BEARS and a 4th in F750.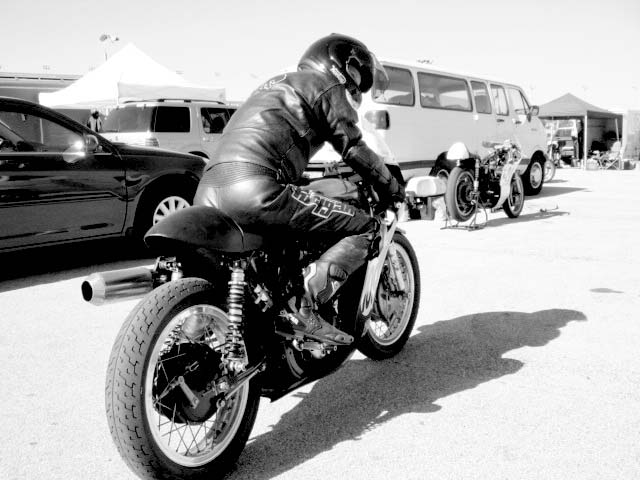 Day 2. March 5, 2007. Even better than the first. A 3rd place podium finish in BEARS, and another 4th in F750. It was some really fast blokes in front of me, so if I can continue at this pace maybe one day I'll be a fast bloke too.
Click here for a YouTube video of the first lap of the BEARS race. http://www.youtube.com/watch?v=OVIGQn5JRVU
I had to give it up to a couple of guys, but not without a fight. I led for the entire first lap.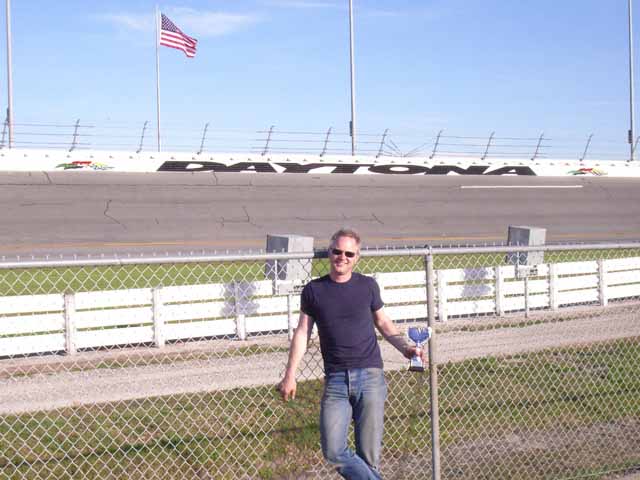 Yep. I was there, and I got the little blue cup to show for it.
What a great time. Mick Hemmings pitted next to us and we swapped spares. Steve Maney visited with his lovely gal and we got to shoot the breeze off the clock. Some of the other NYC guys had a little bit of a tough time – something about holed pistons in Rob North triples and a little off in T6 that wounded one of our other players – but overall I think we came away with a good understanding of this massive place, and what to expect when we come back.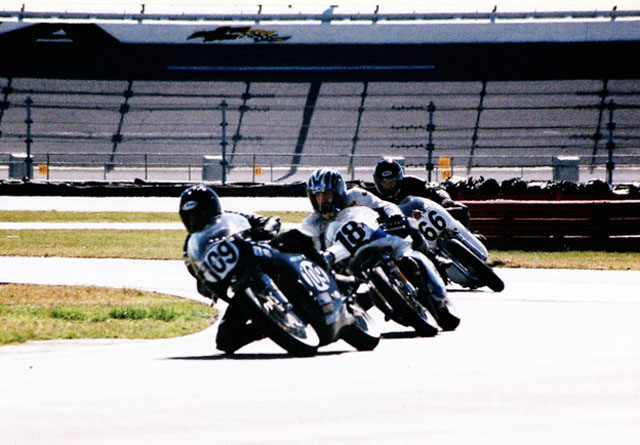 I can't seem to resist putting up more Daytona images. This one came to me anonymously (to my office!). Someone took the time to print and mail it to me with no note or contact info. Well done, whomever you are.
This is the BEARS race, Tuesday, March 6, 2007. #18 is Greg Nichols on a Rickman Triumph, and #66 is Eric Green on a Triumph T140.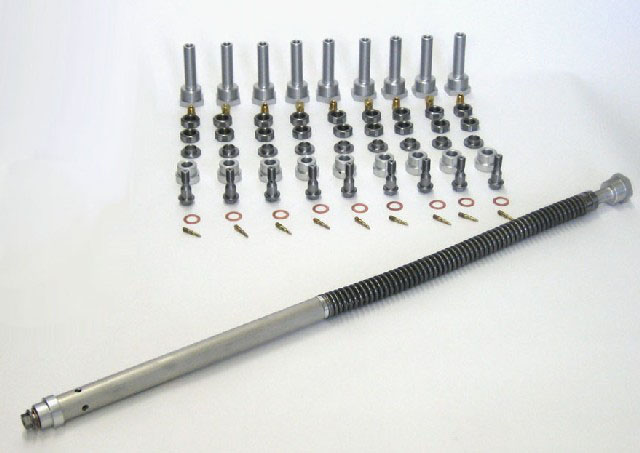 The Commando Roadholder Fork Internal Conversion kit from Cosentino Engineering. I'd been racing with the best stock Norton fork bits available (alloy internals, modified damping, etc). However, by the end of last year I had reached a point where better control of the suspension was needed. I contacted Chris at Cosentino Engineering who designed a complete drop-in kit that replaces the stock Commando Roadholder internals with 2007 (ed: and beyond)  Showa CBR600RR dampers, custom springs, and all the fittings. The kit offers complete adjustability of compression damping, rebound damping and spring preload, just like any CBR600RR race bike. All adjustments are easy to access but out of view as to comply with most vintage road racing organizations' rules.
I've been running these all season with great success, and now Cosentino Engineering is producing them in quantities available to the public. This kit drops in to any Commando Roadholder fork (street or race) in minutes with no modifications to your stock forks, and the difference is immediate and significant.  More information by clicking here.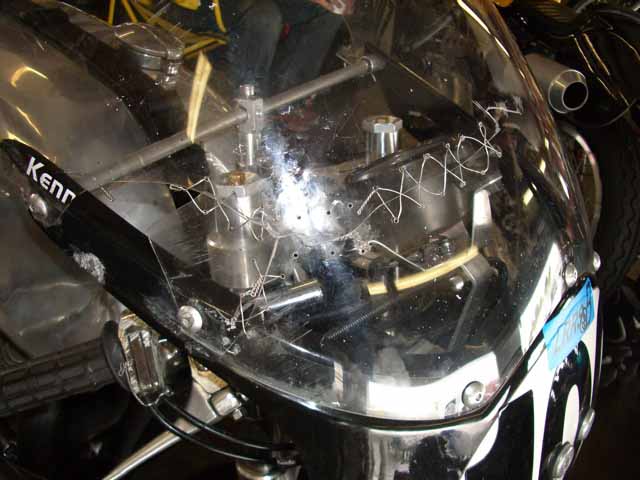 May 20, 2007 – USCRA Vintage Celebration.
It's been a while, so I'm glad it's now out of the way. I pitched it away coming out of T12 onto the front straight at NHIS (Loudon) in the horrid rain while leading the Open GP race by a very significant margin. By the 4th lap I had already lapped the 2nd place rider but decided that wasn't good enough and had wick it up a bit more. Dumb move. The rear spun, flipped around to a low side, then spit me off over the high side. I slid for an eternity in the rain but managed not to hurt myself. The bike is banged up (to say the least) down the RH side, with some broken rearset and fairing bits and a dented tank, but with the help of Dave Roper we patched it up and I went back out to win the Heavyweight SuperVintage race later in the day. Overall I came away with 2 wins and a DNF. A bittersweet weekend for sure.
Click HERE for a YouTube video of that fateful race.
On to Gingerman with AHRMA in 3 days, so not a lot of time to clean it up.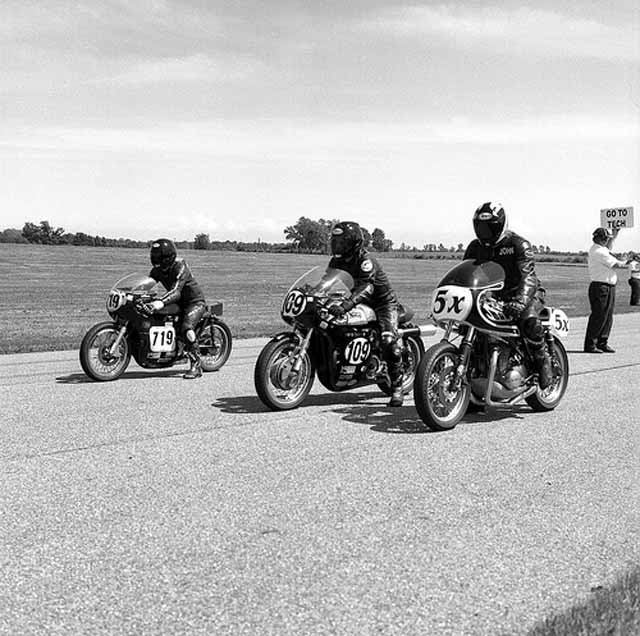 Formula 750 Grid, Gingerman Raceway, May 27, 2007
I took 1st place in this race on Saturday dueling with fast guy John Ellis (#5x) on his beautiful Yamaha. I also took a 1st in BEARS on Saturday. This was my first time at the top of the podium with AHRMA… not once, but twice in a day. Wow! On Sunday I pulled off a 2nd place in F750 as I was plagued with clutch problems. Besides, Ellis surely didn't want some punk like me pushing him around. I'll see him at the next one.
Unfortunately on Sunday I killed my bike on the BEARS starting grid (due to the aforementioned clutch problems) and the officials wouldn't let me bump it until after the whole 2-wave grid had taken off. I raced like hell, caught up to a few racers, and managed a respectable 3rd.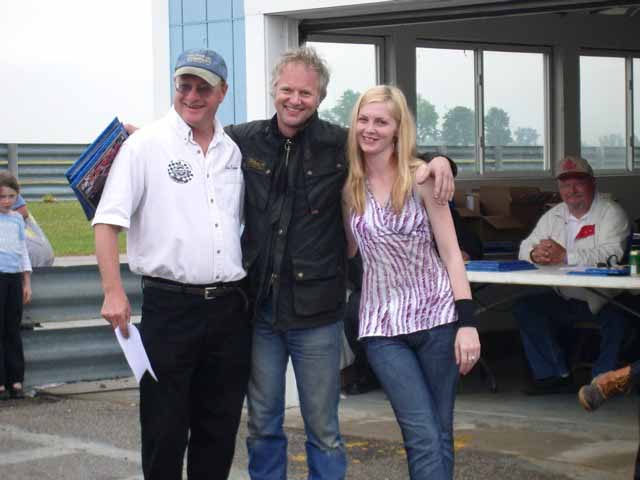 Gingerman, May 27, 2007
Ahhh, the trophy girls! This vintage racing thing is finally starting to pay off.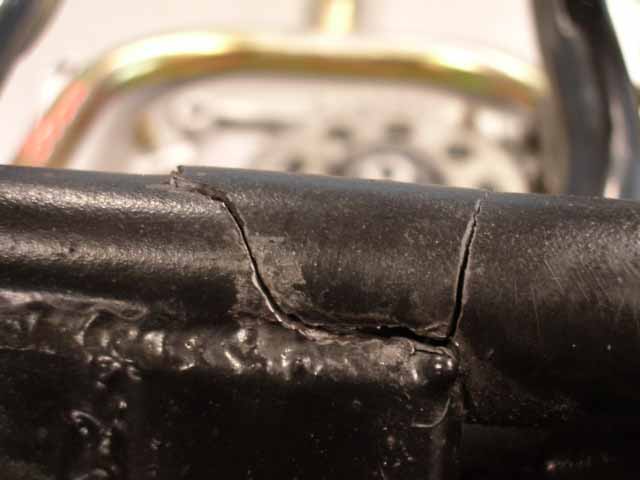 June 10, 2007
But wait! There's no way I can have such success without a little pain, right? It happens again – the frame cracks, this time in 3 different places.
I went to Summit Point with WERA on June 9th. In one day bike ate through 2 (expensive) batteries due to excessive vibrations bouncing them around. I DNFd both races. Sad, sad. As I started looking for the source I discovered both my bottom rear engine mounting tabs were broken on the frame. When I got back to the shop I tore the bike down in a hurry as I was to be racing with AHRMA at Grattan the next weekend. To my extreme disappointment I found even more destruction. The new cross-brace that we'd welded up in the beginning of the season had sheared in half; a direct result of torque from the final drive, probably weakened by the loss of both bottom tabs. It seems to point to a chain reaction of failures which likely began with my crash at Loudon last month.
Well, thanks to Chris at Cosentino Engineering, he took me right in and we not just fixed, but greatly reinforced this tube and temporarily buttoned up the engine plates as well. Just in time to put it all back together and make my way to Grattan. More on that wonderful weekend to come.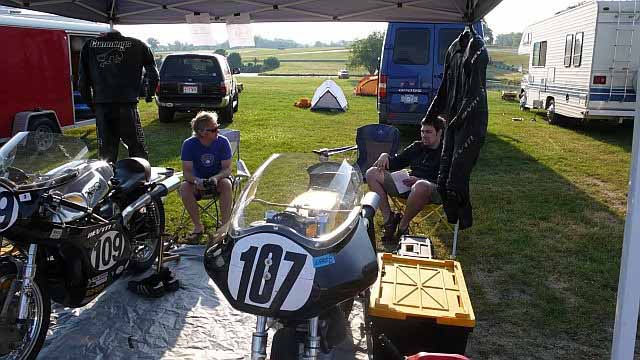 Wakey Wakey!
7:00am Saturday, June 16, 2007, Grattan Speedway, Belding, MI
Grattan was the most wonderful surprise. Jamie Waters (seen with his 1970 Production Racer #107) and I loaded up in NYC at 5pm on Thursday for the 14-hour road trip west. After driving all night we arrived dazed Friday morning, but were re-energized by one of the most beautiful, scenic, technical tracks we'd ever seen. Tight off-camber turns, immense elevation changes, and even a jump! Sure, it should be repaved, but I've raced on worse. I had a successful weekend with AHRMA, taking two 1sts in BEARS and two 2nds in F750, and had the rare opportunity to scrap with my buddy John Magyar, who has always been helpful to me with my racing exploits over the years. This track is now certainly one of my favorites. Good stuff.  However, I knew deep down the bike still wasn't 100%. There were wiggles and shimmies that I'd not experienced before, and the engine plates had been bodged to get me through this weekend. It was obvious the frame/plates were stressed and flexing so yet ANOTHER teardown was in order.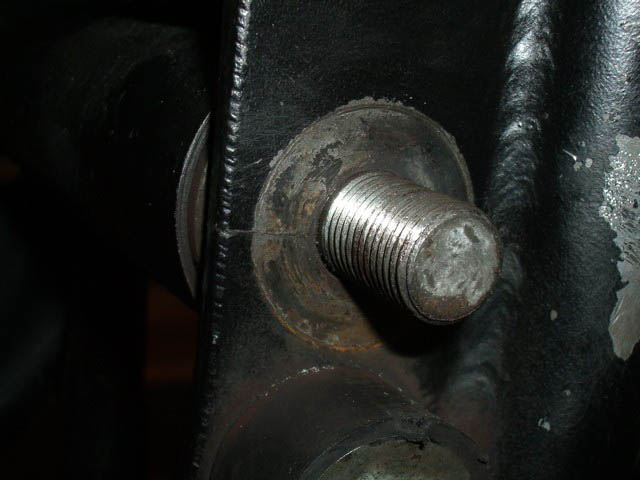 June 24, 2007
So small, yet so powerful: A hairline crack emanating from the swingarm spindle on the drive (LH) side of the bike. In fact, although not visible in this photo, the crack ran rearwards into the bead of weld and had completely broken through the gusset. There are many theories as to why my frame continues to crack; most likely a result of my highside at NHIS in May. Also, I may have been running my drive chain too tight which puts immense loads on the engine/transmission plates and swingarm mounts, especially when I tip over!  Cosentino Engineering is in the process of moving their shop so it's off to sansei Yukio Hamasaki for a master class in fabrication and welding of gussets. More on that to follow.
At this point, I think it's necessary that I publicly thank Todd Puckett, Chris Cosentino and Yukio Hamasaki for their time they've poured into this bike when they had much better things to do. I have no welding skills, and every time this bike puts me into a tailspin these guys talk me down and get me back out to the next race.  Thanks fellas.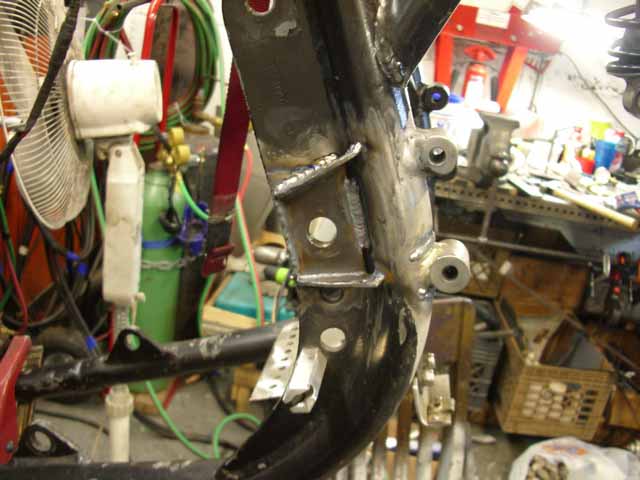 July 1, 2007
Yukio Hamasaki fabbed and welded in a support plate on both sides of my spindle boss to reinforce this highly strained area. We also built a better battery box so I can hopefully get more than one race out of a $90.00 Yuasa battery. Yukio is also fabbing up a set of 5/16″ thick alloy engine mounting plates, as I've broken 2 sets of 1/4″ plates so far. Mid Ohio looms, and it seems like every year my bike is in a thousand pieces right up to race day (notice there is no engine, gearbox, or wheels on the bike in this photo). This year is no exception.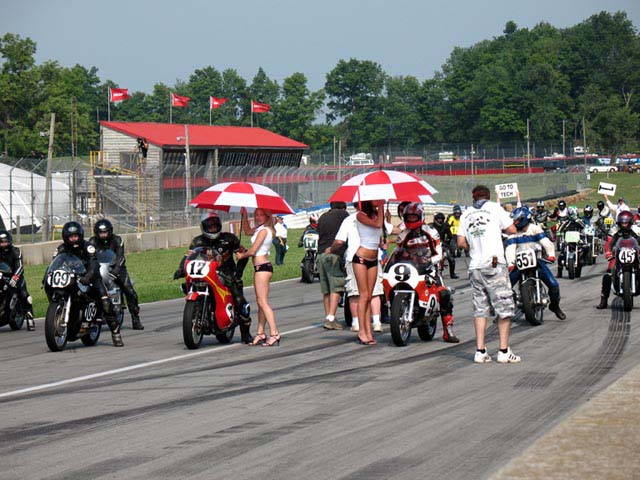 Mid Ohio, July 29, 2007 – F750  Hmmmm. No Brolly Girls for me?
That's Jay Springsteen #9 on the Hourglass Racing Harley and Tim Joyce #17 on the Hourglass Racing CR750. I guess I have to win a few championships before I get any shade. I'm working on it.
The F750 race was filmed for a TV show to be aired December 8, 2007 on the Versus network covering all of the Vintage Motorcycle Days events. Earlier in the day my bike was pulled aside in the paddock and featured in a segment showing the evolution of the race bike, with mine being the oldest, then a 70's era Superbike, and a Ducati 999 as the current specimen. Should be cool.  Unfortunately, I DNFd this race as my inlet rocker cover came off in the first lap and proceeded to oil the entire bike, forcing me to pull in. FYI – oil on the bike, and especially on the tires, is really not on.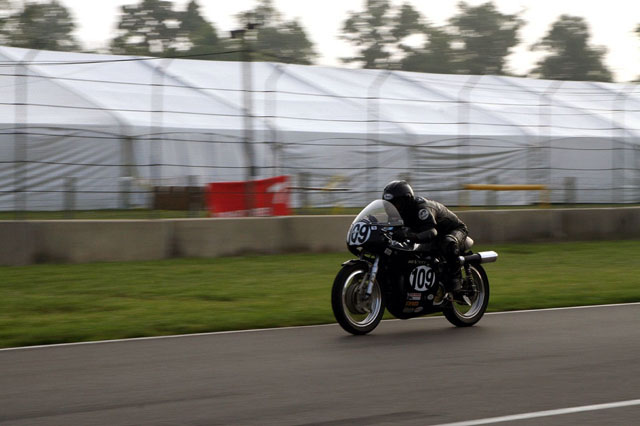 …and later that day, after a quick hose-down of the bike with copious amounts of brake cleaner I managed to get out in the BEARS race and take 2nd. I got hung up with some of the Triumph Thruxtons, but held my ground and got some valuable points. Click HERE for a video of the first BEARS race where I took 3rd behind Tim Joyce and Greg Nichols. Again, fighting with the pesky Thruxtons (didn't they used to grid behind us?) but feeling good nonetheless. This video was the first I've ever taken with my new onboard camera mounted in the nose of my fairing. I need to do a little tweaking, but you get the idea. The bike sounds great on the back straight.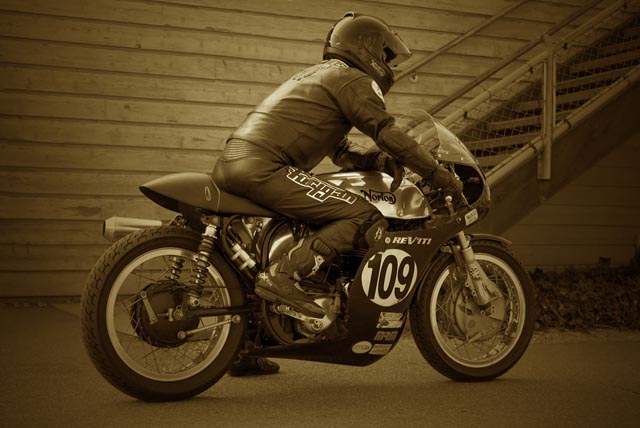 Mid Ohio, July 29, 2007 – Lining up to go out.  A great shot taken (and arted up) by my buddy and fellow fast Commando racer Doug MacRae.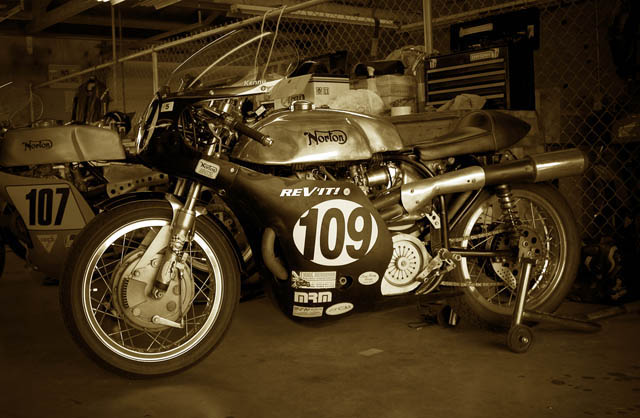 Mid Ohio, July 28, 2007
Another fancy snap taken by Doug MacRae from our garage at Mid Ohio. A keen eye can see the plexi-screen in this photo is full sized, whereas in the other Mid Ohio photos above it is cut back; this because of a little excursion in the grass I had during the warm-up lap for Saturday's F750 race that broke up a few little bits, but we'll leave that story for another day.  All in all, the bike survived this Mid Ohio extravaganza weekend, and believe me, I put it to the test. This means on to Kershaw where it's 105 degrees in the shade. More on that soon.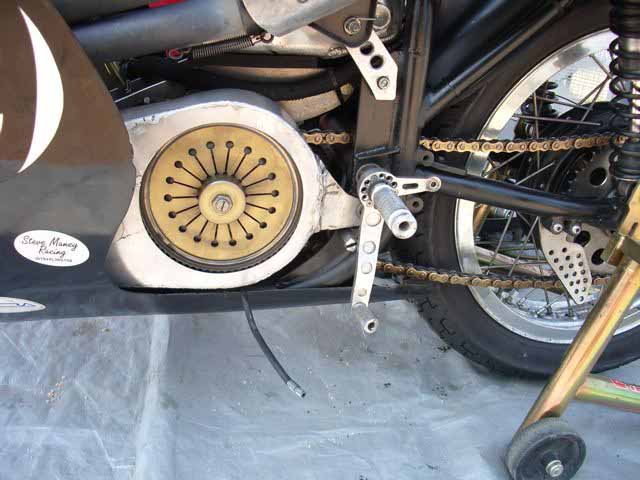 August 19, 2007, Carolina Motorsports Park, Kershaw, SC
I took 1st in BEARS on both Saturday and Sunday. As I dove into the first hard-braking turn in the first lap of Sunday's BEARS race I grabbed the front brake and hopped down on the rear brake pedal (many never use the rear brake, but I use everything I have to get slowed down) but felt like I stepped in a bowl of Jello. Fortunately I made the turn without incident, but as I looked down I could see my rear brake lever hanging. Yikes! This meant 3 things: I'd lost a considerable amount of braking power; I had no way to stop if I ran off the track – highly possible with less brakes (don't use the front brake in the grass or gravel!); and every left turn I made was taking a chance the lever would auger-in and send me flying down the tarmac. Besides, I could be black-flagged at any moment and forced to leave the race. I took a slower, wider line through the left-handers but still the lever was hitting and bouncing. Not fun. I tried to make up time by really hammering it on the other turns and managed to stay in the lead to win the race.
I usually make my own cables (save for the front which I had Barnett make for me. Front brake cables are not the place to cut corners). I had broken this rear cable at Mid-Ohio and repaired last week in my shop. Apparently I didn't do a very good job and have to go back and review my methods.
On to Miller Motorsports Park in Utah, and Sandia in New Mexico in 2 weeks!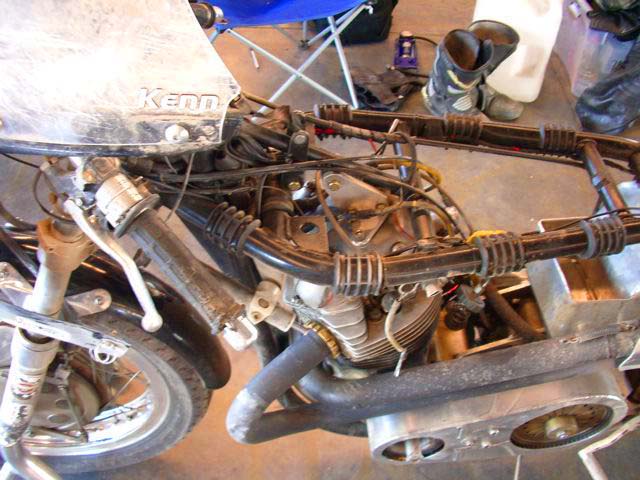 September 8, 2007 – Miller Motorsports Park
Going into Miller I was in good shape. I needed only a 5th place or better in any BEARS race between now and the end of the season and I'd clinch the AHRMA BEARS National Championship. Many of my family and friends came in for this event. My lap times were many seconds faster than last year and I felt poised to put in a good showing.  Racing is a serious hobby, and serious things can happen…it's part of the game. Unfortunately, the game caught up to me. On this day I went out for the BEARS race, got a great start and led until I was taken out on the 5th lap by an overly-aggressive rider from an entirely different class attempting an impossible pass. One minute I'm in the lead, then next I'm ass over tea kettle in the Tooele dirt.
Fortunately I was able to walk away with only bruises, but the bike took a beating. The fall bent my Maney exhaust, bent my swingarm spindle, bent up my rearsets and levers, filled my carbs with dirt (fortunately none made it past the slides), wiped out the side of my fairing and broke my screen, etc, etc. My helmet is toast, and we all know they are not cheap. After cooling down, I was assisted by several (special thanks to John Magyar and Jerry Spear) and managed to get the bike back together for Sunday's races. Even event promoter Tom Kullen offered up his beautiful Norton for me to ride on Sunday, sacrificing his own entry into the class if it meant helping me clinch the championship. This is the camaraderie we don't always find in everyday life. Thanks fellas.  Video of this race can be seen by clicking HERE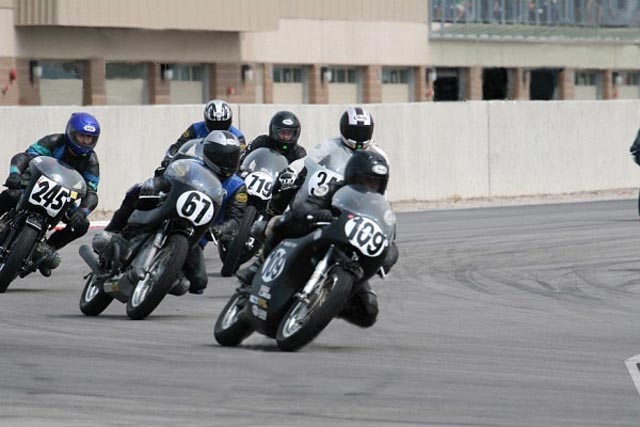 September 9, 2007 – Miller Motorsports Park: And then there was Sunday.
I took off again in the BEARS race and led for 2 laps. The bike was misfiring (later detected to be a short in the Boyer ignition wiring as a result of the get-off) and I did my best to nurse it in and not to blow it up. I was 2-3 seconds slower on my lap times from Saturday before the off, but I took a respectable 2nd in this race, ultimately passed by Glenn Campbell on the #67 BMW. Glenn is a fast guy so I was in good company, and managed to keep him in sight despite my troubles.
Regardless, as I crossed that finish line I had clinched the BEARS championship and I was CHUFFED!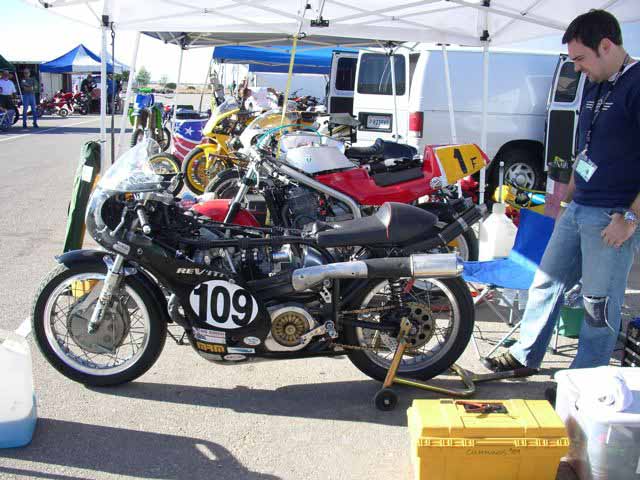 Saturday, September 15, 2007 – Sandia Motor Speedway: Hot, Hot Hot!
It was discovered at Sandia I had cracked my frame a week before during my crash at Miller. I had it welded early morning track side and was up and running for the first practice.  Pictured here is Jamie Waters stealing secrets…er, I mean giving my bike a once-over. Behind my bike you see SuperMono champion Eric Mercer's red MZ (#1F), Jamie's Commando Production Racer, and Brad Phillips' fast Battle of the Twins yellow Ducati 748. That's a pretty good cross-section of bikes/riders, if I may say so.  I came home in 1st in F750 both days, and took 3rd in BEARS both days behind Albuquerque locals Craig Murray (event organizer) and Glenn Maxwell. Things are good.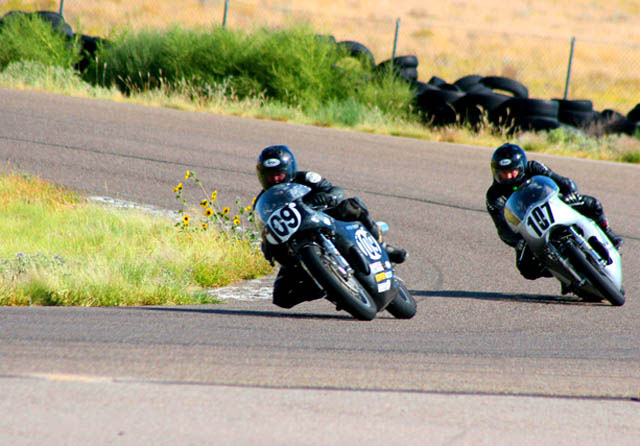 Sunday, September 16, 2007 – F750 – Sandia Motor Speedway
Jamie ratcheted things up and I had my work cut out for me. I took first in the end, but not without a good fight.  Here we play amongst the black-eyed-susans blooming at the apex and and a finely manicured hedgerow of tires and weeds along the fence. Sandia is a funky little track, but the event is top-notch; definitely worth the trip. Especially if you like the desert heat and green chilis.  Barber looms. which means tearing some things down, going through the bike, and putting it back together for the big show.
Saturday, October 20, 2007 – Barber Motorsports Park
I had a great drive down to Barber with good company. Friday's practices were going well and the weekend's racing was shaping up. I had already clinched the BEARS championship back at Miller in September and was leading the F750 championship by 1 point(!) going into this weekend. Right behind me in the F750 points was John Ellis, a talented rider on a very fast bike. It was a long-shot for me to hold on to the F750 championship, but never say never.
Along comes Saturday's race 9 – BEARS. Having already clinched, I figured I'd go out and potter around and save the bike and myself for Race 11 – F750. Somehow it never works like this. I took off in BEARS and tucked in behind SUPERFAST Tim Joyce maintaining 2nd place. I was able to hold on to 2nd for the entire race until about lap 7 when I missed a shift approaching the Alabama Rollercoaster. I stomped the bike into gear in great haste and dumped the clutch. I heard a sound I'd never heard before – severe grinding. The bike carried on, but anytime I'd go full throttle it would grind and the revs would increase. After some contemplation, I decided to pull in as the possibility of a busted gearbox was too lethal to ignore. I was pretty upset.  Click HERE for an onboard video of this race
After cooling down, I decided to tear into my gearbox. I had the assistance of several, including Tom Sharp (a dyed-in-the-wool Triumph man!) and my buddy Andrew Anderson. I knew the F750 race was gone for me, at least for today. I took a break to watch John Ellis take 2nd in the F750 race, and was now 834 points ahead of me. Saturday was DNF for me all the way around. So it goes. Back to the gearbox.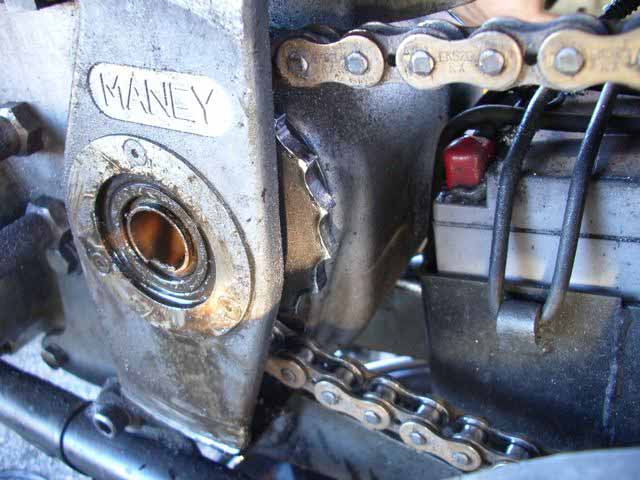 And later that evening…
After completely tearing apart my gearbox to find absolutely nothing wrong, I glanced through the frame and lo and behold there it was – my countershaft sprocket had lost its teeth! The grinding I heard was my chain spinning on the sprocket as I accelerated. The problem was much simpler than I thought and right before my eyes the whole time.
Here you can see the remains of the 19-tooth sprocket. Notice my bushings for my mainshaft are also chipped. I think a gearbox overhaul is in order the off season. I'd like to think that the massive HP of my bike was able to tear these teeth off like a monster, but I know the hardening on the teeth had probably been worn away previous, and once the hardening goes the destruction comes quickly. The question is what wore away the hardening? Was there an alignment issue? Was it the gravel I picked up at Miller that was eating away the teeth? Hmmm. Something to look into back at the shop. I had a spare sprocket that would replace this 19-tooth with an 18-tooth, thus lowering my gearing. This was a win/win as I was geared too tall anyway and wasn't making it into top gear anywhere on the track.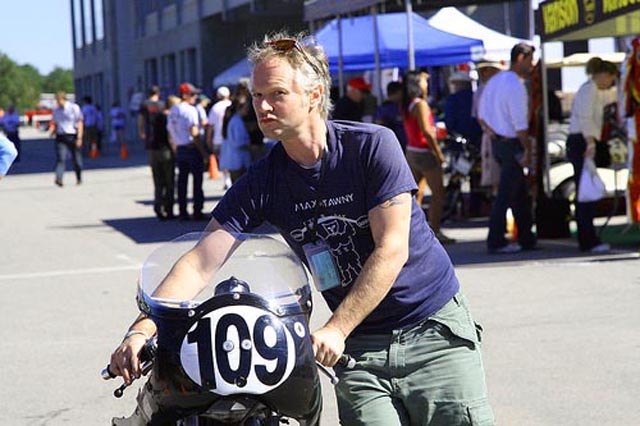 Sunday, October 21, 2007 – 8:00am: Post tech.
Nice smirk. Ready to kick some ass (or not). The gearing change was fantastic. I was lapping 2 seconds faster in morning practice than I had done in any of Saturday's race. I had 3 of my 4 gears to play with now! This gearing change should've been done after practice on Friday, but sometimes laziness and denial at the track wins out over logic.
I went out in race 9 – BEARS, having a good slice-and-dice with Greg Nichols. Sadly I lost the clutch about 5 laps in and had to speed-shift for the rest of the race, but still held on and came in 2nd. Back in the paddock I had about 20 minutes before the F750 race. I pulled the gearbox inspection cover only to find the clutch lock ring had loosened. I did my best to use a punch to hammer it in place, and made my way out in race 11 – F750. By the time I'd come around the sighting lap to grid I'd already lost most of the clutch actuation again and knew I'd be phoning this one in. I was scored in 5th. The race was red-flagged after 6 laps and that was final.
Congrats to John Ellis for nailing the 2007 F750 championship. I will take my 2nd place and wear it proudly.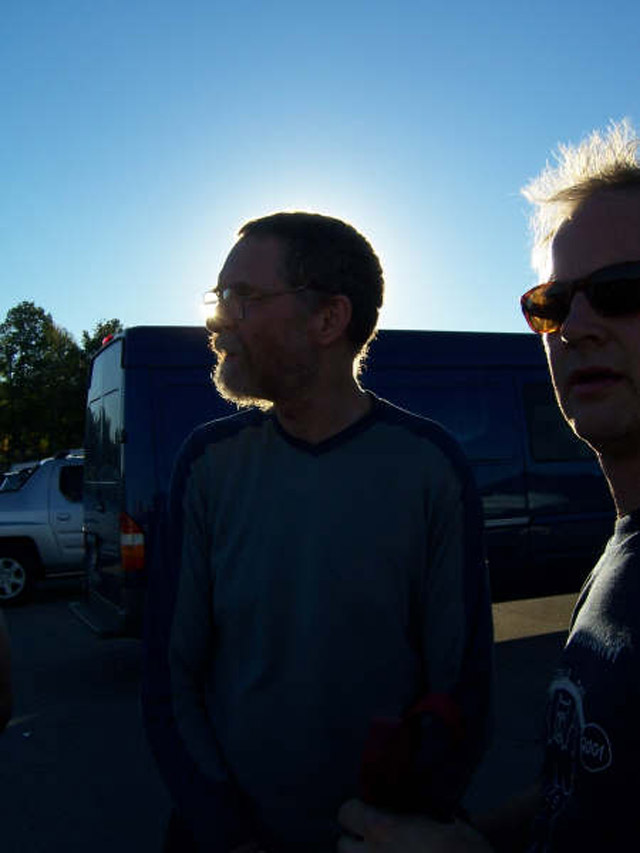 Sunday, October 21, 2007 – 5:00pm
Processing the news with Roper, at the end of the day, at the end of the season.
Rest in peace, Dwaine Williams.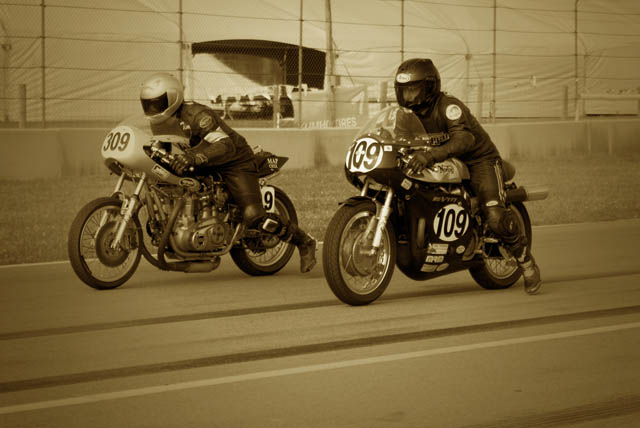 2007 Racing:
March 5/6, 2007 – Daytona International Speedway, Daytona FL, with AHRMA
May 5, 2007 – Nelson Ledges, OH, with WERA
May 18/19 2007 – Vintage Celebration, NHIS, with USCRA
May 26/27, 2007 – Gingerman Raceway, MI, with AHRMA
June 9, 2007 – Summit Point, WV, with WERA
June 16/17, 2007 – Grattan, MI, with AHRMA
July 28/29, 2007 – Vintage Motorcycle Days, Mid Ohio, with AHRMA
August 18/19, 2007 – Kershaw, SC, with AHRMA
September 09/10, 2007 – Miller Motorsports, UT, with AHRMA
September 15/16, 2007 – Sandia, NM, with AHRMA
September 29, 2007 – Summit Point, WV, with WERA
October 20/21, 2007 – Barber Motorsports, Birmingham,AL, with AHRMA
2007 National Champion
First Place – 2007 AHRMA BEARS National Championship
Second Place – 2007 AHRMA Formula 750 National Championship