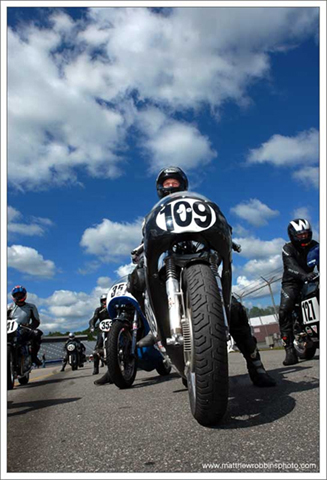 USCRA Eurocup Pre-Grid, NHIS, 6/12/06
Photo courtesty of Matthew Robbins
www.matthewrobbinsphoto.com
January 2006: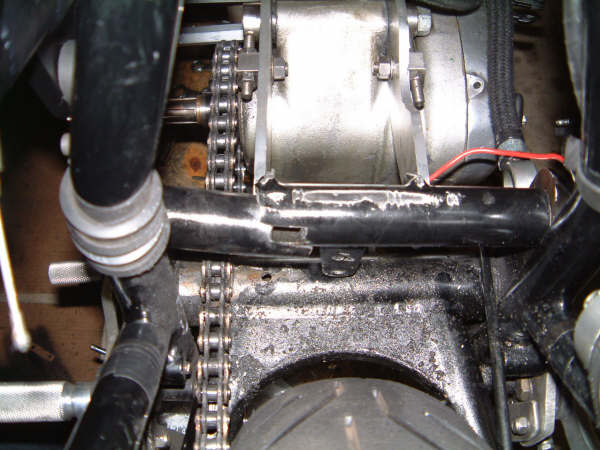 Okay…where do I begin? It's no secret that racing is tough on bikes, riders and pocketbooks, but my little surprise this off-season came from out of nowhere. It all started with a pesky oil leak from the filler cap on the oil tank that reoccurred throughout last season. I decided to pull the tank to see if I could fashion some sort of repair. Lo and behold, as I pulled the tank out of the frame, I discovered the crosspiece split in two! As I think back, I can remember when the bike suddenly felt different – – that was Summit Point in April, 2005. I also broke my swingarm spindle at this race. This means I was racing with this broken crosspiece for the whole season! Duh. The teardown/rebuild drama begins here.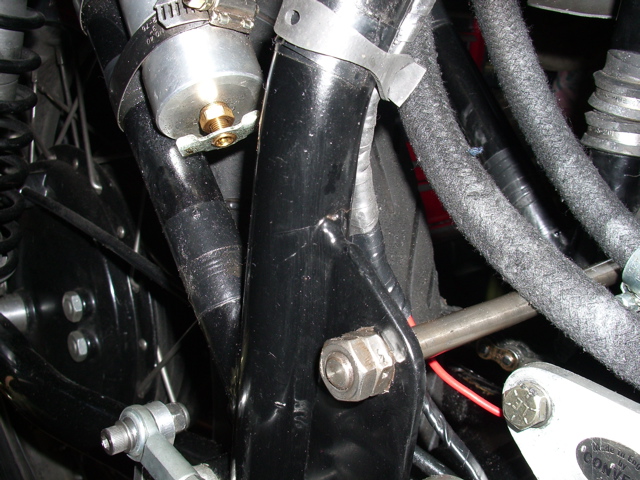 Evidence of severe frame cracking at the top of the gusset. The cracks were front and back, on both sides. Welding was necessary.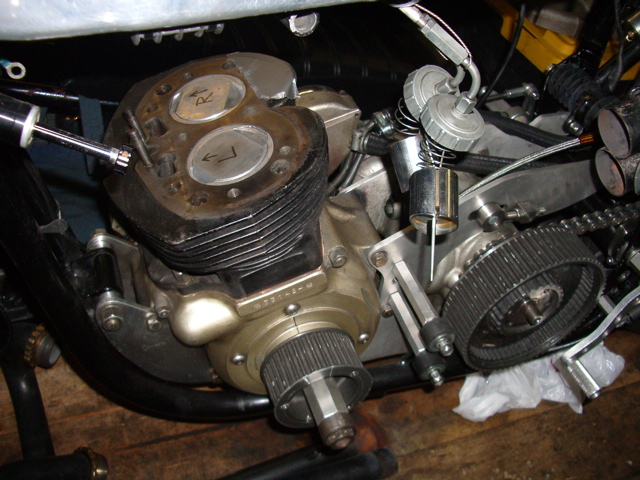 After welding, I decided to chase another pesky (albeit small) oil leak from my head gasket area. If it ain't broke, fix it 'till it is.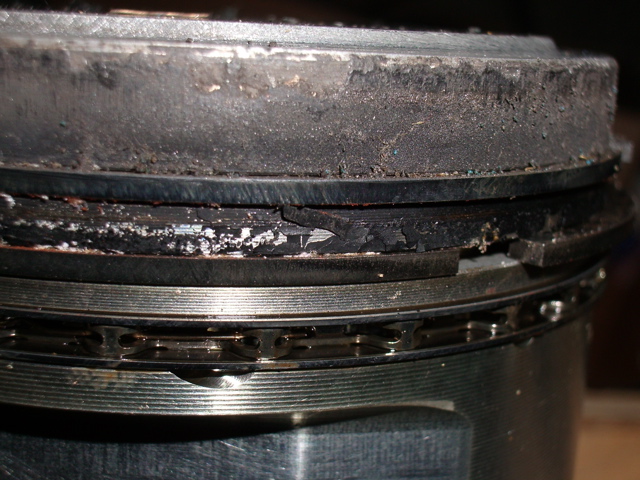 Hmmm…evidence of an oiling problem. Turns out there was leakage behind my RH inlet valve guide.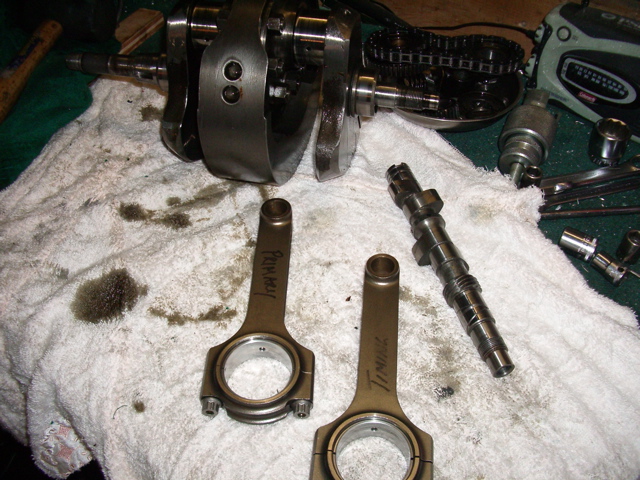 It works like this….if the head is coming off, then why not tear the whole engine down, spend some serious $$$ and get that Steve Maney crank I always wanted? Oh, and why not make the decision in February, when my first race is less than a month away?  Here we have the results of the tear down; my wonderful MKIII crank (now retired to a quiet shelf in the garage), PW3 cam and Carrillo rods sitting on the bench. Dismantling is the easy part.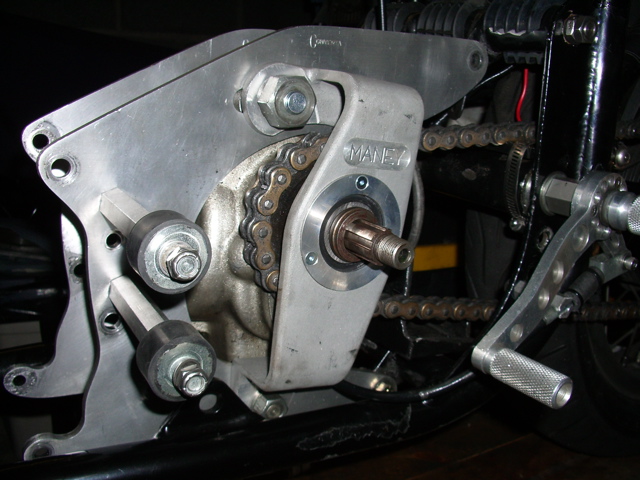 I've had this Maney outrigger bearing stashed away for quite some time. Now seems to be the perfect time to install. This supports the weak mainshaft; a design pioneered by the Works Norton team for the JPN racers of the early '70s
Finally it arrives – The Steve Maney Crankshaft. Absolutely beautiful. I wanted to photograph it in a nice setting before I hide it away in a bottom end. This crank weighs 14.8 lbs, about 9 pounds lighter than my MKIII crank. This time the balance factor is 74% as recommended by Steve. I'll have to watch the throttle as it'll spin up a lot quicker than before.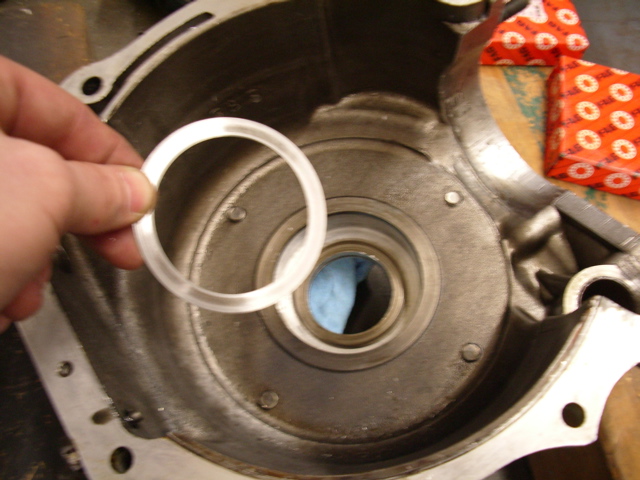 Somehow hard data on the size difference of a MKIII crank and cases is almost impossible to find. I learned the hard way. A MKIII crankshaft is .120″ wider than any other year crank. Therefore the cases are equally wider as well (see my dilemma in 2002 when the motor wouldn't fit into the frame). Because my new Maney crank is built with the same dimensions as a stock 750 crank, my MKIII cases needed shims behind the main bearings and inner races. Here we see a .030 shim going in behind the main bearing. I shimmed behind both bearings and both inners (total of 4 shims) for an inward adjustment of .120 to keep the crank centered.
After shimming, checking for end float. I had .007″. Perfect.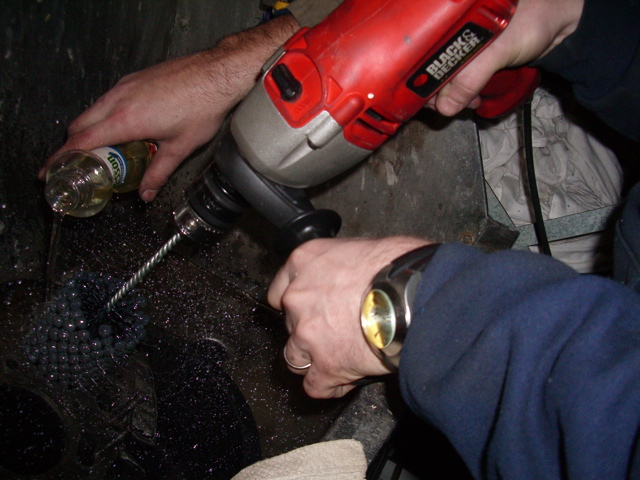 Don't try this at home!  Unfortunately, after removing the pistons from the rods and showing them off around the garage, I broke a ring. Doh! This meant new rings and a hone of my cylinders (and also a break in process). I decided to go the DIY route, did as much research as possible, bought a bottle-brush hone and went for it. Here I am honing my cylinders while a buddy pours vegetable oil. Needless to say, there was oil sprayed from Hell to breakfast.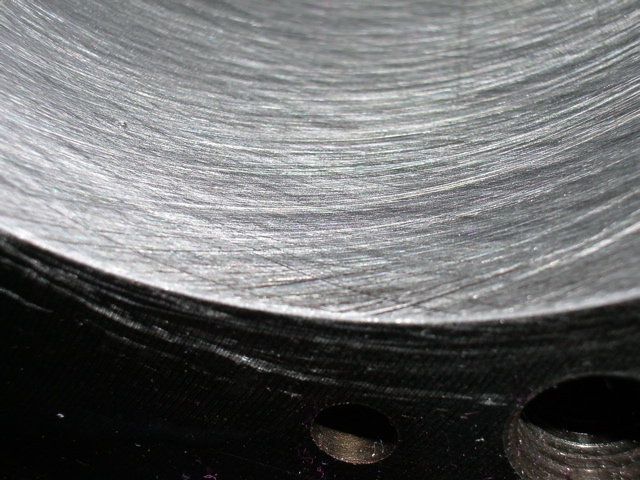 BUT – the 45 degree crosshatch says it all! Job well done.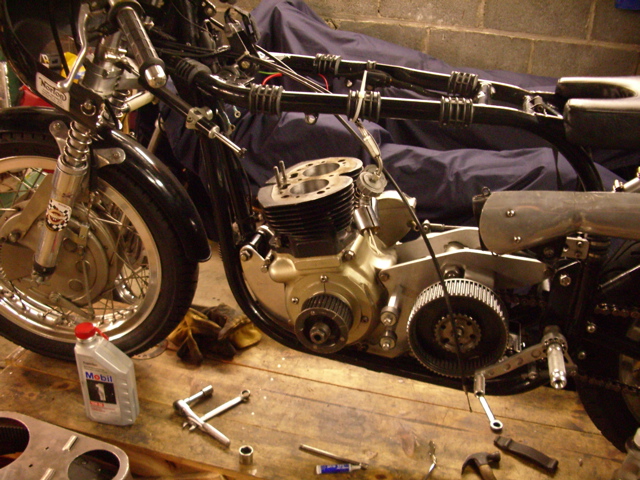 Putting the motor back in the bike. The frame is fixed, the oil tank is fixed, the head is fixed, the crank installed…we're getting close.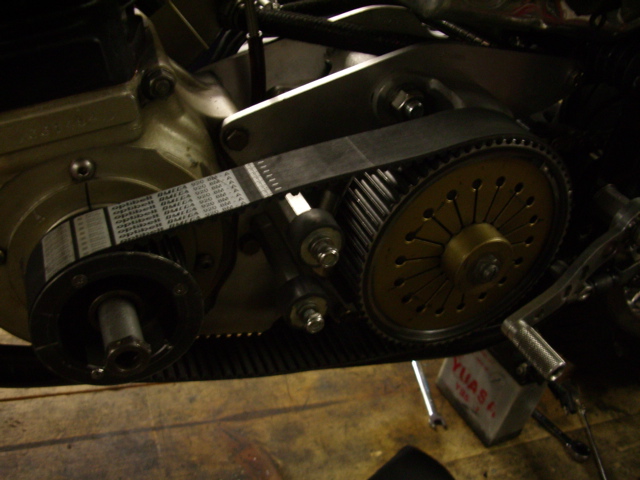 A nice shot of the Maney 40mm belt drive.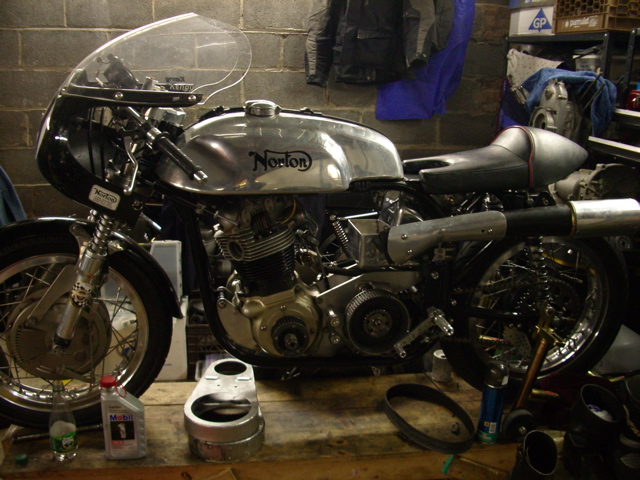 Having committed to road testing the next day with the other guys, I had a bit of work to do to finish. This is the bike on Good Friday, April 14, 2006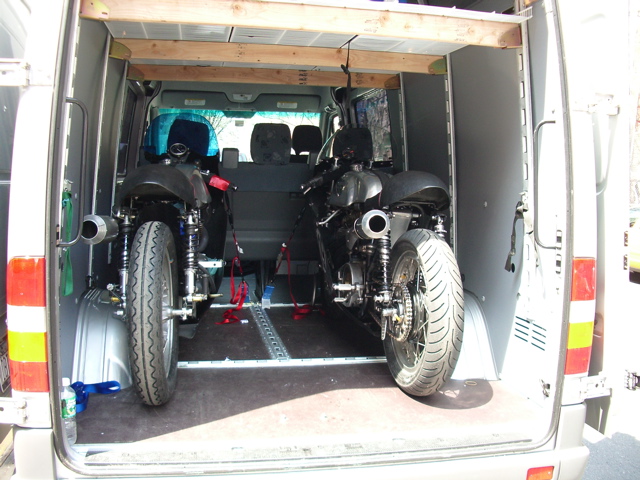 Saturday morning in the Sprinter with Jamie's Atlas, ready for traveling to our top secret testing facility somewhere in the NJ meadowlands.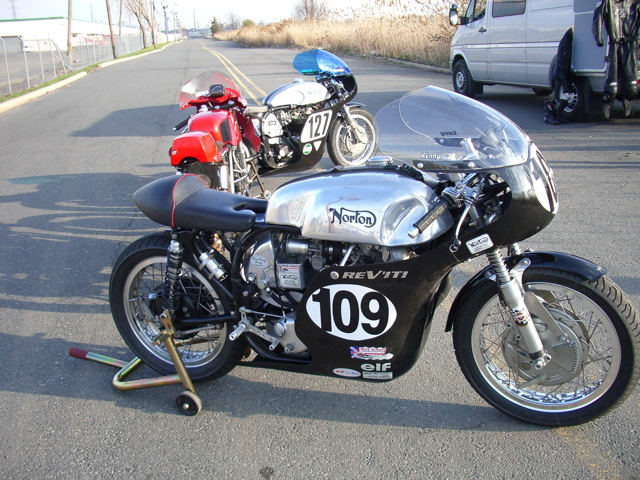 Here we are at the end of a beautiful test day. The bike ran great. It is so high-strung and ready to be on the track. I managed to put some good runs on it here at our 1.5 mile testing ground. No smoking, great compression, and seemed happiest higher and higher in the revs. I've set the redline at 7500k.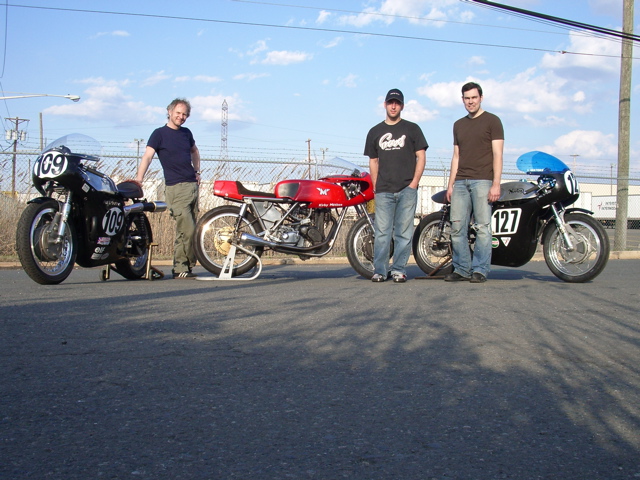 That's me, Jordan Levitt and his beautiful Kirby Matchless G50, and Jamie Waters and his Atlas, Saturday, April 15, 2006.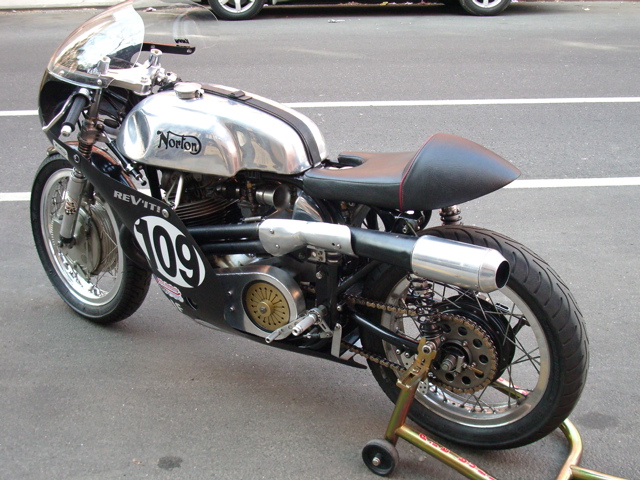 Back home in NYC on Easter Sunday, April 16, 2006, buttoned up, safety-wired, and ready to race next week at Summit Point with WERA. I have a #1 title to defend!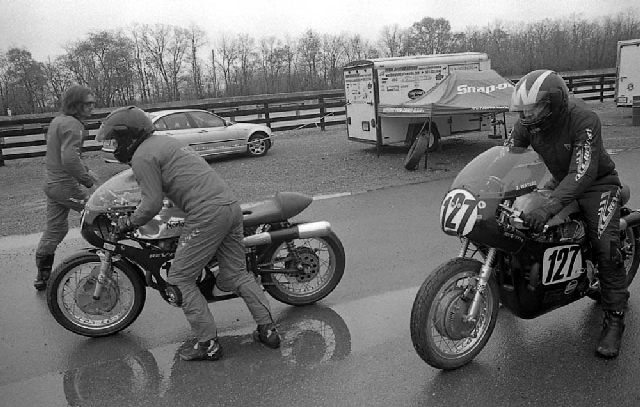 Summit Point (aka Slippery Point) April 23, 2006: What a mess. Nothing but pouring rain all day. I did manage to stay upright and place second in V3 and V4. The new crank felt amazing, but this wasn't the race to really push so more data will come at future races.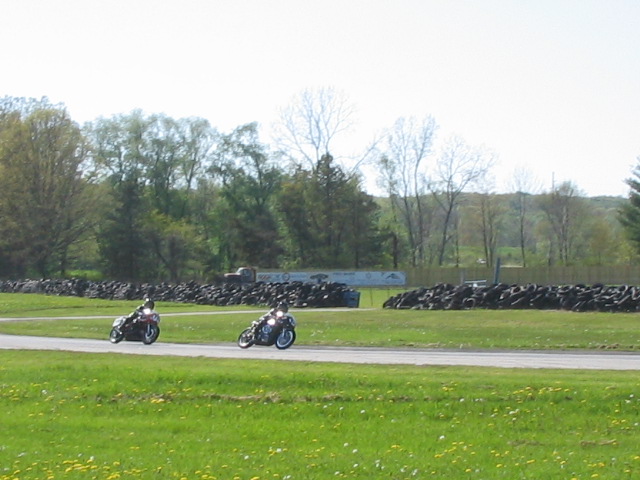 Dueling with Jordan on that pesky 'Guzzi. Nelson Ledges, May 6, 2006. He got me fair and square. Time for a rematch.
We did 3 weekends in a row – Summit, BeaveRun and Nelson – all with WERA. I'm starting to feel like a pro, but my wallet doesn't feel so fat. May 21st, 2006 was the Vintage Celebration at Loudon (NHIS) with the USCRA gang. Things really clicked in the Open GP race and I managed to lead for a couple of laps. In the end I took a respectable 2nd place behind a very fast Triumph, but not without a good fight. I was so damn happy.  Click Here for a movie of a very disbelieving me leading the Open GP grid into the bowl (turn 6) at Loudon.  We did a street race – The Streets Of Laconia – on Saturday, June 11th. It was cool – going fast and making a lot of noise downtown and certainly on the verge of serious danger. Come to think of it, it's a bit like riding around NYC.
Here are some truly great shots of us at the big track at Loudon (NHIS) during the USCRA FIM/NAMU races June 12, 2006. Click on the small for a larger version.
These beautiful shots taken by Matthew Robbins:  www.matthewrobbinsphoto.com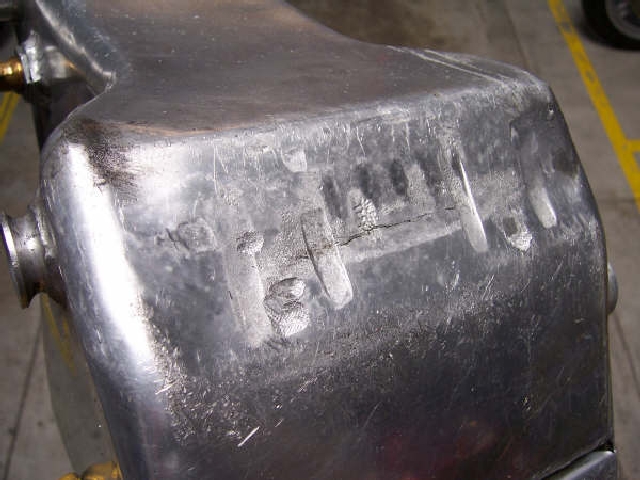 Dave Roper and I traveled up to St. Eustache in Quebec, just outside Montreal, July 8th & 9th for the VRRA Quebec GP. What a fountain of information he is, and a great person to pit with.
I like to think his speed rubbed off as I took my first-ever flag-to-flag win in the P1 Open race. Yes! Unfortunately the bike had some issues during the weekend. Once home I put it up on the bench for the ensuing teardown. As I was going through the bike I noticed a small puddle of oil forming underneath over the course of the day. Sure enough, the oil tank was cracked. Time for some welding.
Mid Ohio is coming in less than a week, and I have the cylinder head in California getting the exhaust ports repaired, my new drive belts have gone missing (I snapped my belt at St. Eustache), my fuel tank cracked, my oil tank cracked, my primary cover cracked, my new tires need mounting, and I have to button it all back up and get a couple of heat cycles before we leave town.  Yikes.
Gridding up for F750 – Mid Ohio – Saturday, July 29, 2006. In the foreground is Jamie (#107) on his Atlas on position 3A, and yours truly in the background (#109) on position 2D. This is the big show, and the beautiful bikes come to play at Mid Ohio.  I took 7th (out of 19) in this race. On Sunday I was fighting for 4th until my battery shorted out.  I took a very respectable 3rd in BEARS on Sunday (DNS on Saturday due to the aforementioned peskly battery issues).  I've been troubled by battery issues in the past. This time both of my batteries vibrated themselves to death over the course of the weekend at Mid Ohio. I'm working on a new, more reliable battery set up before the next event at Mosport – namely binning the standard Yuasa YB5LB for a more robust Sealed Lead Acid battery.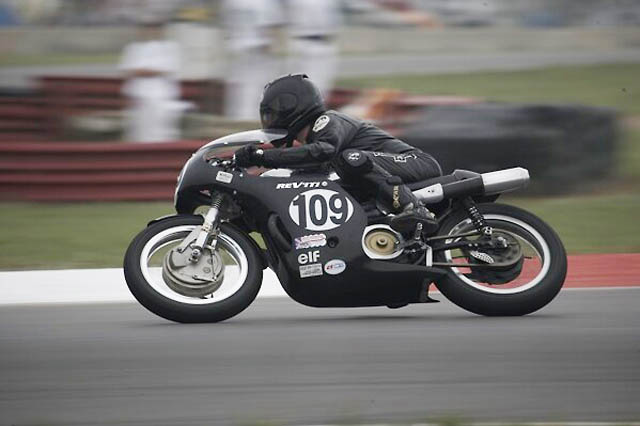 The Keyhole at Mid Ohio. The new surface was amazing. I had no issues other than a slight slippy spot at the exit of the keyhole, and some bumpy stuff in T1 and T13.
Click Here for a video of Mid Ohio Friday practice into Turn 1.  Click Here for a video of a pass on a G50 at The Esses, Mid Ohio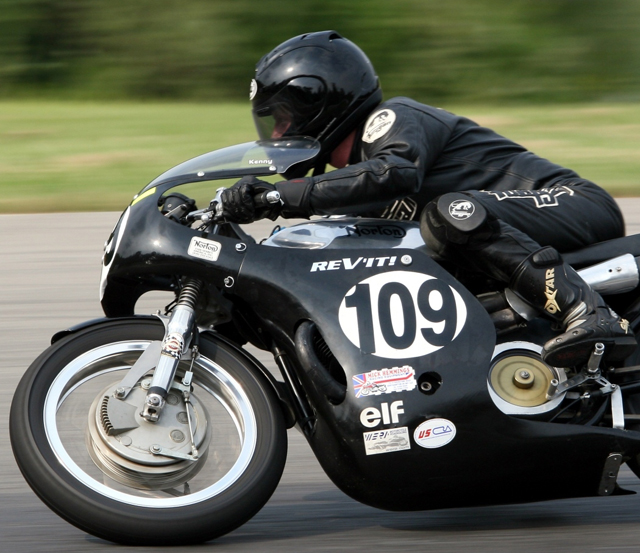 Mosport, August 27, 2006 – 3rd Place in P2 Heavy.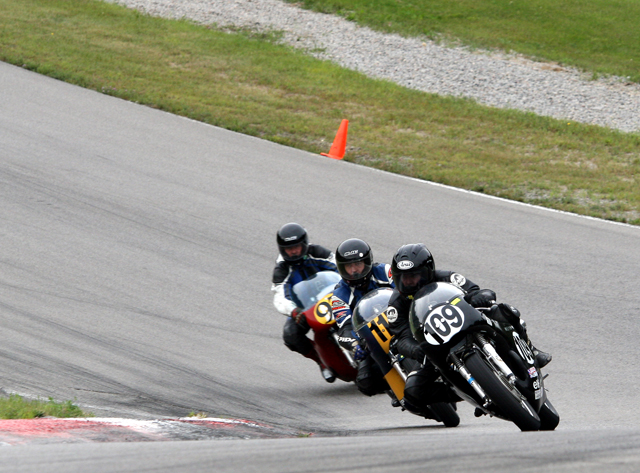 Mosport is hands down one of my favorite tracks to race; so full of soul.  These beautiful hi-res shots are courtesy of Jean Des Rosiers.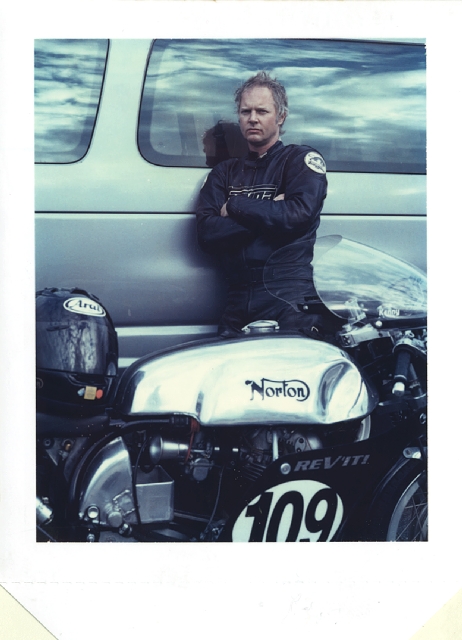 September 4, 2006 – Labor day at NHIS with USCRA.
I took home a trophy for 1st place in Eurocup(!); a flag to flag win.  2nd in Open GP behind fast guy Greg Nichols. I can't complain.
This Polaroid was taken by a professional photojournalist who is doing a series of images of vintage racers, potentially for a book project. I may look pissed, but in fact I'm elated, as this was shot about 5 minutes after my Eurocup win.
On Saturday, September 9th I drove the bike to Baltimore to meet with fellow AHRMA racer Eric Mercer, who is taking my bike out to Miller Motorsports Park in SLC, Utah, for the big show September 15-17th. More to come…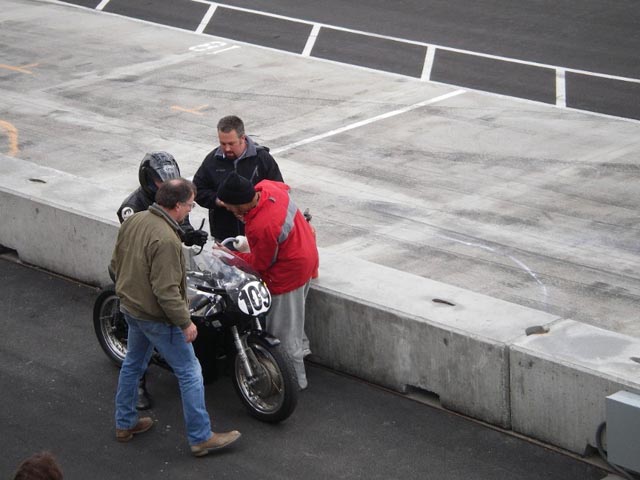 Friends/family helping a guy get his bike refueled between back-to-back races at Miller Motorsports Park, September 17, 2006. Pictured L-to-R: John Magyar, my brother Cody, and fast guy Eric Mercer with fuel bottle.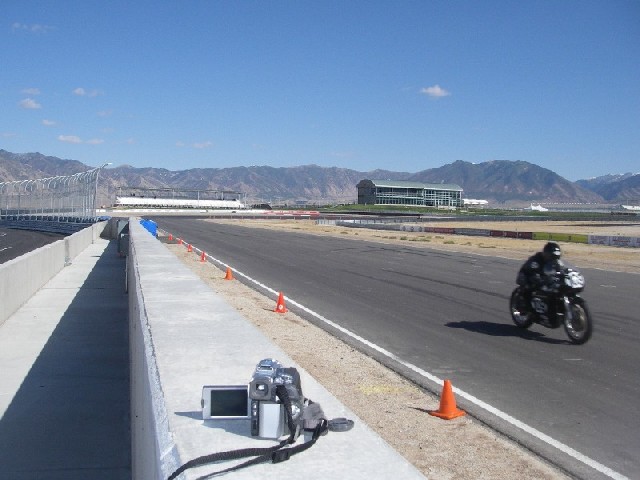 A lonely 3rd place. AHRMA at Miller Motorsports Park, Utah, September 17, 2006.  I managed to nab 3rd in both BEARS and F750 on Sunday. I'm chuffed. Anytime one gets on the podium in an AHRMA race is a good thing.  What a track… the surface was so good that a lot of racers were unprepared for the chatter acheived by the grip twisting up our little forks in the turns!  That's my video camera in the foreground. Click Here for a video of me working my way to the checkered in Sunday's BEARS race.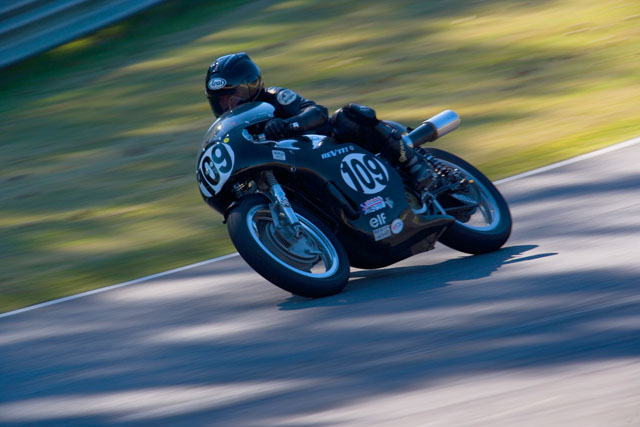 10/22/2006: Turn 2 at Barber Motorsports Park, Birmingham, AL.
Barber was the last race of the year, but certainly not the end of the 2006 NYC Norton page as there's a hell of a lot of teardown and troubleshooting to be done.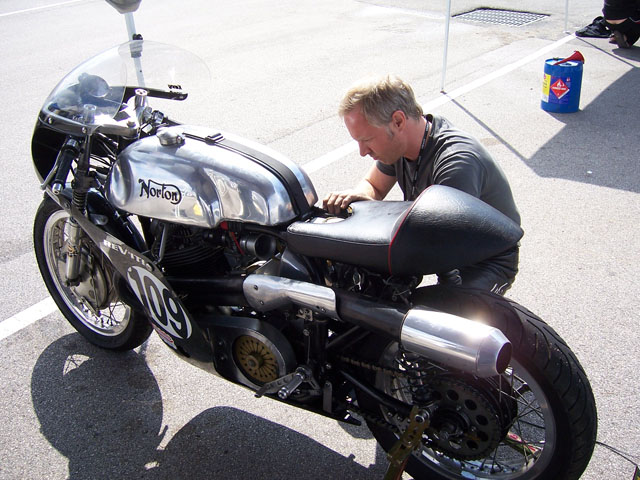 The racebike is my baby and I do my best to take good care of it, but by the end of racing on Sunday at Barber it was screaming at me!  It looked like hell, was smoking badly, things were cracking (primary cover, fairing mounts), and the random chatter I've experienced all year was getting so bad by the end of the weekend that I don't think I'd have lasted another race. Regardless, I placed well at Barber and am already scheming on how to get in front of some of those fast guys next year.  So… the season is over, and a teardown is in order. I'm methodically working my way down, starting from the tires all the way to the bare frame, bolt by bolt, trying to find some of these gremlins. I expect to find frame cracks, so stripping the bike is essential. More to follow.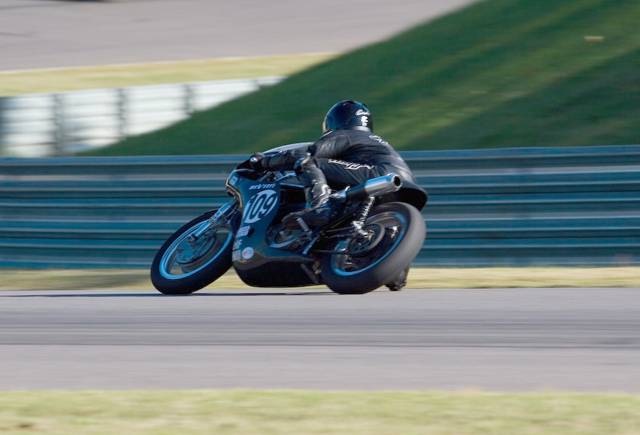 2006 Racing:
April 22, 2006 – Summit Point, WV, with WERA
April 29, 2006 – BeaveRun, OH, with WERA
May 6, 2006 – Nelson Ledges, OH, with WERA
May 19, 2006 – Vintage Celebration @ NHIS, NH, with USCRA
June 11, 2006 – Streets of Laconia, NH, with USCRA
June 12, 2006 – FIM Races, NHIS, NH, with USCRA
June 17, 2006 – Summit Point, WV, with WERA
July 8, 2006 – Quebec TT @ The Autodrome, Quebec, with VRRA
July 29, 2006 – Mid Ohio, OH, with AHRMA
August 19, 2006 – Vintage Festival, Mosport, Ontario, with VRRA
September 4, 2006 – Granite St. Championship @ NHIS, with USCRA
September 16, 2006 – Miller Motorsports, UT, with AHRMA
October 21, 2006 – Barber Motorsports, AL, with AHRMA
2006 USCRA Champion
First Place – 2006 USCRA Eurocup Championship
Second Place – 2006 USCRA Open GP Championship
November, 2006. The teardown begins.  From L to R: Top view of motor/headsteady; Big valves…one side being very oily due to loose guide; My forks awaiting Showa cartridge internals; The frame disassembled; The frame really disassembled and ready to be blasted. Click on the photos for more detail.