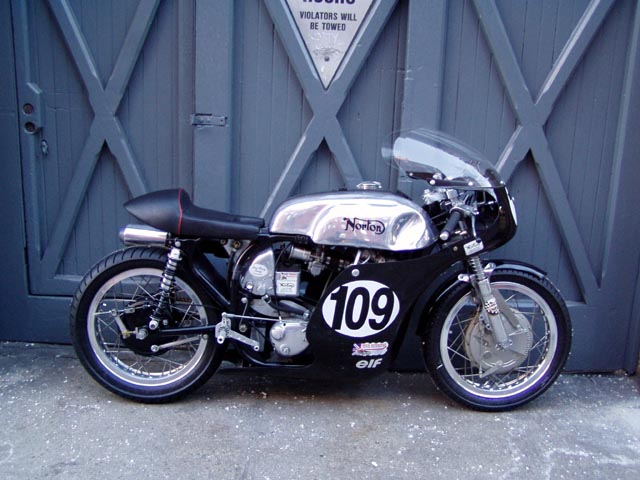 March 5, 2005, debuting new Works Performance alloy shocks, a custom Kirby fairing from Andy Molnar (with built-in belly pan), and a set of brand-new sticky Avon AM23/AM22 race tires, prepped and ready for the first race of 2005 only one week away with WERA at Virginia International Raceway (VIR).  Notice the rock salt on the ground. It does not feel like race weather around here.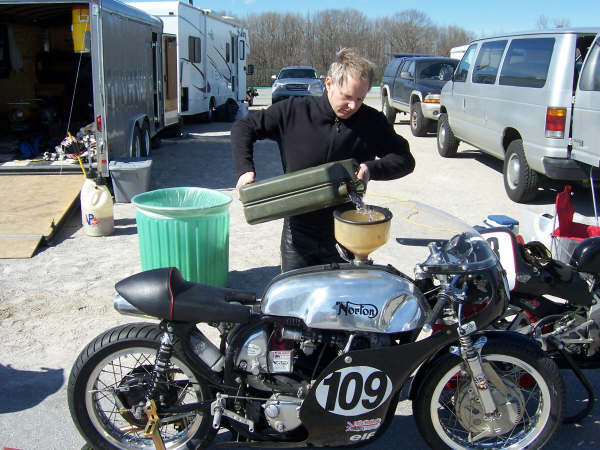 Fueling up at V.I.R., March 12, 2005.   Click HERE for the soothing sights/sounds of a Norton at full song. This from the front straight at V.I.R. (Be Patient, file is 3mb in size and can take a couple of minutes to load.)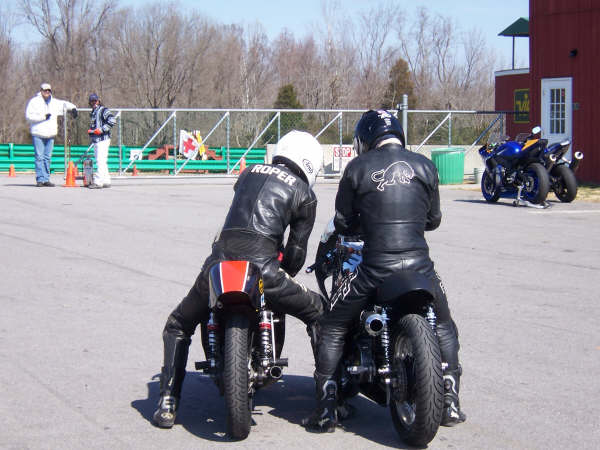 V.I.R. – March 12, 2005: Getting some sound advice from The Master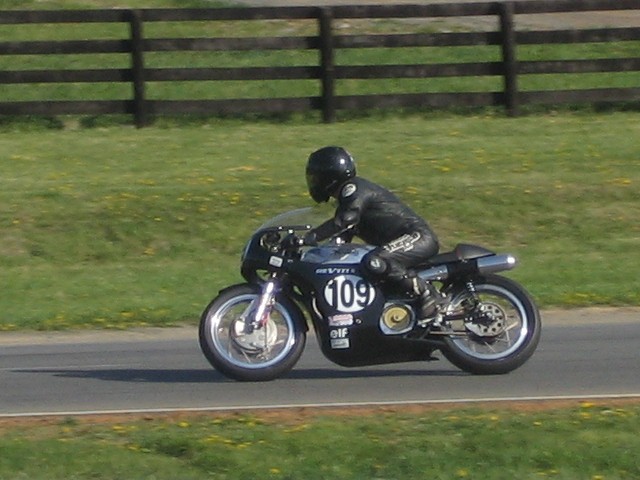 Working it all out at Summit Point, Turn 8. April 16, 2005. This time, I stayed out of the gravel and took off a few seconds of lap time over last year.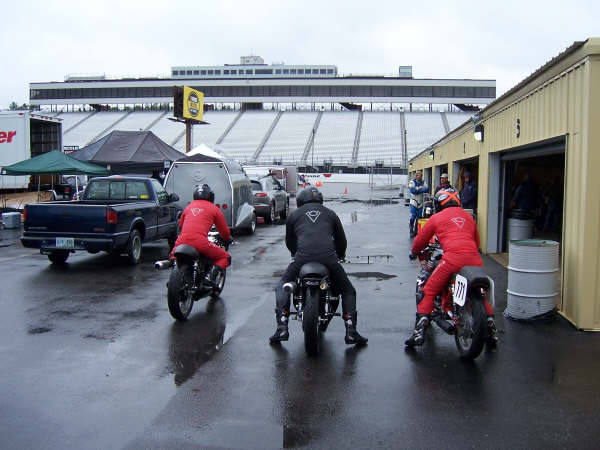 NHIS Vintage Festival, May 20, 2005. What a dreary day it was.
From L to R: Kenny, Jamie Waters (Norton Atlas), Jordan Levitt ('Guzzi V7).
Racing with AHRMA at BeaveRun, June 25/26 2005.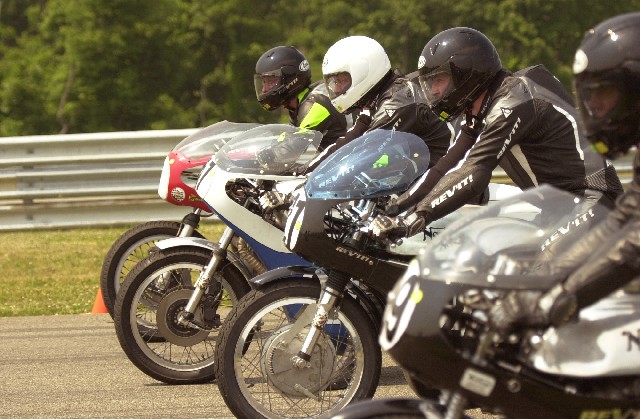 For the first time ever, all 4 of us NYC kids are on the grid together. AHRMA/BeaveRun June 26th.  L to R: Jordan Levitt – 'Guzzi V7 Sport, Jon Blonk – Triumph Triple, Jamie Waters – Norton Atlas, and myself.  (Photo by Matt Benson)
WERA/Nelson Ledges, Ohio – July 30, 2005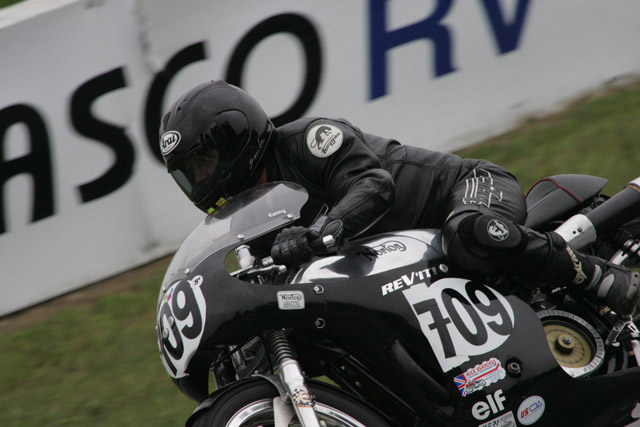 August 19, 2005 with VRRA at Mosport, just outside of Toronto, Canada. Mosport is certainly my favorite track. Fast and sweeping. It's good for the big bikes.  (Notice #709 as not to conflict with pre-existing Canadian racer #109).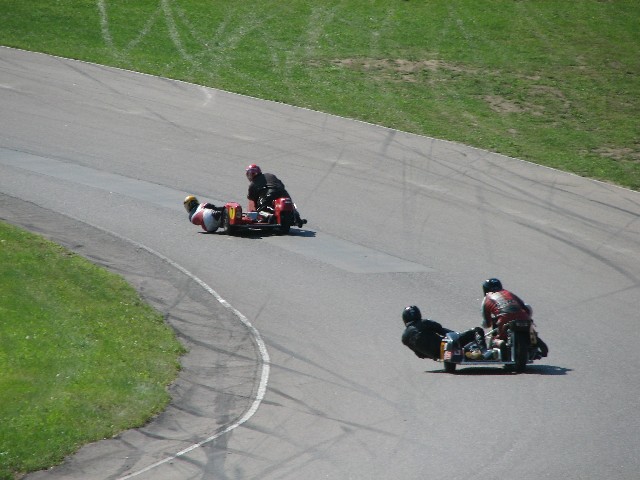 I took a couple of laps at Mosport as a sidecar passenger with Ian Bruce. Good Lord what a hoot. This is probably the hardest workout I've had in years. Ian's daughter, Sandie, is the usual passenger and will drag her hips and shoulders across the tarmac at 130mph without flinching. I have the utmost respect for sidecar racers and passengers. They are a unique bunch and have a great sense of community. Fortunately, AHRMA has decided to include the sidecars at a couple of events in 2006. One day, when I get more garage space, I'll own a sidecar too!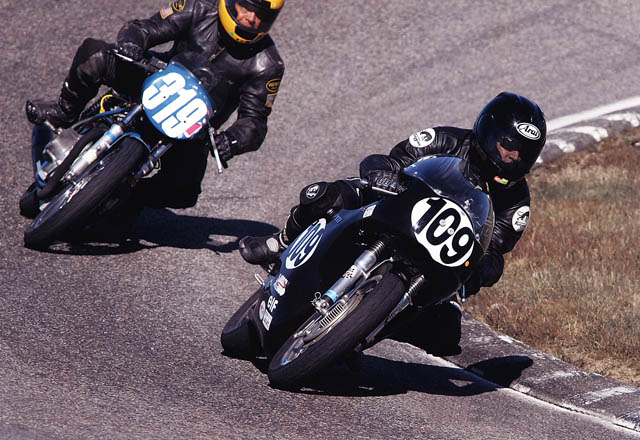 Twisting it up in Turn 6 at NHIS – USCRA Granite State Championship, September 5, 2005. I picked up a legitimate 2nd in Period 1 Open GP.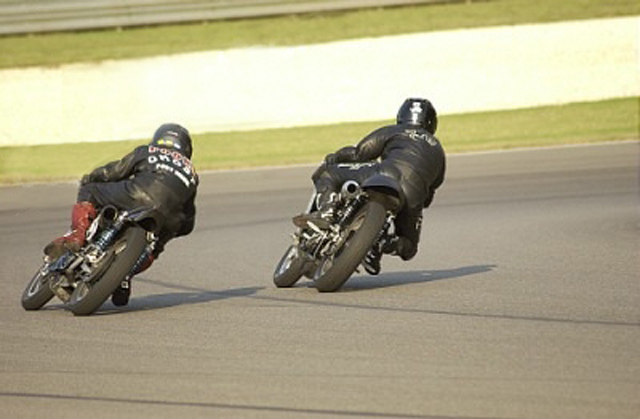 With AHRMA, dipping it into T2, Barber Motorsports Park, October 23rd, 2005. The last race of the season.
Click HERE for a great clip of the Norton battling a 'Guzzi down the front straight of Barber.
Click HERE for a clip into and out of Barber Turn 5.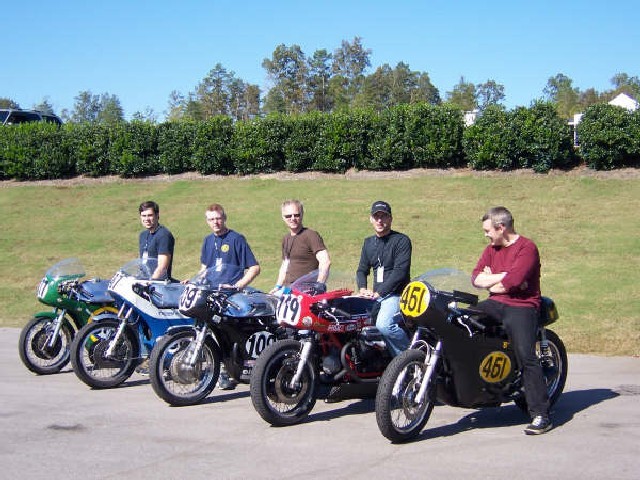 Sunday, October 23rd, 2005. Getting ready to go home from Barber.
Quite an amazing year. Everybody's gotten the inevitable get-off out of the way, nobody got hurt (too badly), and we all picked up a lot of speed.
From L to R: Jamie Waters – Summerfield Manx Norton; Jon Blonk – Triumph Triple; Yours truly; Jordan Levitt – Moto Guzzi V7 Sport; Andrew Anderson – Triumph Bonneville.
Time to start thinking about 2006.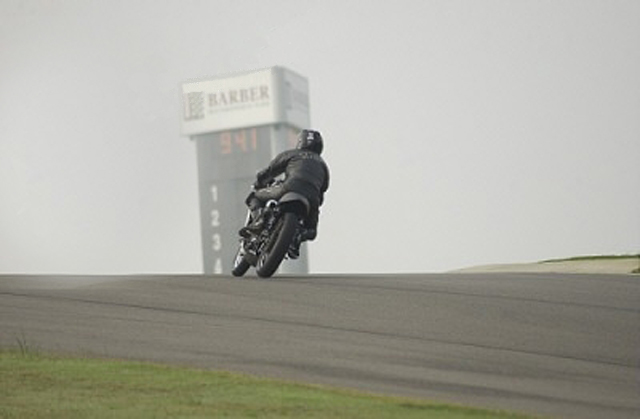 2005 Racing:
March 12 – WERA/VIR, Virginia
April 16 – WERA/Summit Point, West Virginia
May 20 – USCRA/NHIS Vintage Festival, New Hampshire
June 11- WERA/Summit Point, West Virginia
June 25 – AHRMA/BeaveRun, Pennsylvania
July 16 – AHRMA/Mid Ohio, Ohio
July 30 – WERA/Nelson Ledges, Ohio
August 20 – VRRA/Mosport, Ontario
September 5 – USCRA/NHIS, New Hampshire
September 17 – WERA/Summit Point, West Virginia
October 22 – AHRMA/Barber Motorsports Park, Alabama
2005 WERA Champion
1st place Vintage 4
3rd place Vintage 3
NorthEast and MidAtlantic Regions