The Evolution of a Norton Racer: 2000 through 2004 – The Beginning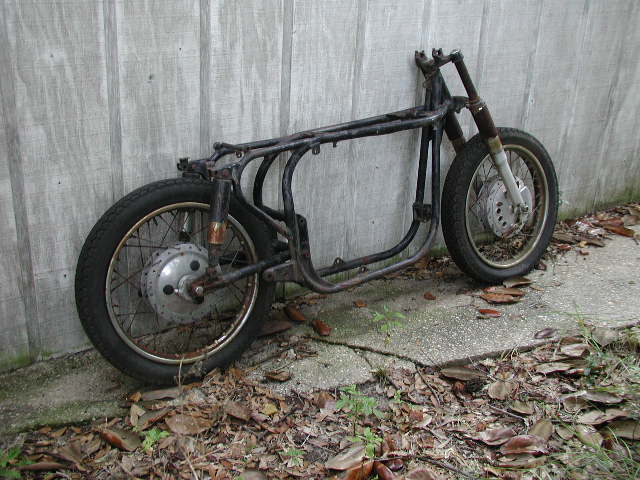 The famous Featherbed frame.  The impetus. The rusty beast that started it all.  I always wanted a Featherbed special but wasn't sure what flavor.  About the time this frame surfaced I had just experienced my first vintage race.  I knew then I had to build a racer and start racing….but how?  The disease begins.
This is a photo of my 1962 ES2 rolling chassis I bought in early 2000.  I contemplated putting all different kinds of engines in it.  I thought about going back to an ES2 (no power), then I thought about a BSA DBD34 Goldstar (tough to find, and new learning curve), then a Manx 500 (sure…who's got the cash?), then a reproduction Summerfield or Molnar Manx engine (again, whose money?).  I ultimately settled on a modified Commando….something I already know very well.
Next was time to find an engine.  The span between the purchase of the frame and the purchase of the engine was well over a year, which allowed me to do considerable research.  I decided the 850cc MK3 engine would be the most reliable for racing, simply because of the thicker crankcases.  However, I knew I'd be racing in 750cc classes, so something would have to be done with the top end.  I searched and searched and finally found a fella in Kansas who had this MK3 engine put aside years ago for a chopper(!) project.  I picked it up for a fair price, and it came complete as you see it here.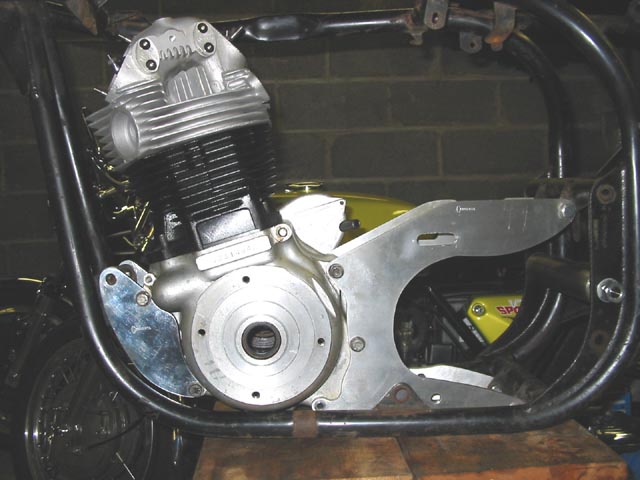 After months of purchasing parts, I decided to put the engine in the frame.  This was my first introduction into Special building, i.e. nothing is easy or goes as planned.  As you can see, I have the empty MK3 crankcase ( along with 750 through-bolt barrels and Mick Hemmings big valve head) mounted to the frame via Converta plates.  The MK3 case would not line up with the plates (witness the uppermost hole on the front Converta plate).  This is because the MK3 cases are actually beefier on their outside dimension than earlier 850 or 750 cases, and therefore would foul against the bottom frame rail.  Yikes!  What to do? Make special plates?  No, that would throw everything else out of line.  How about bending the frame?  Uhhhh….Yes!  The factory had already put a bend in the upper rh frame rail (visible in picture) to accommodate the cam box for Manx and ES2 engines, so why couldn't I do the same?  This job was beyond me, so I contacted my ace racer/machinist buddy Todd Puckett for a little frame adjustment.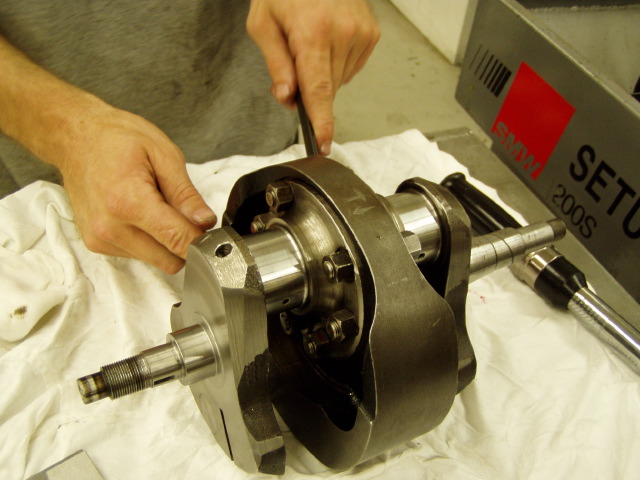 Because the engine would be rigid mounted in the Featherbed frame (Commandos were mounted on rubber Isolastics) I had Zint at Lindskog Balancing in Massachusetts set up my crankshaft with a balance factor of 84% – up from the standard Commando BF of 52% – which would eliminate the vibrations these parallel twin engines notoriously make in the high rpms.  Zint surely knows his stuff and is king of the exotic (Yes, Nortons are considered exotic in the high-performance racing world).  Here I am assembling the crank with great care and a lot of red Loctite. Norton cranks are the weak link in a high-revving engine and have been known to explode when pushed hard. Fortunately I'm using a MKIII crank which uses stronger bolts than previous years, but I'm still saving my pennies for a one-piece Maney crank.  In the meantime, I'll keep the revs to 7500rpm.
Checking the endfloat on the crank.  We ended up with .011 after shimming.  I've been told by several reliable sources that the Norton factory never shimmed their cranks; bikes just went out the door as is.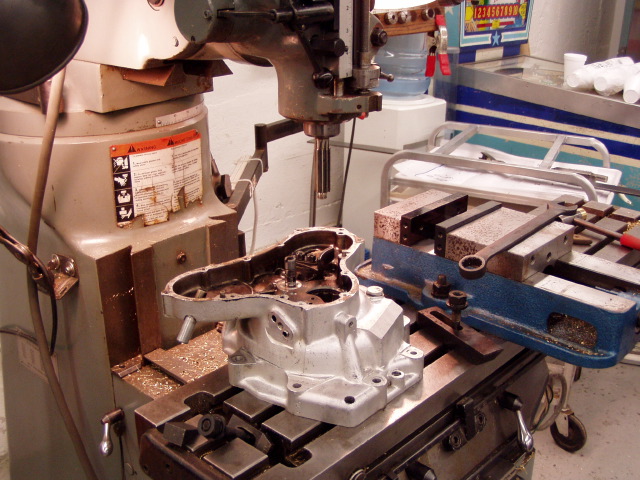 Reaming the new camshaft bushes on the Bridgeport.  Who knew that all NOS cam bushes are undersized?  The motor is running a Mick Hemmings PW3 grind camshaft – the same cam profile used by Peter Williams on his winning F750 Nortons in the '70s.
Honing my cam follower tunnels.  Easy does it!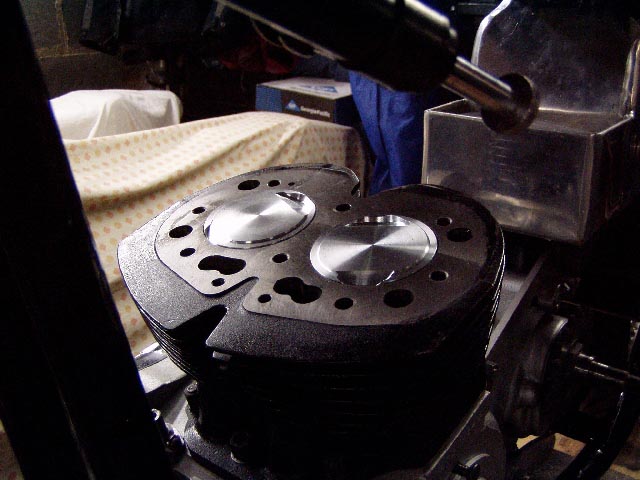 The bottom end comes together.  These are JE Hi Compression Pistons (approx 11:1) installed into 750 Thru-Bolt Cylinders, moved by steel Carrillo rods.  I had Mike Rich from MRM Motorsports help do a bit of piston pocketing to get the perfect clearance.  We acheived .080 on the valve-to-piston clearance.  We also turned the tops of the pistons to get .040 clearance at the squish band.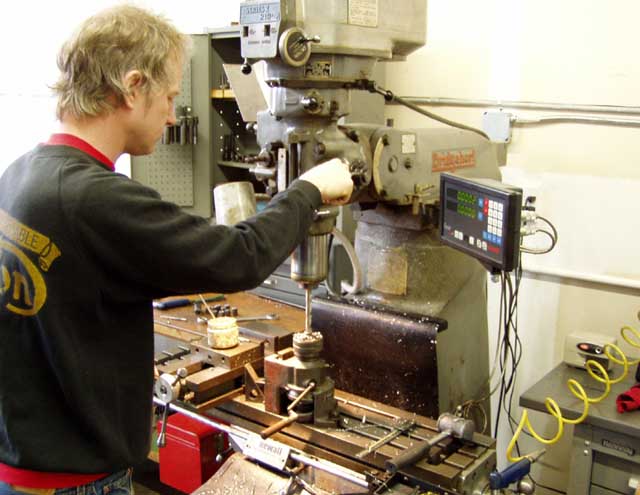 Doing a bit of frame fabbing on the Bridgeport mill at the Team Incomplete/Cosentino Engineering workshop.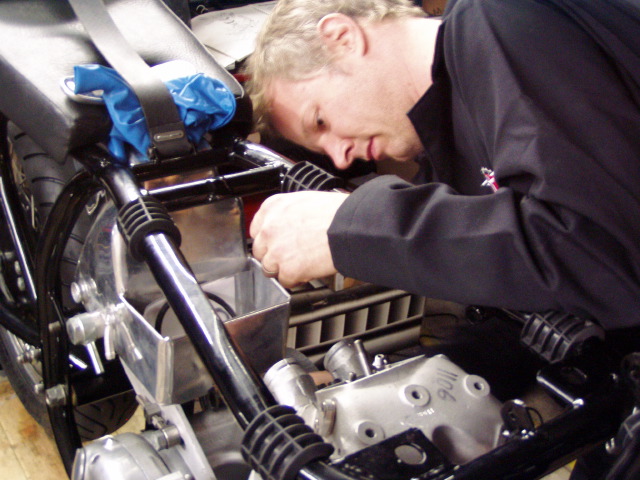 Finally, the engine goes in.  I waited a long time for this day.  This engine is comprised of a Mick Hemmings big valve head with larger re-angled titanium valves and keepers, W&S springs, bronze guides, lightened rockers, inlet ports flowed and resized to 33mm.  This didn't come cheap!  The pistons are the above-mentioned JE hi-compression Std. bore (73mm) with Carrillo rods.  Even though steel rods are heavier than stock, the reciprocating weight came out less than stock because of the addition of the lightweight pistons.  The barrels are Hemmings 750 with the 850-style through-bolts for stronger mounting.  The bottom end is from a '75 MKIII engine.  I run two 35mm Mikuni carbs (bored from 34mm for better fuel/air coefficient).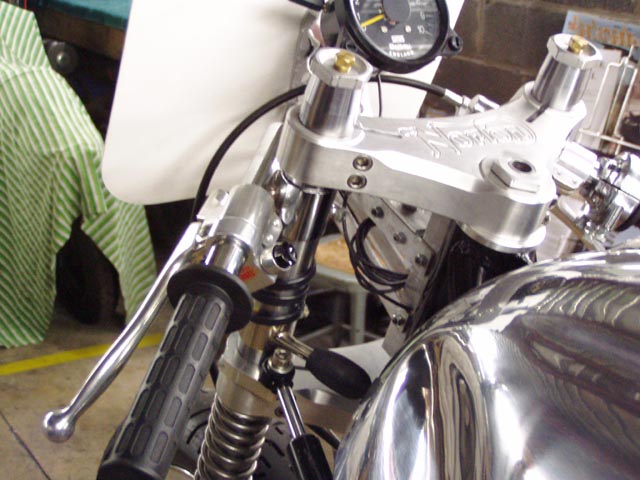 Custom fork clamps machined by Dave Dickerson.  Extra wide 7 5/8″ spacing to allow many different wheel hubs to be run.  Scitsu electronic tacho, Andy Molnar fork springs, all alloy fork internals, Commando tubes and sliders.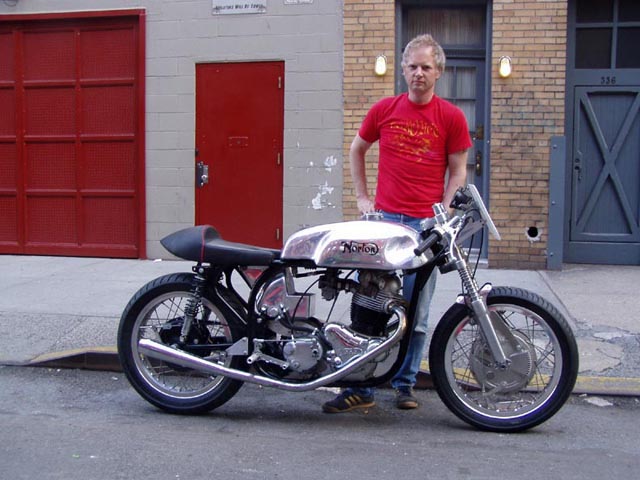 May 22, 2004 the bike first sees the light of day.  Grimeca hubs (4LS on front), Barleycorn rearsets, alloy petrol and oil tank, Mikuni carbs, rebuilt gearbox with special racing layshaft bearing, Steve Maney belt drive, Avon AM22/23 race tires, Slimline Featherbed frame, etc, etc.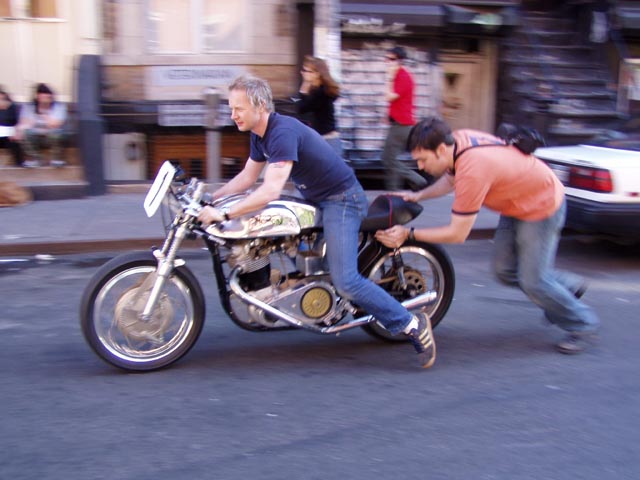 The very first start, May 28th, 2004, 9th Street in the East Village of NYC.  Boy, oh boy did it piss off the neighbors.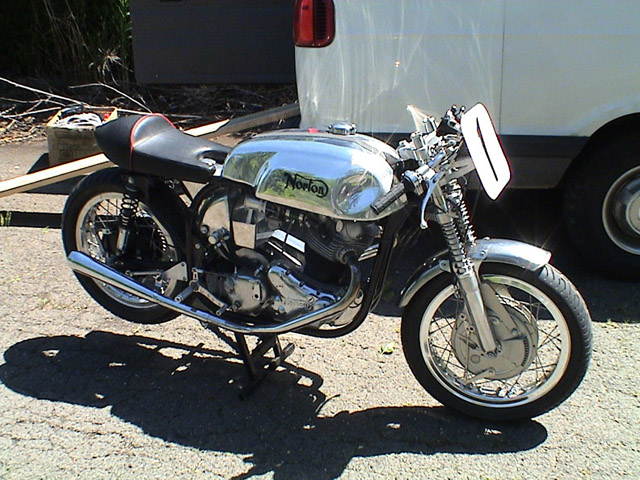 Top Secret Test Facility somewhere amidst the swamps in NJ, Father's Day, June 20, 2004.
Here's where I got to shake down the bike.  I was amazed by how sturdy the Featherbed was after riding a Commando all these years.  The Grimeca brakes were better than some disk systems I've used.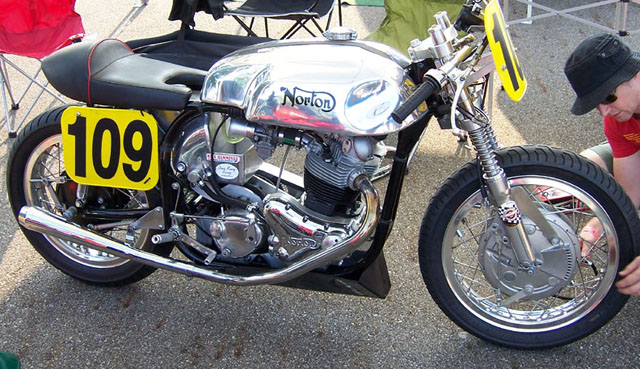 In the paddock at Vintage Motorcycle Days, Mid Ohio, July 16, 2004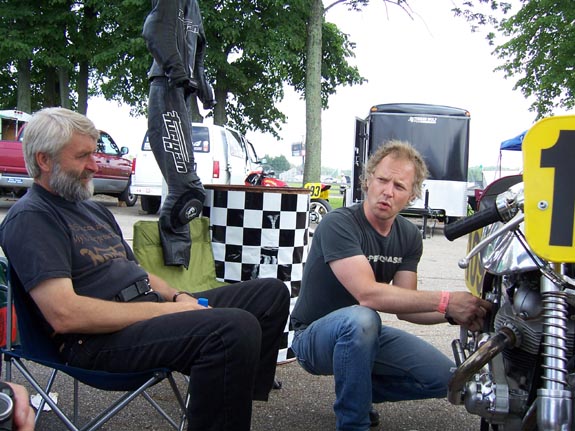 Norton Guru Phil Radford shares his thoughts on how to make me go faster.  Vintage Motorcycle Days, Mid Ohio, July 16, 2004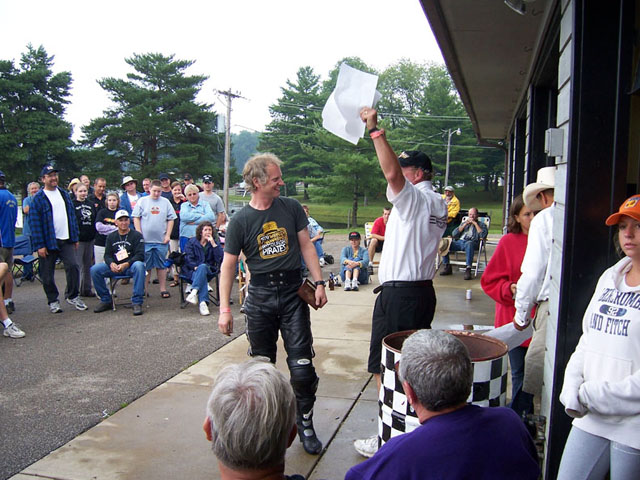 That's me accepting a plaque for taking 6th in my first-ever race, which took place at Mid Ohio, in the rain, Sportsman 750, July 17, 2004.  Nobody could wipe that smile from my face.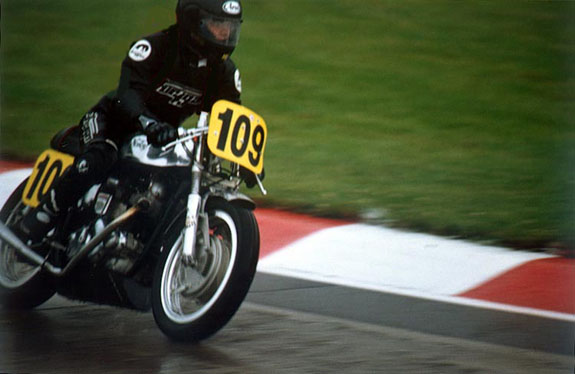 Mid Ohio, July 17, 2004.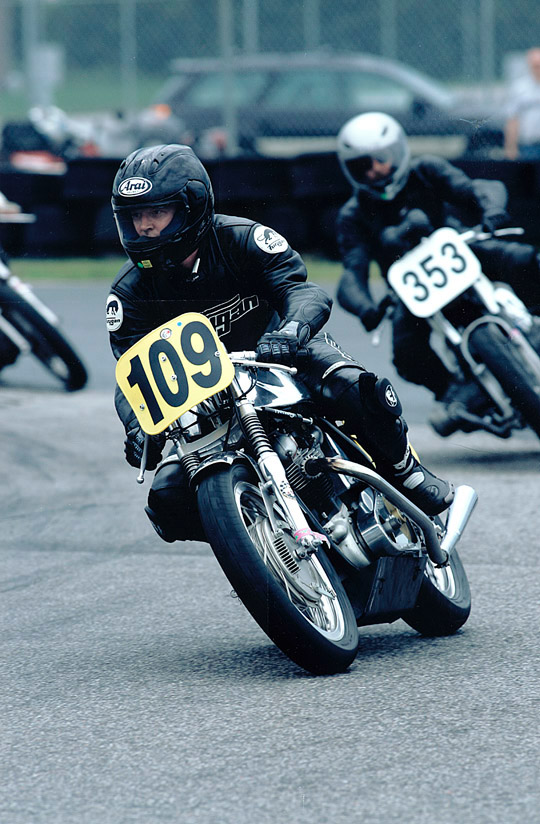 Turn 3 at New Hampshire International Speedway (Loudon), August 1, 2004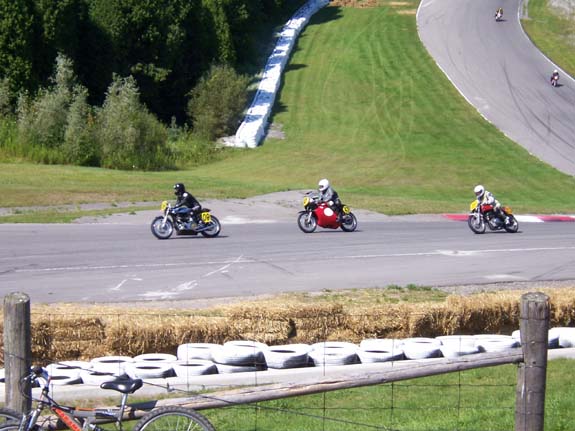 Moss's Corner, Mosport, just outside of Toronto, Canada.  August 22, 2004.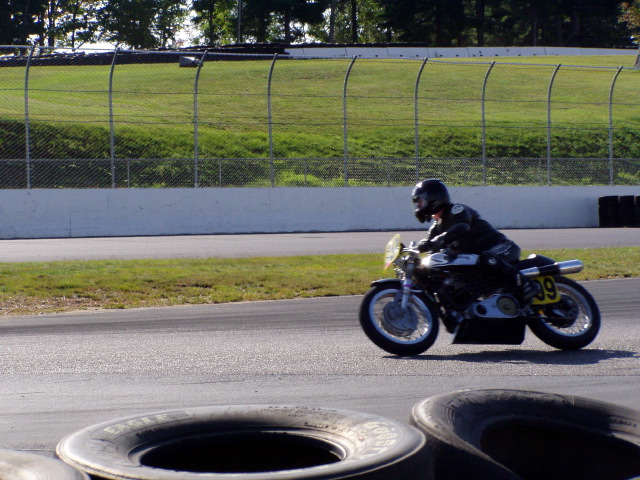 Another look at Turn 3 at Loudon, September 6, 2004.  This was my first outing with the new Steve Maney exhaust.  Good Lord what a difference it made in midrange power.
The paddock at Beaverun, AHRMA races, September 11, 2004.  I had the honor of traveling to this race with Dave Roper and Todd Puckett, two of the fastest guys around. Their wisdom and camaraderie has been invaluable.  Roper had just returned from taking 11th in the 2004 Manx Grand Prix at the Isle of Man in the U.K.
Notice Todd Puckett's GP spec Honda RS125 in the background.  Todd took 2nd place in the 2004 CCS national championship on that very bike.  He won both AHRMA races he entered that weekend.  Not bad.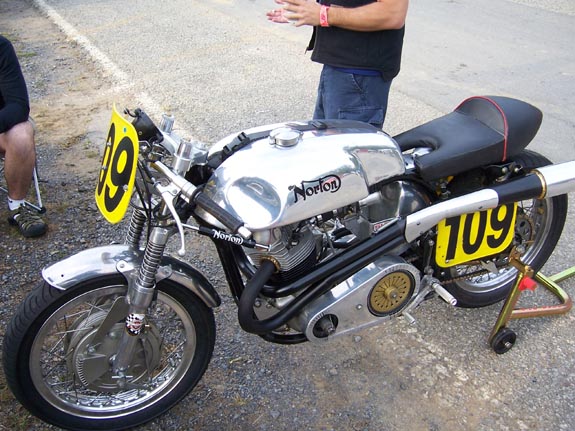 I crammed in as much racing as possible this season – from Mid Ohio to Mosport in Canada, and everywhere in between.  Here we are with WERA Vintage, Saturday, September 25, 2004 at the paddock of Summit Point raceway, WV, for my last race of the season.  Another great shot of the very trick, and very expensive Steve Maney exhaust system.
Click HERE to see a video of the Norton coming out of Summit Turn 10 onto the front straight.  I hit redline at the end of that straight, and according to my gearing chart that was 130+ mph.  (Be Patient, file is 2mb in size and can take a couple of minutes to load.)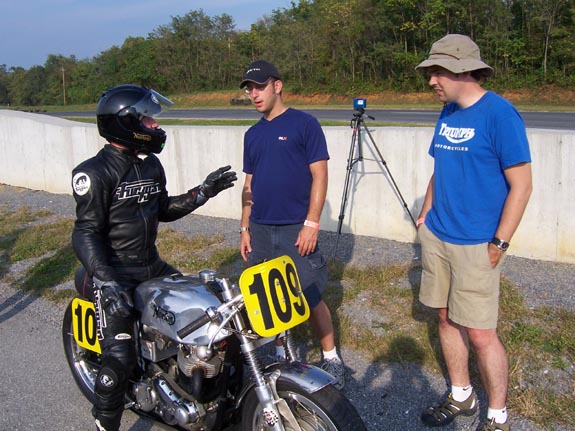 Discussing "strategies" on the Summit pre-grid with my good friends Jordan Levitt and Jamie Waters (along with unseen photographer Jon Blonk).  Their assistance was invaluable to getting me onto the track.  All three of them will be racing pedigree vintage bikes next year.
Leading a few into Turn 3 at Summit.  That gravel would come back to bite me…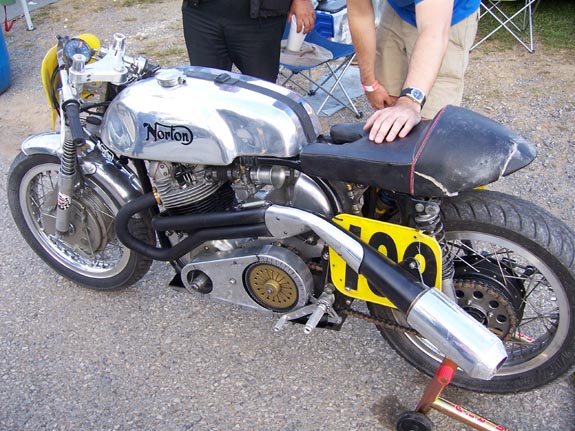 …and later that day, after a little get-off into the gravel outside of Turn 3.
All is repairable, but crashing is NO fun.  Looks like there will be a bit of shop time this winter.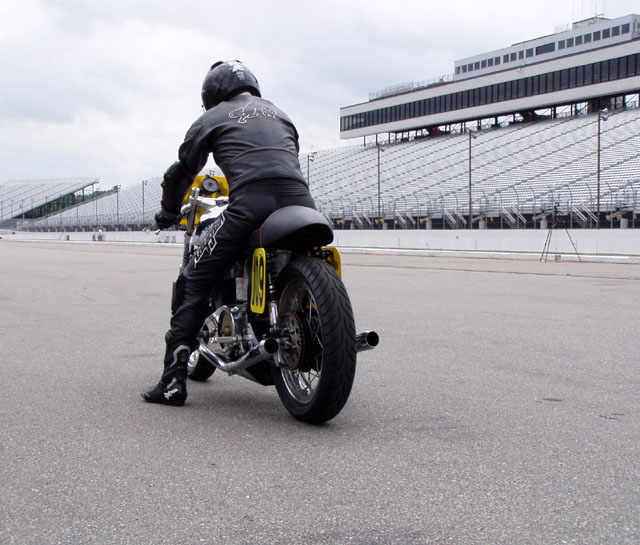 Next year can't come quickly enough.