On Thursday, January 16, 2014, former TT Racer and tuner of some of the fastest classic bikes Maurice Candy, Dave Roper, and I, met in Terminal 4 at JFK to begin our long journey to Phillip Island, Australia, to take part in the 21st annual Island Classic.  The Australian Motorcycle News (AMCN) had invited a group of Yanks to participate, providing transportation via two 40′ containers full of bikes departing from both the West and East Coast of the USA. As seen in a previous post, I loaded up my Seeley G50 back in November and the container had now arrived safely at the track, awaiting our arrival for unloading. The three of us flew to LAX and had a short layover. Here we met up with Don Lange, an old friend from Seattle, who has been accompanying our racing crew around the USA for the last season, filming for a documentary his company is working on. Don was eager to capture this journey with several generations together,  certain to give good stories. Below is a play-by-play of our trip, which was so good I felt compelled to detail it more than most posts.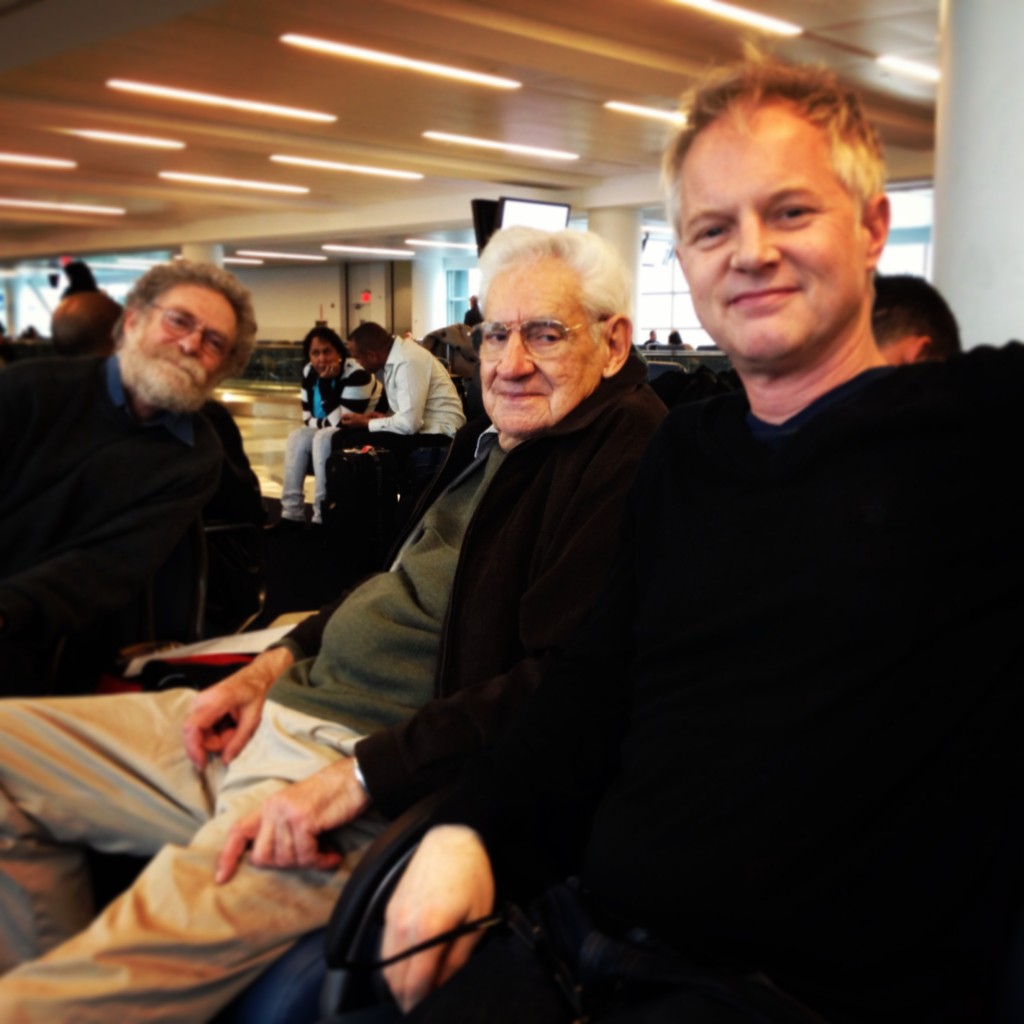 Dudes getting ready to fly
Saturday:
The flight across the Pacific was relatively painless, and thanks to some modern chemistry and good timing we managed to skirt any serious jet-lag, a large feat considering the 16-hour time difference and 20-hour trip.  We landed in Sydney on Saturday morning to sunshine and 80-odd-degrees.  Maurice was picked up at the airport by relatives so he could visit for a day with his sister who lives just outside Sydney, while Roper, Don and I did the Sydney tourist stops.  Roper put together quite an itinerary to keep us busy through the entire trip, so no time for dilly-dally.  After securing our badass Holden rental car, we headed out in the sunshine towards Deus Ex Machina Emporium, where hip lifestyle and custom bikes are cross-pollinated like no other.  We were greeted at Deus with open arms.  Mikey, the main wrench, gave us a good tour of the place and bought us lunch in their excellent cafe. Before we headed out, Saxon, another mechanic, took some snaps of us and posted to their site.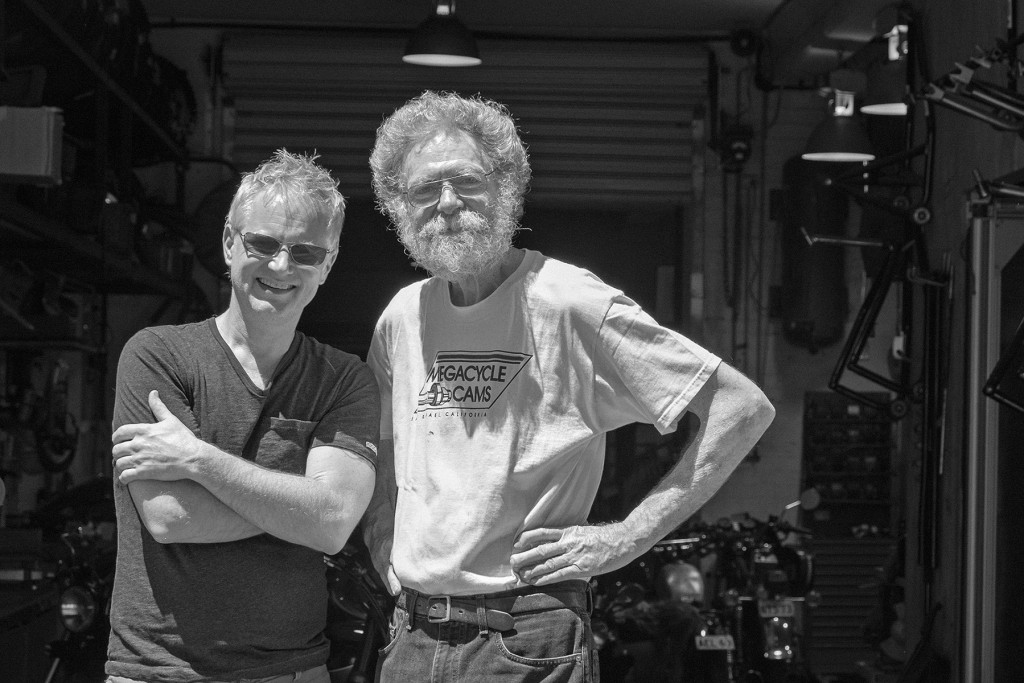 Kenny and Roper backstage at the Deus Shop
Deus is quite an operation.  While I am sometimes ambivalent with a lot of the current trends of bikes and lifestyles that go with it all, it's great to see things done up proper, and there's no question these guys are #1 in the game.  Thanks for the good times, fellas.
We smartly left the car near Deus and took a bus back into downtown Sydney where we did more touristy stuff.  We walked down to the waterfront, saw the Sydney Opera House, and walked across the Harbour Bridge.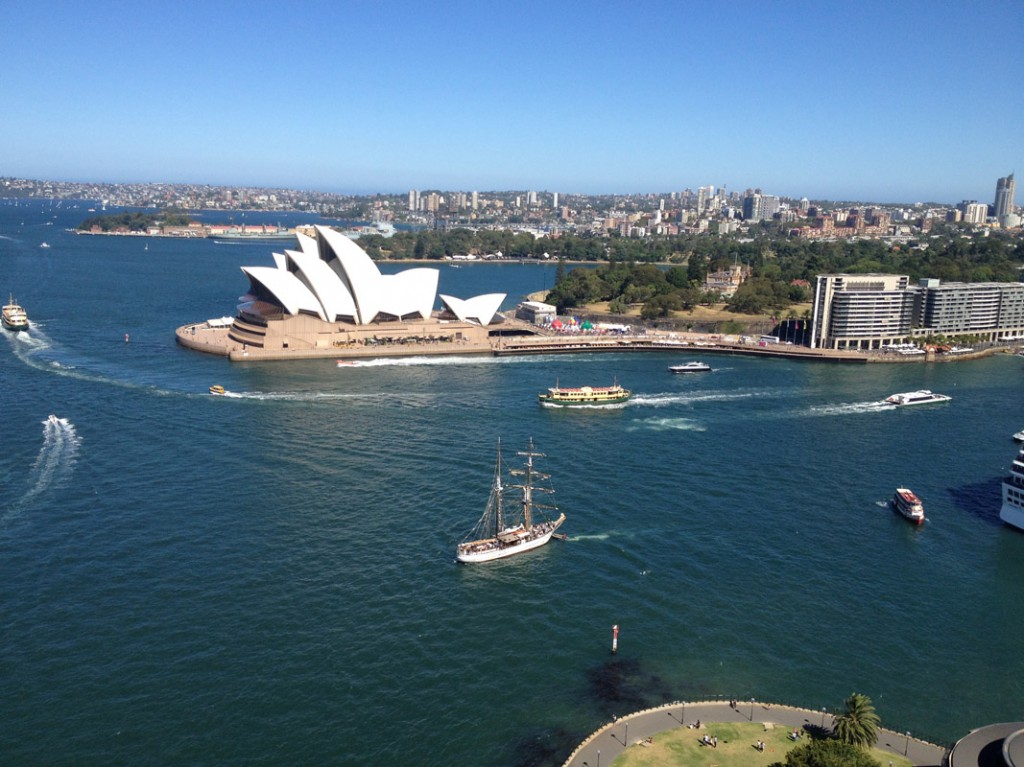 Sydney Opera House, as seen from the Harbour Bridge
Inside one of the span's pylons is a great museum on the history and construction of the bridge and we were able to take the stairs to the top for a spectacular view.  I started to really enjoy this country.  The water was beautiful, the city was friendly, and the sun felt amazing (it was below freezing back in NYC).  We hopped back on the bus to retrieve our car, but took a wrong bus line, and after realizing our mistake and receiving friendly advice from the local strap-hangers, we decided to walk the rest of the way, giving us even more of a flavor of the city.  Once in the car it was time to head out to Minto Heights to meet up with Geoff Clatworthy, a friend of Roper's, who was putting us up for the night.  Geoff is one of a small group of nutters who campaign Norton ES-2s.  The development on Geoff's bikes is so far beyond mere mortal status.  I was absolutely impressed with the time and development (and slight bit of insanity) Geoff has poured into his once humble machines.  They are stunningly beautiful, tidy, lightweight, and fast.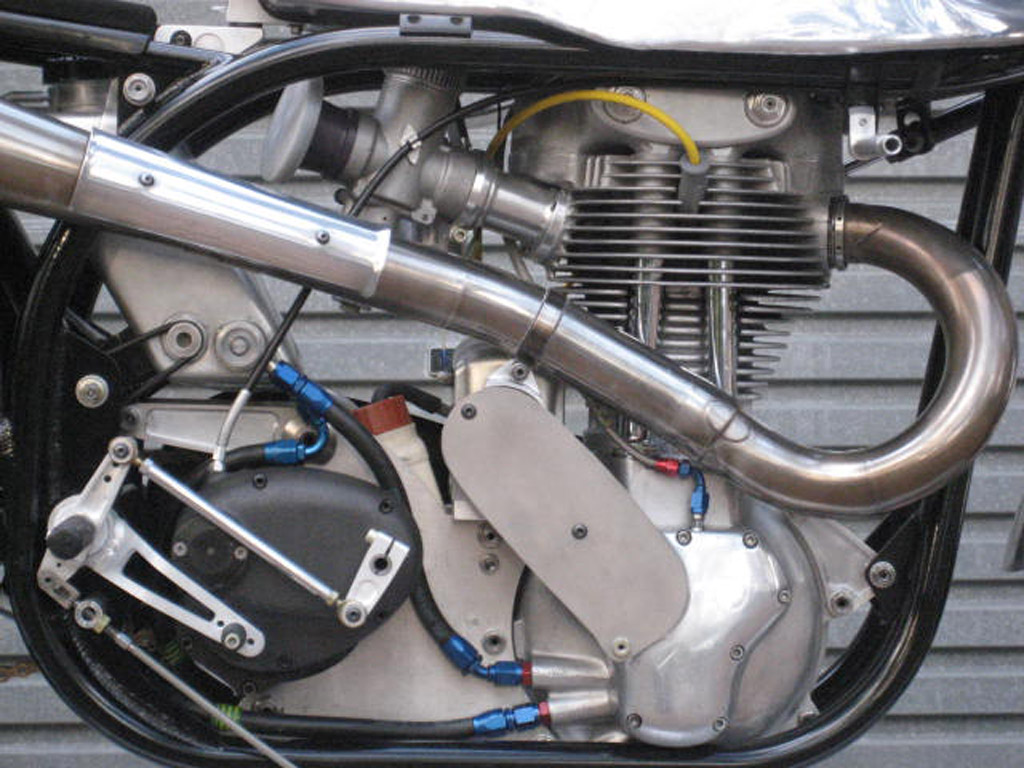 Overhead cams are just a fad.  Pushrods are where it's at.  Clatworthy ES-2, now known as the "ES-4"
When we arrived Geoff had just finished testing some new metals on his tappet faces and was saddened to find they were wearing quickly – too quickly to run at the Island Classic – so was right in the midst of changing focus to his "B" bike, the ES-3 (I wish I had a "B" bike like this!), getting it ready for the upcoming races.  In the meantime Caroline, Geoff's wife, had prepared for us a great lamb dinner feast, topped off with fresh mangoes and ice cream.  We sat outside and listened to the wildlife bustling in the perimeter of their property while we dined.  Caroline has a "no bike talk" rule at the dinner table, but naturally we broke the rule several times throughout dinner.  Geoff is as intense and passionate about what he does as you'll ever find in motorsport.  I was happy to be in his presence and met some great new friends.
Sunday:
We arose at Jeff's early.  Tony Henderson was on his way over.  Tony is infamous for building the "Railway Special" 4-valve Matchless G50 that dominated racing around Australia and NZ with rider Ron Toombs onboard, consistently beating many more modern bikes years after G50s were obsolete.  Tony is one of those guys who has never ordered from the menu. He will look at a mass-produced part and know he can make it better himself.  A quiet man, he arrived and tottered back and forth and smiled as we picked his brain a little bit.   He and Geoff had serious work to do on the ES-2s, so after a little toast with Marmite, and coffee, we were out of their way.  Roper wanted to swing by Eastern Creek raceway where he'd raced before back in '98 and '99 (on Clatworthy's ES2), so we drove the short distance just west of Sydney.  There was a Fiat track-day going on, which meant cars of all types out on the track.  We walked the pits and talked to the drivers.  Friendly, but car folks have a different edge than motorbike racers.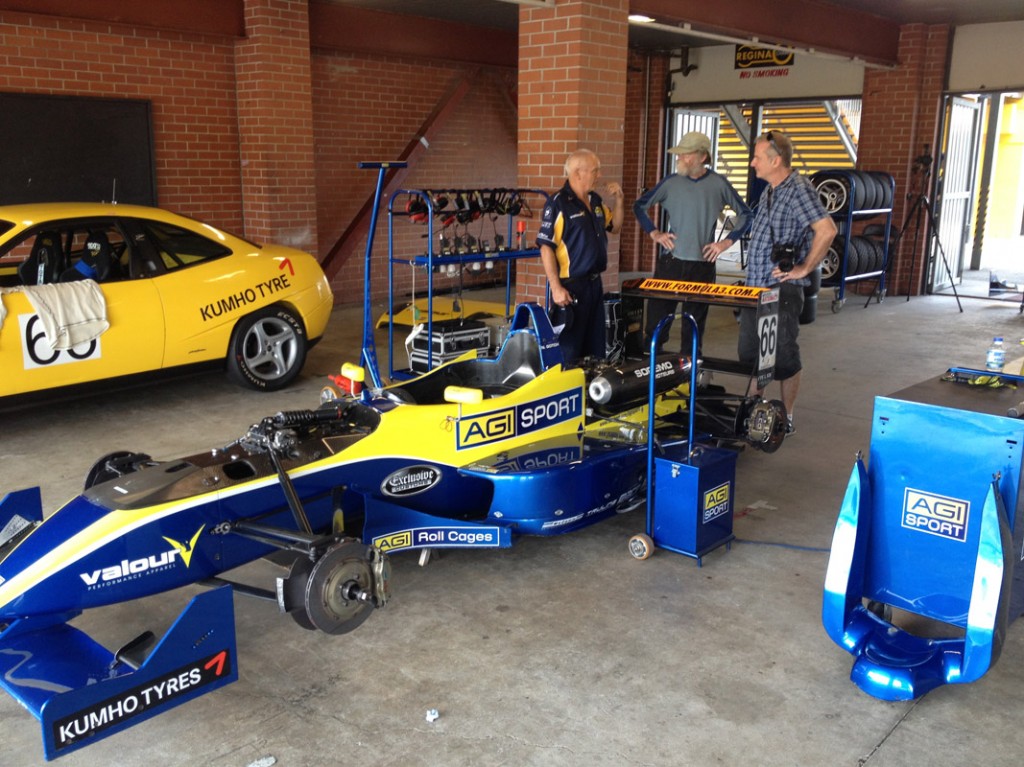 Roper and Don talk to an owner of one of the Formula 3 cars at Eastern Creek
After a couple of hours it was time to find lunch. We ended up in Blacktown, definitely off the beaten path, where we had kebabs and watched some of the local color as we ate outside.  It seemed this part of town could be related to the South Bronx. Not necessarily dangerous, but certainly not touristed. Just our kind of place. After lunch we meandered up to Maurice's sister's place to retrieve him, and he was rarin' to go. So, the Four Mousekateers piled in our Holden Vic and began our approx. 600 mile trek south to Phillip Island.
Our next stop was one of those places that sounded like a give away on Rope's agenda, but turned out to be very important on our trip – a visit to Catalina Park in Katoomba. This was an active circuit in the golden era of GP racing, located in the valley of a very small town, but had since long closed.  We had to use our Google Maps to even find the place as it wasn't sign posted anywhere.  Google had us drive down into a small, rural neighborhood and then stop at a dead end.  Initially there wasn't anything to see but forest, but upon closer inspection, a faint strip of tarmac could be made out complete with grass and weeds growing through the cracks in the surface. We walked around the side of the woods where a sign was posted taking about nature and conservatism, making only a tiny mention of the track – the "evil race course which had displaced the original Aboriginal tribe" – and how it had been re-appropriated as a nature walk, returning it to its natural state. Hmmmm.  So we nature-walked the entire track.  There was old, rusty Armco on one side and wooden railroad ties down the other.  No room for runoff anywhere.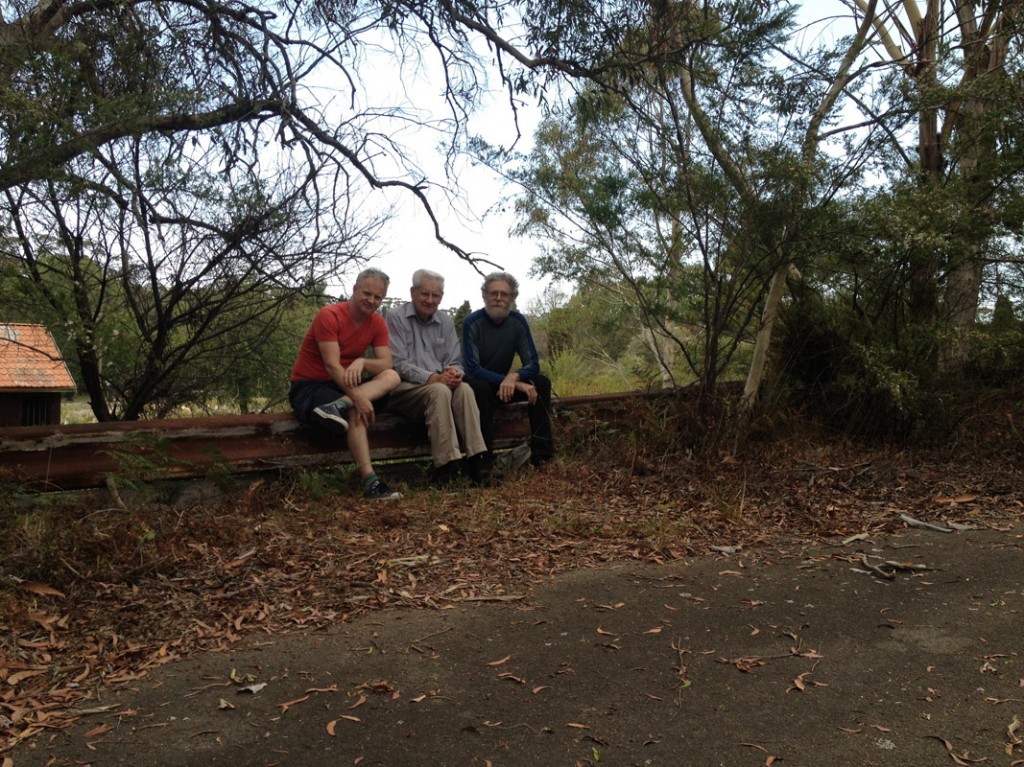 Kenny, Maurice, and Roper on the rusty ARMCO at Catalina Park
The course was twisty and undulating, and we know many didn't make it out of this place.  Spooky and beautiful.  As we finished our walking lap, we came upon what would have been the pits with rusted out signs of racing past.  Such a quiet place.  I can't imagine what it must have been like with all the noise and chaos going on during a race with open meggas blasting up the front straight.
Ghosts of motorsports past at Catalina Park
Next on our stop list was Bathurst, the location of the Mount Panorama street circuit.  I knew a bit about the track before coming, but only after arriving did I realize how significant this circuit is.  Bathurst looked a lot like how I imagine any small town in Wyoming would look – a store, a gas station, a couple of old hotels, centered around a grassy park.  But as we made our way up to the hillside it became clear this town is devoted to racing.  The Mount Panorama circuit is based on public roads – anyone can drive on them to get where they are going.  But these roads have been freshly paved and maintained for racing, with bleachers, a tower, and sponsors's logos emblazoned on barriers all around.  Only a few turnoffs for public access to other side roads were seen.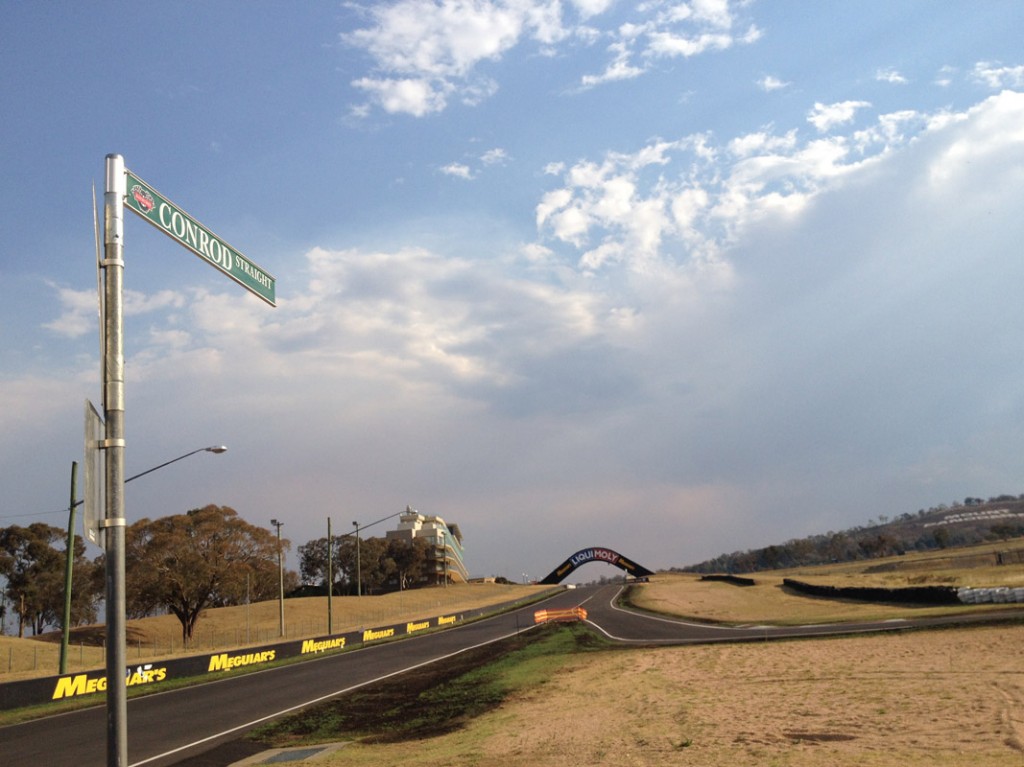 Don't you wish your street had a cool name like this?  Conrod Straight at Mt. Panorama, Bathurst.
As we pulled in at the bottom of "Conrod Straight", Don hooked up some GoPro cameras to our car, and away I went for a lap.  The track was billiard table smooth down a front straight, 90 degree left, and up a long, straight road to the top. Not that exciting I thought, but no sooner did I think this then I crested the hill and realized we were on the Mountain part of the circuit. It twisted left and right, and undulated around blind turns. Once across the top portion we came to a blind rise with walls to the right and drop-offs to the left. Immediately over the rise was a quick, hard right, followed by a hard left, then right again. All blind. I would liken this to a larger Laguna Seca corkscrew (without any runoff, a recurring theme), then back down the hill on Conrod Straight. There were posted speed limits, and many folks were out jogging or riding bicycles on the circuit, so it didn't seem prudent to speed, but we did anyway. After completing a lap of the 4 mile circuit Roper opted to take a run. I reminded him we have a 2k dollar deductible on the car. Ha ha. Roper did it in fine time. Smooth as ever. Then Don decided to have a go. Don had never driven on the left, or in a right-hand-drive car, and had never driven on a racetrack before. What a perfect way to dip his toes in! Don's lap time was definitely competitive. Good on ya, mate! All the while Maurice had been sitting in the back of the car, mostly silent.  We asked him if he wanted to have a go. He hesitated at first, but then we all saw the little sparkle in his eye, so behind the wheel he went. I've driven with Maurice before. He is sharp as a tack and hasn't slowed down a bit. He took the corkscrew like it was his own driveway, and blasted down Conrod with aplomb.  Smiles all around.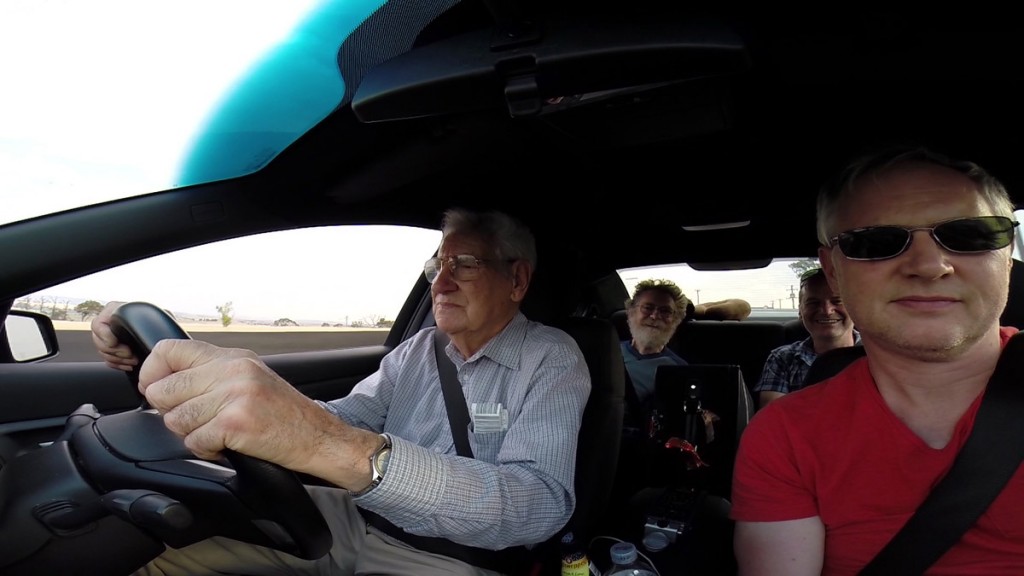 Maurice puts his foot through the floor in the Holden
We knew it was time to pack in before the coppers came and took us all away. We drove back into the one-horse town and checked into the Knickerbocker Hotel, had dinner, and slept like babies.
Monday:
Today's charge was to head back up to the Mt. Panorama circuit and hit the museum. Within were many beautiful bikes, including two of Tony Henderson's bikes – a "standard" 2-valve G50 with dustbin fairing, as well as the infamous 4-valve "Railway Special", named so because Tony worked for the National Railway and seemed to use a lot of his time and resources there to build his famous bikes.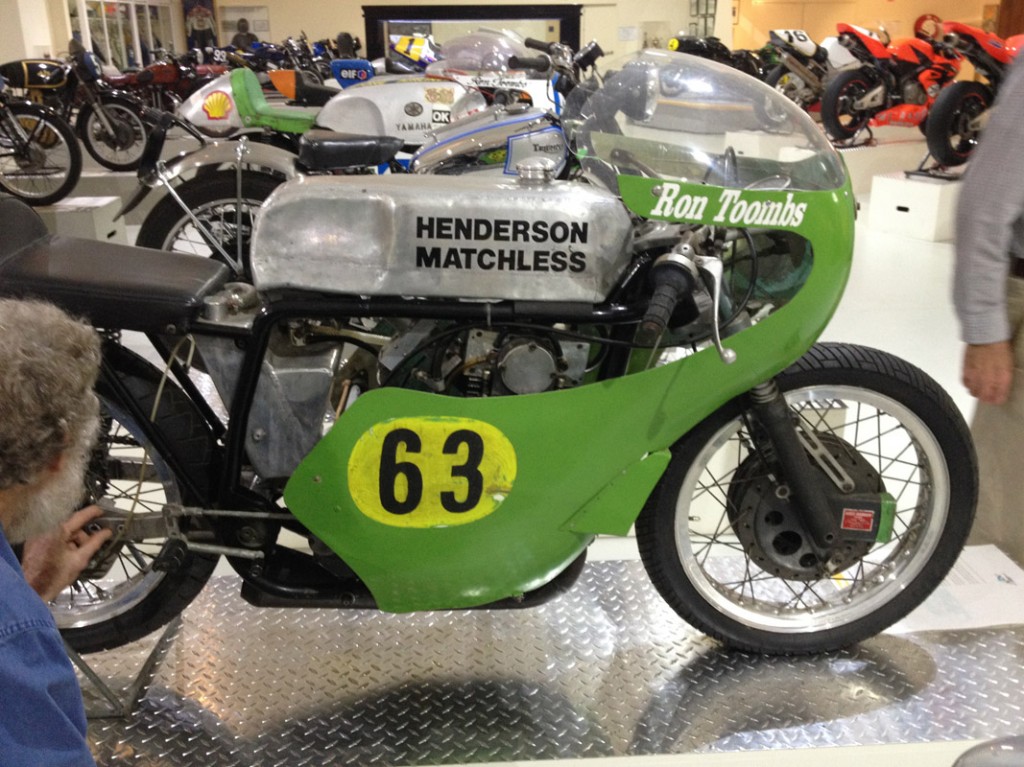 Roper studies Tony Henderson's engineering masterpiece, the 4-valve G50 "Railway Special"
The museum displayed many past winners' bikes (bike racing was halted in 2000 simply because the circuit is too dangerous due to lack of run-off).  It also celebrated one of its most famous champions – car racing legend Peter Brock – who was the lord of Bathurst and won more here than any other. Maurice loved the display of blown up motors.  We talked for quite a while about why certain rods failed, pistons lost their crowns, etc, etc, while Roper had a little snooze in front of the TV showing an endless loop of classic racing footage.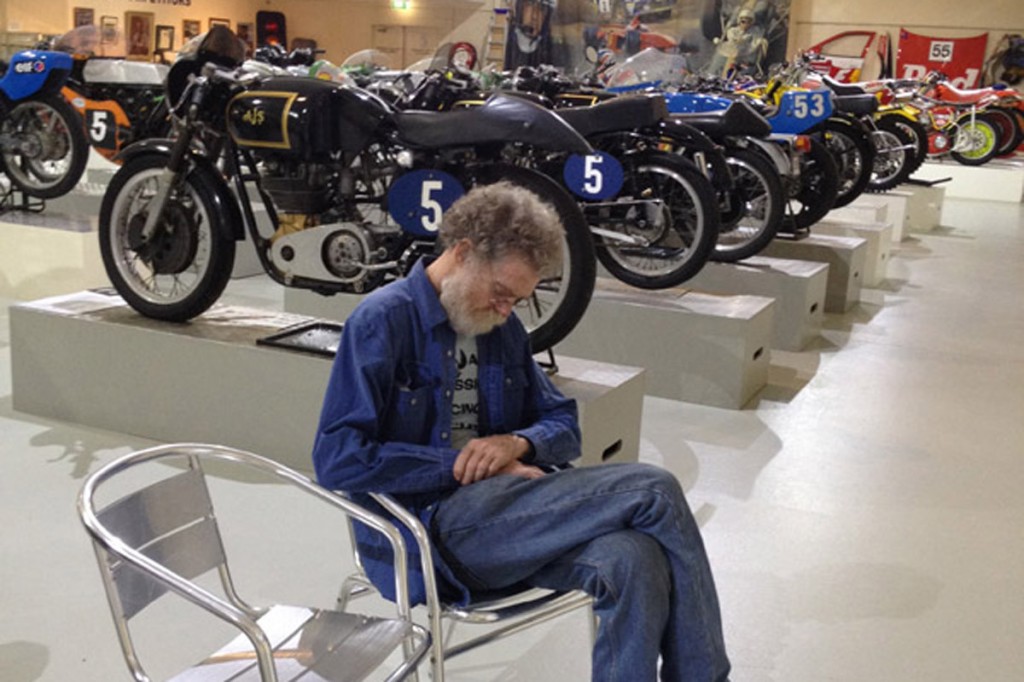 The man at rest in comfortable surroundings.
Tuesday:
Tuesday was a sight-seeing day. No tracks. No motors. Just Australian terrain. We started our morning driving into the Snowy Mountains, heading towards the town of Thredbo, which is at the base of Mount Kosciusko, the highest point in Australia. This whole trip had reminded me of the Aussie band "Midnight Oil" I played with the in the early '90s, particularly this leg of our journey, as their song "Kosciusko" kept running through my head. As an American punk kid I didn't always understand Midnight Oil's political leanings they were always so passionate about. Now I quietly soaked in all that I could about their country that has had its share of strife and turmoil. Once in Thredbo, Roper, Don and I took the chair lift close to the top of Mt. Kosciusko, looking down the Snowies to the town below. Beautiful.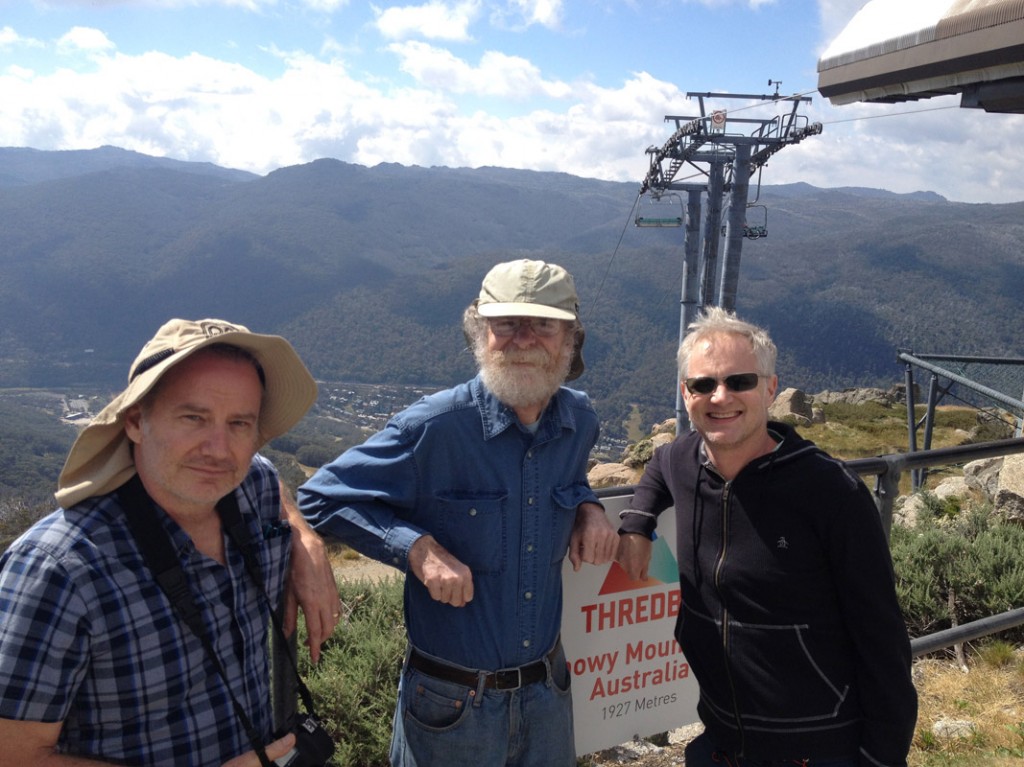 "Older than Kosciusko", sang Midnight Oil. Don, Rope, and KC atop the mountain
After working our way off the mountain, we headed towards the coast. One of our planned routes was closed due to fires, so we took the next southern cross road. Honestly, we drove probably 5 or 6 hours on the twistiest roads I've ever experienced, often without seeing another car for an hour or more. No towns. No filling stations. Nothing but the occasional Wallaby or Kookaburra. If I wanted a lost ride on a street bike, this would be my first destination.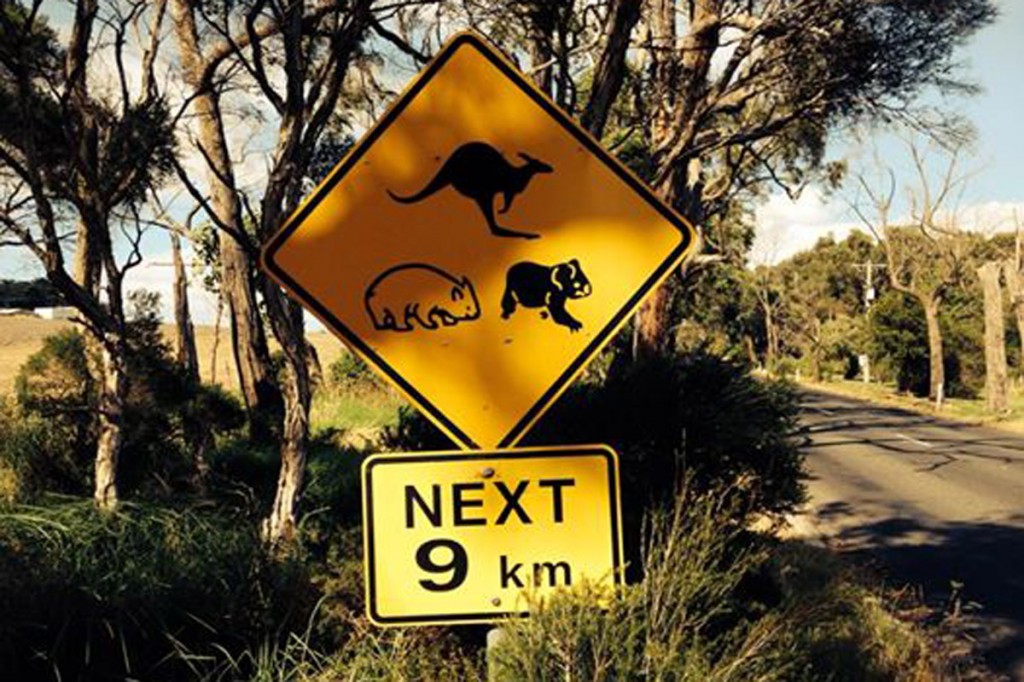 Holy Trinity
We twisted around so much that I was actually anxious for a slab of straight road, which we finally found as we drove into populated Bairnsdale, but forged on, as we had to be at the track by 11am the next day to unload the container and wanted to get within a couple of hours away. We stopped off in the town of Sale for the night, had a great dinner, and battened down for our last night on the road, preparing for motorcycles and racetracks the next day.
Wednesday:
In the morning, the woman at the hotel checkout desk tried to direct me to where to find the best coffee in a thick accent that I only picked up one or two words from. "Down the way, turn left at Mackers, then down in the church". Hmmmm.  Mackers? The 4 of us walked out and down the way. There a block down the road was the ubiquitous Golden Arches. Mackers = McDonalds. Of course. We turned past Mackers to the little hidden coffee shop in an old church, had some good, good coffee and big breakfast, then got on our way to Phillip Island, taking the coast road, which wound its way around Melbourne without actually going into the city. Once on Phillip Island the scenery changed; beautiful water in different shades of blue, and a long, strand of earth with jagged shores and sandy beach. We have arrived! I figured the island would be comprised of a race track and a few houses. I was wrong – It's quite a place with lots going on. The track is only a small part, and seems to exist in harmony with the rest of the nature that is there – perhaps more so than any other track I've been to. We pulled in, got our credentials, and made our way to the paddock. There was our big, orange container awaiting us. A track worker was masterful with the forklift, and we had all the Americans' bikes unloaded in no time. Fantastic.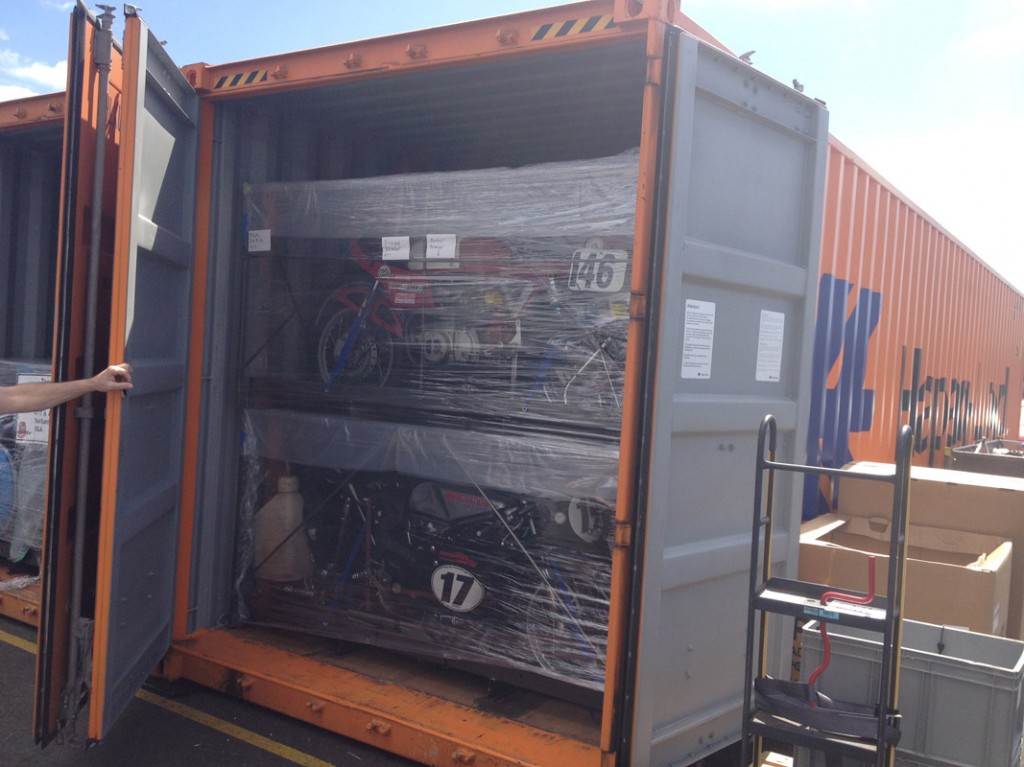 Bikes unloading, safe and sound
My bike was just as I left it.  I coated the bare frame and magnesium parts with spray-on lithium grease, and it didn't show a speck of rust on the bare metal or corrosion on the mag bits. Wow. I highly recommend this stuff. There have been times where I've had my bare frames start to rust in a day or two, so after 2 months on the ocean, this was fantastic. I wiped down the bike, made a few adjustments, and was ready for Thursday practice. Roper and I shared a garage along with a couple of the other American riders, and here we met up with Tom Marquardt with his Honda 500 that Rope would be riding in the Forgotten Era 500 class (in addition to Roper's 350 HD Sprint he'd run in 350 Classic).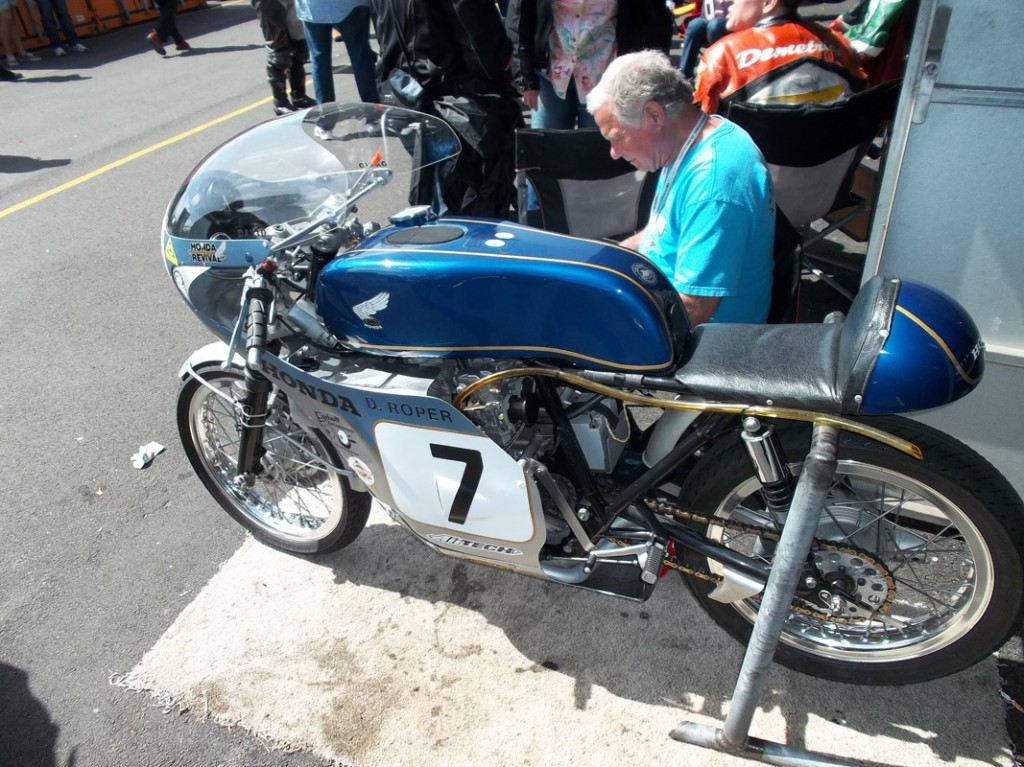 Tom Marquard, owner of the impeccable Honda Roper would campaign this weekend, taking notes in the sunshine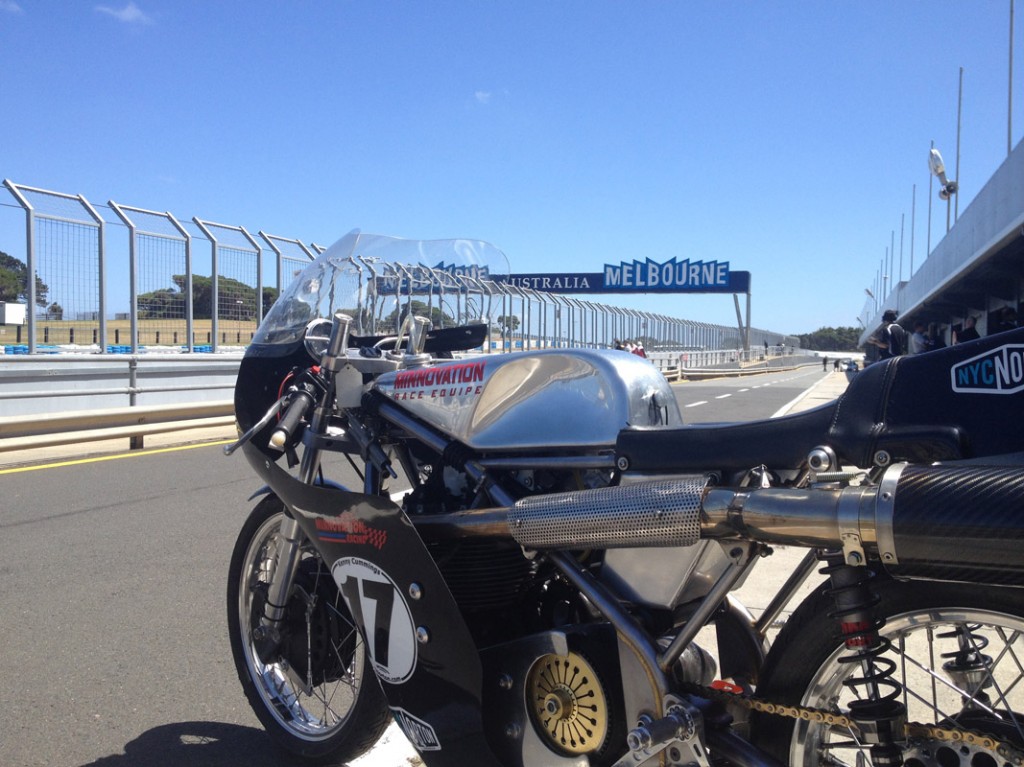 Seeley G50 in the Island sun
Thursday:
Practice day was Thursday. No motors could be started at Phillip Island until 9am, which gave me a bit of time to get the bike ready for action. I retrieved some of my VP race gas we imported from the states, and mixed it with the local 93 octane pump gas (the magic cocktail). Australia has Ethanol 10, so I was hoping the bike would run okay. It did. I came into this as my first race of 2014, and had all winter to think about my plans.  I knew I had to go fast here for 2 reasons – not just because the competition would be fast, but more importantly, because I needed a kick in the ass to get me back up front again. The track was immense, wide, smooth, and everything one could hope for from a Grand Prix setup. It took me a few sessions to start picking up the very subtle secrets. In the 5th session of the day I was making my way down the front straight, feeling quite good as I wound the G50 out to 8k rpm. This would be my fast practice, for sure. Maurice was timing me and I knew I'd done better than 2:00 minutes on my lap. Roper had a great day picking up speed as well. It was my personal goal to keep my lap times near his when he rode Marquardt's Honda so when I had a moment of downtime I went to the pit wall to watch him run, and what I saw looked good, so I felt good. Just before leaving for the night, Maurice and I readjusted the tappets now that the motor had cooled, and we passed the technical inspection necessary for Friday/Saturday/Sunday.
Friday:
Friday's format was to be two rounds of morning practice then the first round of qualifying sessions in the afternoon. Unfortunately it was raining quite hard. I debated whether to go out – what's the use of practicing in the rain if qualifying and racing were to be in the dry – but Rope twisted my arm and I opted for a couple of laps to see how we fared, and this track has more grip in the rain than any I've ever felt.  Good to know, but hope not to have to use this data.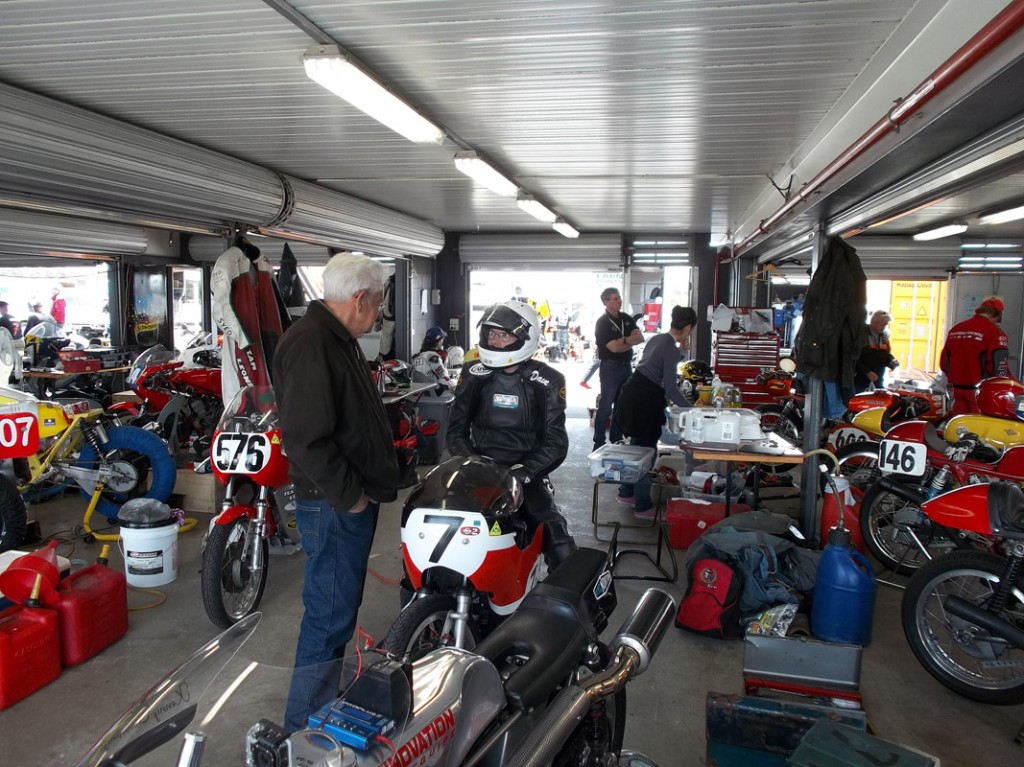 Maurice and Roper discuss where we are going for dinner
After lunch we went right into the first rounds of qualifying with an open 15 minute session for each class. My first qualifier would be for the Post Classic (P4) Unlimited class. This was my bump class which was comprised of unlimited displacement bikes up to 1974, so big Yamahas, Hondas, Commandos and 2-strokes were in the field.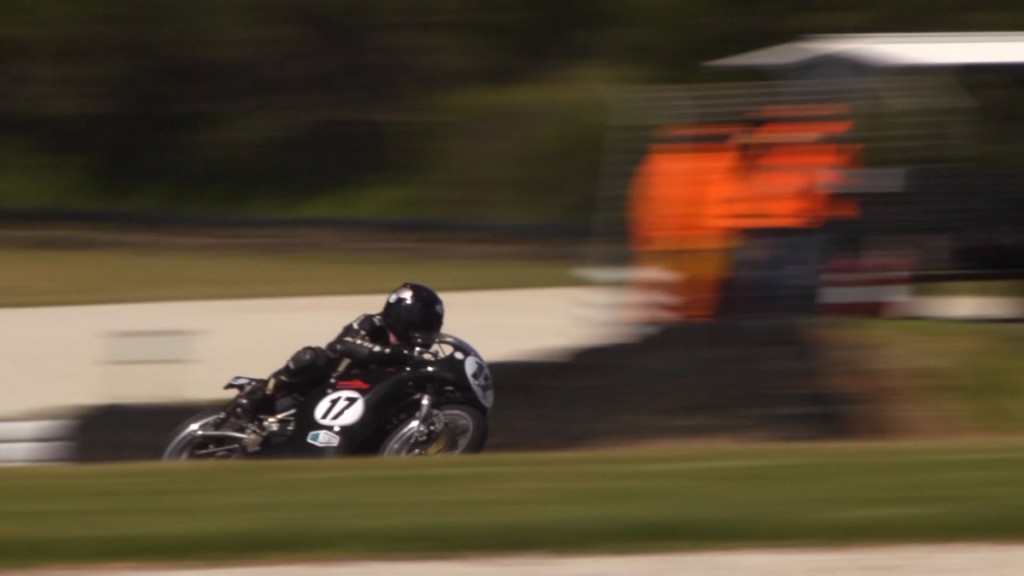 Heading into Lukey Heights
Photo courtesy of Don Lange
The track dried and I started chipping away at my lap times and familiarizing myself with some of the more complex corners.  Lukey Heights is one of them – an uphill, blind, off-camber corner that drops steeply down into a hairpin known as MG corner. Getting shifting points and brake markers here was key to shaving a couple of seconds. Knowing we had a 2nd qualifying session on Saturday I treated this more of a practice than anything.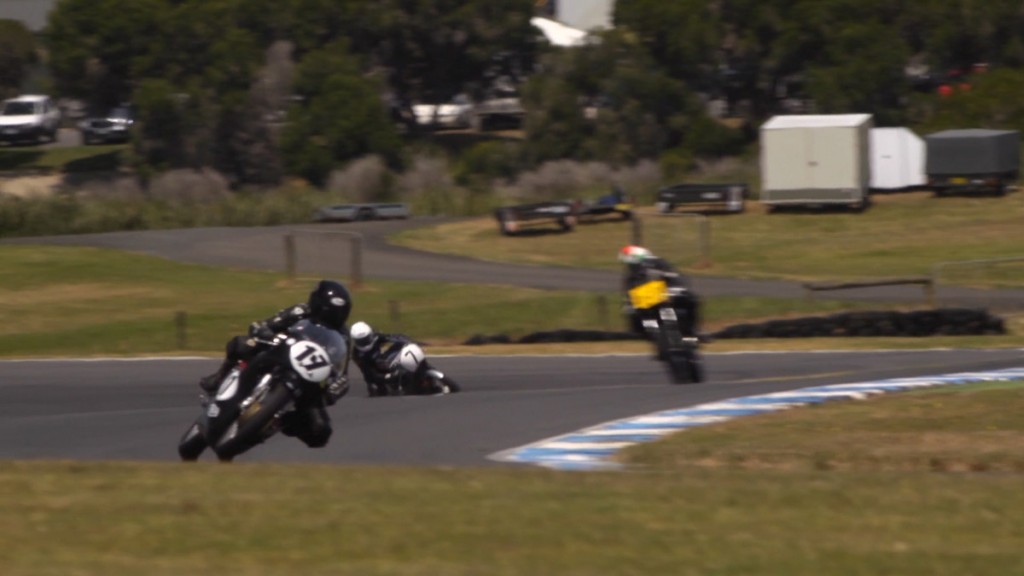 #17 and #7 coming out of Honda Corner
Photo courtesy of Don Lange
Saturday:
Saturday was beautiful, sunny, and a little on the cool side (about 60 degrees when we woke). It was perfect weather to go out and ride hard. In the morning I noticed oil in the belly pan so took off the fairing and cleaned it out. It looked like it might have been accumulation of mist emanating from the crank breather so I didn't think much more about it.I headed out in Q2 for Post Classic Unlimited and Post Classic 500 final qualifying, and finally had my grids. I was gridded 16th out of 40 in the Unlimited races, and gridded 6th out of 39 in the 500. Not bad (as a comparison, Roper was gridded 5th overall (4th in class) on Marquardt's Honda in the 500 qualifier). Each day would have 2 races per class, so a total of 4 races per day. It was going to be a busy time the rest of this weekend. I watched the first couple of race starts: Bikes line up, flagman walks off the front of the grid, red lights go on, red lights go off, then go like hell! In my first race – Post Classic Unlimited – I watched the flagman walk off the track, the red lights came on, and when they went off half a second later I had a great launch.  The races were only 4 laps each so a good start was absolutely key. I passed several riders into T1 and through T2. I could see the leaders and knew if I could keep them in sight I'd be in good shape. The lead bike (leading throughout the entire weekend) was a Paton 8-valve beast that was doing laps at around high 1:51s. The race felt so good – really good – and I came in and knew I'd done some good, fast laps. I also knew I'd worked my way up in the rankings and was eager to find the results. Turns out I had finished in 11th overall (up from 16th) and was 4th in my class, turning a best time of 1:56 flat.  I had hoped to to do 1:57s by the end of the weekend, so I was ahead of my personal goal.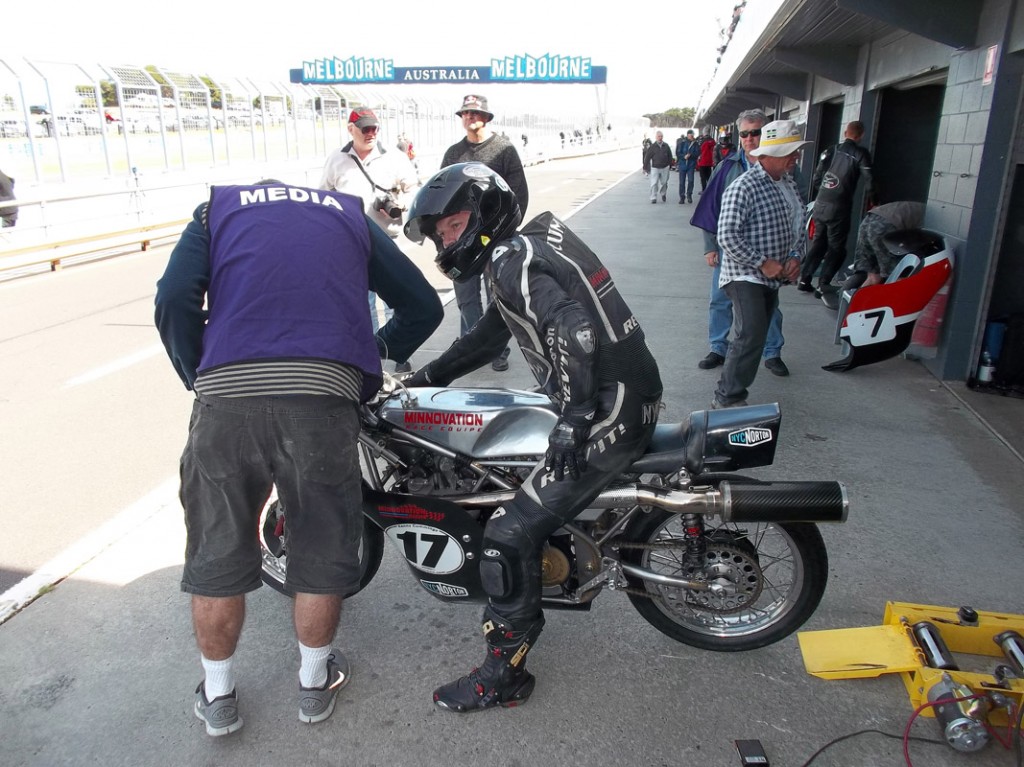 Don starts one of the many onboard cameras he had going on Roper's and my bikes
Roper went out for his Classic 350 race and looked good off the start but he low-sided coming out of MG Hairpin. All was okay as he was unhurt and the bike suffered little other than a broken screen bent shift lever. But this was par for the course – red flags in almost every race, and oil deposited in almost every corner. This slowed things down in every way, and the schedule started to get pushed back.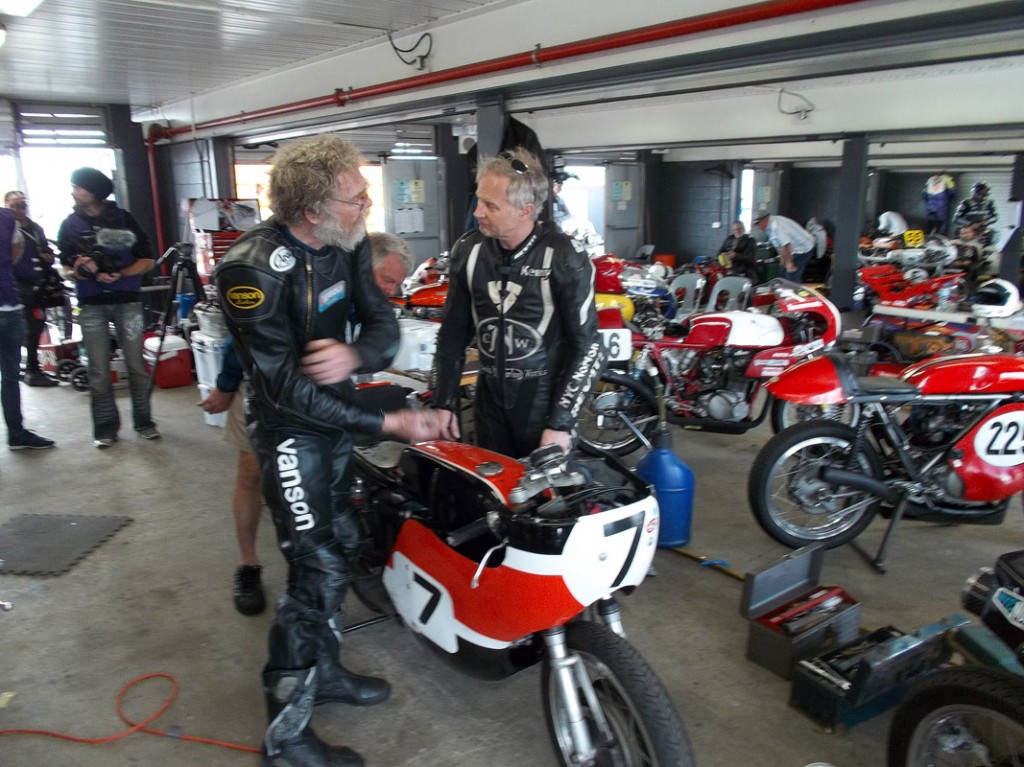 Roper eloquently explaining how he so delicately dropped the bike in MG corner. Note lack of windscreen
They shortened the day's races to 3 laps, which meant the start was more important than ever. After lunch I prepared to grid up next to Roper on his Honda for the 500cc Post Classic and Forgotten Era race. I wanted to have a good run with my fellow New Yorker friend, and was ready to take on the world. During my sighting lap my left foot slipped off the peg. I looked down to see my boot covered in an oil sheen. I made the wise decision to pull in, as I definitely didn't want to be one of the many who oiled the track this weekend.  I pulled the fairing off and found too much oil in the bellypan to ignore. I started the bike and had Maurice hold the throttle while I looked underneath.  I couldn't find anything specific, but there was a significant leak coming from behind the crank pulley in the cases. After quite a bit of investigation and discussion, Maurice and I both decided it was too much ignore with no spares on hand and no way to repair. That was it. I was now officially back on holiday in Australia.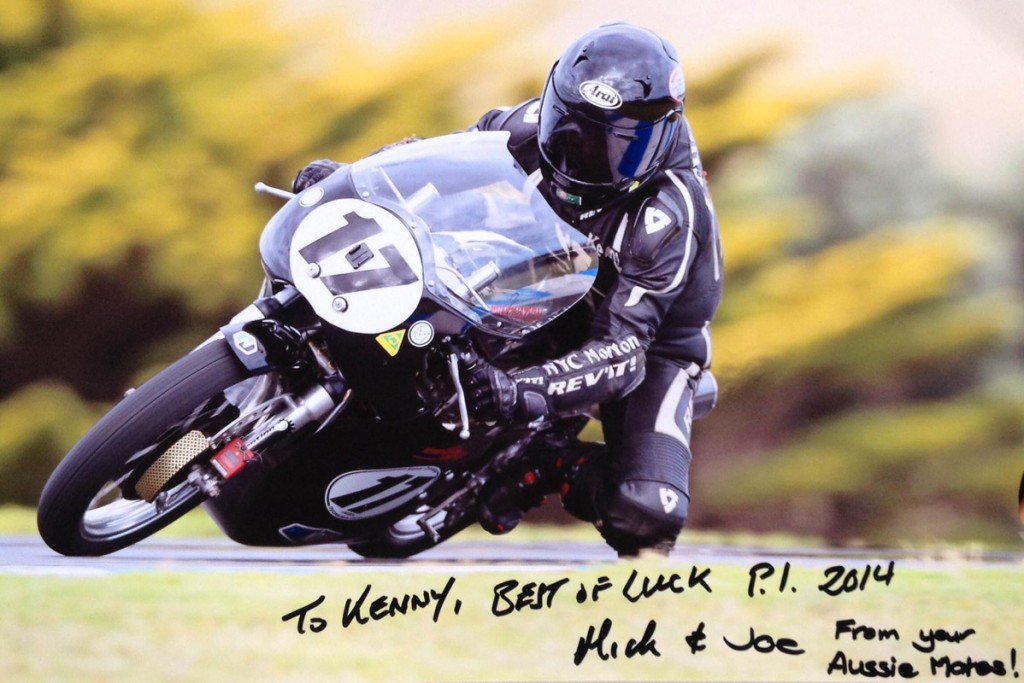 Nice shot heading into Lukey Heights. This photo given by our Aussie mates Mick and Joe at the end of the weekend. Thanks, Fellas!
Roper did well in the race, taking 3rd place in the 500 Forgotten Era. I spent the rest of the day spectating, chatting, and checking out bikes; something I always say I'm going to do but never seem to have time. There were some fantastic machines at this event, and the talent and competition was heavy-duty, more than any other race I've attended.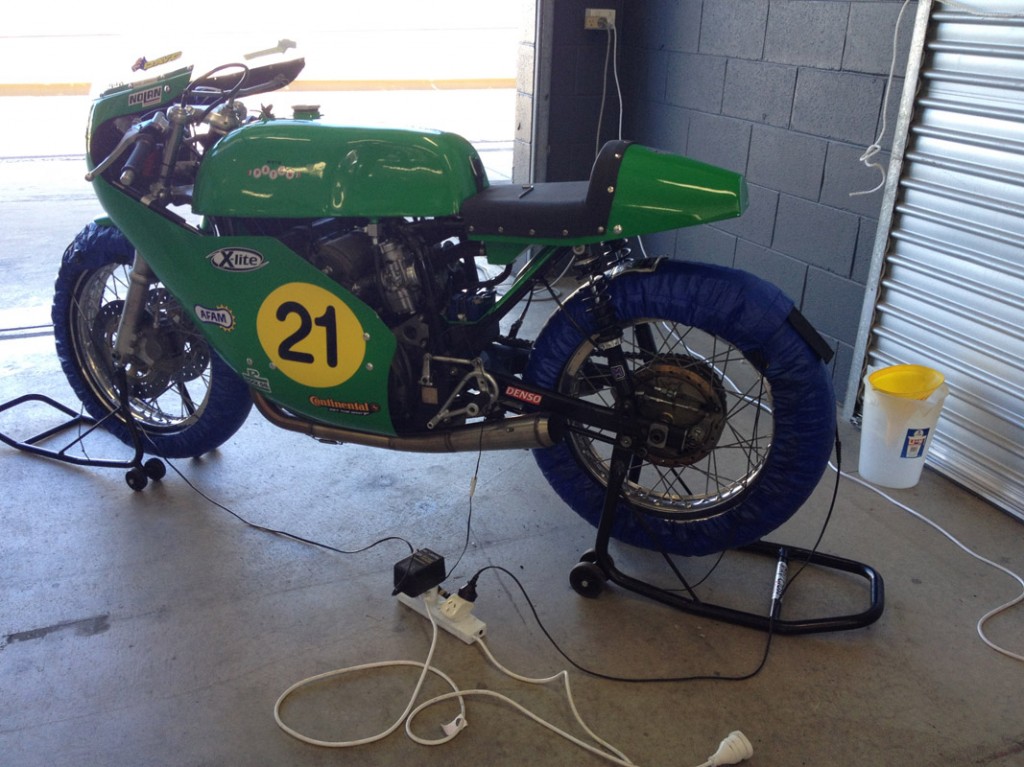 The fastest Classic, an 8-valve Paton. So impressive. Piloted by David Johnson, it would consistently get 1:50s and 1:51s.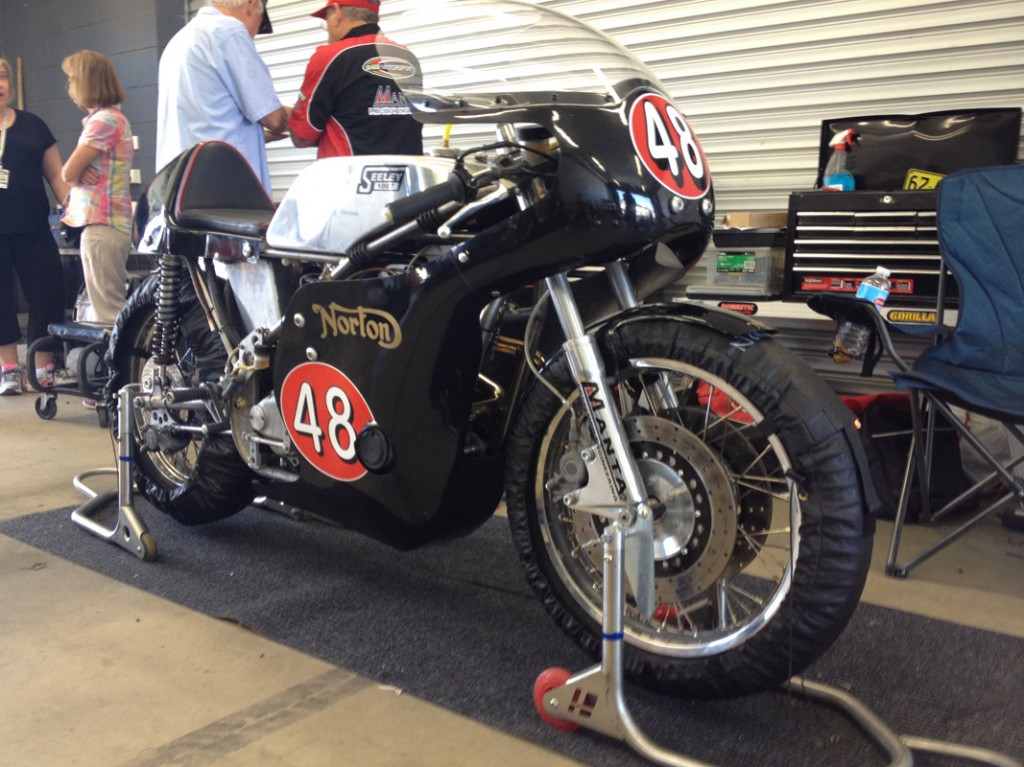 Seeley 1007cc Commando with Minnovation bits all over it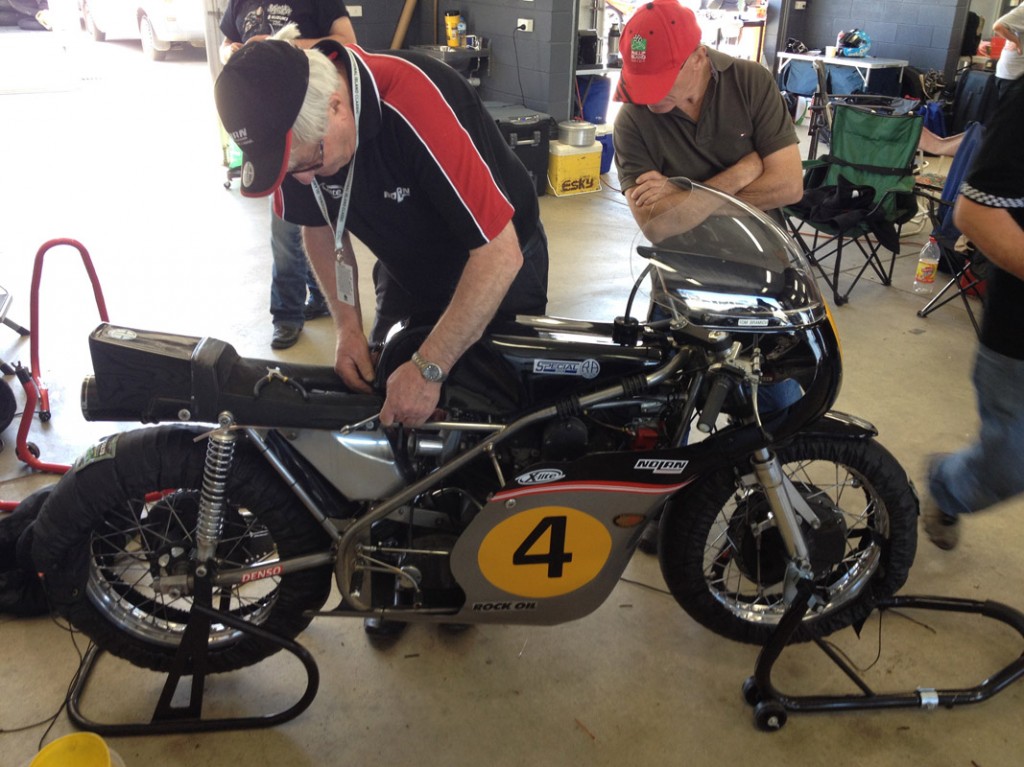 Rod Tingate preps a Seeley G50 that was very quick. Tommy, the 17-year-old rider, could get it into the 1:53s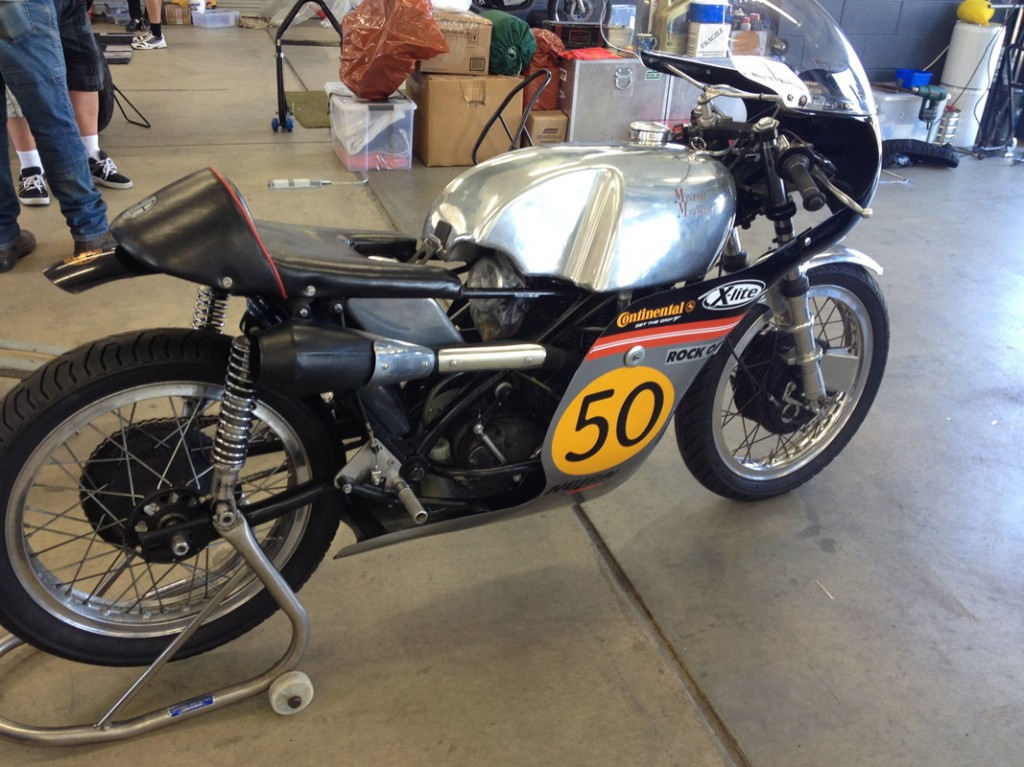 A beautiful, fast, and very well-prepped McIntyre Matchless G50
I was proud of our American racers, with Bob "Rabbie" Demetrius, Craig Hirko, Tim Tilghman, Richard "Midge" Midgley, and Kerry Smith all going really well. And Rabbie and passenger Christina Divigard looked great on their BMW sidecar rig. As much as I wanted to be out there, I couldn't complain too much. I'd saved the bike from certain catastrophe had I carried on, the sun was shining, the ocean was nearby, and I was at the races in Australia.
This evening would be the Island Classic Banquet where all the riders would attend a dinner held at the track. Roper, Tom, Maurice and I attended. Throughout the banquet there were several toasts given to the teams (US, UK, New Zealand, and Australia), and some interviews done with the team captains. But certainly the highlight of the evening was Alan Cathcart's interview of the second-most winningest, 20-time Isle Of Man TT winner, John McGuinness. He pulled no punches, and made good sport of several of his fellow TT competitors, even calling out beloved Guy Martin. He blasted tennis, cricket, football, and just about every other team sport, and even called out the Kiwis for having less-than-tidy, hairy women. He had the place laughing constantly. But he also was the first to make fun of himself in a self-deprecating way, and was very likeable and genuine. He talked quite a bit about his reverence for Joey Dunlop (most winning TT rider at 26 wins) and whether he thought he could ever catch up to Joey's immortal accomplishments.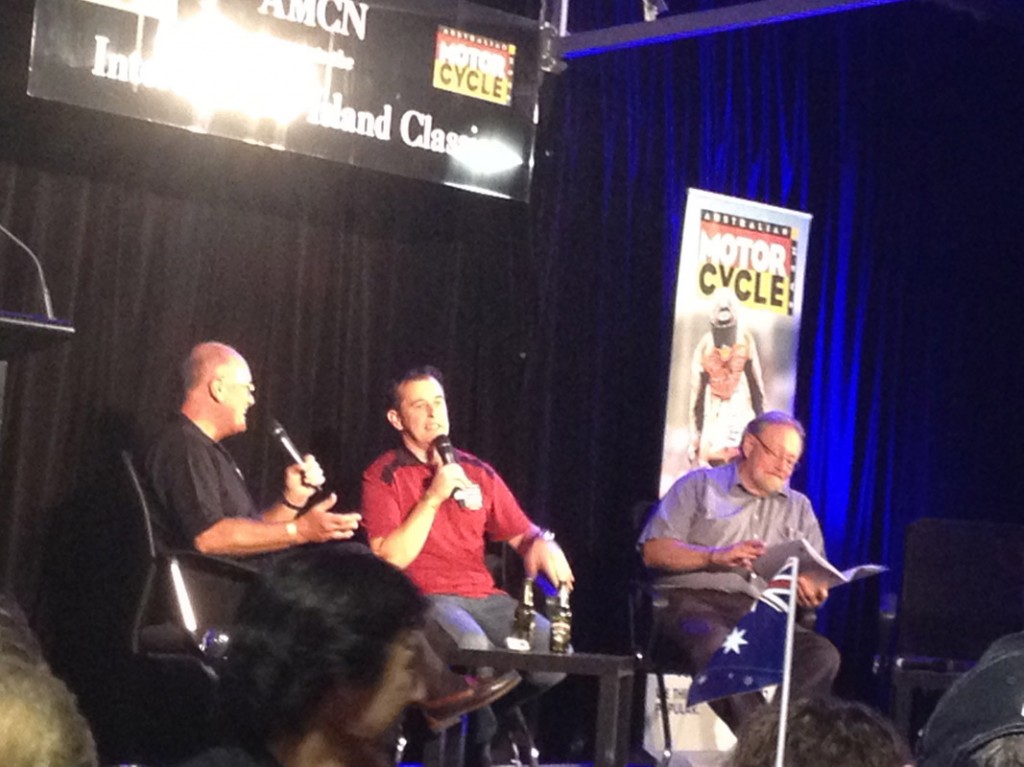 20-times TT Winner John McGuinness won't let Alan Cathcart get a word in edgewise
After the dinner, Roper, Maurice and I headed to the house. Don was there with Lars Larsen – another Seattle filmmaker who had arrived in the morning – compiling and storing footage they'd taken during the day. I got a glimpse of some of the footage Lars had managed to capture of Roper's lowside, which we watched about 20 times. Lucky Dave was able to walk away, but since he did, we had a chuckle at his expense. He's a tough dude.
Sunday:
My only job of the day was to get our crates that were buried in the back of the container out for us to pack up quickly after racing was finished (most of the American racers were to pack up Monday morning, but we had to drive back to Sydney Monday – 11+ hours). I took my time, chatted with new friends (Thanks Mick and Joe), saw some racing, helped out Roper when I could, and generally had a casual day. Don and I would film the starts of the race down on pit wall, then head up to the deck above the garages and watch from the catbird seat. What a beautiful track with the ocean, wildlife, and birds flying by in the background. (Apparently a Kangaroo ran across the track at least once during the weekend).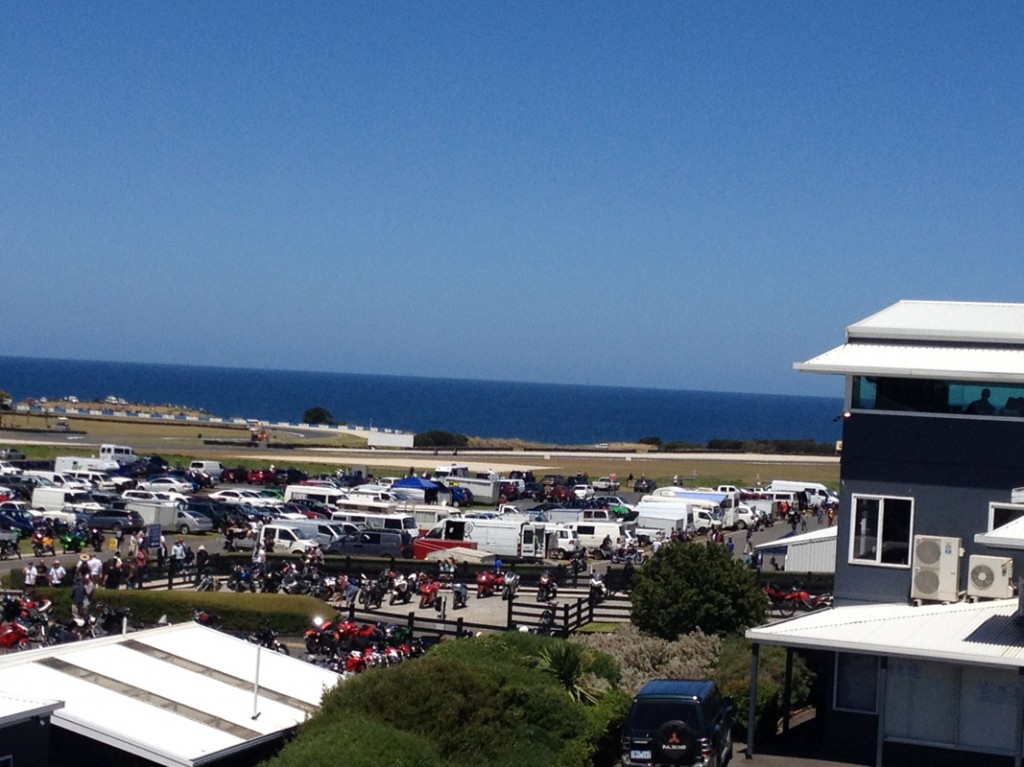 A view of the track, and the Indian Ocean in the background. Spectacular.
Roper took two 3rds in his Classic 350 races, but DNF'd the last one due to low battery voltage (and crashed in his first). He took four consistent 3rds in his Forgotten Era 500 class over the two days, which put him on the podium and meant he would be taking home a trophy. After racing was finished, Dave and I quickly packed our crates. The other team garages had similar ideas and chaos was starting to ensue during pack-up, but somehow we were able to move our crates into our garage as out of the way as possible and we ambled up to the awards ceremony. Rope was celebrated for his achievement, and we rubbed elbows with really fast guys Jeremy McWilliams, Cam Donald, John McGuinness, etc, as they picked up their trophies. Later that night, the 5 of us went to a great little Italian dinner in the main town of Cowes, and the TT winners were all there. McGuinness was standing next to us, looking at the helmets on the wall of the restaurant. I started chatting with him and arranged for he and Rope to get a pic together.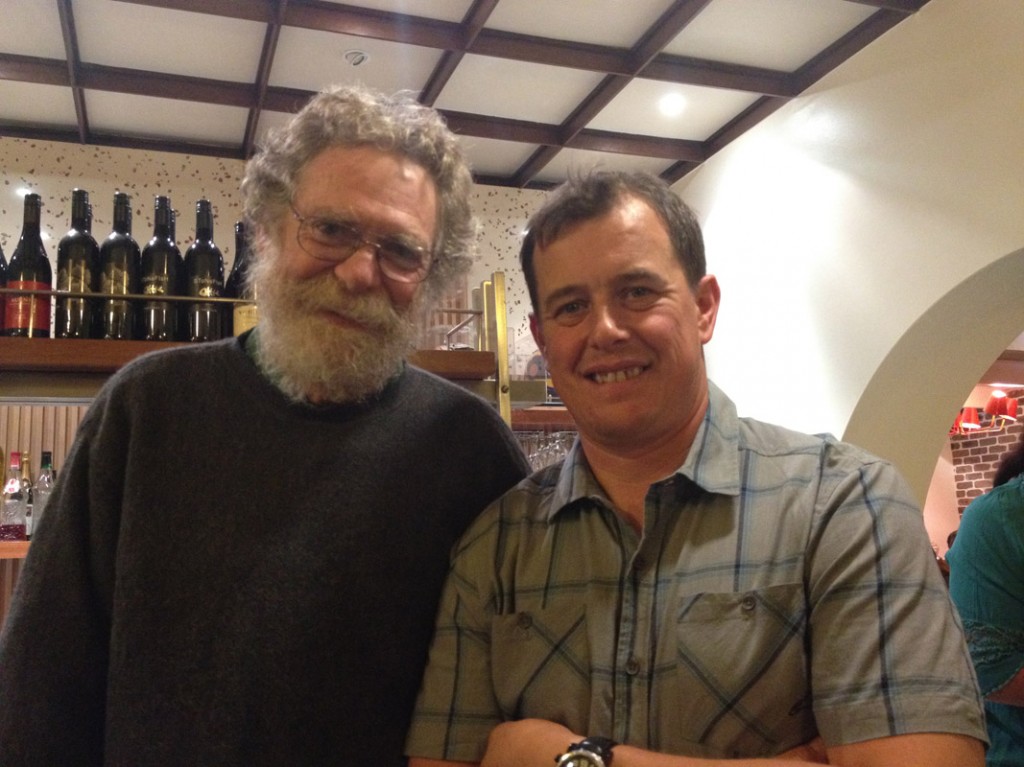 Roper and John McGuinness. TT Winners in the house!
Monday:
Our plan was to depart at 7am to head back up to Geoff Clatworthy's, hopefully arriving by supper. For our drive down we gone the mountains and coast road, so today's one sightseeing stop would be Winton race circuit, about an hour north of Melbourne, and right off the Hume Highway super-slab. We cruised right through Melbourne without stopping, but couldn't help but notice how beautiful of a city it was, with its bridges and towers, lots of art deco-themed buildings and structures. It also seems to be a city on the rise as we must've counted 25 cranes in the skyline doing up new buildings. Next trip we will have to spend some time here. We found the Winton circuit with no problem and were happy to find activity on the track, albeit more cars. Roper reminisced about his racing there in the '80s, but was certain this layout was longer (it was, as we found out the track had been extended a few years ago). After a few moments we hopped back in the Holden and forged on, arriving in Minto Heights at 7pm on the nose. Caroline and Geoff had lamb chops awaiting us.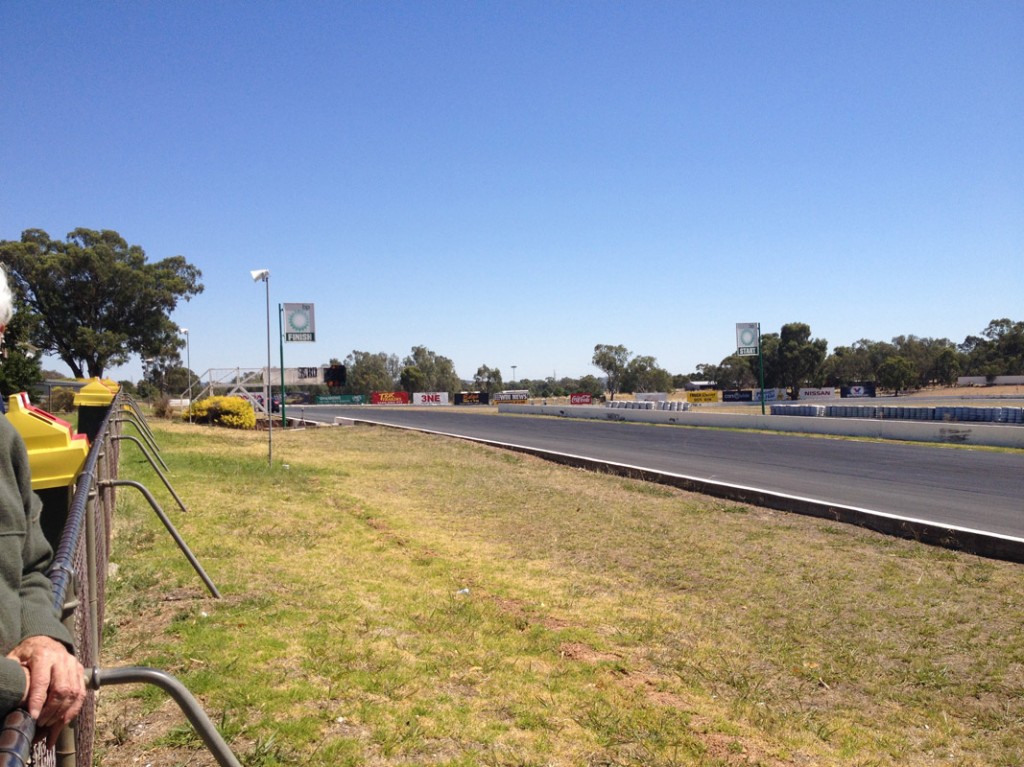 The Winton Circuit. Still active, but not quite Phillip Island
Tuesday:
We left Maurice behind at Geoff's so he could spend the day with Tony Henderson who was to arrive after we headed off. Maurice was staying on in Australia with his sister until Mid February, so was in no rush.  Roper, Don, and I made our way to Sydney airport and dropped off our car, checked in, and boarded the plane for the 20+ hour journey. The flights were long, but easy, and we made it home safe and sound.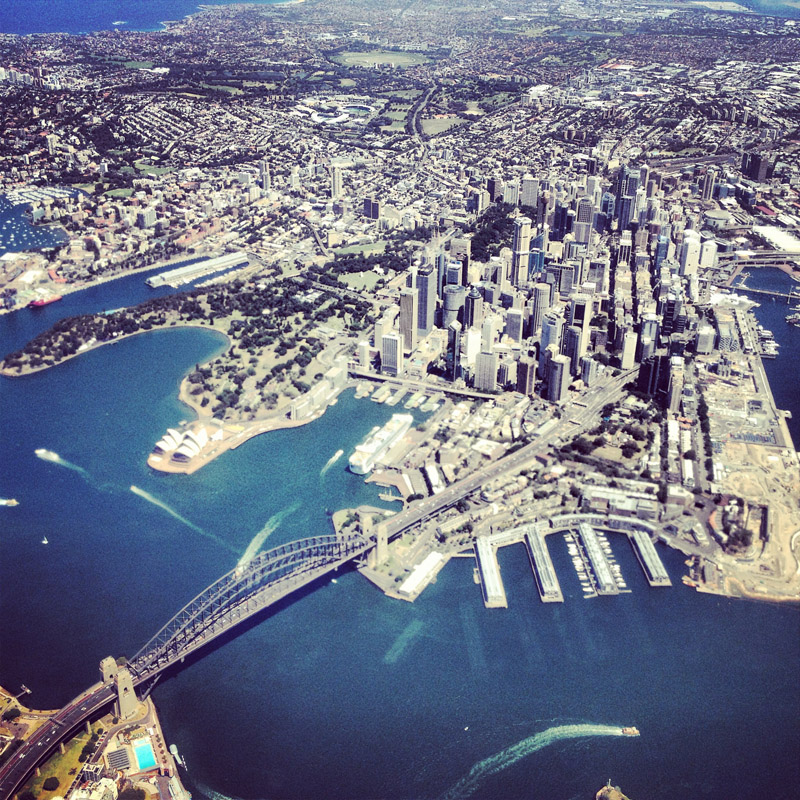 A great shot of Sydney take from window of the plane as we flew out. We will be back.
Dave Roper has some great posts on his blog detailing our journey from his perspective here: http://daveroperracing.blogspot.com/
At this point I want to publicly thank Bob Coy from the USCRA for inviting me, Christina Divigard for handling the operational arrangements for all of the Northeastern Americans, Richard Midgley for taking care of the loading and unloading, and Leanne Duthie from the Phillip Island circuit for holding our hands with a smile the whole time. These people had a lot on their shoulders and made this happen like clockwork. I'm still reeling about what a wonderful trip this was.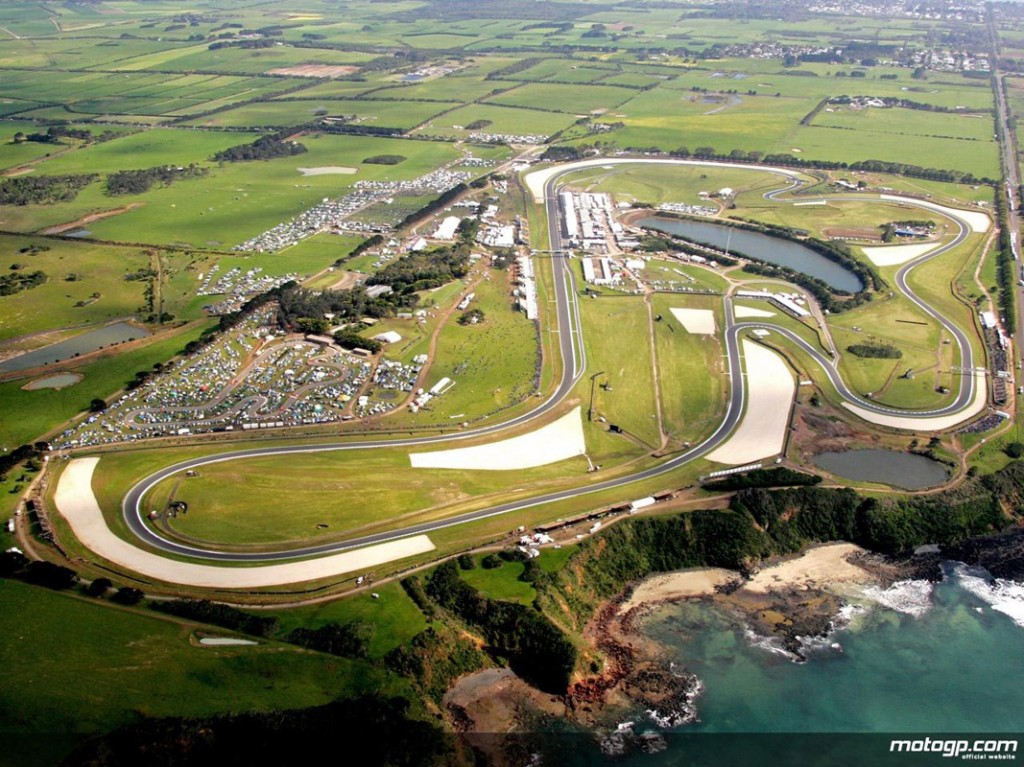 Phillip Island is a very special place
I feel like I have something more for this track, and am anxious to return if they will have me.
-Kenny Cummings
January, 2014