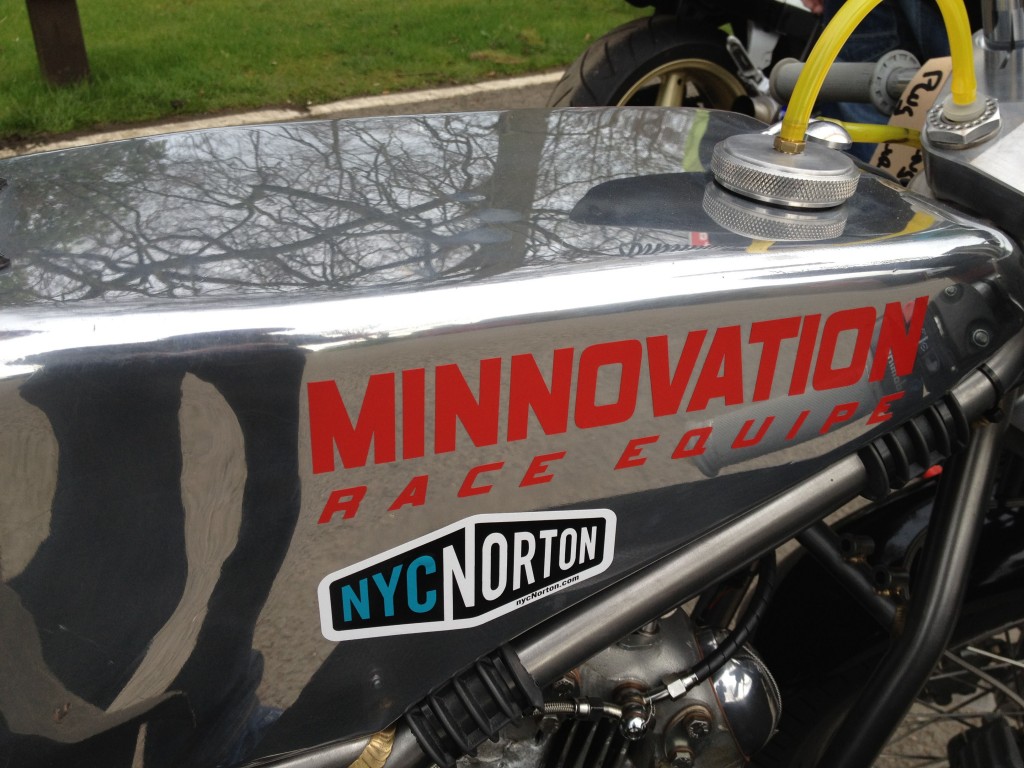 So I jumped on an  Aeroplane and made my way across the Atlantic, touching down in Manchester, home of Joy Division and coal mining factories, but the sun was shining and folks were chipper.  I took the train to Wakefield, near Minnovation's works (shop), and was greeted at the station by my best mate Martin Page – major domo of Minnovation Racing.  From this point until I was plopped back on the plane back to NYC I was treated like royalty.  Martin and all at Minnovation made me feel like a superstar the entire trip.  When I arrived at the shop I took one look at the bikes and was blown away.  I've said it before but it bears repeating, I am so proud to be a part of this team.  Not simply because I get to race their stunning bikes at exotic tracks in faraway lands, but because they set the bar so high on quality – quality of builds and support – and that carries across the sea back to NYC Norton.  Minnovation's work is the standard on how to build and tune a classic racing motorbike, and that is very apparent in the racing paddock.
Having a couple of days to muck about, I paid visits to some of my friends' shops, starting with Steve Maney.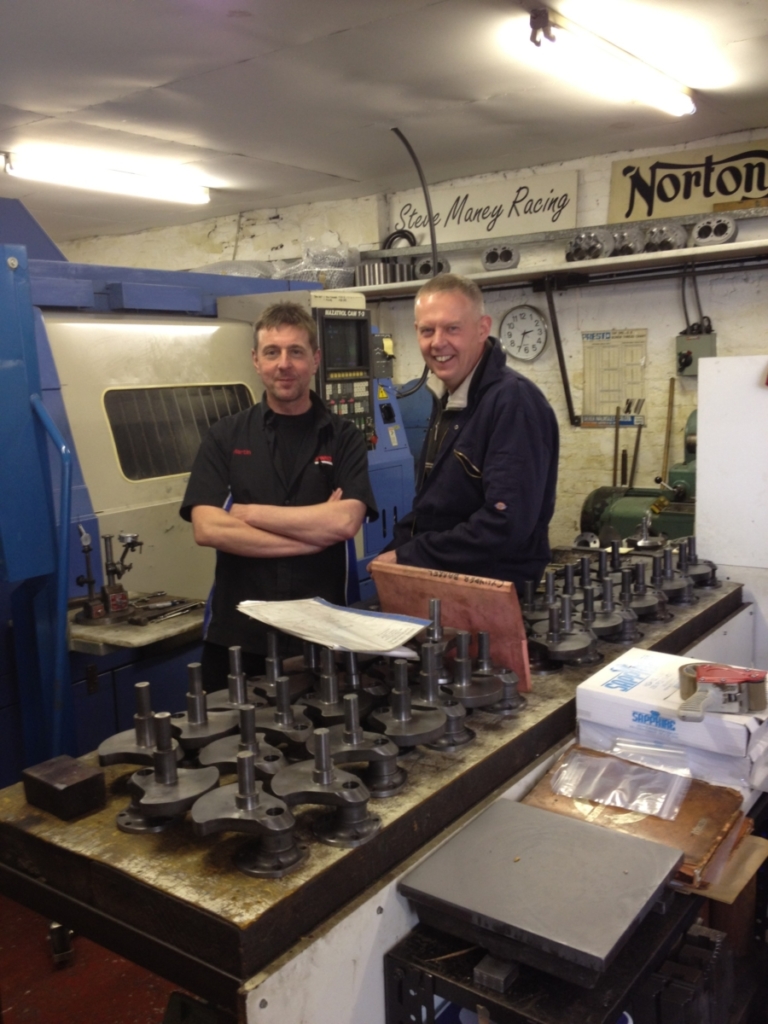 Martin Page from Minnovation Racing on the left, and Steve Maney on the right, with a few of Maney's un-machined lightweight cranks awaiting post-machining.  I'm certain we'll see some of these in future NYC Norton builds.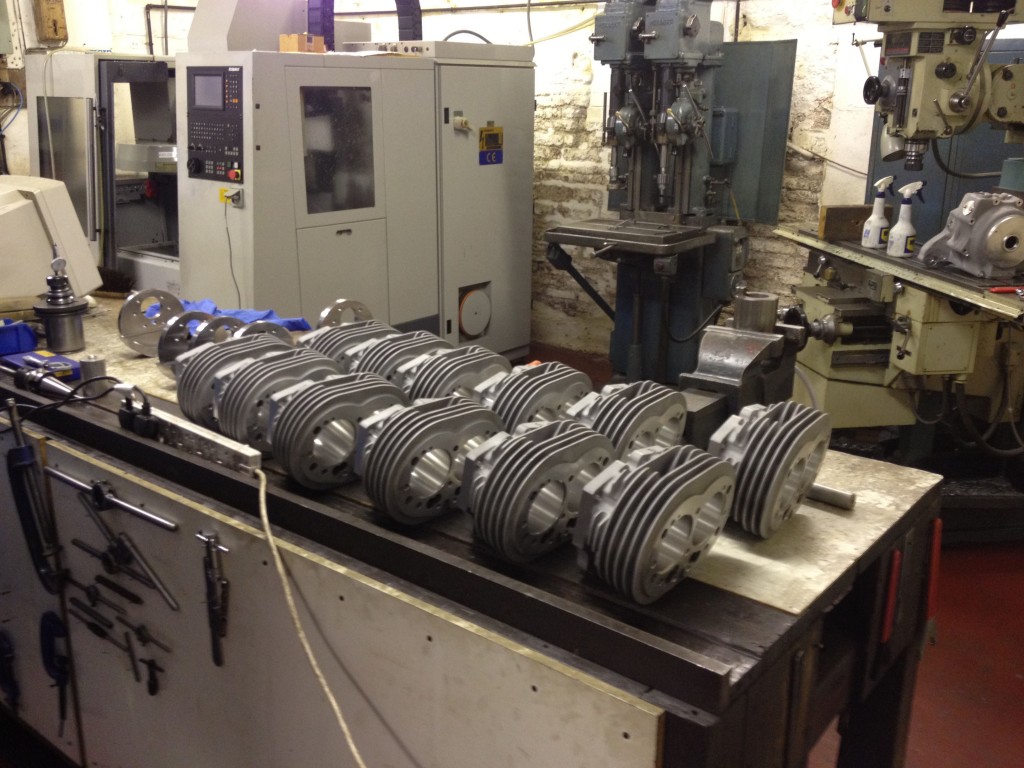 … and a batch of Maney aluminum cylinders awaiting attention.  I'll take them too.  Under tarps in the corner of Steve's shop were his two Seeleys that were the inspiration for our first NYC Norton Seeley Commando racer.  It was great to be in their presence.
After our visit with Steve, we tidied up and went to the weekly "Curry Club" gathering, where a handful of the UK classic racing heavy-hitters gather each Wednesday at a little place in Leeds.  The best curry I've ever had, with spectacular company.
Thursday I made my way down south to Northampton to see my old friends Mick and Angie Hemmings.  I genuinely feel like a long-lost son each time I visit.  We hang out in Mick's back shop and drink tea and shoot the breeze.  They are some of my favorite folks in motorcycling… period.  I took a lot of shots of Mick's shop, but I figured a fuzzy shot of Angie welcoming the world with open arms sums it all up best.  She's my favorite.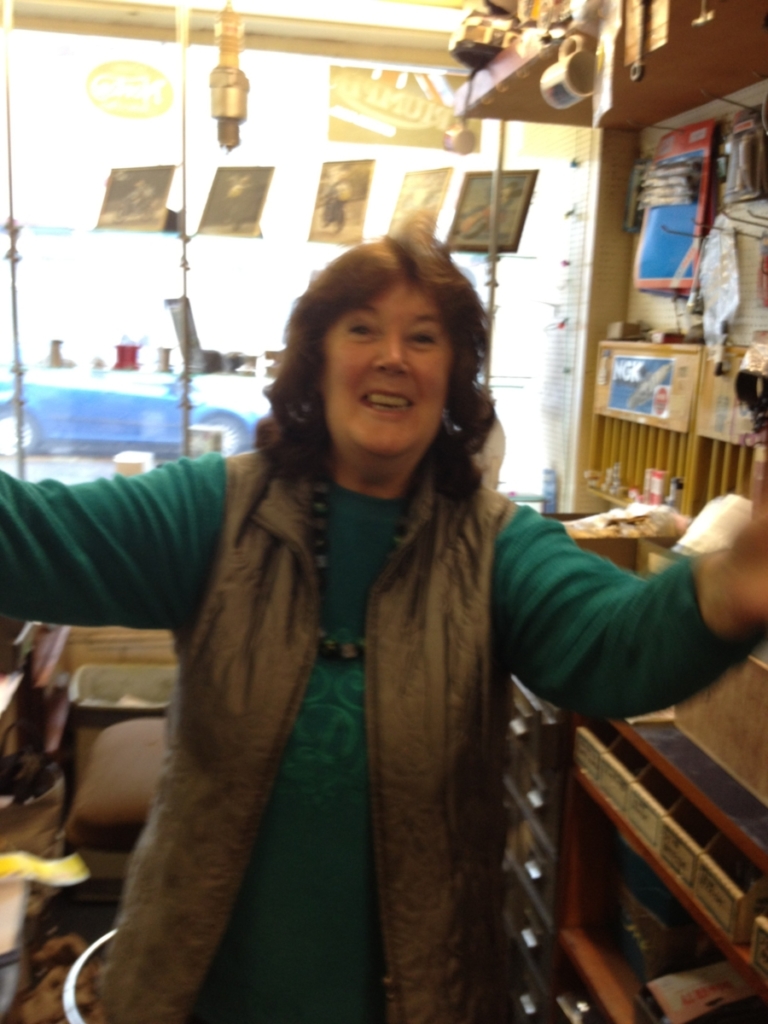 From the Hemmings' shop I made my way up to Leicestershire to see Dave Nourish.  Those who've been reading the NYC Norton blog know there is a Nourish 8-valve motor in a Seeley MK2 chassis on our lift presently, so stopping off and seeing Dave was definitely on the to-do list.
I don't even know where to begin with Nourish's place.  It's a bit like a Charles Dickens tale.  As I walked through a myriad of rooms I saw cylinders stacked up, crankshafts in every iteration imaginable in all states of finish, complete race bikes, gearbox shells, stacks of 8-valve heads, more parts, room-after-room of goodies in some form of organization.  One of my favorite visuals was Dave's water brake engine dyno, straight out of Willy Wonka's factory.
And a bevy of 8-valve heads, the future owners of which will be hard-pressed to keep their high flowing, high-hp bikes under the draconian 98 db noise limit imposed on the UK circuits!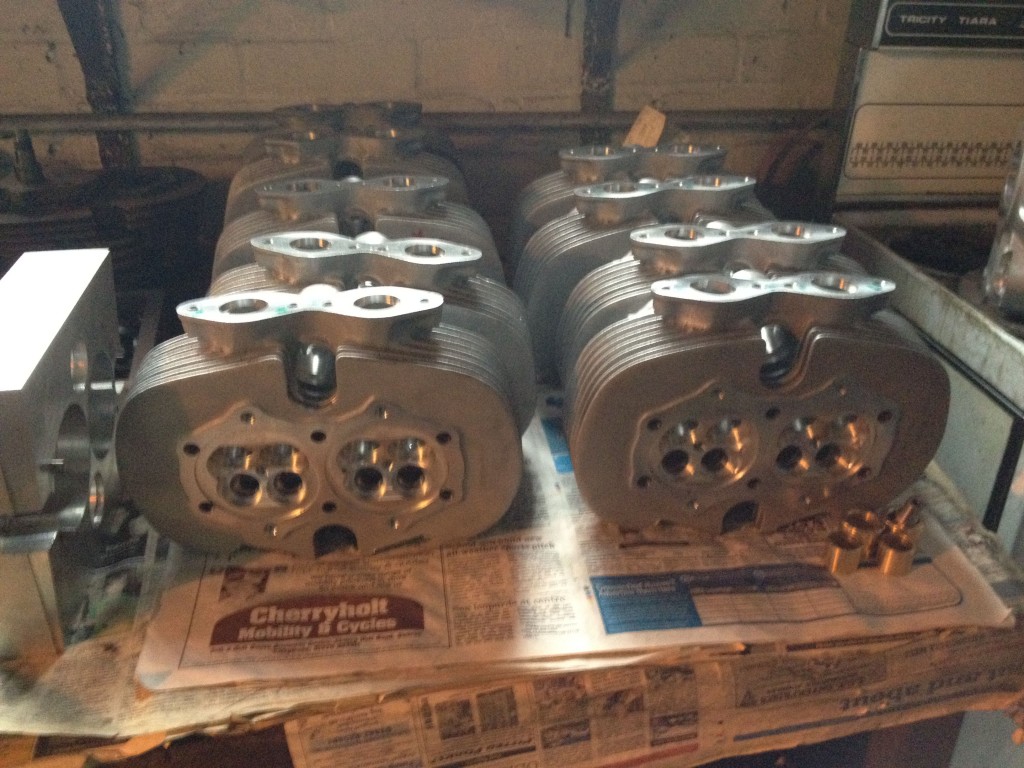 Dave and I had a good, long chat, and he guided me on a lot of little features to his specialized motors.  It was well worth the visit.  Time to head back north to meet up with the Minnovation crew and make our way to Cadwell bright and early the next morning for the CRMC Race Meeting.
————-
I had studied an onboard video of Cadwell on YouTube and could see it was a very technical track, but I felt confident I knew which way it went before I arrived.  When I passed through the gates and finally laid my eyes on the real thing, I was incredibly overwhelmed. Nothing on a two-dimensional monitor could've prepared me for the actual thing.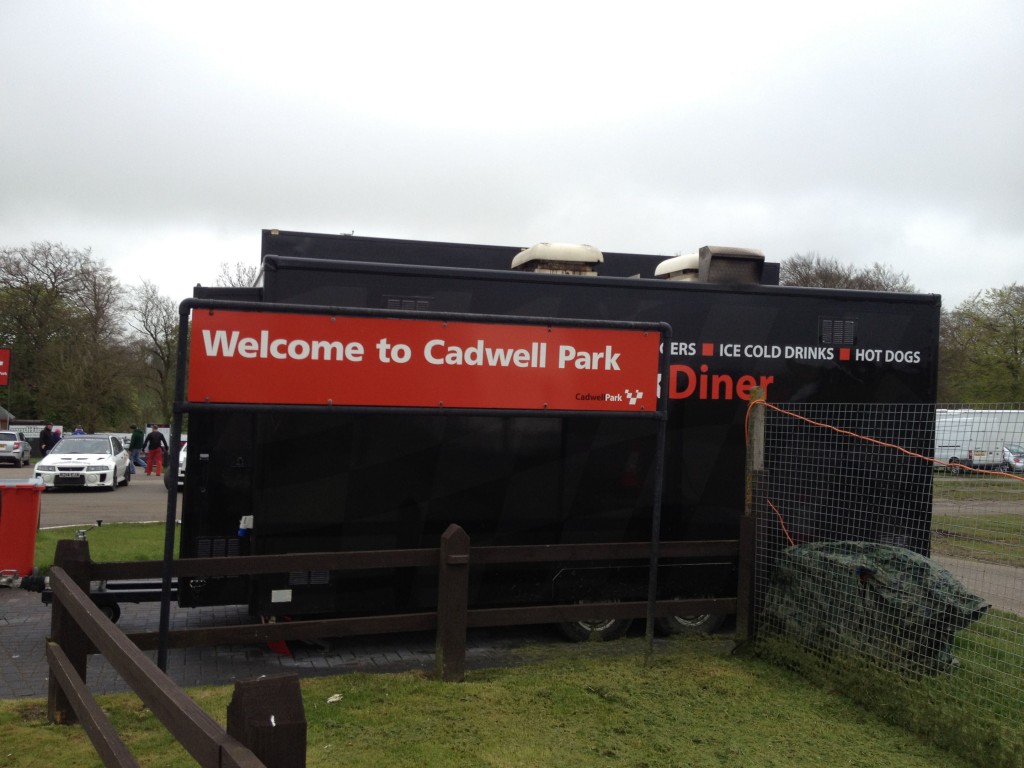 Cadwell is a narrow track that runs up and down and through the woods, with some dubious run-off (or non-run-off is more like it).  Every corner seems to be blind, off-camber, going up or coming down a hill, and fast.  It is quite a place to behold.  I can't think of a track in the US that even remotely compares.  Think Grattan combined with Barber, times 10, with 3 times the elevation… downright intimidating.  Our first night before racing, Martin and I rode bicycles around the track, and I had a very tough time pedaling up the hill out of Turn 1 it was that steep.  Oh, and folks, this track has a jump in it.  Not a hill like Grattan where you get a little lift off your front wheel.  I mean a JUMP, affectionately known as The Mountain.  It was all I could do to keep the front wheel on the ground, which is the desired effect, as wheelies are not fast.  Didn't matter – I wheelied both the 750 and the G50 constantly.  I never did go over the mountain the same way twice.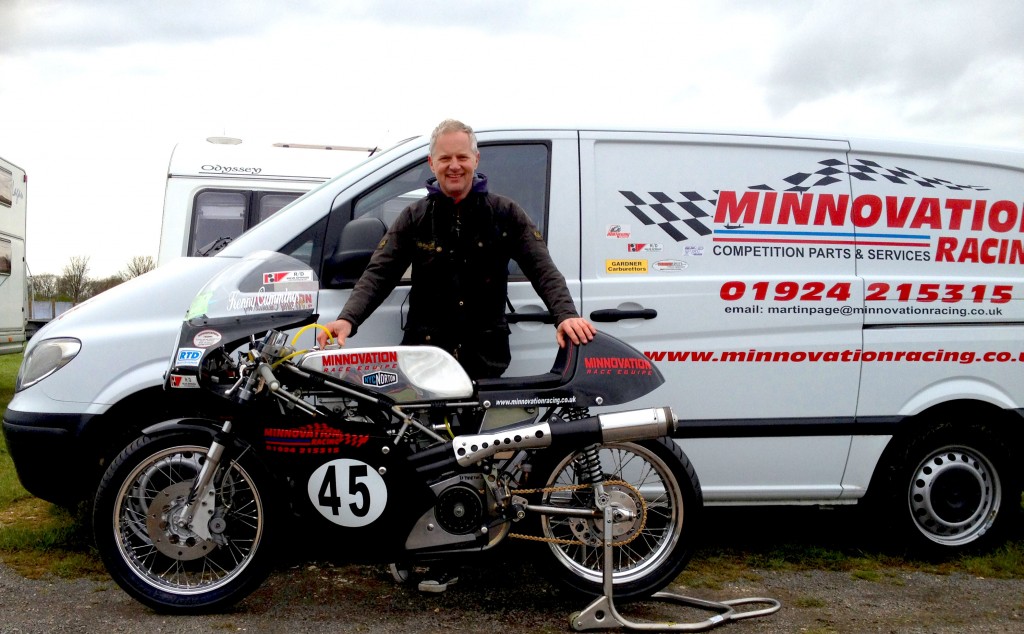 My first race I lined up in the hot grid on my place marker having no idea what was going on.  We rolled out, around a few corners, then everyone slowed down and lined up in their positions on the front straight.  "No sighting lap?, Are we starting? How do the flags work?" Suddenly we were all waved off.  I guess we did get a sighting lap.  I came around then lined up for the race. Wow.  My head was spinning.  I think my first race I was gridded 29 of about 45 riders.  The track was cold (about 40-degrees outside) and wet from the previous night's rain, I was a newbie, and my only directive to myself was not to toss away the beautiful bike I was riding. I saw a grid marshal walk off the track in front of me and I knew it was time to race. I took off at the waving Union Jack and fell in behind 28 other riders like a freight train going into the first turns.  I passed a few, and got passed by a few.  The leaders, very fast Gary Thwaites and Cormac Conroy, were long gone.  There were no heroics here, just a little self-preservation and patience.  Then the second race, a little better, the track drier, and the tires warmed up a bit more.  The sun actually started to poke through.  We took a lunch break with two more races in the afternoon.  During lunch it started hailing outside.  Then more rains.  I went out for my 3rd race to find it was over subscribed and I would be put off until the next day.  The last race of the day I felt best of all.  The track was drying and I passed quite a few folks and felt like I had potential.  I knew the track better, and actually began to enjoy the flow and technicality of this place. We all had a nice supper and laughed and hung out.
The next morning was great.  The sun was peeking out, the track was warmer, and I had a good night's sleep.  Again I think I was gridded in 29th or so.  I took off in the first race and realized to get anywhere I'm going to have to get more aggressive going into Turn One.  I passed a bunch of blokes going in and was rarin' to go.  I started to pick of more and more riders, and as we came up to the back section of the track a sidecar from a previous race had laid down a stream of oil across the entire racing line, so everyone tip-toed through there.  But since I didn't really know the line anyway, I took this opportunity to pass as many as I could.  I remember coming over The Mountain knowing the Minnovation folks would be there watching and feeling proud I'd clawed my way up quite a ways.  But no sooner did I do my jump and the red flags came out.  Several riders had fallen in the oil, so the race had to be restarted after a half hour delay.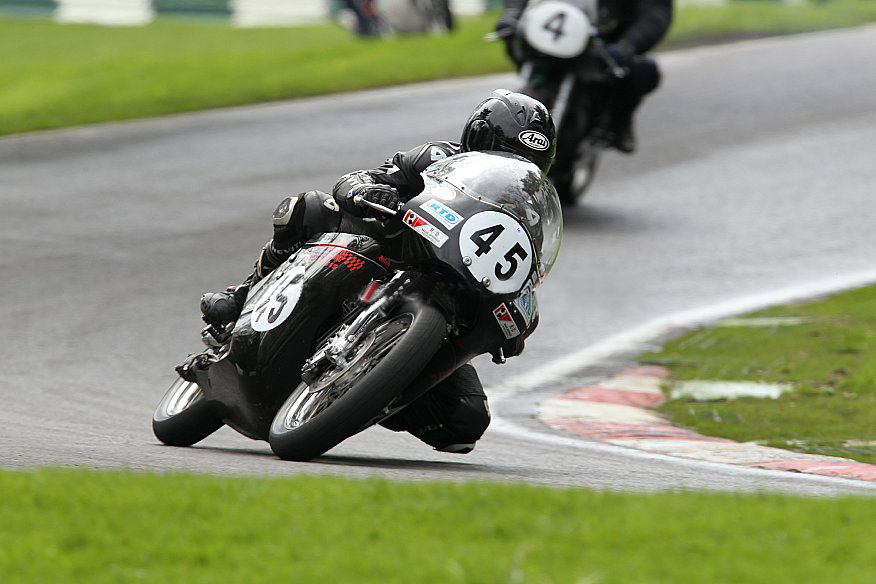 I went out and repeated what I'd done before; charging into T1 and passing several, and believed I could work my way into the top 10 at least.  I was happy and feeling competitive.  By about the 4th turn I pitched the bike in and the Tarrozzi footrest had broken off the left side.  Ack!  That was it – I couldn't race without it, so I put my hand in the air and nursed my way back into the paddock.  No time to repair before the next race.  So… Martin to the rescue.  My last race of Cadwell, the F750 class, was to be raced on the Minnovation G50; a bike that was there for me to ride in the 500cc races, but one I'd not thrown a leg over yet simply because of all I had on my plate with the 750.  Martin literally put it in front of me and said "have a go!", and with Mick's help, we got the controls set up to my liking, and away I went.  Quietly inside my helmet I was giggling like a little prankster. This is the bike I've always wanted to ride, and since I was not even in the proper class with it, I had nothing to lose but to go out and have my way.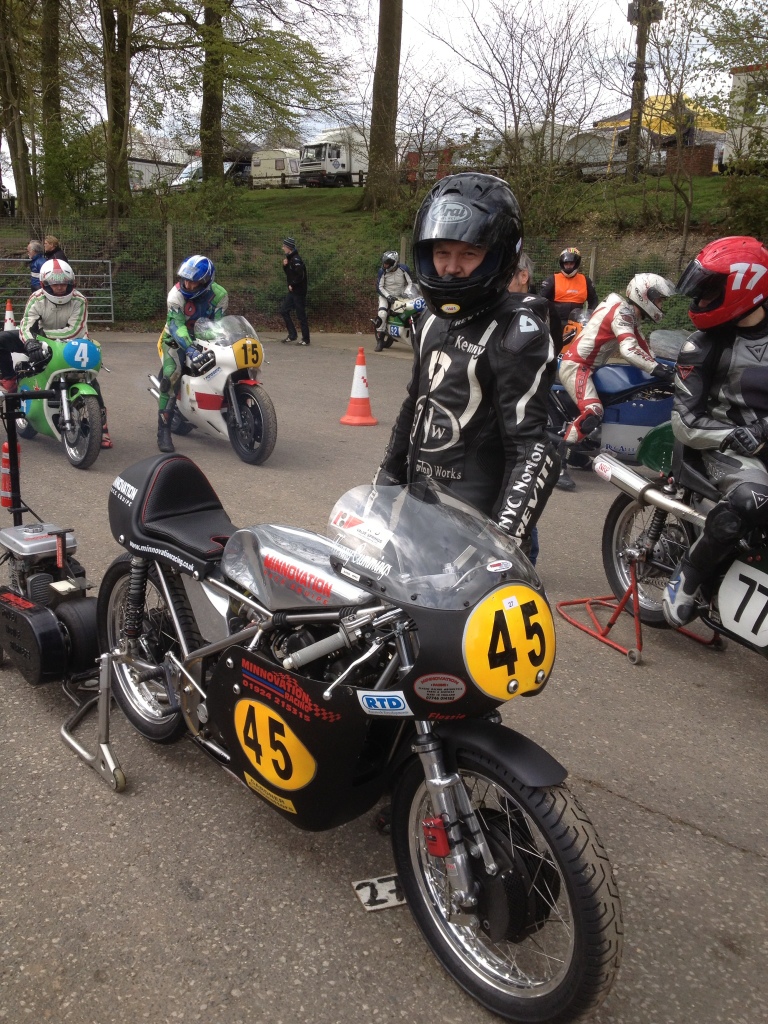 I had the best race of the weekend on this bike, even while having had no previous laps on it.  The Minnovation G50 is, without question, the best, most nimble, tractable, fastest, and easiest to ride classic race bike I've ever been on.  Perfect combination of tight handling chassis and long, lopey motor with bags of torque and top end.  I was in love…  true love.  I don't even know or care where I placed in the race, I had a great dice with several folks, and rode a beautiful bike, quite hard.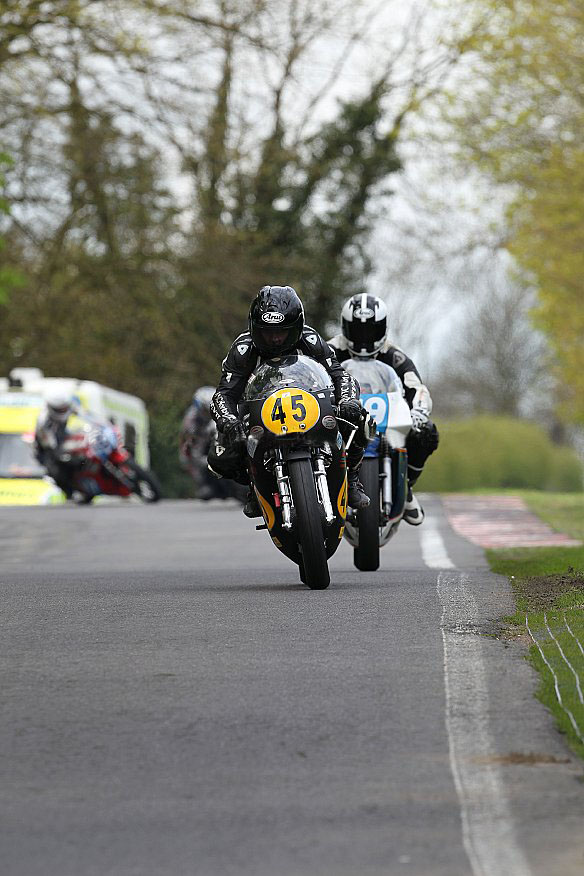 A great way for all of us to finish the weekend.  Rest assured, plans are in place to bring a Minnovation Seeley G50 in the NYC Norton stable very soon.  In fact, we believe everyone should have one!  Contact us if you think you can handle it!
Now, once again I must thank out loud Martin, George, Mick, John, Deb, Danny,Paul, and all at Minnovation, not only for making this trip so wonderful and memorable for me, but for all the support you've given to NYC Norton over the last few years.  Thank you, immensely.  I hope to be back for another wobble before the season's end.
-Kenny