---
Photos of my 1974 Norton Commando MK IIA Roadster
taken around New York City circa August 1999.
---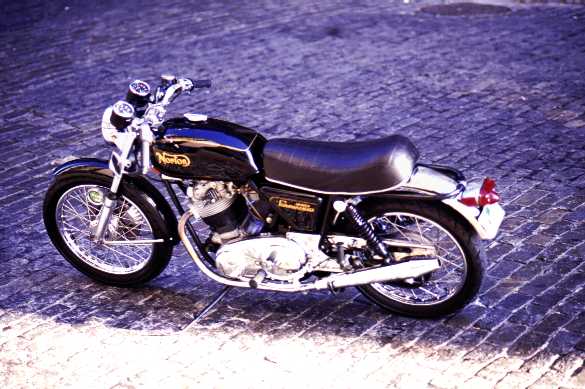 A couple of shots from that very hot summer afternoon. As you can see, I had a good photographer and a good model.  I get stopped on the street every time I take the bike out. I 've had people offer to buy the bike from me right on the spot. Usually, the first question I get is "What year is it?" to which I generally give the smart-ass reply, "Well, it's 2001 now, isn't it?"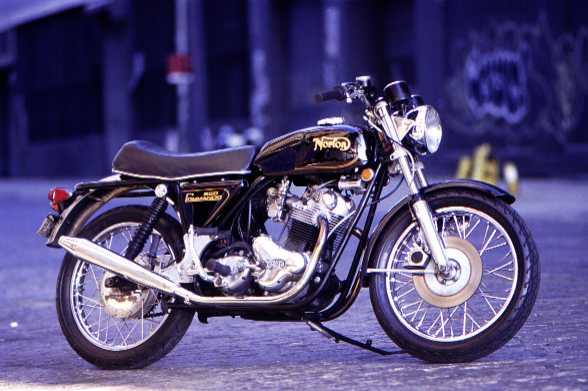 I have put over 45,000 miles (as of spring 2004) on this bike in just a few years – Yes, it's clean and polished, but I ride the wheels off it. Just the week before the photos were taken we made the round trip from NYC to Lexington, Virginia and back (approx 1300 miles) for the 1999 Norton National rally. It isBritish, therefore I spend a bit of time in the garage, but I find the maintenance to be cathartic and part of the fun.
Browse on for the details…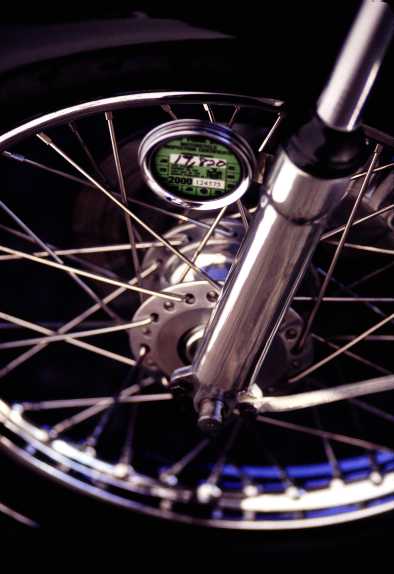 A couple of close-ups. The picture above (one of my favorites of the batch) shows great detail of the front wheel. Both my wheels were rebuilt by Buchanan's in California and were re-laced with their famous polished stainless spokes. The Halcyon tax ID disc was a $14.95 addition that draws more comments than almost anything else on the bike.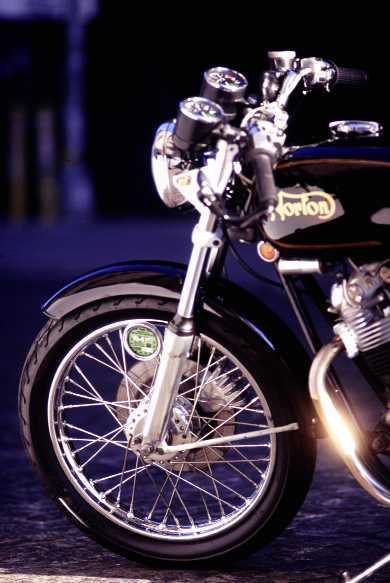 The NYPD is not too fond of these discs, as one could supposedly move the inspection sticker from bike to bike. Fortunately, the NYC Coppers are usually too busy gawking at the bike to notice.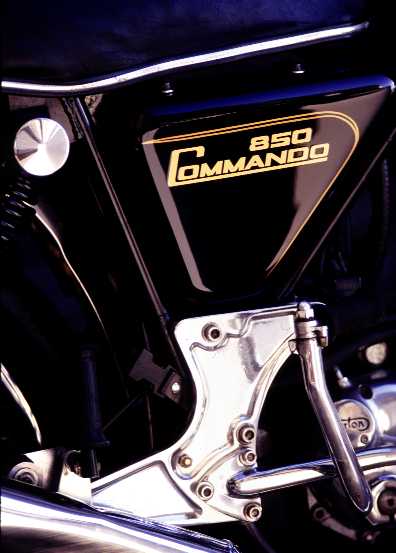 Above is a great shot of the RH side panel. Here you can see the impeccable paint job done by Borella Restorations in CT. The pinstripes were hand painted. A good pinstripe man is hard to find these days – I highly recommend John Borella's work.
Below is a nice shot of the Smith's instruments and headlamp nacelle.
Again, classics… so analog in a digital age.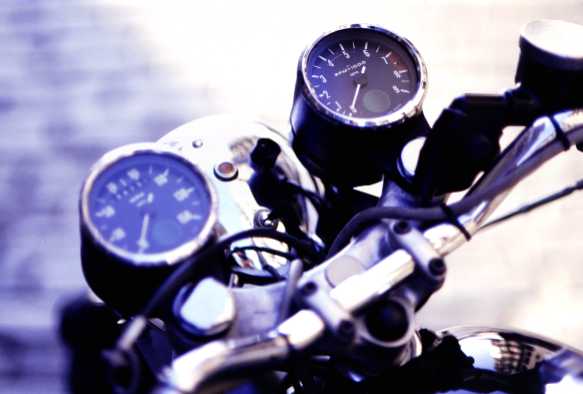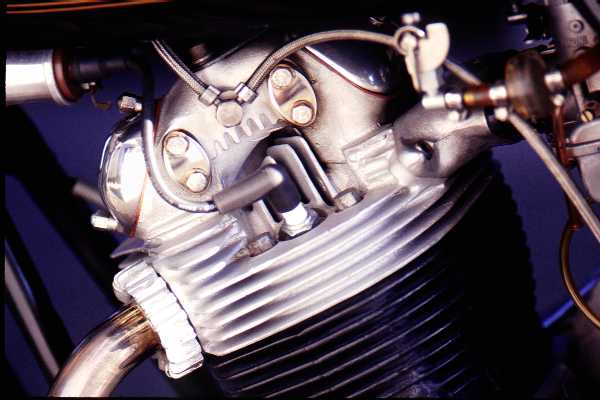 Definitely another of my favorite shots – A look at the beautiful Commando cylinder head. I had the entire top end rebuilt last winter, valves to rockers, guides to springs. I also had the cylinders bored to +.20 over and fit new Hepolite pistons. All work was done by Phil Radford of Fair Spares America in California. Phil is the real deal when it comes to keeping your Norton in check.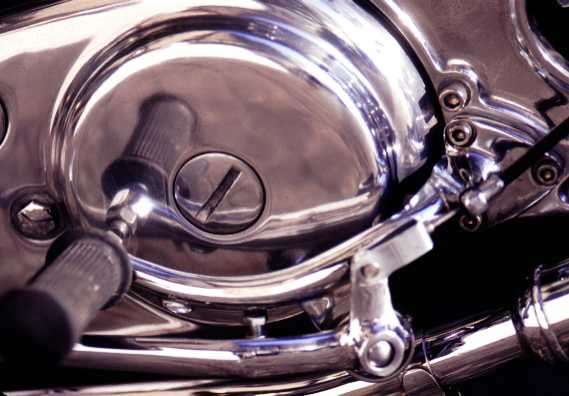 A nice close-up of the Primary Cover, which houses the clutch and alternator. Older British bikes have beautiful alloy engine cases. Notice the graceful curve of the cantilever footrest. Designs like these are lost on the modern bikes of today.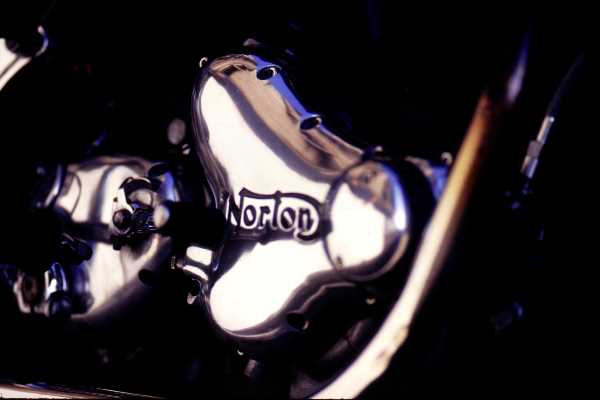 A gothic looking shot of the Timing Cover and Gearbox. Again I emphasize how beautiful these cases are. The AMC gearbox is of the same design Norton had used on their bikes since the early 1940s. "If it ain't broke, don't fix it".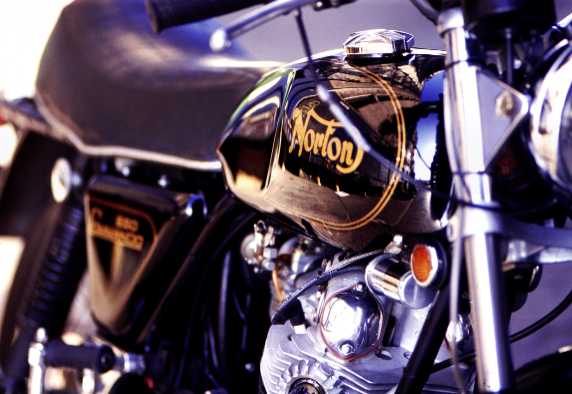 The Timing Side…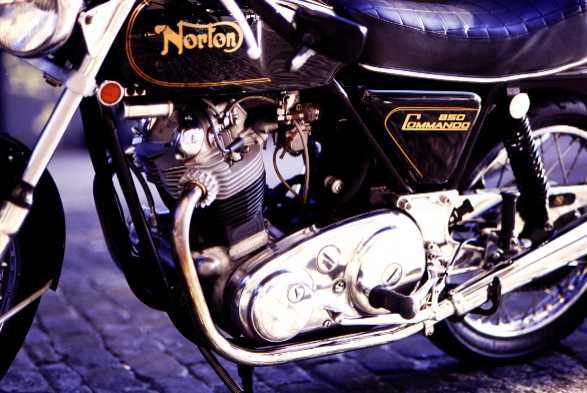 …and the Drive Side.
Maintenance and Modifications as of July 2001:
Complete top-end rebuild including new pistons and cylinder overbore, Kibblewhite valves, Rowe bronze racing guides, springs, spindles, rocker adjusters, head bead-blasted and surface skimmed – all work done by Fair Spares, Tank and side panels painted by Borella Restorations, frame, swingarm, and other misc. bits stripped and powdercoated in gloss black, wheels rebuilt and trued by Buchanan's, swingarm spindle set-screw modification, tach drive and gearbox seal modification, oil tank reinforcement mod, Mikuni 36mm Single carb conversion, Boyer electronic ignition, new PVL coils, new Lucas rotor and stator (3 phase), Lucas halogen headlamp, new exhaust pipes and silencers, Corbin seat (not shown), complete Isolastic rebuild – front and back, Mick Hemmings vernier Isolastic adjusters, new rubber throughout, new stainless fasteners throughout, stainless oil and brake lines, Avon Super Venom tires, Koni Dial-A-Ride racing shocks and springs, Dreer steering damper, rebuilt rear brake with new shoes, rebuilt front master cylinder, rebuilt clutch, and so on…
Update July 5, 2001:
I realize it is time to put some new photos up as the ones here are almost 2 years old. The bike has undergone some serious changes in the last 2 years, moving closer and closer to a cafe racer. Fortunately, this past May, me and the Team Incomplete fellas (see the link to TI below) did a long photo shoot with Mick Duckworth for Classic Bike magazine, to be featured some time in the Fall 2001. Keep your eye out for the NYC Norton at your local newstand. I will try to put some of the shots from that day up on the site as they are quite beautiful.
August 2001 Brit-Jam in Connecticut: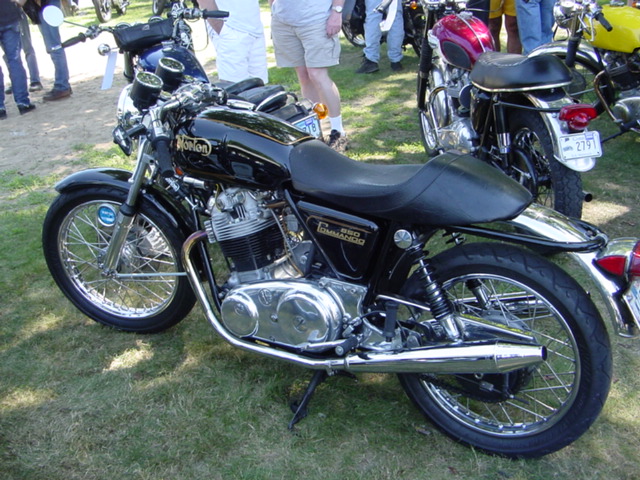 April 18, 2004 somewhere in upstate New York: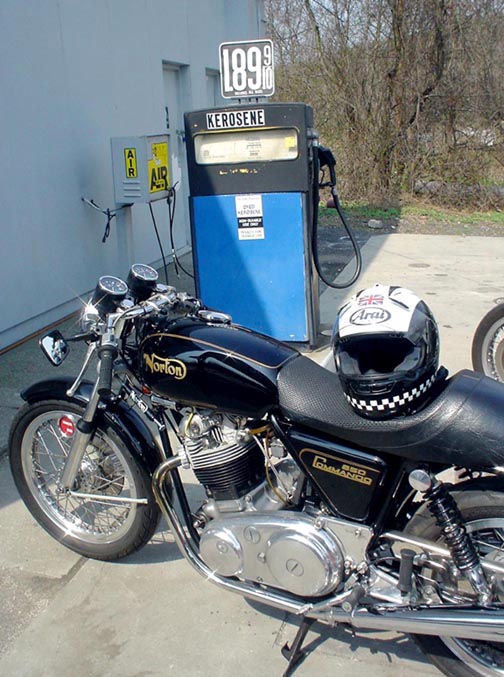 November 2005 – It's been so long since I've updated this part of the site, mainly because of my focus on racing and the race bike. However, recently I was asked to use my Commando in a photo shoot for an upcoming article in Details magazine. The photographer was gracious enough to send me some of the shots. Stunning, if I may say so.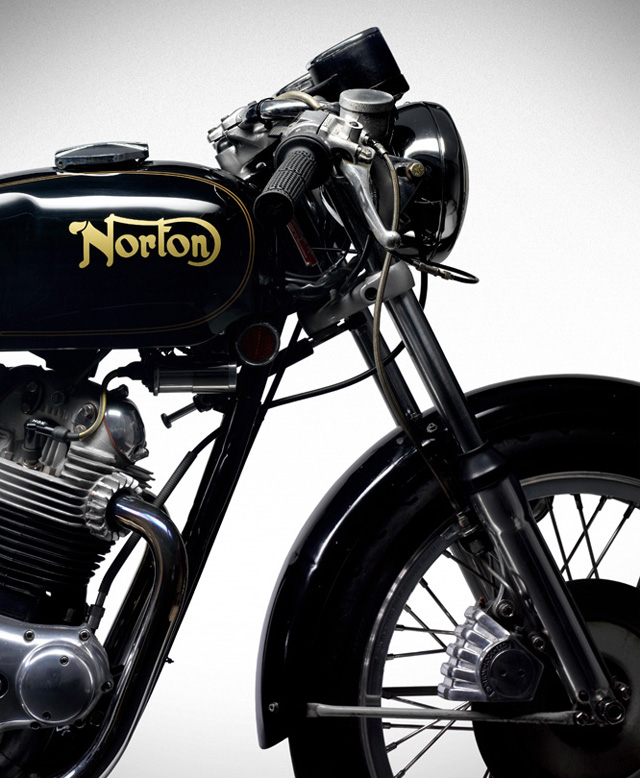 From the Fall 2005 Details Magazine photo shoot.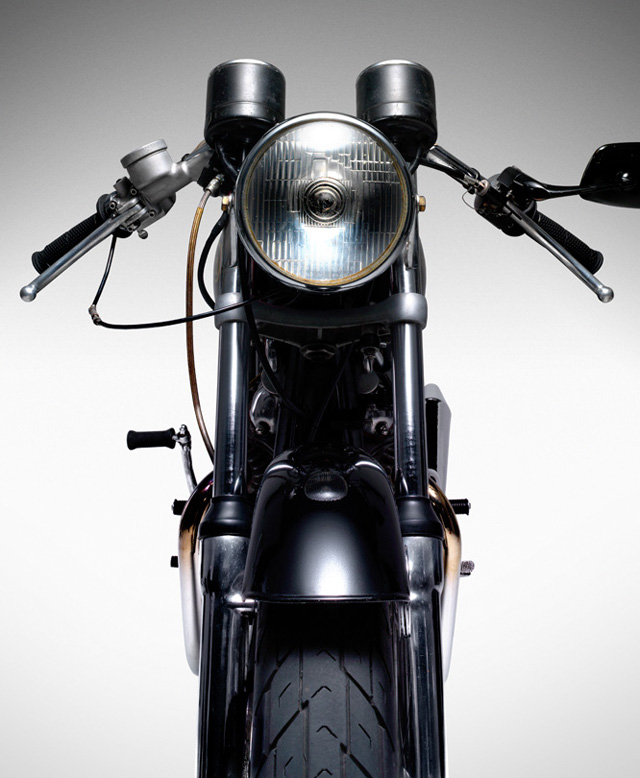 From the Fall 2005 Details Magazine photo shoot.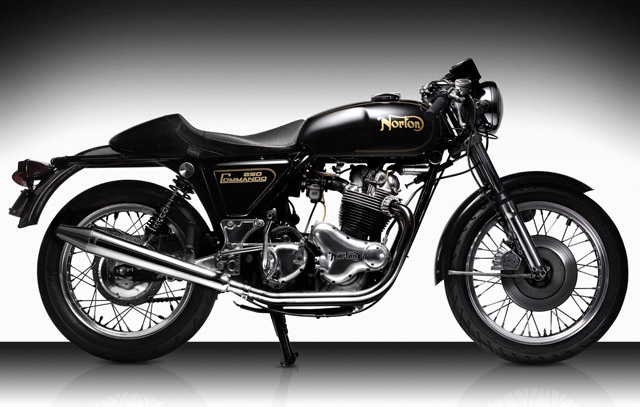 Some past restoration notes:
2/11/2000: I have gone completely crazy. I pulled the engine cradle and swingarm to do the famous set-screw mod to the swingarm. In order to do this it was necessary to remove the entire engine, primary, and gearbox. I decided to have Phil Radford go through the gearbox while out of the frame (this is certainly the time for any preventative maintenance). Once I saw the bike taken down this far it became obvious it was time to go whole hog, tear the entire bike down, and powder coat the frame, swingarm, cradle, battery box, and a few other black bits. This meant removing every nut and bolt and pulling the wiring harness. My once beautiful bike is now in 3 boxes and a zillion Ziploc bags. When it all comes back together, the bike will have rearsets and Ace bars. It will be a wolf in wolf's clothing.
Update 3/17/2000: My gearbox is back. I am the proud owner of a new kickstart pawl and mainshaft – two things one doesn't want to have to replace too often. The frame and swingarm are also back (and so, so pretty). The set-screw mod is brilliant. Tomorrow is reserved to begin putting it all back together. The weather in NYC has been very mild lately and I'm starting to get a little crazy not having a running bike.
Update 4/4/2000: The bike is back together – prettier than ever! It started after 3 kicks. Unfortunately I have 1000 break-in miles to go before I can do wheelies and drag race my buddies. I am so impressed with myself, the only thing I forgot to tighten down before the first start was the crankcase drain plug (oops). Now I'm Hell-bent on a double disk brake setup. Maybe next year?
I took photos of the depressing sight of a perfectly good bike reduced to boxes of bits so I can remind myself not to do this again in the near future.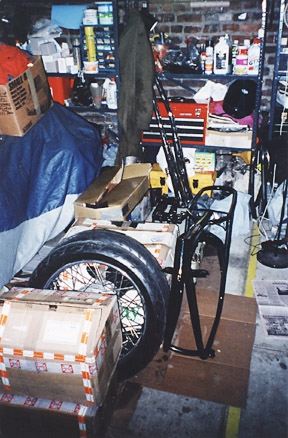 My 3′ x 7′ garage space after the teardown.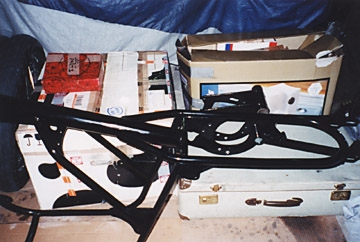 Pretty!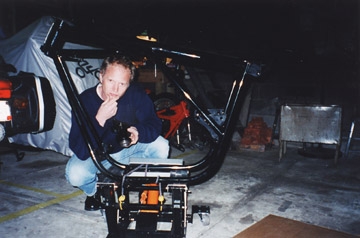 Uhhhhh, where do I put this thingy?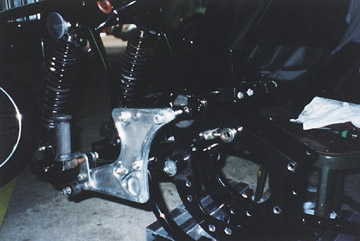 More pretty!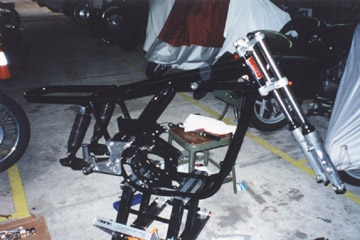 Starting to come to life.
---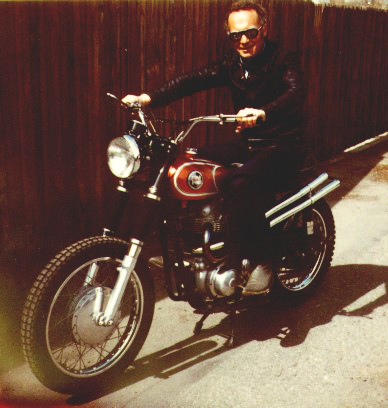 Quick little story:
A few years ago while visiting my father I mentioned in passing that I had bought a Norton.  My dad gave me a perplexed look and asked "Why a Norton?"  "I dunno" I replied. "I've always had a thing for them…I can't really explain it."  My father chuckled and walked out of the room, only to return a few moments later with a dusty old photo album.  He opened up the album and there, in true 1970s Polaroid glory were pictures of me as a child sitting on my Father's Norton.  I about fell off my chair. Wow! Sure, I remembered he had a bike but had no idea it was a Norton! I never knew how cool my dad was (is).  He then proceeded to hand over his stylin' leather jacket that he wore in those days, a bit tight on him now I'd say, but looking good on me.  Thanks Dad.
Here's a picture of my Father circa 1970-71 from that very photo album, the self-proclaimed "Cruisin' Stud", seated on his Norton P11 Ranger(?).  Proof positive, Nortons are in my blood.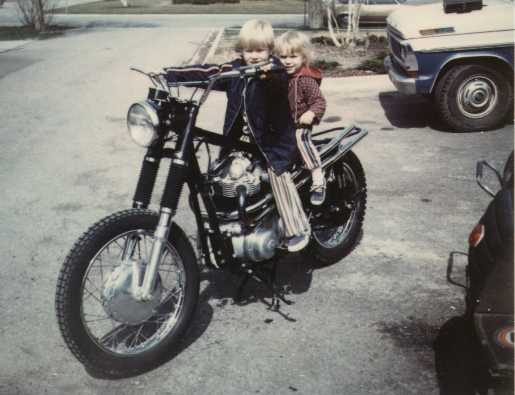 Here I am with my little sister Kristen monkeying around on his bike, while off camera Dad contemplates dismantling the engine for a lazy Saturday afternoon rebuild.
Check out our stylin' striped slacks, which were de rigueur for hip little kids in the early '70s.
---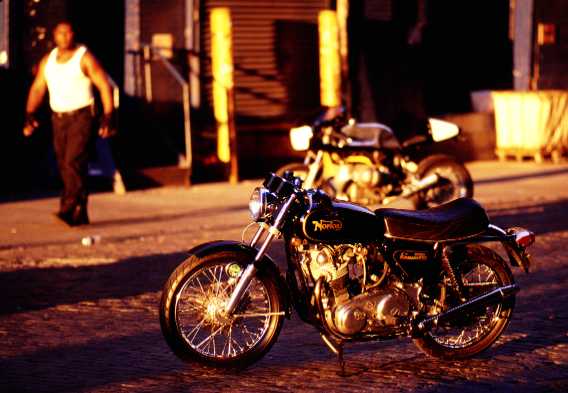 Well, there it is…A New York City Norton. What more can I say? (There actually was a fella who had made his home in the loading dock behind the mail cart seen in the background. He slept through the whole photo shoot. Only in New York!)
Notice Gregor Halenda's vicious BMW Boxer Special, also in the background. Gregor was kind enough to take these exceptional pictures in exchange for a few kind words about his bike.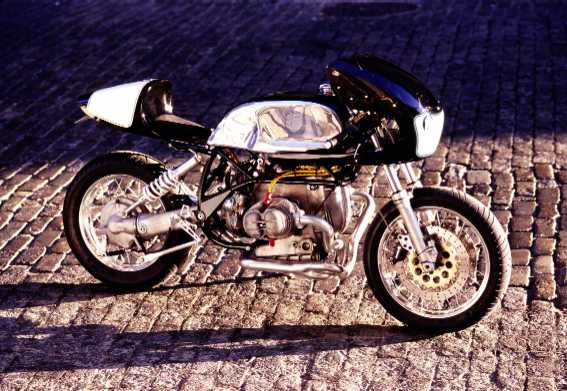 Unfortunately, I couldn't even begin to describe all the details of Gregor's Boxer in this short amount of space allotted here. I will say two things…It's fast and it's loud. A full-on Racer.
Get the whole story on how the Boxer came to life on the Team Incomplete website by clicking HERE
---
---
Are we fanatics? Yes.
Drop me an email anytime with your comments at info@nycnorton.com
Kenny Cummings
NYC